Us van dwellers are well known for not owning much. We hate stuff that has no purpose. Call us perfectionists, minimalists whatever, it's just a fact. Van life in general is about minimalism; minimal impact on nature, minimal stuff, minimal consumption. Now, meet the minimalist camper of your dreams.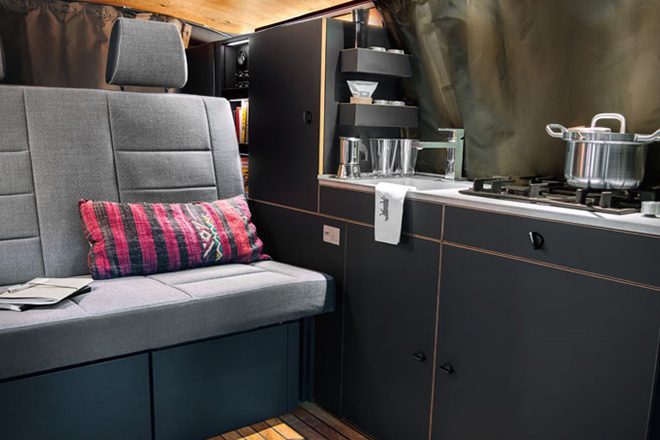 So this VW T6 Campervan from Nils Holger Moormann makes us extremely happy. Not because of its minimal 'wow' factor but due to its incredible minimalistic interior design. Moorman co-worked with the guys over at Custom Bus in Germany, they transformed a classic T6 into a sharp, comfortable home on wheels. They stripped it dry, and started with a blank canvas, planning every inch to have a meaning.
They aimed for something modern, effective and plain. And boy… did they create the ultimate minimalist campervan. They blacked out the storage system with a matte finish, added compartments for a stylish foldable bike. And added a flexible shower that can be pulled out the back to clean you and your gear. Above is a stunning wooden roof with matching flooring that doesn't clash with the black. And our favourite part, a sleek, tidy kitchen that has everything you need, and nothing you don't.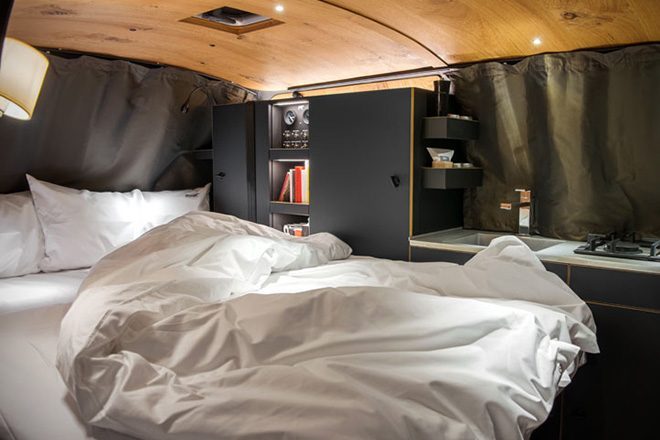 It's so simple that it's unique. I know, it doesn't make sense but it's simplistic placement makes small characteristics like the book shelf and the chrome sink pop with overpowering delight. It has just what you need, no more no less.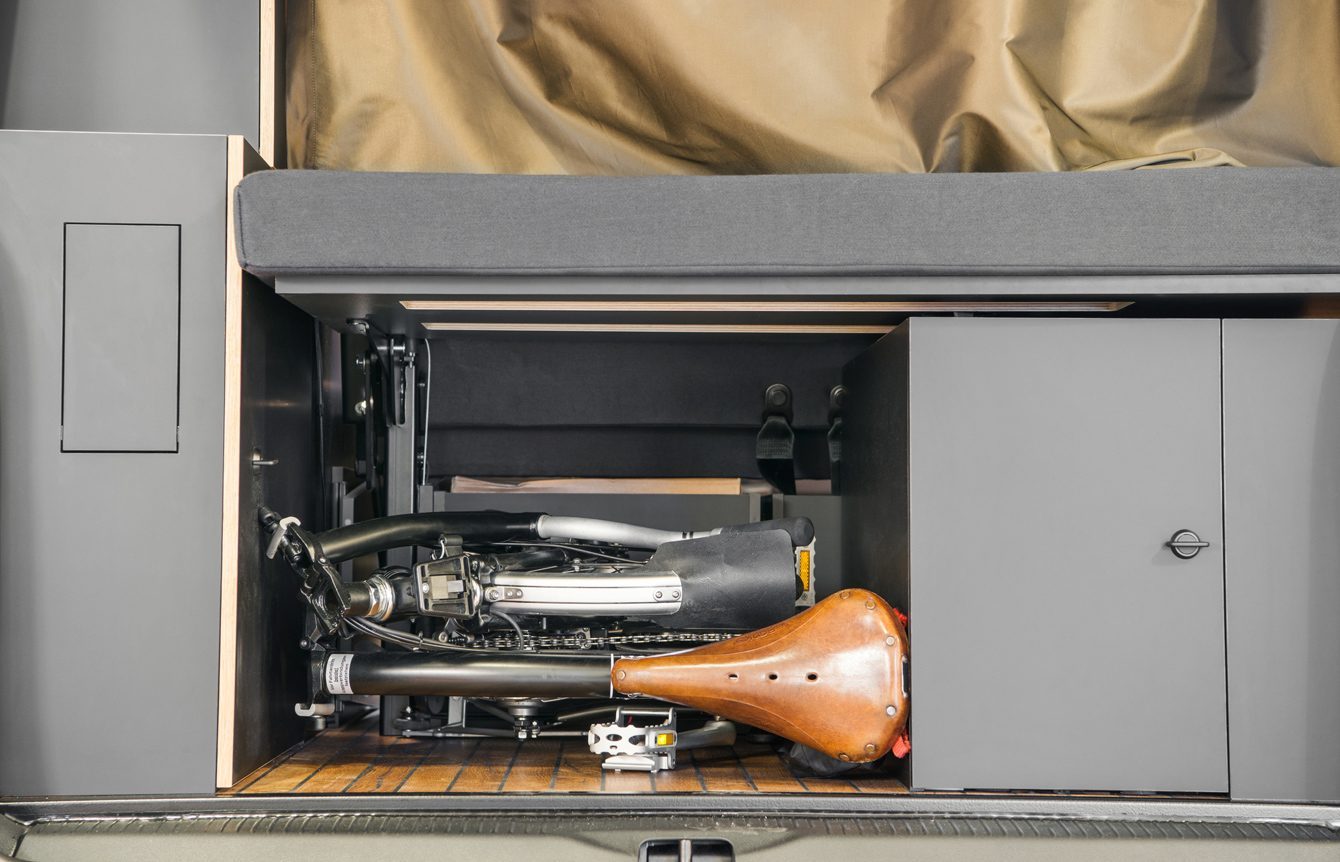 It's truly a remarkable minimalist campervan that has us drooling in confusion. On the outside it looks like a basic T6 but on the inside it's a palace of style fit for even James Bond himself. If you take a peak into the cutlery drawer each piece has a reason to be there, and we wouldn't be surprised if they were held down with magnets. That's how sophisticated this camper is!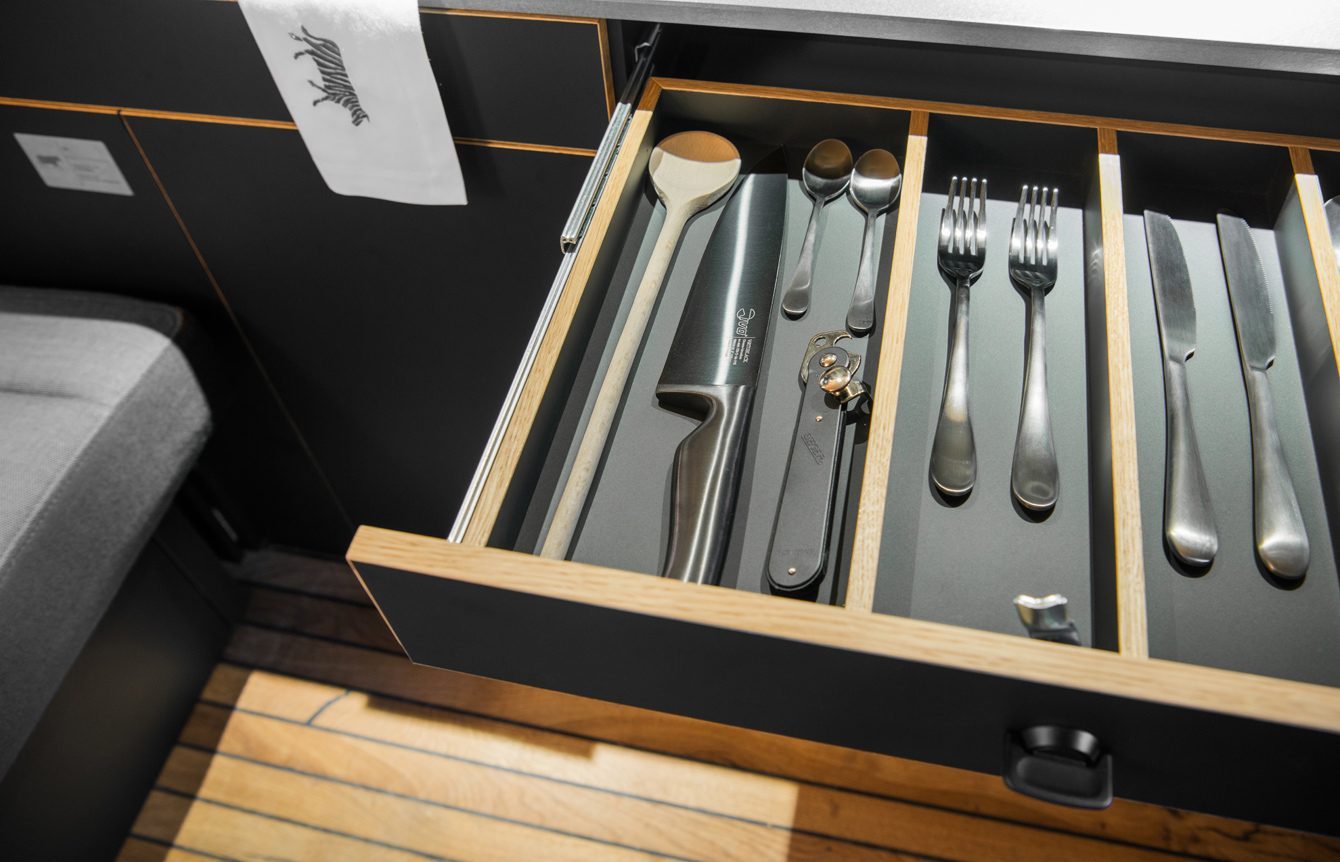 This is built for the weekend warrior, or the a weekday getaway, as much as it has tonnes of space and comfortable features it certainly isn't something you could live in for weeks on end. The designers themselves even mention that they use it instead of hotels on occasion, and it's not exactly off-road worthy. So, if you're after a luxurious city van with the occasional weekend away to the mountains with a potential date then this is the camper for you. Touché Moorman.