It's about time you upgraded your camp chairs to this, the stargazing chair. Yep, it does exactly what it says on the tin, this stargazing chair from a company called Nemo is built for adventurers who want to relax in the evenings and peak into the universe with comfort. Those cheap supermarket back breakers are so 2017 and we all know they only last a few months before launching you and your coffee onto the floor because a leg broke!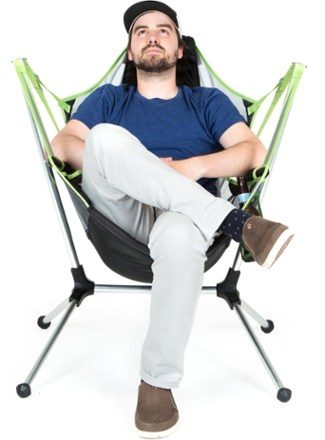 This ultimate camp chair is built for the van lifers and camp dwellers out there that enjoy gazing into the sky with a brew in hand. This is the Nemo Stargazer Camp Chair a versatile and compact camp chair that suspends you in mid-air allowing to rock and transform into a recliner that points you into 'stargazing' position.
It uses a unique strap mechanism than when forced will unzip and recline you smoothly but surely into position. It's also foldable meaning that it can be compacted down into a very portable form factor and placed into its padded transport bag for you to chuck in the back of your campervan.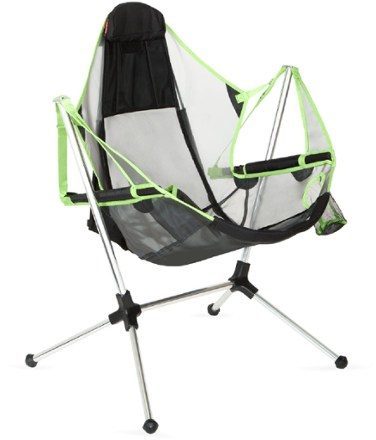 It has a small frame that's made out of aircraft-grade aluminium which basically means its darn strong and extremely light. The mesh which the chair is actually made out of is completely water resistant and it features a material that stops the buildup of odour.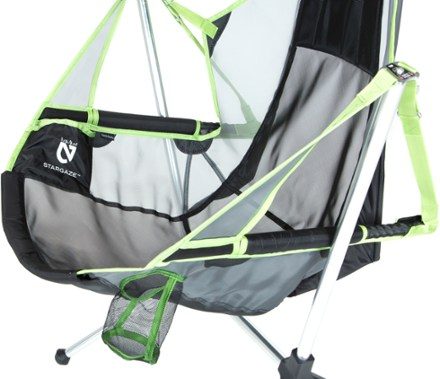 Not only that it features an awesome book/tablet holder and a place to put your portable coffee mug for those real cosey campfire nights. It's not the prettiest of chairs but its flexibility and 'hammock' like design makes if the perfect addition for campfire meet ups and general camping adventures.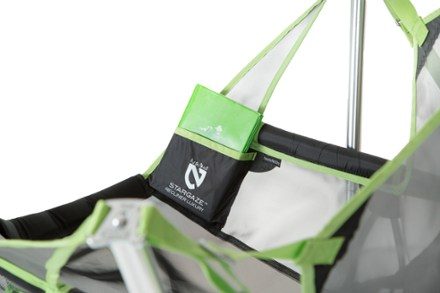 We don't advise taking it hiking as it's not portable enough for that but it's the perfect companion for chucking in the boot of a car, or in your van for the weekend.

Looking for the best van life gear around? Then check out our product reviews here: