Stealth with Style
There are some vans out there that scream 'look at me, I'm a camper', and rightly so (they are the best vehicles around after all). From goliath RV's and Winnebagos to the iconic V.W camper, there are certain characteristics that allow us to easily spot the modern day nomad.
But what happens when your van conversion is so stealthy that it can blend into a forest as easy as it can a Morrisons car park?
Enter Jelly & Helen (via their stellar van conversion video by the all mighty Indie Projects). They converted their Mercedes Sprinter LWB ex-Police van into a stealth mobile that even The X-Men would be proud of.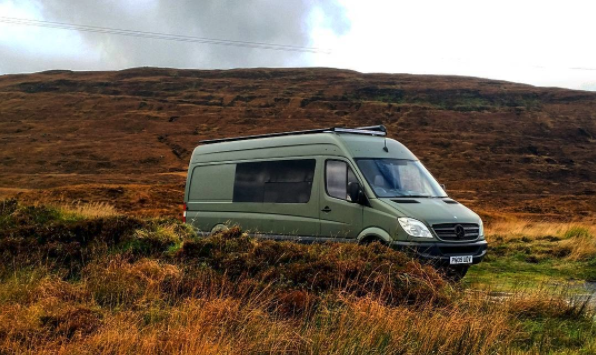 Their home on wheels has a composting toilet (no need for chemicals), a bike garage, the biggest solar panel that we've ever seen, and even bulletproof windows. How cool is that!
The NATO green paint job allows them to blend in in the country side, meaning that they can boldy go where no mountain biker has gone before and find those sweet un-ridden trails that are the stuff of legends.
Top Off Grid Living Tip
One of the most interesting features of this van howeves is their General Ecology Seagull System. In english, it's a filtration system that allows them to make clean water from any water source, no matter how dirty.
With a shower, A.C and a diesel heater, this Van has all the modern ammeneties of a standard house. It really does show that when van conversions are concerned, the sky is the limit!
Check out more amazing videos from the Indie Projects by visiting them on YouTube or Instagram.
Thinking of making your own conversion? Join us on Facebook and tell us your plans!
Written by Seb @vincentvanlife