Scrubba Wash Bag – Essential Vanlife Products For Any Adventure!
It's always hard to know which vanlife products that you're really going to need and rely on until you give full time van life a try. Sure, you can stock up on all of the van life essentials in our list and kit yourself out with all the best campervan gear as a solid start, but until you're calculating your van life costs on the road and leaving the city behind for the middle of the forest or remote mountain park ups, you can't really start to understand which of those products will keep you out of civilisation for longer and keep your hard-earned cash in your bank account where it belongs. I've been living the van life full-time for just short of two years now, and one product that I use on a weekly basis is my Scrubba Wash Bag. That's no exaggeration; this thing is the real deal!
Are you considering becoming a weekend warrior? Need some tips about the best van life travel spots in town? Head over to our Van Lifers and Weekend Warriors Facebook Group and join our ever–growing community of vandwellers across the globe! Share vanlife recipes, pass on your favourite vanlife tips, and help others to build a campervan for the ultimate off grid adventure!
It's been a long while since I first tested out the original green Scrubba Wash Bag in our official Scrubba Review. I've used my wash bag as a portable washing machine, a waterproof bag, and an impromptu water carrier while out and about on my travels, but now the genius minds over at Scrubba have released a whole host of different products specifically designed with all of the above in mind and more. Scrubba understand what it means to be a vanlifer, and they create products that not only make our lives simpler while out on the road, they also do exactly what they say on the tin too…or bag in this case. Let's check out what new Scrubba Wash Bag products are on the market right now and how they can make living in a van or travelling in a van a heck of a lot easier.
The Evolution Of The Scrubba Wash Bag – Checking Out The Newest Products On The Block!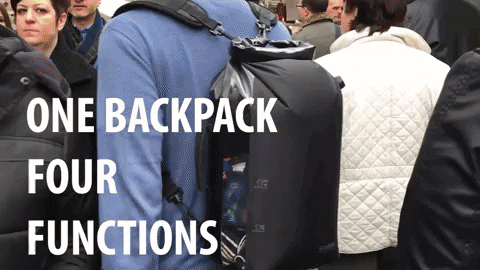 Scrubba are constantly improving their products and the way that they aid travellers all over the world, and this first bit of kit has well and truly blown our minds. The Scrubba Stealth Pack is a Scrubba Wash Bag with a difference; well, three differences actually. What at first looks like a normal back pack is actually a portable washing machine that you can carry on your back to any location with ease, and the benefits go beyond just being able to wash your clothes!
Let's start by taking a look at the different uses of this Scrubba Wash Bag. First and foremost, the Stealth Pack is a perfect sized backpack for carrying around any items that you might want to take with you while our on your travels. It's light, it keeps your gear dry, and the comfortable straps provide support on longer treks through the wilderness. If you're backpacking or travelling light, then you can keep your dirty clothes in here and carry them to a place where you can wash them discreetly without anyone ever suspecting that you've got a washing machine on your back. This Stealth Scrubba Wash Bag is big enough to fit your digital nomad gadgets inside such as your phone and tablet too; it just keeps getting better and better!
Let's talk about keeping your gear dry next. The waterproof 40 denier nylon fabric with its 210 denier nylon back panel is completely weatherproof, as is the seal that locks the bag together. The Scrubba Stealth Pack is a great accessory for taking with you on those Norwegian Autumn walks or on a hike at any time of the year if you live in Yorkshire, but it's also useful if you do any water sports too. I've been taking my original Scrubba Wash Bag out with me when using our paddle board, but because it's the original model and not the new Stealth Pack, mine isn't designed to be a backpack. I have had to make do with strapping mine into the bungee pouches on the back of the board, but I'll be taking the stealth pack next time we head out onto the water for sure!
What Else Can The Stealth Pack Do?
The next two features of this Scrubba Wash Bag are perhaps the most surprising. All Scrubba Bags have an air valve on the outside to let air out before usage. It allows you to properly scrub your clothes without feeling as though you're pressing down on an inflatable tube and is easy to operate even with wet hands. This little valve plays two new important roles on the Stealth Pack, the first providing a means of compressing your clothes down into a small parcel that will make tonnes more room in any suitcase. It's like the vacuum-pack bags that you see on QVC, except this one doesn't break or suddenly pop back open when you try to lift it from one place to another. Oh, and did I also mention that it doubles up as a shower?
I'll give you a moment to recover after that fact explosion there. Yes, the valve in the newest Scrubba Wash Bag doubles up as a shower too. Simply fill it with fresh water or warm water from your campervan, and then use the straps to hang it from a tree. I haven't had the opportunity to try this function as of yet as I'm currently parked in the middle of a city, but as soon as I get back to the forests and mountains I'll be giving this a go for sure! The holes in the valve itself are large enough for a nice flow of water; it might not be the same as a private bathroom in the Grand Budapest Hotel, but it's perfect for scrubbing off any dirt and grime after a long day of climbing, hiking, biking, or any other adventurous activity that ends in -ing.
Is The Scrubba Wash Bag Easy To Use?
The nylon fabric in these wash bags is pretty damn tough, so you don't need to worry about where you wash your clothes. I've used it on rough stones by a river, grassy hilltops, and in camper van car parks more times than I can count. The washboard is flexible enough to bend over any lumps and bumps underneath and it really works up a lather inside the bag when you're scrubbing your clothes. The 'nobules' are firm enough to move the dirt from the fibres of your clothes without causing any damage to your delicates items or favourite t-shirts. Think of it as hand-washing with style and 'oomph' in equal measure.
What Other Products Do Scrubba Make?
Scrubba's success started with their original bright green wash bag, the very same one that I've been using all around the world for the past 2 years. It now also comes in a black version too if you don't do bright colours, but I love having the green version as it's always easy to find in the back of my camper. Billed as the lightest portable washing machine on the planet, the original Scrubba Wash Bag folds up small enough to fit inside your pocket or the top of your rucksack and can be used anywhere you can walk, drive, sail, or fly to.
The instructions are printed on the outside of the bag on all of the standard models, giving you a helpful hint if you've forgotten how long to scrub for. Two lines show you how full to fill the bag with water depending on how many clothes you're washing, and then it's just a case of filling with detergent, scrubbing for 30 seconds – 3minutes depending on how dirty your clothes are, and then rinsing and hanging out to dry. It uses far less water than a conventional washing machine, and it's a heck of a lot cheaper than using laundrette's while out on the road too.
Another newer edition that I like the look of is the Tactical Scrubba Wash Bag, made in conjunction with a former Australian SAS Leader. A bright green bag that gives your position away to the enemy is the last thing that you want while you're in a war zone or while trying to protect the good people of Alpha-Earth 5 from a Zombie invasion, which is where this low-key wash bag comes in. The tactical unit is made with a coyote brown fabric that aids camouflage (I'm having trouble seeing it on the screen if I'm honest!) and is perfect for using while out on patrol in disaster relief areas or on tactical recon missions with your siblings in the depths of the forest. It has all of the same features as the other Scrubba Wash Bag products minus the risk of giving away your position while trying to wash last night's dinner from your camo pants.
Does This Thing Really Clean Your Clothes Though?
Yes, and believe me when I say that I've used my Scrubba Wash Bag a lot, so I'm an expert on this. When I first reviewed the Scrubba back in 2017, I thought that it worked better when doing just one item at a time. Turns out I just needed to hone my technique. Now I can do multiple pieces of underwear or t-shirts together in one go and get them smelling funky-fresh and stain-free in no time. It's all about the rinsing process afterwards; make sure you give them a good swill around and they'll come out perfect every time.
Enter The Scrubba MINI
Times change, and now my trusty old Scrubba Wash Bag is no longer the lightest on the market. The Scrubba Wash Bag MINI launched on Kickstarter back in June 2019, providing a portable washing solution that was half the weight of the original bag. It weighs only 70g and can fit in the palm of your hand; how crazy is that! The love that the world has for Scrubba's products was shown by the Kickstart campaign raising a whopping AU$75,000 within a few weeks. You can now purchase this mighty-MINI washer from the Scrubba website and Amazon for under £32! (€36, USD39.95).
The Scrubba Wash Bag MINI is perfect if you're an off-grid guy or a solo female vanlifer, giving you enough space to do one load at a time and the ability to dispose of your grey water far away from freshwater sources. It's the perfect accessory for keeping all of your dirty clothes separate from your clean ones if you're only travelling with one backpack, and you can even use it as a dry bag or a phone protector while out on the water. Your phone's touchscreen will actually operate through the plastic viewing panel, so there's no need to risk taking it out and dropping it into the depths of Lake Tahoe or Lake Windemere while out on your adventures.
Final Thoughts…
You wanna know the thing that I love the most about these Scrubba products? Every item that they produce has a more than one purpose, which means the amount of thought that has gone into creating each one of their products must be off the scale! They know exactly what people need while travelling around the world in vans or backpacking from place to place, and the fact that all of their products have at least two or three different uses to them makes them incredibly good value for money.
From the Stealth Pack backpack that's large enough to store anything that you might need while out on the trail to the Scrubba MINI that's tough enough for any occasion, these products are must-haves for any full-time vanlifers or weekend warriors out there. They would make the perfect present for a vandweller or camper fanatic in your life (or yourself if you're feeling that you deserve a little something special), and I can guarantee that once you have a go with one yourself, you'll cut down on the number of visits that you make to laundrettes on the go and you'll start saving money immediately.
Click any of the highlighted names of the Scrubba products in the links throughout this article to head straight through to the buying page, or head over the Scrubba website to browse the full range and to start saving money and smelling fresher today!
More Content From The Van Clan Team!