If you're looking for an eco-friendly tiny home that's as kind to your bank account as it is to the environment, then check out these affordable shipping container homes. Below, we go in depth examining 10 of the most notable container conversion builds under $100K.
Why Choose a Shipping Container Conversion?
In a time of rising property prices, many will feel priced out of ever owning a nice home. But an abundance of spare shipping containers offers a chance at alternative living that is both affordable and luxurious. And who doesn't love upcycling?
Truthfully, container houses are a legitimate way to get a foot on the property ladder without a huge mortgage. And you won't even have to rough it!
Maybe you've been living the van life and are looking to put down roots, or maybe you're a first-time homebuyer with a DIY knack; in any case, the tiny house movement lends itself to endless creativity. (And amazing value for money, to boot.)
Top 10 Affordable Shipping Container Homes to Transform Your Lifestyle
If you're on a limited budget but have the grand aspirations to save the planet and live in a comfortable, attractive home–you're not actually crazy!
These ten shipping container homes all cost under $100K (many significantly under), and offer real lifestyle benefits beyond what many tiny homes are capable of yielding.
1. MAC Container Housing – $17,000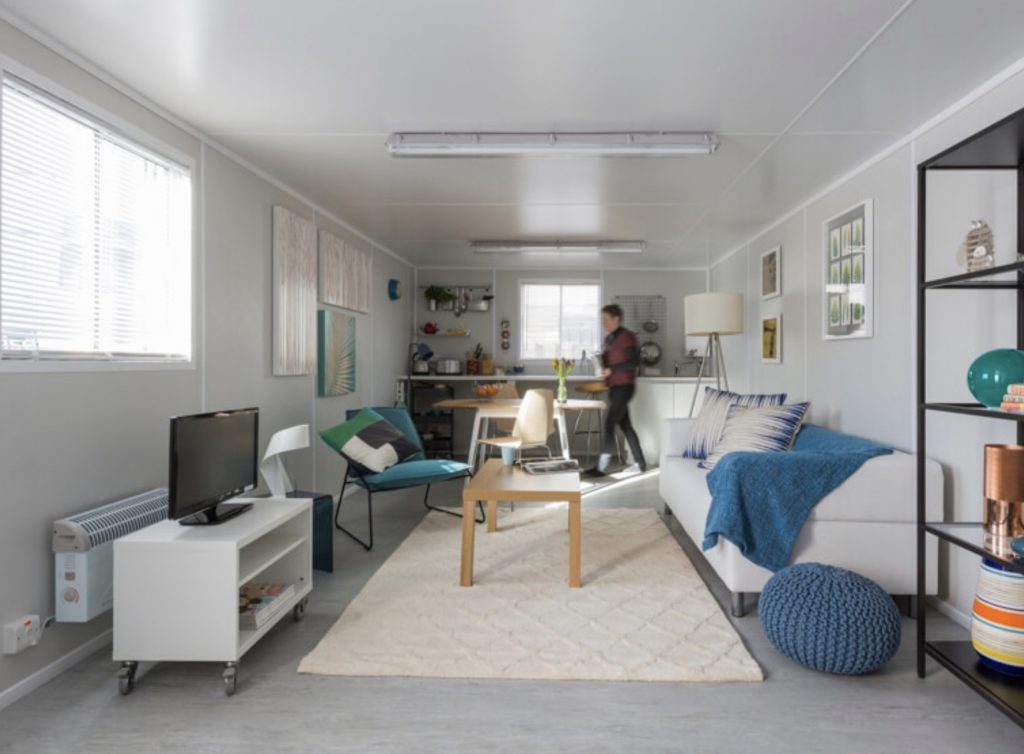 At number one on our list is a UK-based company, MAC Container Housing. Their shipping container homes are custom-built for you and can include anything you would like. You have a say in the layout of your new house, allowing you to tailor the space to best fit your needs.
MAC Container Houses come in two different sizes: a 20' x 8' option, suitable for temporary accommodation; or a larger 40' x 12' option which can easily sleep a family of four in three separate bedrooms.
These tiny homes are affordable, coming in at £12,995 for the smaller option or £34,995 (prices +VAT), meaning you feasibly bypass the mortgage altogether. Better yet, MAC Container Housing also have a dedicated team available to help you find a suitable piece of land to buy, lease or rent, for your new home!
These shipping container homes are a great option if you want a ready-made tiny home from an experienced company. MAC Container Homes know what is best for your new space and can help you design your dream home. These units come with a ten-year warranty and can be ready to move into in just twelve weeks. Perfect!
2. Backcountry Containers – $40,000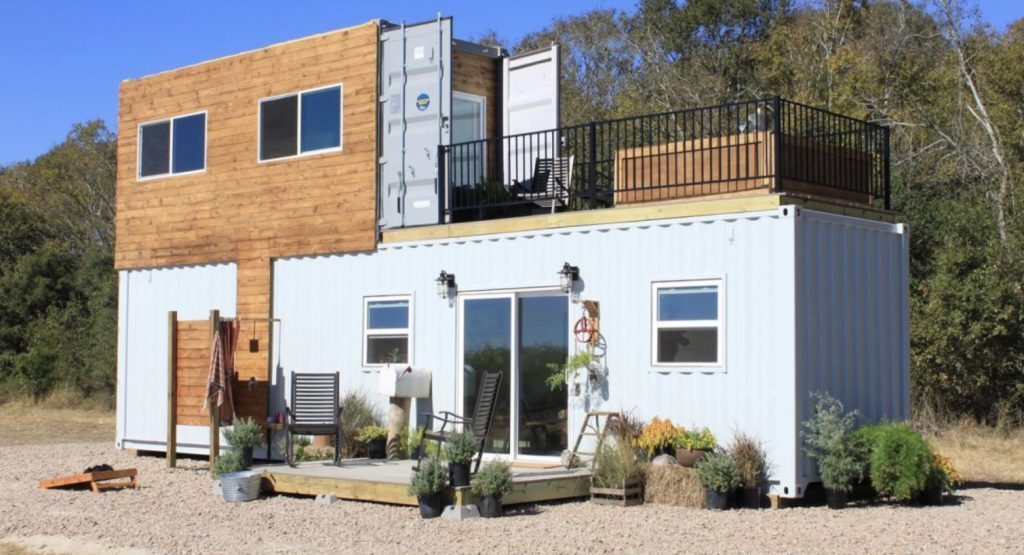 Second, on our list of shipping container homes is a family-run business based in Texas, Backcountry Containers. They specialise in custom builds and will help you realise your dream shipping container structure.
Not only do Backcountry Containers work with single 20' and 40' shipping containers; they can also create modular homes using more than one shipping container, to create a larger home.
Prices for a Backcountry container home start at $40,000 for the 20' option, for the larger 40' container prices start at $60,000 and a larger home, using multiple containers costs $100,000 and upwards. $100,000 may sound like a lot of money but for this price, you're getting a gorgeous, full-sized home, and the single unit tiny house is a much more affordable option.
These shipping container homes are beautifully designed by a family team of engineers and interior designers. You'll get something that, as well as being structurally sound, has a unique interior, with no detail missed.
One of the best features of these tiny homes is the option to add a roof deck or porch area. This feature not only adds an outdoor space, but also breaks up the corrugated metal exterior of the shipping containers to give a softer final look.
Backcountry Containers buildings are beautiful creations, and would easily make a comfortable home.
3. IQ Container Homes – $35,000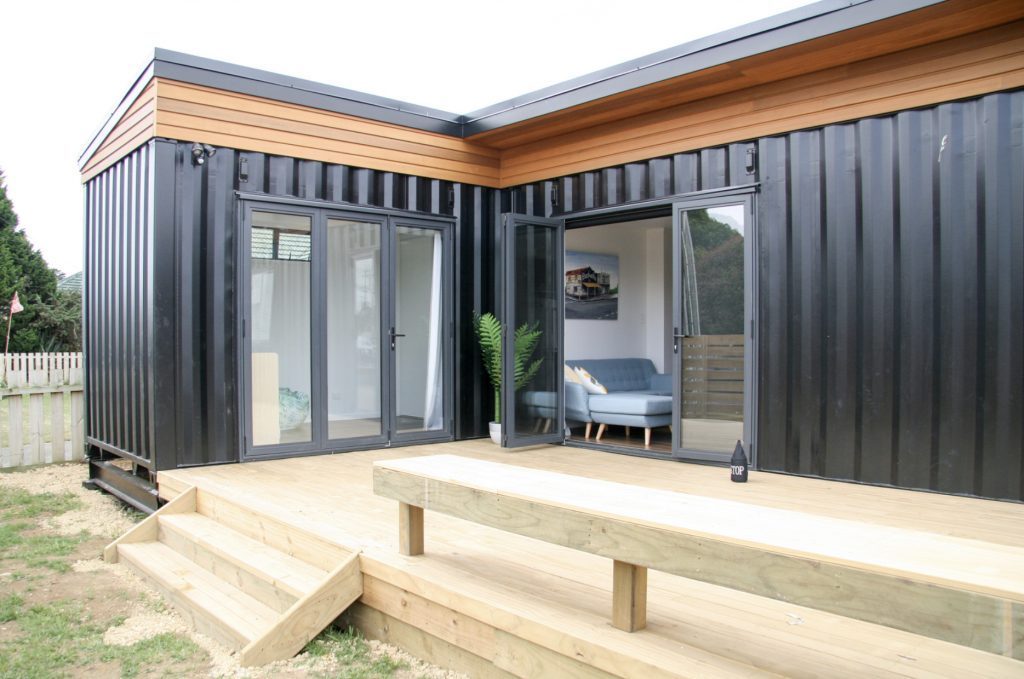 Next up on our list of shipping container homes is IQ Container Homes, a company based in New Zealand.
IQ Container Homes work with shipping containers of all sizes, all of which are grade A quality. (Meaning they have only made one trip in their lifetime as an actual shipping container.) Using grade-A containers means that your home will have the longest life span possible, and will remain rust-free for years to come.
The smallest shipping container IQ Container Homes works with is just 10', prices for which start at $23,000 (NZD). Their range goes all the way up to multi-container, multi-storey homes which can cost upwards of $350,000; but the average one-bedroom shipping container home starts at just $70,000 (about $35,000 USD).
IQ Container homes create amazing houses designed with both functionality and style in mind. They also offer an additional solar electrics and rainwater collection package, making your house more economical and environmentally friendly to run off the grid. Not too shabby!
4. Container Conversion Design and Build – $12,000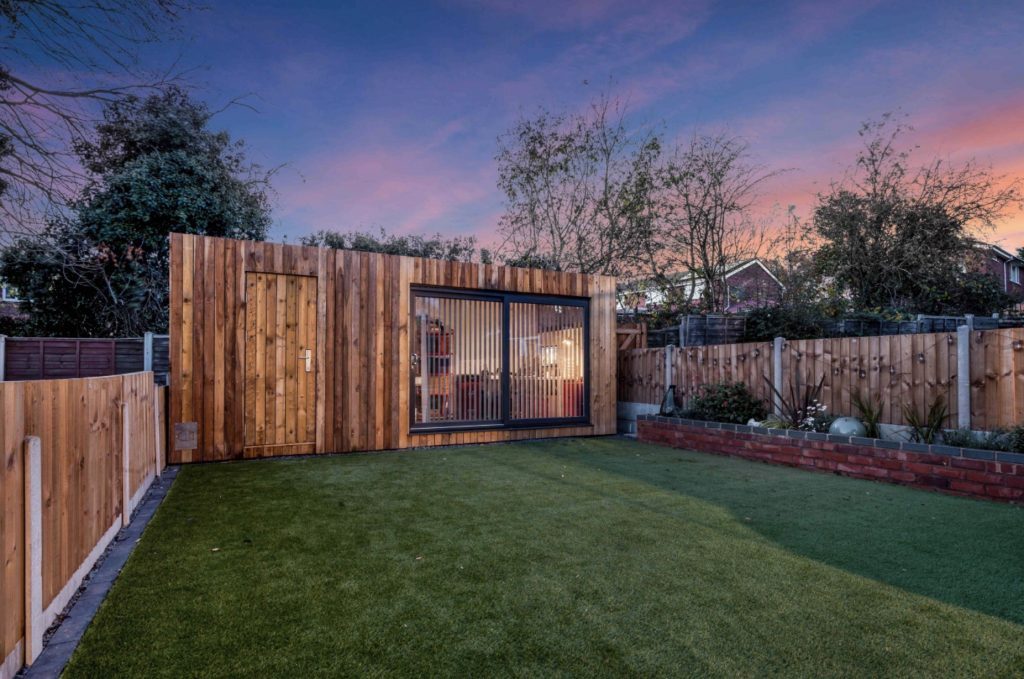 Next up on our list of shipping container homes we have another UK-based option, Container Conversion Design and Build. They offer some of the most affordable shipping containers, with the starter package coming in at just £8995.
This price includes a basic shell fit out, with one window and door, full insulation, interior cladding painted white, exterior paint, and electrics and lighting installed.
Buying a ready-to-go shell is a great choice if you'd rather skip over the technical stuff and get right to decorating the interior. Once fitted with furniture and a drinking water connection, your shell will be ready to move in! (Of course, there are other options available that would give you a finished product up front.)
Container Conversion Design and Build have plenty of experience in converting shipping container into private homes, studios and commercial spaces. They'll involve you in every step of your tiny house build, including 3D modelling and visualisation, plus the drawing of floor plans.
That's way more than you'd expect from a producer of such affordable tiny homes!
5. Lance's Self Build Container Home – $10,000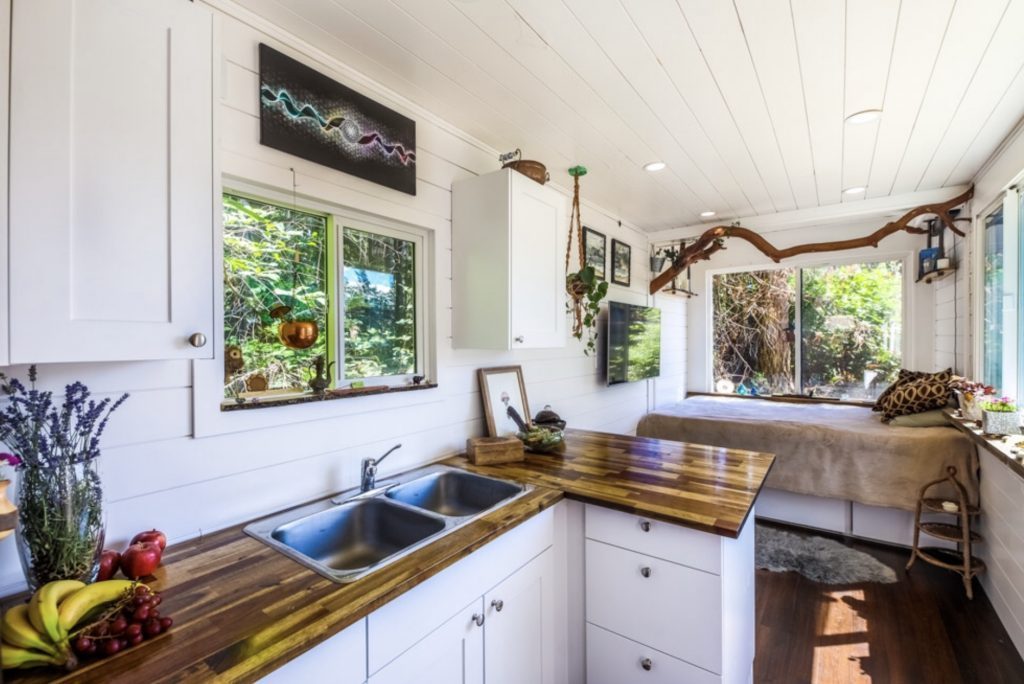 Next on our list of shipping container homes is a beautiful self build that cost less than $15,000 (CAD). This amazing home is proof that you can create a warm, cosy, and happy home on a small budget–as long as you are willing to put in the work.
A container home is a great project for any DIY-er wanting to take the leap into tiny houses. The structure is already there, so you don't have to worry about building the shell.
Lance's home is slightly bigger than a 20ft shipping container. He has propped the end doors of the container open, then built a roof and wall around them to create an insulated addition to the container. This gives him a bit of extra space inside, which goes a long way in a tiny house.
Cleverly, Lance designed this extension so that it can be easily dismantled. The doors even close so that the container can still be moved if he decides to take his home elsewhere!
Inside, Lance's home is bright and airy with white wooden cabin-style walls to allow sunlight to bounce around the home. Large windows frame the scenery outside, and pieces of nature have found a space inside bringing a rustic vibe to the home. Wooden accents in the kitchen and along the windowsills add to this feeling of bringing the outside in.
Lance's build is an amazing space to call home for such a small budget. You can watch the full tour on Living Big in a Tiny House's YouTube channel
6. The Helm by Cargo Home – $81,500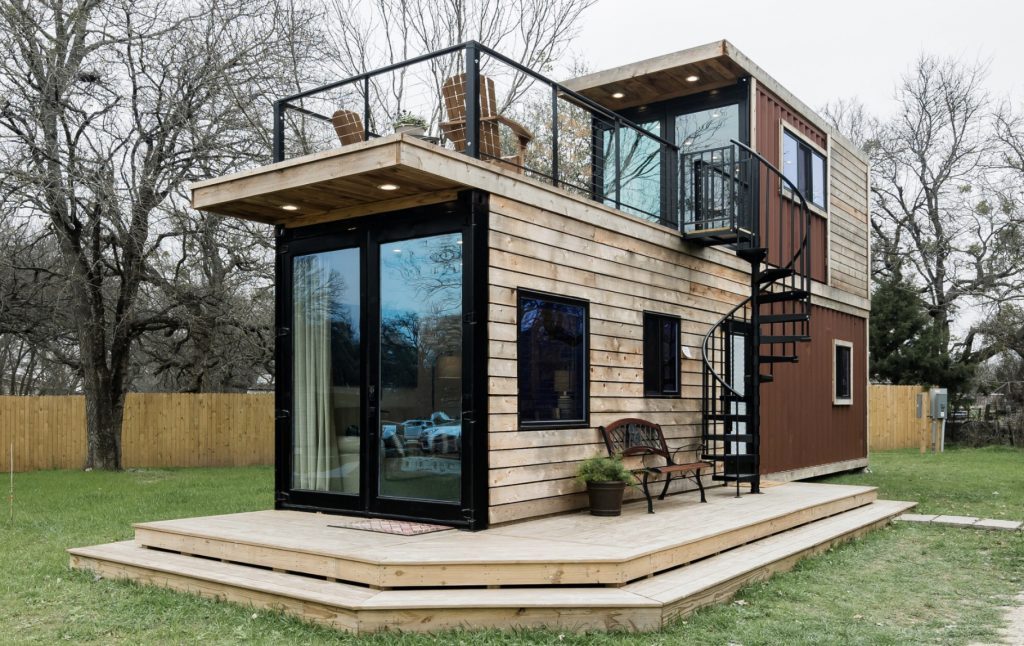 Up next, we have a beautiful home that you can actually stay in through Air BnB. Built by Cargo Homes in Texas, The Helm can accommodate up to six people, with two double bedrooms and a sofa bed. This shipping container house also has two bathrooms–pure luxury!
This home is made out of two separate shipping containers, one large 40ft container and a second 20ft container. Both of these units are blended seamlessly together through the use of 100-year-old barn cladding. The wood transforms the shipping containers, disguising the buildings origin and giving it a trendy finish.
Inside, there is a spacious feel with a large, fully functioning galley kitchen. There's also a living space slightly separated from the kitchen with a half wall. (That means that you can hide your washing up in the kitchen until later!)
The Helm is a great example of an affordable way to use more than one storage container for your home, as this build was completed for just $81,500 (USD).
7. Kim and James Self Build – $67,000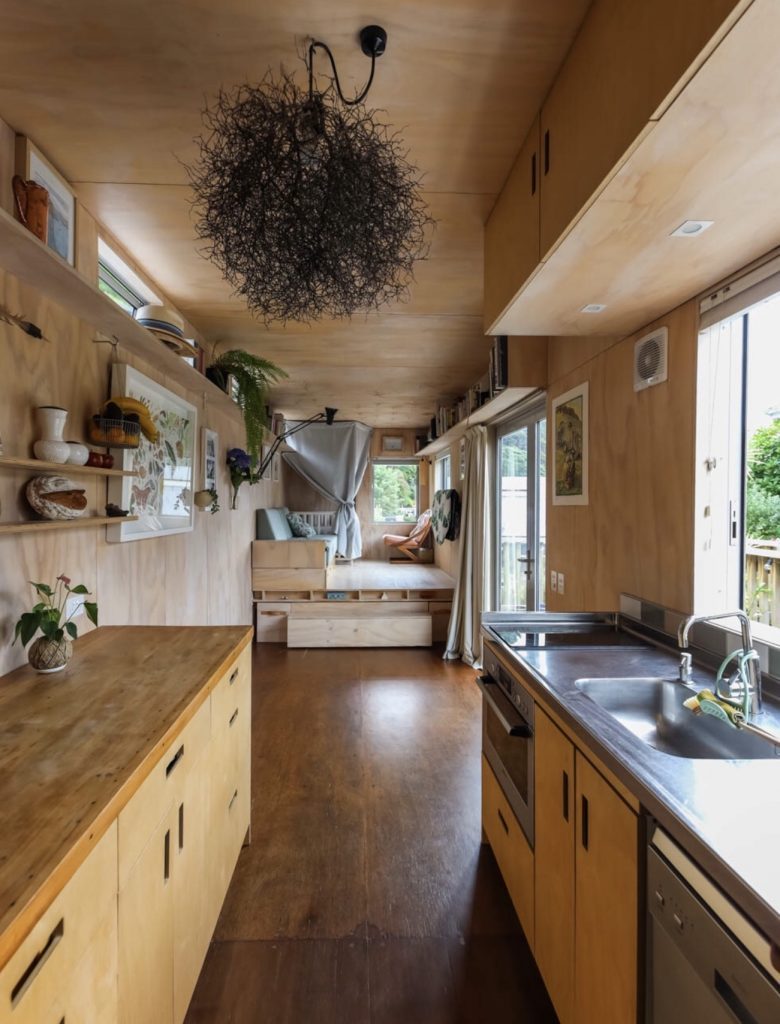 Next up on our list of shipping container homes, we have a private home belonging to Australian couple Kim and James.
Their home is a 40ft container, trimmed down to 30ft in order to fit building regulations. It sits atop two additional 20ft containers, used as a workshop and storage, respectively. The house is fitted just inside the top 30ft container, and is home to the couple as well as their young daughter.
The interior of the home is finished almost entirely of plywood, which makes it look very stylish and minimalistic. At the far end of the shipping container is a multi-functional unit that is a dining room, bedroom, living room, nursery and storage all in one.
The design is based around the raised living room platform. This hides a slide-out double bed in the middle, as well as slide-out bench seats/storage at either side. A fold-down and adjustable table is stored in the kitchen area, which can be placed in the seating area to comfortably host eight people. On top of the platform is the lounge area that has a comfortable sofa with even more storage beneath it, a crib for the baby, plus lots of book storage overhead.
The multi-functional unit means that a large area of the home has an empty floor space, allowing it to be used for the bed or dining table. At the other end of the container, in front of the bathroom is the kitchen area which is fully functional and has everything you would find in a full-sized home.
Kim and James' build cost less than $100,000 (AUSD) including the costs for the decking and planning consent. You can watch the full tour at Living Big in a Tiny Home.
8. Container Homes – $27,000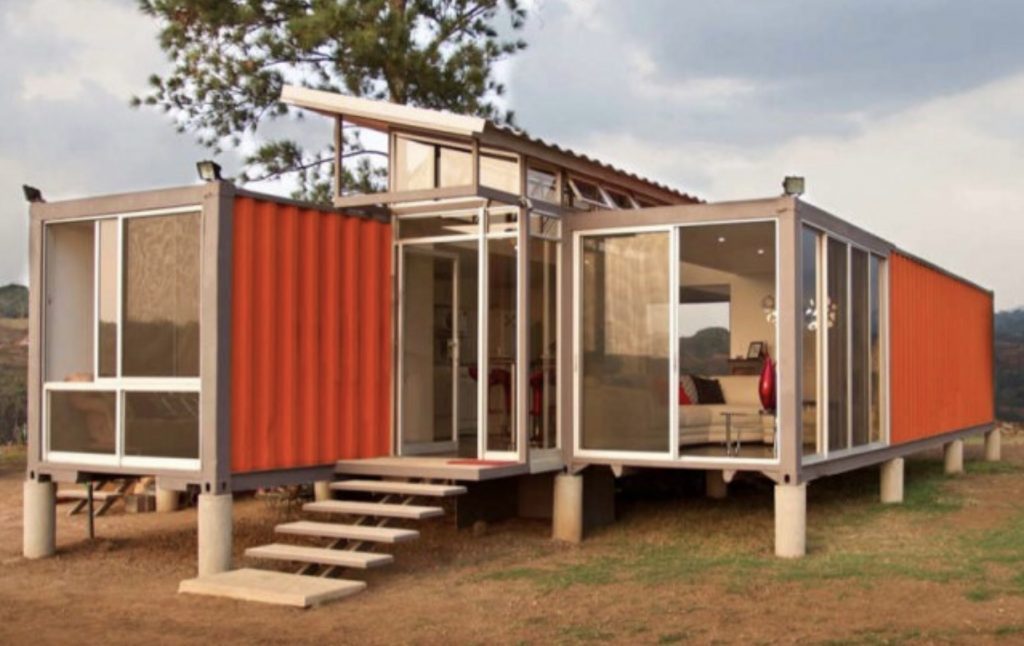 Up next on our list of shipping container homes is an Australian company, appropriately named Container Homes.
Container Homes work with shipping containers to give them the best finish possible for the harsh Australian climate. Their tiny homes are not only internally insulated (like most shipping container homes), but are also externally insulated to avoid a sauna effect in the scorching summer months. The homes are also cyclone-proof.
Prices from Container Homes range from $39,700 to $75,700 (AUSD) for standard models or more for a custom build. A custom build means you can be a part of the design process every step of the way to create a home that is perfect for you. Alternatively, you can purchase a blank canvas for just $12,700 to fit out in your own style.
Container Homes have mastered the art of merging more than one container together to make a larger home. This is a clever way to use the containers to give your home more space, as they are designed to stack on top of one another when on a ship. Container Homes have also created a shipping container pool, which would be a funky addition to any home!
9. Alternative Living Spaces – $38,000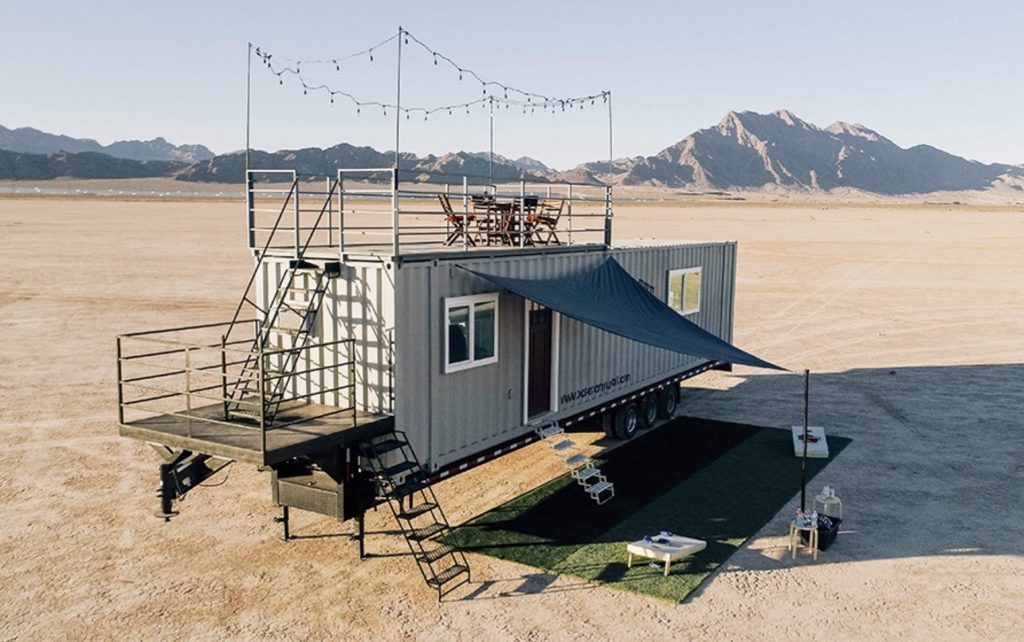 Next up we have Alternative Living Spaces, based in Las Vegas. Alternative Living Spaces specialise in creating homes of all sizes out of shipping containers, using one or more stacked in creative and imaginative ways to build a beautiful house.
The interior of these shipping containers homes can be however you want them to be. It can be modern and stylish with clean white lines and sharp angles; or soft, comfortable and cosy like a country cottage. Colours can be bright and bold or muted and dusty, depending on what suits you and your lifestyle. There is no better way to move into a home than to have one custom built for you, which is exactly what Alternative Living Spaces do.
The main drive behind the owner of Alternative Living Spaces was the need for affordable, alternative housing solutions in the USA. By using a shipping container as the base, it is possible to cut the cost of construction by tens, if not hundreds of thousands of dollars.
Shipping container homes at Alternative Living Spaces start at a modest $38,000 (USD), making housing more accessible.
10. ModHouse Australia – $98,000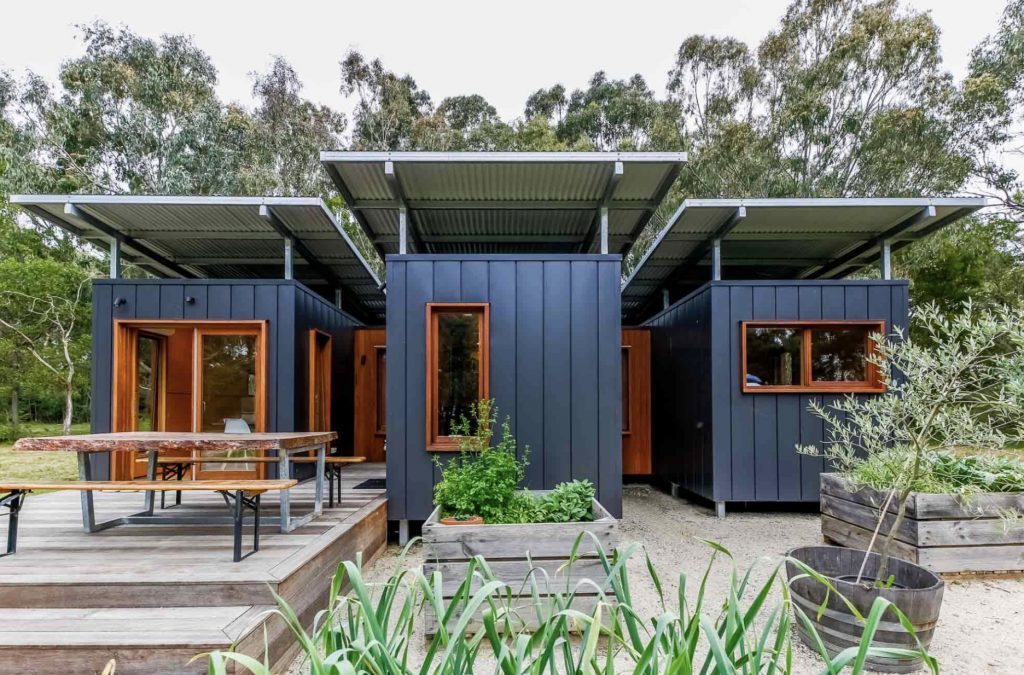 Last but not least on our list of shipping container homes we have Mod House Australia, a company that grew after creating their own amazing shipping container house to live in as a family. (You can check out the full tour on Living Big in a Tiny House.)
Richard and Amy, have created an impressive home using three 20ft shipping containers, staggered to create an eye-catching end result. Each shipping container is connected to the next using a link room, like a corridor which also allows extra space.
Each shipping container is kitted out in a trendy black cladding, which also allows for extra insulation for easier heating and cooling. That striking floating roof provides extra shade, and is home to plenty of solar panels. On top of this, the roof collects water that is stored in storage tanks below.
Each room serves a separate function: the first being a kitchen, the second a living room and office, and the third unit is the bedroom and bathroom. This design flows well and allows each space to be separate, while still complementing each other with the continuing plywood theme.
A great aspect of this build is the ability to expand space, simply by adding another shipping container and link–brilliant for a growing family! This home came in at an affordable $98,000 (USD) and you can work with their company Mod House Australia to create your own.
Final Thoughts…
We hope that this list of shipping container homes has inspired you to think about alternative living and has shown you that you do not need to be a millionaire to have a beautiful house with everything you could ever need.
Sometimes the best things come in small boxes; we think these shipping container houses prove that to be true. Let us know what you think of these tiny homes by joining the Van Clan over on Facebook Instagram and Twitter.
More Content From The Van Clan Team!