If you're looking for some of the best small camper vans around, then you're obviously looking to either travel on a budget, or go full blown van life minimalism. Van life is everywhere you look; turn on your computer and head to YouTube or open up your Instagram feed, and you're bound to see somebody cruising through the desert in a tasty camper conversion or a video showcasing the latest and greatest small travel trailers. It's a massive movement that has overtaken the globe, with people from all walks of life and backgrounds giving up their previous lives and heading out on the open road in off road trucks and small camper vans.
Bagging a cheap camper or a tiny trailer to curb your off grid adventure itch is always a great feeling, and it can really keep your van life costs down once you're out on the road. Some cars like the Dalbury E Electric have a running cost of 2p per mile, which is incredible for helping you stick to that budget while you're hopping from country to country or saving up for further adventures. This, among many other reasons, is why micro campers are becoming more and more popular with vandwellers who are considering living in a van and living the van life. With that in mind, we've made a list of the 10 best small camper vans under $25'000 dollars for you to sink your teeth into. We've searched the internet for the best deals and more importantly the nicest campers that you can buy without breaking the bank, and you might be surprised with what we've come up with!
If the price below doesn't count the van in the overall cost, we will state a 'conversion only cost'. After researching vans on second hand sites across the internet, we're working on the basis that these vans can be bought for under $8'000 (£6'500).
1. Mitsubishi Delicia – $12'217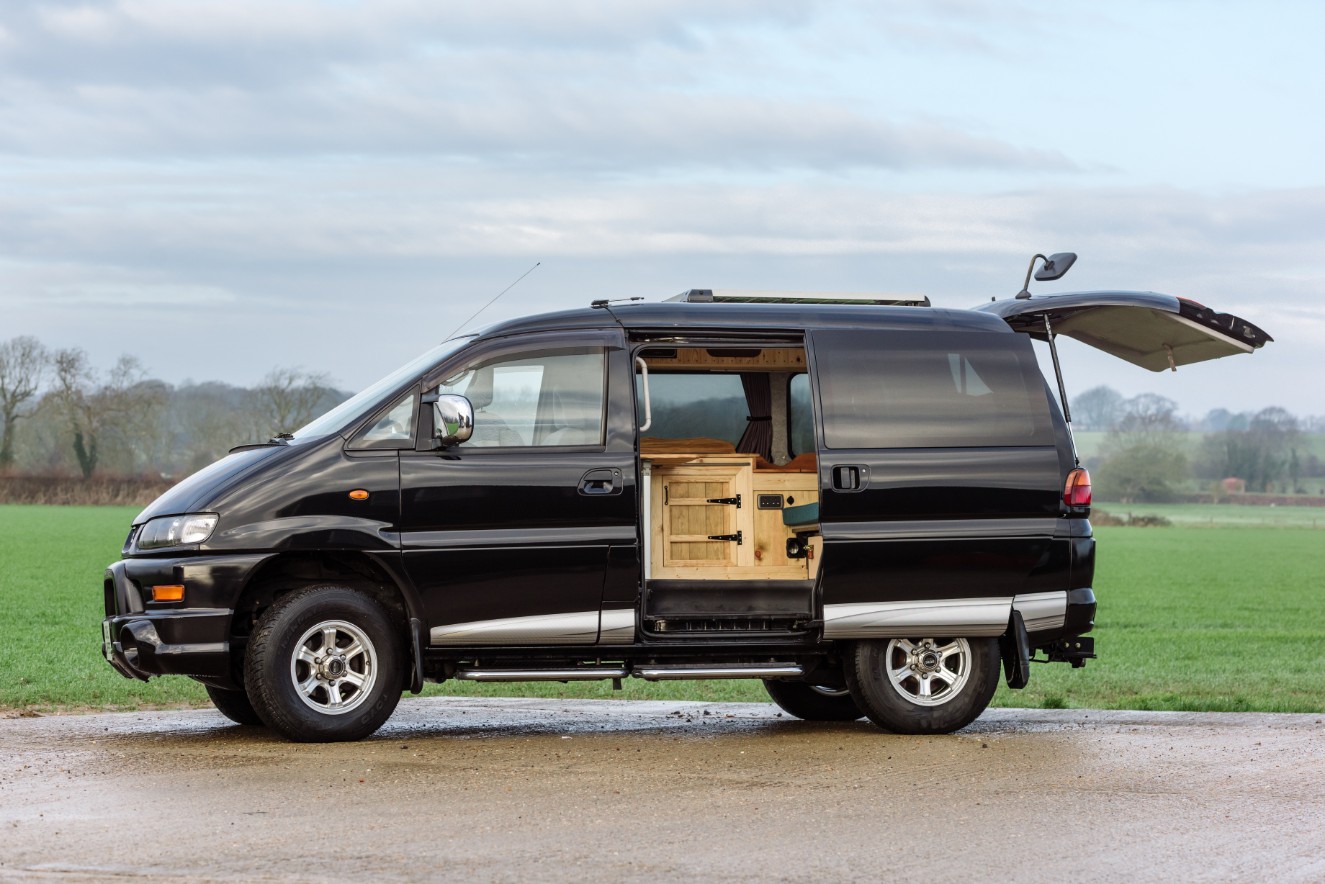 First up on our list of the best small camper vans is this Mitsubishi Delicia Chamonix conversion from UK based Love Campers; an apt name for a company that do some seriously nice conversions in some of the smaller spaces known to vanlife-kind! This conversion, The Islay, turns what used to be a small family vehicle into a fully functioning day camper with all the amenities that you need to live comfortably on the road.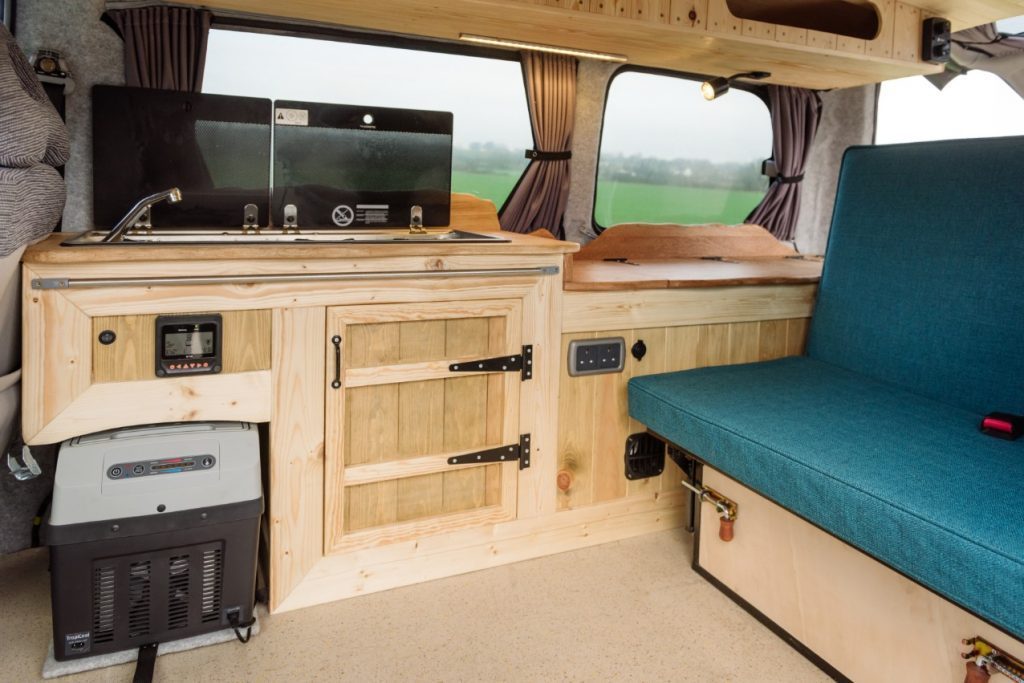 Each Islay conversion comes with dully insulated walls and vinyl flooring, a leisure battery and power management system, and a 240V hook up integrated into the side of the camper for use when parking up at campsites. The spacious hob and sink combo fit neatly into custom made, hand-crafted wooden cupboards, and the 4foot wide rock-n-roll seat converts back into a comfortable bed for you and a partner to slob out on at the end of the day. Water, gas, and lighting all come as standard in this Love Campers conversion, but you'll have to splash out an extra $982 on solar panels if you want to go fully off grid. Head over to Love Campers for more info. Conversion only cost.
2. Citroen Dispatch – $11,290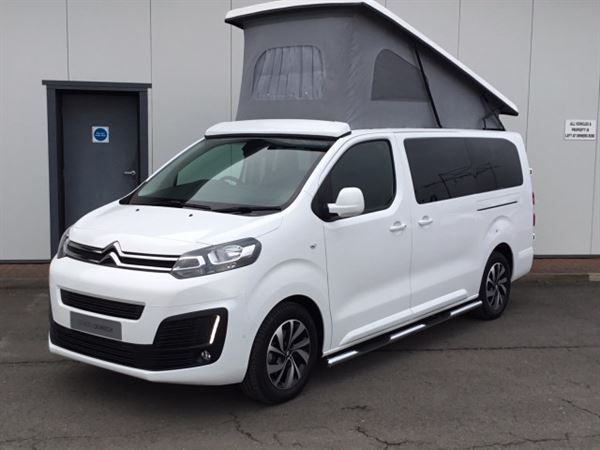 Next up on our list of the Best Small Camper Vans is the mighty-yet-mini Citroen Dispatch and a 'surf van' style conversion from Convert Your Van. Borrowing from the So-Cal VW Bus vibe of yester-year, these conversions include everything that you need to be the perfect weekend warrior in a vehicle that's easy to park and drives more like a car than a van. It's a perfect choice if you're anxious about driving a bigger vehicle, and the conversion makes you feel like you're inside a classic 'Beach Boys inspired' rolling home for half the price and with fewer things to go wrong!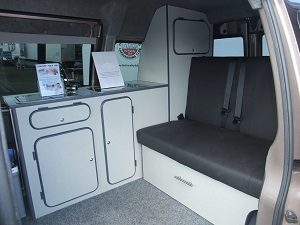 The price above comes under a Tier 2 package and includes a side kitchen and folding bed installation as well as a pop-top roof. You get all of your appliances such as your fridge and water pump wired up, as well as 12V charging facilities for your phones, tablets, and other portable gadgets that can be charged up via the included leisure battery. Head over to Convert Your Van for more details on what they offer and information on the different conversion price bands. Conversion only cost.
3. ROMAHOME R10 – $22,095
If you're looking for cheap campers that include the van in the price, then the best places to look are second-hand websites and car dealers. The ROMAHOME R10 is one of the best small campers out there on the market, and we recently found one online for the small sum of $22'000 (£17'995). That's 'cheap as chips' for a fully functioning weekend-camper!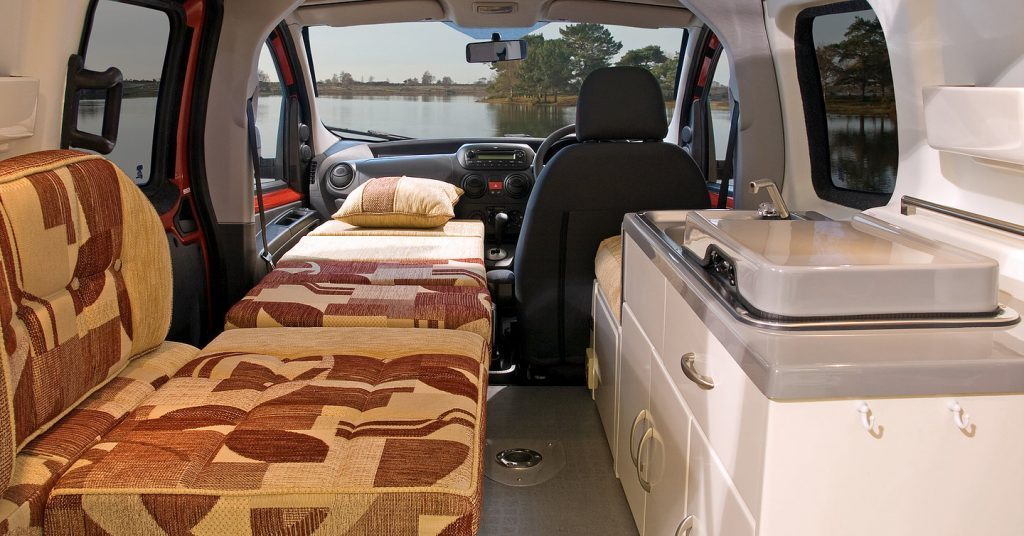 The R10 is the perfect tiny home for a solo traveller who likes living a minimalistic lifestyle while out on the road. The conversion comes with a sink and hob, plenty of storage for your solo-sized top cooking accessories, and a single bed that looks as though it's made from the biggest foam cushions ever! I wouldn't mind having a sleep on this thing!
From what we can see, there's only one seat in the front, so don't even think about trying to give someone a lift in this thing. You could strap a seatbelt to the included Chemical Toilet, but it might not make for a very pleasant ride! Check out the ROMAHOME website for more info.
4. VW Caddy – $24,550
The next van on our list has perhaps one of the nicest interiors in any of the small camper vans I've seen on our travels through the Van-i-verse. We're heading back to our friends at Love Campers for this tasty looking VW Caddy conversion, and boy does it look special. Until writing this article, I had never really considered how much you can actually do with a micro camper or an uber compact van, but this fully kitted out stealth camper van has everything that you could possibly ask for and more, and the van is included in the price!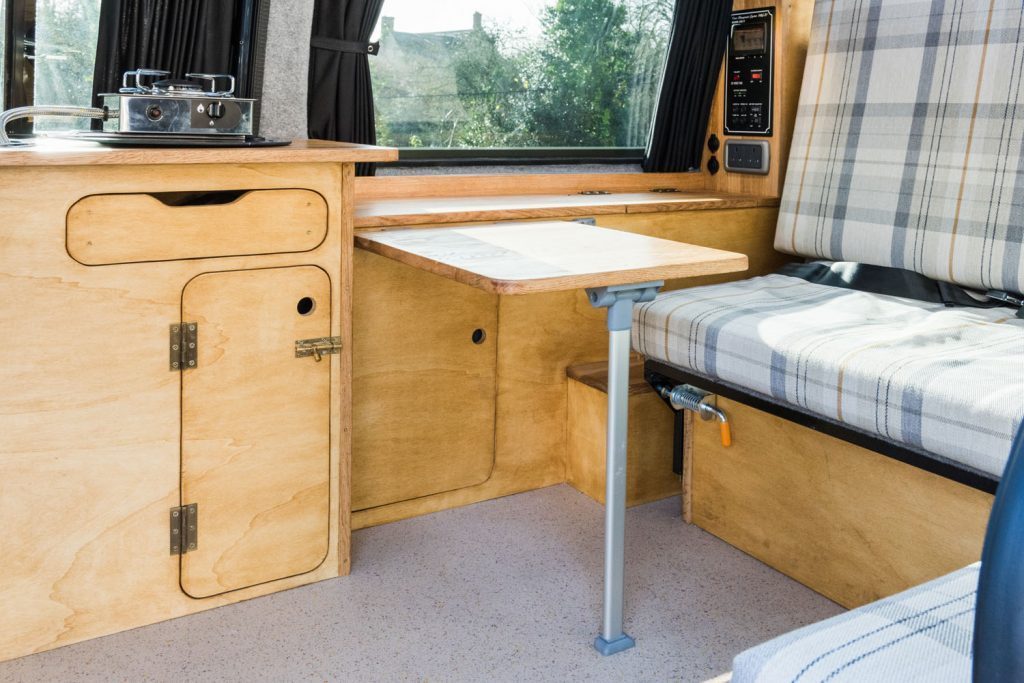 The Mandalay conversion has a similar style rock-n-roll seat/bed combo as the previous Love Campers conversion and uses the same side-kitchen set up to complete the bulk of the build. A large garage-style door opens out at the back to give you access to a boot section and to create a nice through-draft, and there's plenty of storage for all of your van life essentials including a large space underneath the cushion-clad seat.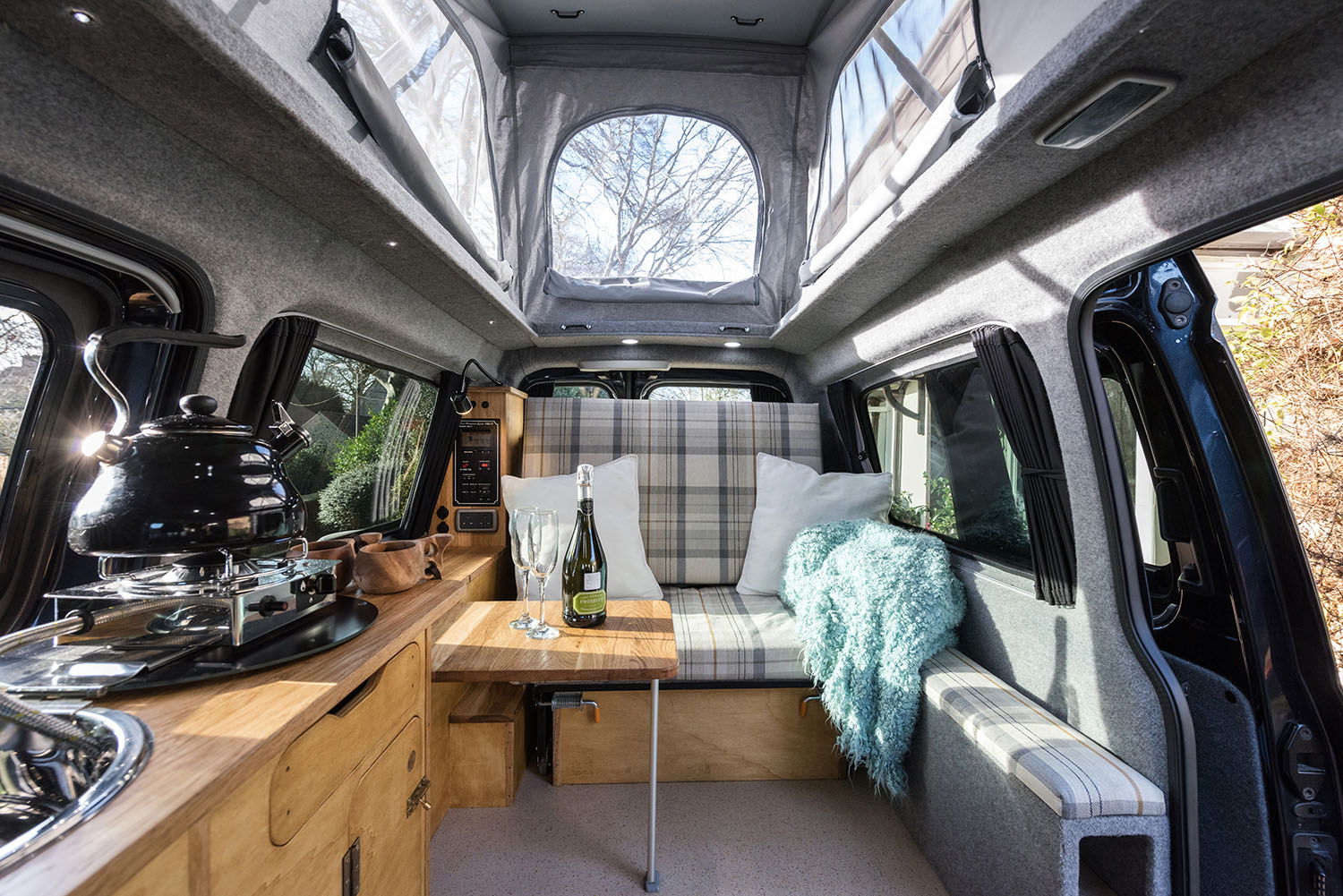 A hob, sink, and coolbox top everything off nicely, and there's also plenty of outlets for charging on the go. The price quoted above was for a VW Caddy that has recently sold, but contact the company if you're looking for a pre-made van for your next adventure. Head over to Love Campers for more info.
5. Renault Traffic – $11,971
Sometimes the decision as to whether to go for a large camper or a compact one can be a tricky call, but for Clearcut Conversions, the answer is clearcut every time. (Did that sound as cool as it did in my head?). The next tiny house on our list of the Best Small Camper Vans for under $25'000 is a reliable Renault Traffic with plush leather seats and a fully fitted kitchenette. Unlike some of the other more traditional DIY camper conversions that use a wooden theme throughout, this Renault Camper from Clearcut Conversions looks a little bit like a futuristic space pod that just shot down from the Death Star (which if you read my articles regularly you will know is a very good thing indeed.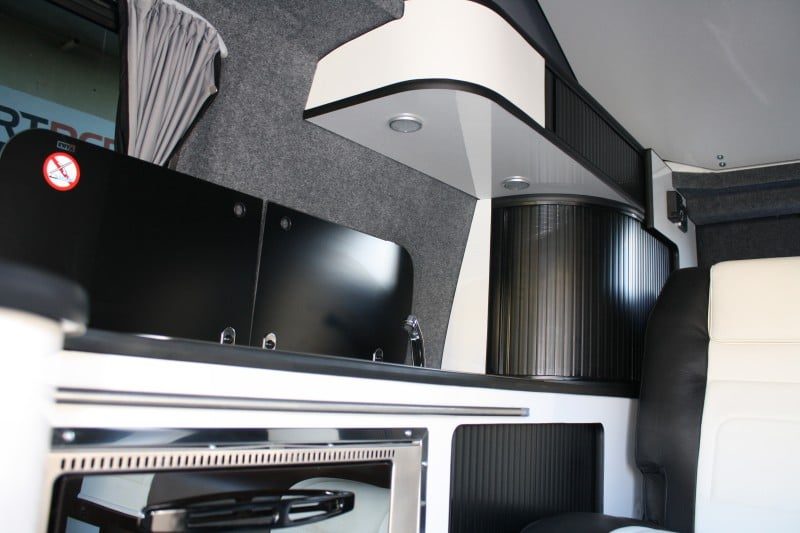 This stylish camper is a 2-berth, making it a great vehicle for you and a mate to share or for impressing a partner or soon-to-be-loved-one with your swanky new ride. A 50l fridge, sink, hob, and 20l water storage come as standard, as well as 12V and 240V power and a battery management system to keep your numbers in check on the go. If going off the grid in luxury is your kind of thing (but you only have a small space to park in), then this Renault Traffic conversion will be right up your street. Head over to Clearcut Conversions for more information. Conversion only cost.
6. Ssangyong Turismo 4×4 – $23,329
If you're looking for a stealth camper that looks as though it could just be a family school-run vehicle, then this rare Ssangyong Turismo Camper from Wellhouse Leisure could well be the answer to all of your dreams! It comes with four wheel drive for getting to all of those hard to reach van life travel spots, and it's small enough to go down into all of those European underground parking lots that my ginormous Vauxhall Movano could never dream of getting into.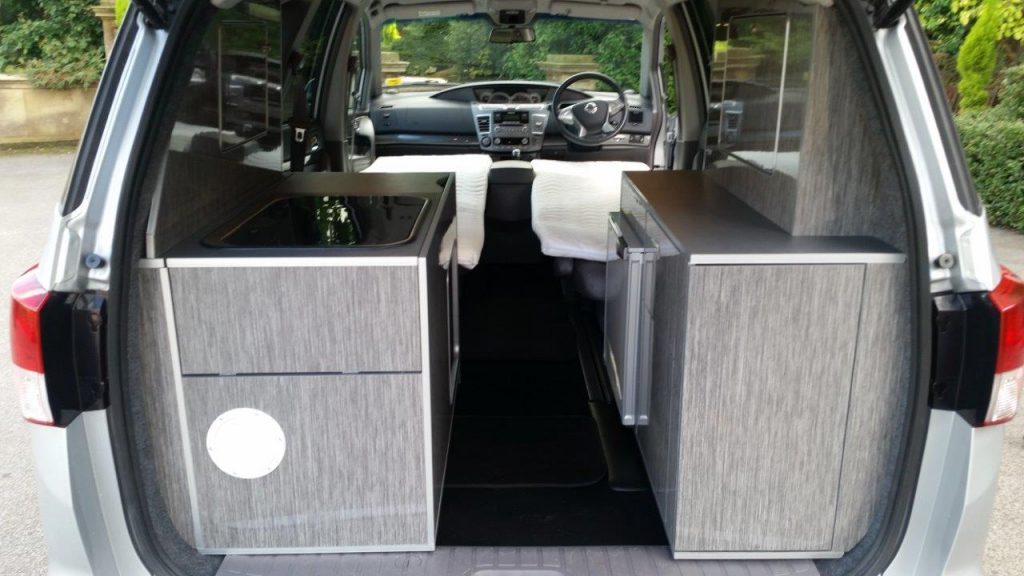 This automatic mighty micro-machine has four leather seats for day-to day travel and a camper conversion in the rear of the vehicle. It comes complete with a compressor fridge, a hob that slides out for whipping up tasty meals on the go, fresh drinking water and wastewater storage, and a porta potti for when you 'gotta go'! The seats flip down to make a two-berth sleeping arrangement, so if you're travelling with four you'll either have to get super cosy or set up a tent hammock in the forest. Check out Wellhouse Leisure for more details.
7. Toyota Sienna – $8'500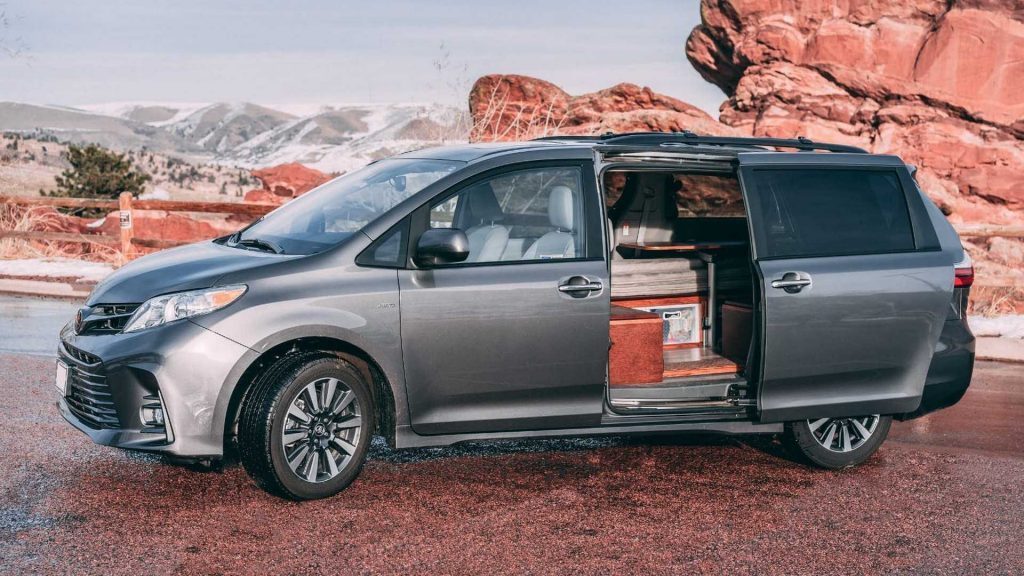 Oasis Campervans are providing the next tiny home on our Small Camper Vans list, with a minivan conversion that could blend into normal day office life without anyone even knowing. This unsuspecting looking camper has a whole host of hidden functions and features designed to get you living off grid in a moments notice, and it could well be the smallest of our small camper vans in this list (try saying that with a mouth full of food!). Oasis Campervans have managed to fit a sliding table, a bed, and a place to charge up your gear on the go inside this thing. There's even a sink with space for water storage, and a place for you to put your burner on too!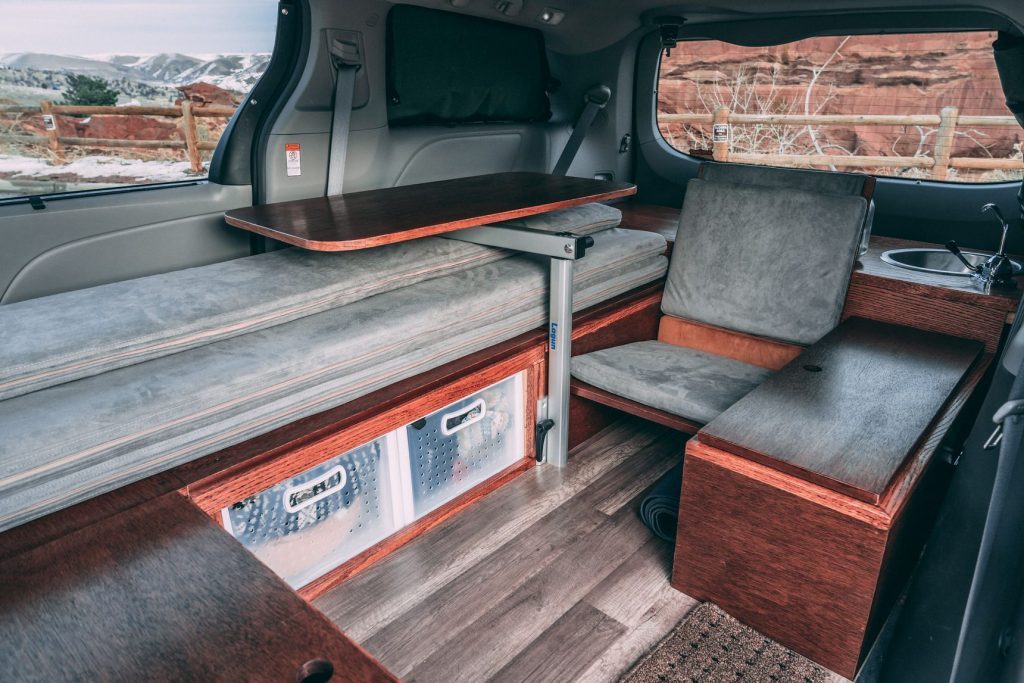 The storage in this minivan camper is incredibly well thought out, with boxes and cubbyholes located all the way through the build and accessible from the back too, giving you a great place to store your muddy adventure gear. It might not be big enough to put your travel bikes in, but it's definitely a good size for short trips away or day excursions to the beach. Head over to Oasis Campervans website for more info. Conversion only cost.
8. Citroen Berlingo – $23,943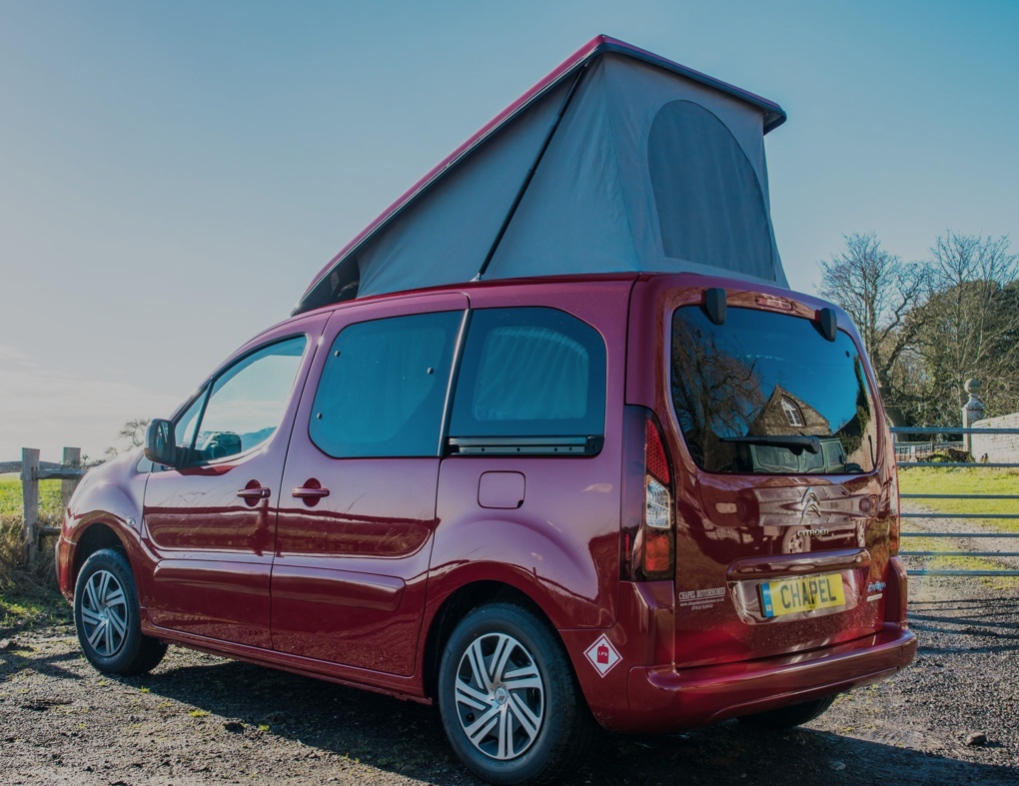 At Number 8 on our list of the Best Small Camper Vans for under $25'000, we have the ever-popular Citroen Berlingo from Chapel Motorhomes, a double berth pop-top camper that is perfect for an adventurous duo who don't mind spending a lot of time in close proximity to each other. This city dwelling MPV is the perfect base vehicle for turning into a micro camper, especially with the gas-assist pop–top added into the equation!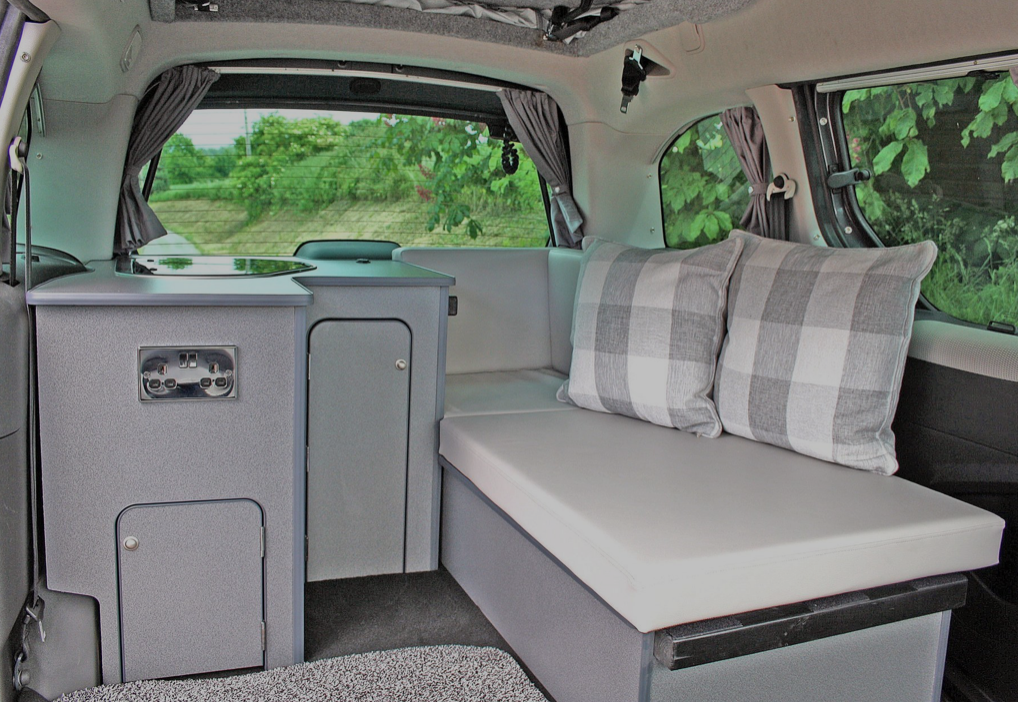 This functional two-berth conversion has a Dometic double hob and Dometic sink in the grey kitchenette area, both of which can be covered over with glass lids to provide extra wipe-clean food prep space. There's a 75Ah battery for charging your 12V and 240V gadgets, as well as an electric hook-up point for when parking near a power source. You'll find a Thetford Porta Potti in here too (one of our Best Campervan Toilets) for when nature calls, and a 420l lockable box on the roof of the camper for all of your extra belongings that just don't seem to have a fixed place. Head over to Chapel Motorhomes for more information.
9. Honda Elysion – $24,557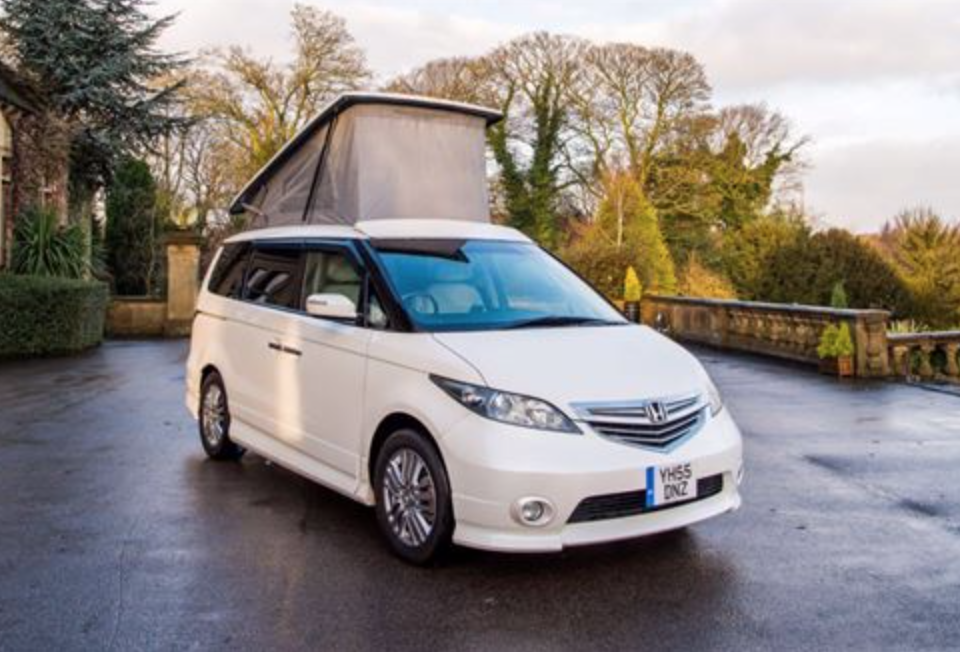 We're heading back to Wellhouse Leisure for our penultimate compact home on our list of the Best Small Camper Vans. This Honda Elysion comes in at the very top of our budget, but the available space inside the camper and the fresh-looking interior are worth parting with the extra benjamins. Wellhouse have fitted this Japanese people carrier with a rock-n-roll two-seater bench seat that transforms into a comfortable looking bed, and they've also put an elevating roof inside too to make it easier to move around in the living area once stationary. There's also the option of adding a second double bed into the mix too and turning this mini camper into a four-berth motorhome.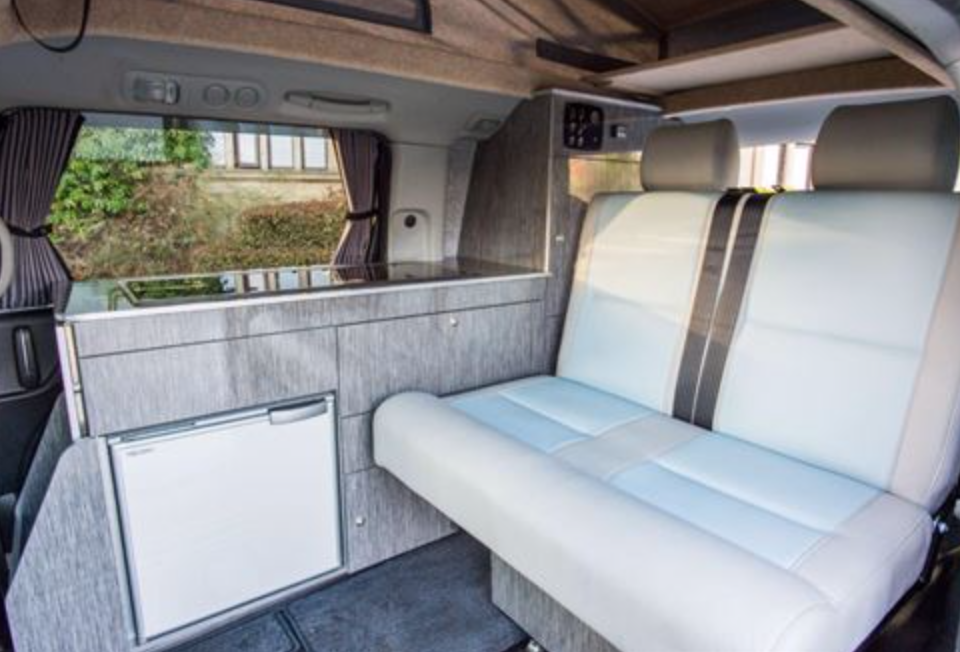 At 4.84m long and standing at around 2m high, this camper will be able to get underneath most of the height restriction barriers at parking spots around the world, and it's a nice size for parking in the city as well as out in the wilderness. It comes with a 25L fridge, a 2KW air heater, a 100w solar panel hooked up to a leisure battery, and a two-burner gas hob and sink combo. Not bad for the price, don't you think? Check out Wellhouse Leisure for more details. Conversion only cost.
10. Ram Promaster City – $7,000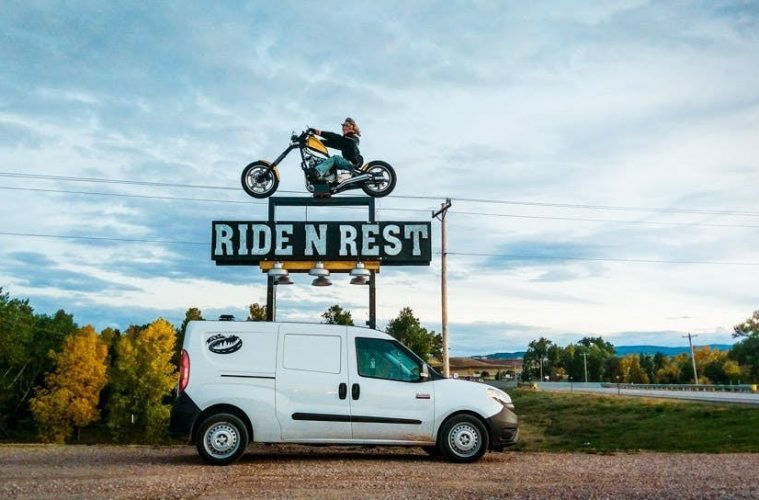 The final camper conversion on our Best Small Camper Vans list is one that our US readers will know all too well, and it's also the cheapest conversion on our list too! This Ram Promaster City is probably is the perfect van for a city-slick stealth camper that will pass under the radar of pretty much anyone with working eyes. Cascade Campers add a super thin solar panel to the top that doesn't attract any attention, turning this ordinary cargo van into a vehicle that's ideal for off grid living
These Cascade Campers have a simple fold-down bed set-up, and you also get a tap and sink for all of your fresh water needs. There's 19l of freshwater storage onboard and a one hob fixed burner that's perfect for making a cup of tea or some soup for one. Keep your food cool in the Dometic 12v fridge, and power up all of your gadgets with the included inverter. Head over to Cascade Campers for more details. Conversion only cost.
More Content From The Van Clan Team!