If you've ever spent any time in the States or have a love of truck campers, then you'll know that there is nothing more versatile, sturdy, or as powerful as a good, honest off road truck. Some might even go as far as to say that the right truck could be a thing of beauty, and that truck life itself is not just a means of getting from A to B; it's a way of life. It's been almost a year since I drove a Toyota Tacoma Camper 1000 miles across California, and I can still remember every moment as though it were yesterday.
This article is sponsored by Four Wheel Campers. They were kind enough to invite us to Overland Expo which gave us the chance to produce this article for the Van Clan community. Check them out if you're interested in the best pop up truck campers around.
We're here at Overland Expo West with our Sponsors Four Wheel Campers, reminiscing over the very vehicle that took me to the top of Yosemite, the shore of Lake Tahoe, and along the sweet roads of Highway 1. The Toyota Tacoma Camper is heralded far and wide as being one of the most reliable off road trucks around, and I am going to tell you why!
Meet The Toyota Truck Camper That Never Fails To Turn Heads!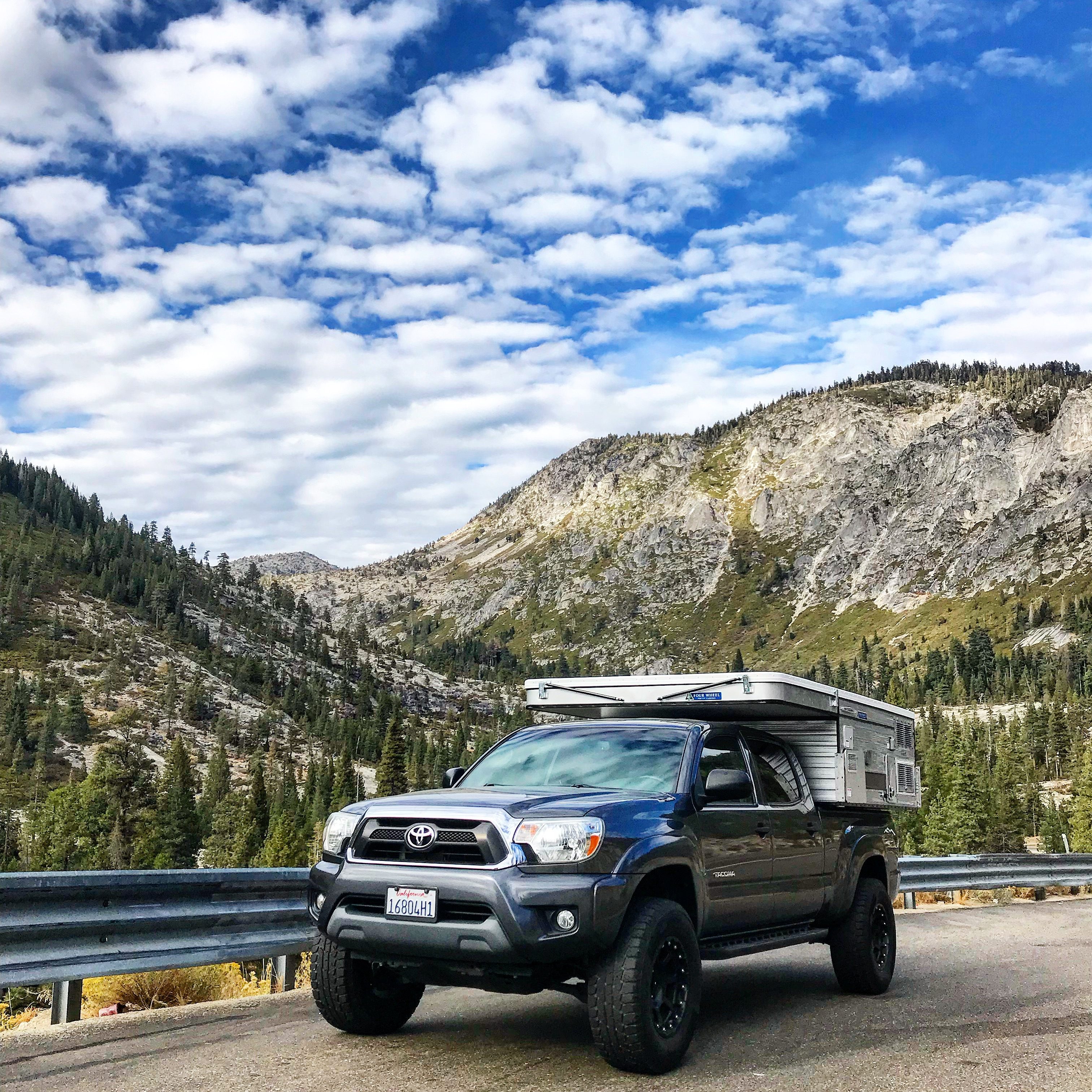 The Toyota Tacoma is used as a base vehicle for so many different pop up campers and truck campers, but why is it so special? As we're here with the friendly folks from Four Wheel Campers, it makes perfect sense that we focus our attention on their classic Toyota Tacoma Camper set up featuring the 'Fleet' camping pod. This is the exact model that I lived in for ten-days, and I got to know it pretty well.
Let's start with the truck itself first. This pop up truck camper is built directly onto the truckbed of the Toyota Tacoma. If you search for a Toyota Tacoma Camper on the internet, the chances are that you'll see multiple camper conversion companies using it as a solid foundation for an epic off grid home.
Tell Us About The Truck Already!
Ok ok! Let's start with some facts. The Toyota Tacoma Camper is a 4×4 off grid goliath, and it runs on Gas rather than Diesel which in my experience meant that it was cheaper to fill up (result!). It runs off a powerful 3.5-Liter V6 DOHC 24-Valve direct-injection engine and features a 6-speed automatic gearbox.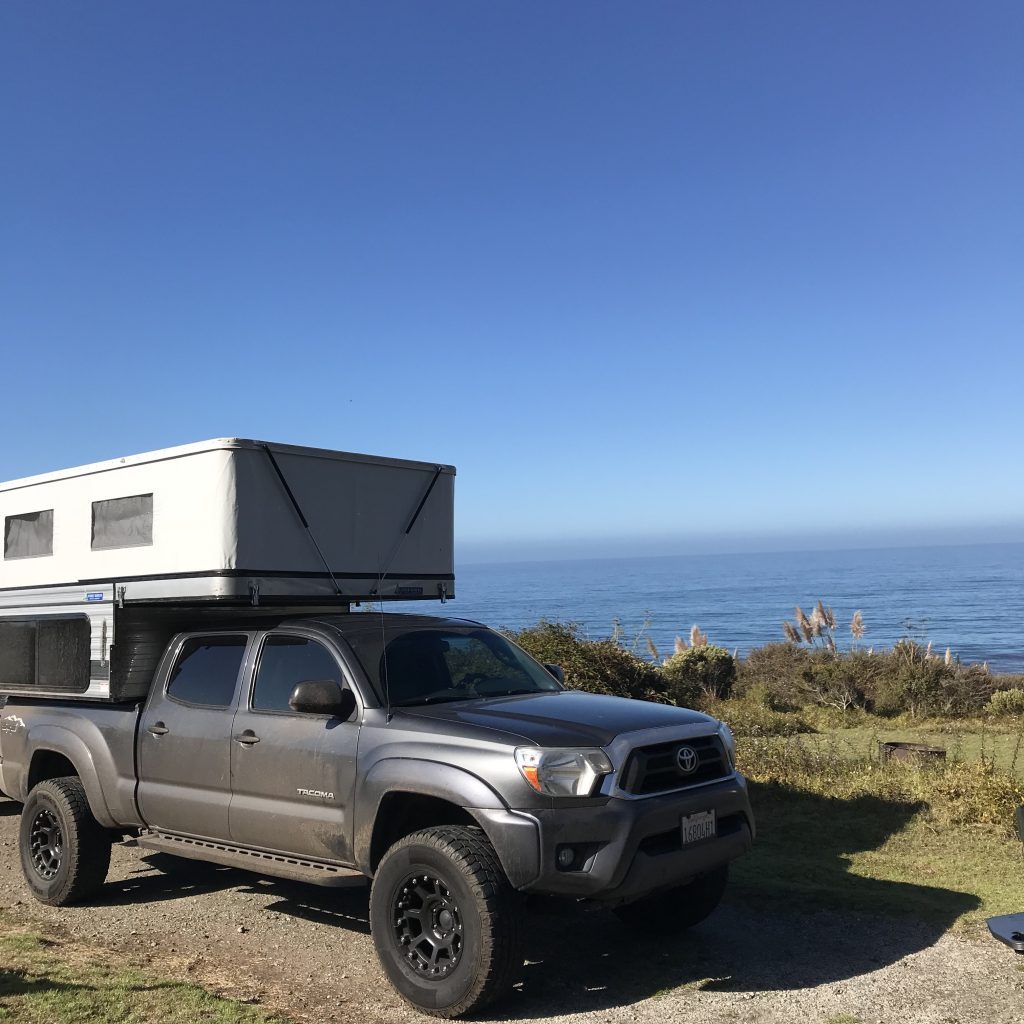 This was the first automatic truck that I had ever driven, and boy could this thing go! From sitting at the traffic lights at the bottom of the freeway turn-offs to getting into a lane took no time at all, and cruising down asphalt roads felt just the same as heading over bumpy terrain thanks to the suspension packages. The front of the Toyota Tacoma Camper makes use of a coil-spring double-wishbone suspension system along with a stabilizer bar, and the back boasts a leaf spring suspension with staggered outboard-mounted gas shock absorbers and stabilizer bar. Add Bilstein shocks in for good measure and you've got yourself one smooth ride!
Tell Us More!
The combination of the chunky off-road tyres that Four Wheel Campers kitted us out with and the variable-assist power rack-and-pinion steering made driving an absolute breeze. Whether heading up steep ascents or winding down rocky mountain trails, the Toyota Tacoma Camper took everything that I threw at it in its stride. The power-assisted brakes also came in handy when a deer shot out onto the road, which happened more than once!
If you find yourself in a traffic jam on the way up to Glacier Point, then the included Hill Start Assist function will keep you from rolling back into the car behind you, something that never usually leads to you making a life-long friend. There's also the option to add a reversing camera into the mix too for extra parking ease, not that I needed it because I was a parking god…(the less said about this the better).
What's Inside The Truck?
The air-conditioned interior of this 4×4 5-passenger truck is pretty luxurious. The driver's seat was super comfortable and supportive throughout the long 4-hour journeys, and the inclusion of controls for the radio and iPhone on the steering wheel were great for staying hands-free throughout the ride.
If you are a digital nomad who likes to keep his or her gadgets charged up on the go, then the Toyota Tacoma has multiple USB sockets in the cab as well as wireless charging. It doesn't have an inbuilt sat-nav system, but we used a TomTom Go Camper for our travels and it worked brilliantly. Problem solved!
How Do Four Wheel Campers Transform This Truck Into A Toyota Tacoma Camper?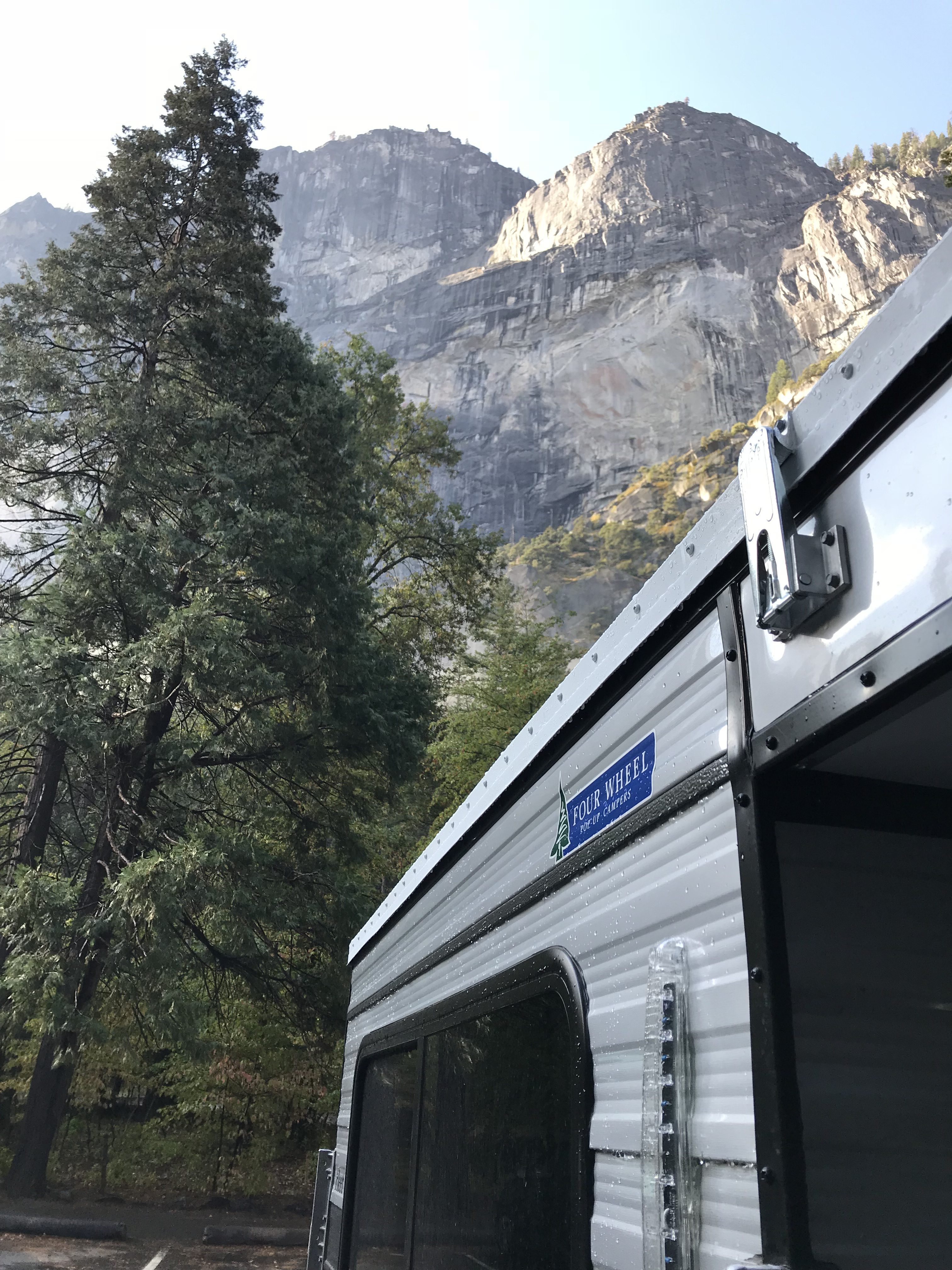 After the Expo we're going to be heading out to Death Valley and the Grand Canyon in a convoy of Four Wheel Campers, which shows you how well-loved these camping pods are by truck camper enthusiasts all across America. So just what is it about this converted Toyota Tacoma Camper that people find exciting?
Four Wheel Campers allow you to keep your truck for everyday use if you so wish by providing a camping pod that slides onto the truck bed itself. These pop up camper units are easy to install and remove without a team of professionals to hand, and they're compact enough to store in a garage or around the back of the house without taking up tonnes of space in the process.
What's It Like Living In a Toyota Tacoma Camper?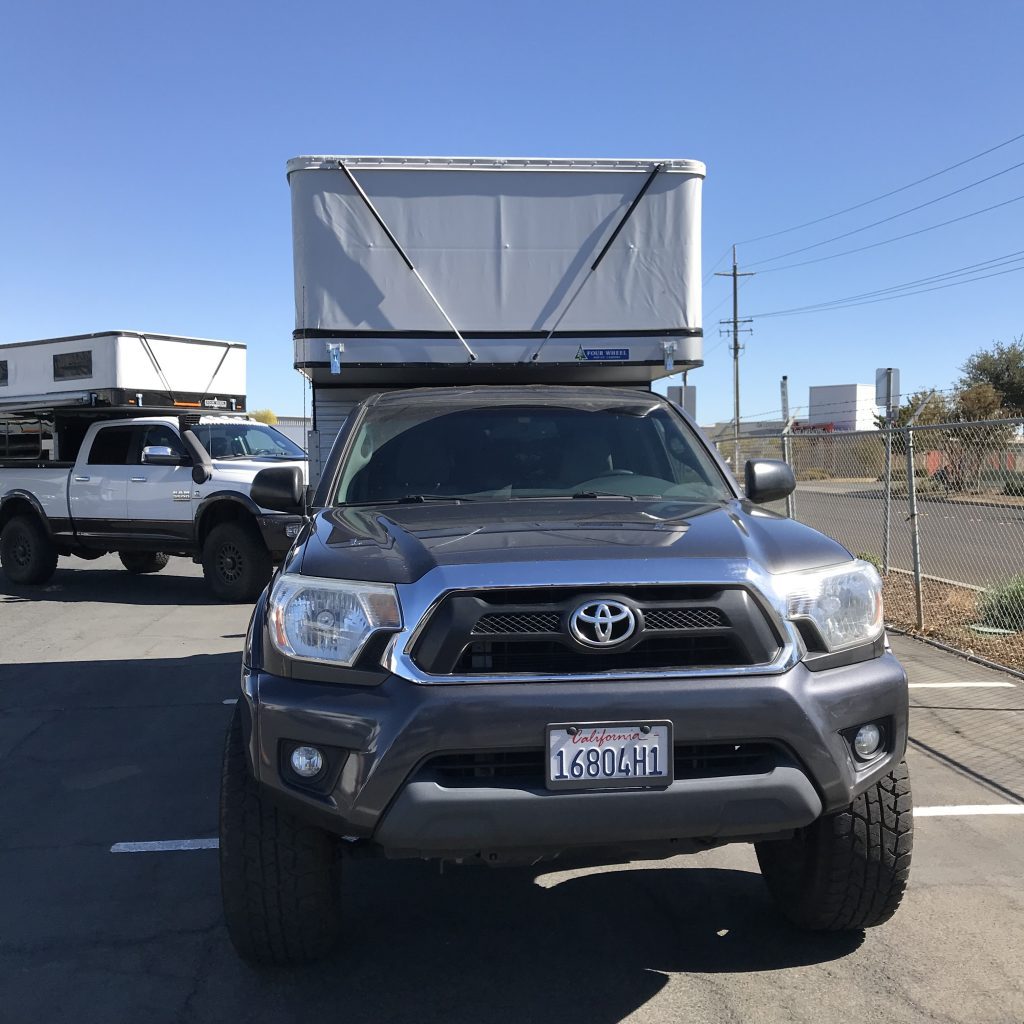 This truck was my tiny home from home for 10 days of hard driving, and it provided a comfortable and practical place to sleep, eat, and relax while living off grid. The fact that I could take the Toyota Tacoma Camper literally anywhere meant that it needed to be fully kitted our for off grid living, and the guys at Four wheel Campers didn't disappoint.
Before we kick off with showing you the inside of the 'Fleet' model that I called my tiny house, let me tell you a little bit about how these Four Wheel Campers are made (it's time to get nerdy!) Just under 90% of the pop up truck campers that the company makes are built in line with specifications that the customer sets out, making them the most customised campers that we've seen of this kind. Each custom build can take anything from two to three months to complete, and that's because these affordable tiny homes are built by hand rather than by machines who have never spent a day in the wilderness with the wind in their hair or mud on their feet.
The FWC camping pod on the Toyota Tacoma Camper is made from an aluminium frame with no wooden components that could rot or splinter in sight. They use Aluminium because it has a certain amount of give in it while still providing a strong and sturdy structure; if it's too rigid when you're going over those sandy dunes then you might end up in a spot of bother. Even the roof is made up from a single piece of aluminium, so there's no way that any rain or snow can get into your camper while you're hibernating through a storm or tearing across the country to get back into a bit of sunshine.
Show Us The Inside!
The inside of the Toyota Tacoma Camper had all of the van life essentials that you need for living the van life (or truck life in this case). The steps at the back of the camper flip down to allow access to the pod itself, and after unlatching six heavy duty clips and using the roof erection tools provided, the streamline camper turns into a pop-top mansion complete with the biggest pull out bed that I've ever seen.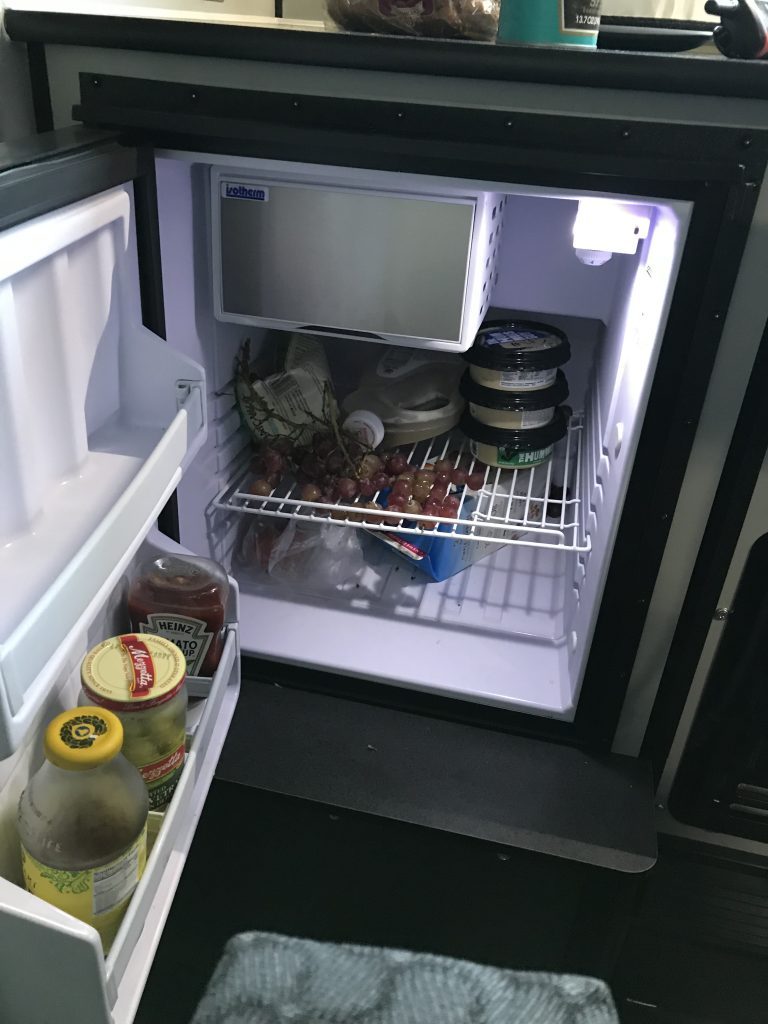 All of the FWC builds are different, but I'm going to talk you through the build that I lived in so that you can get an idea as to how they are set up. On the left hand side by the door is a roomy 12V fridge that I stocked full of cheese, humous, veg, juice etc (middle class off-roading baby!). This was a very quiet unit that didn't make a terrible racket when the compressor kicked in; I hardly knew it was there.
The 'Fleet' camper had so much storage for all of the top cooking accessories that FWC provided me with as well as dry ingredients. I like to cook, which meant that I had a tonne of pots and pans with me as well as lots of different spices, and there was more than enough room for everything. The cupboard doors stayed fixed in place while driving too, so there were no nasty surprises when I parked up for the day.
What's It Like To Cook In?
The Toyota Tacoma Camper had a pretty large work surface to prepare meals on, and also had the added bonus of having hot and cold water too, which made washing up a breeze. The two burner hob was perfect for whipping up most meals, and with the pop topped there was plenty of room to stand up while cooking (I'm 5'10" for reference).
Four Wheel Campers provide two pass bottles with every build so that you can always have a spare. These are located outside the build in a handy lockable storage area, and you can rest easy knowing that the propane alarm will wake you if there is a leak.
Was The Toyota Tacoma Camper Comfortable?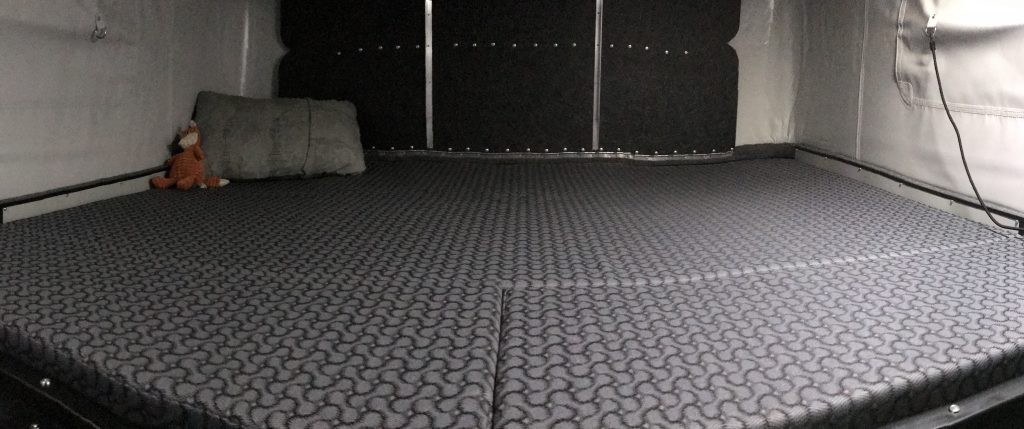 It was, and I sometimes found it hard to get up in the morning because the bed was so comfortable. In its fixed position, the bed was a standard queen size, but you also have the option of extending it past the cooker to create a massive sleeping platform that uses the cushions from the chair next to the swivel-table. I did this every night as I liked feeling like the Hugh Heffner of the off-grid-world.
Power was never a problem thanks to the alternator topping up the batteries as I drove, and although the Toyota Tacoma Camper didn't come with a solar package I never ran out of battery power once on the trip. A handy display lets you keep track of how much water and electrical charge you have left before you're empty, and underneath is where you can access the analogue furnace controls. The furnace was a great addition and greatly appreciated when we visited Lake Tahoe, warming the camper in seconds and creating a nice environment to kick back and relax in.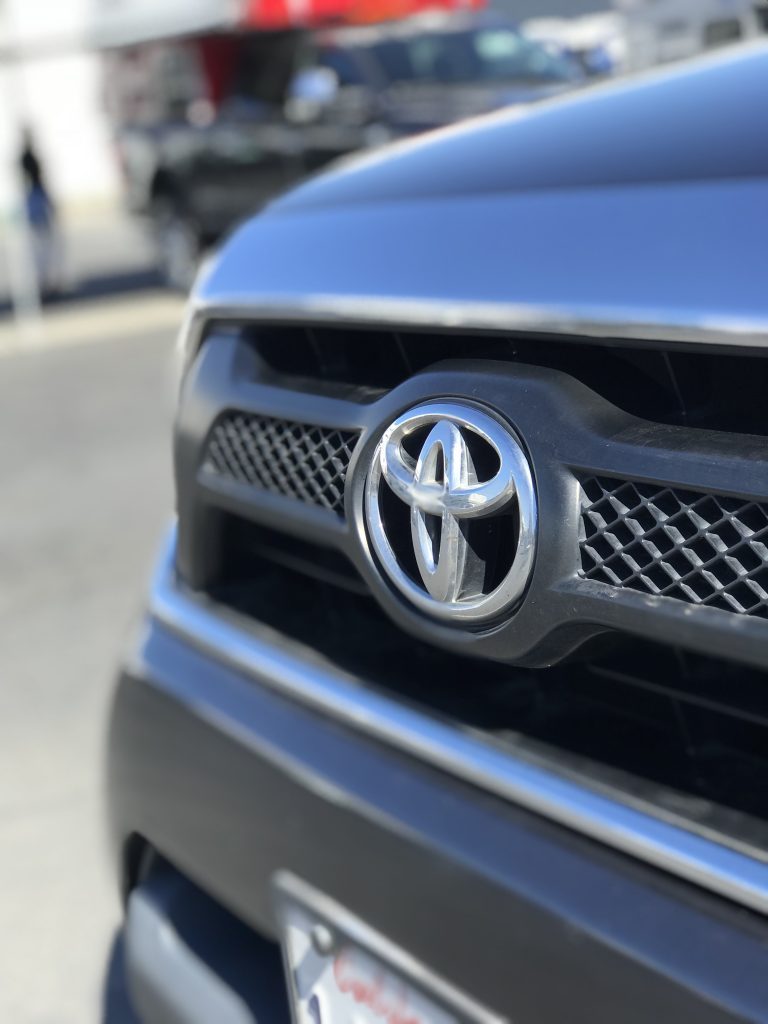 Is It A Good Place To Work From?
Thanks to the touch-operated LED lights and comfortable chair/table combo, you can work at any time of day or night. If you make a living from life on the road, then there are tonnes of places to charge your USB and 12V gadgets while on the go too, so late night Mario Kart sessions don't have to be a thing of the past!
Final Thoughts…
The Toyota Tacoma Camper is a great and affordable way to get off the grid at a moments notice; you can even keep it stocked up with clothes and dry goods all year round! At just over $17'000 (around £13'000) it' a cheap alternative to buying some of the top campervan conversions on the market. This price doesn't include the cost of the Toyota Tacoma itself, but after driving one across California I wouldn't need an excuse to part with the money if I saw one in a local second-hand dealership.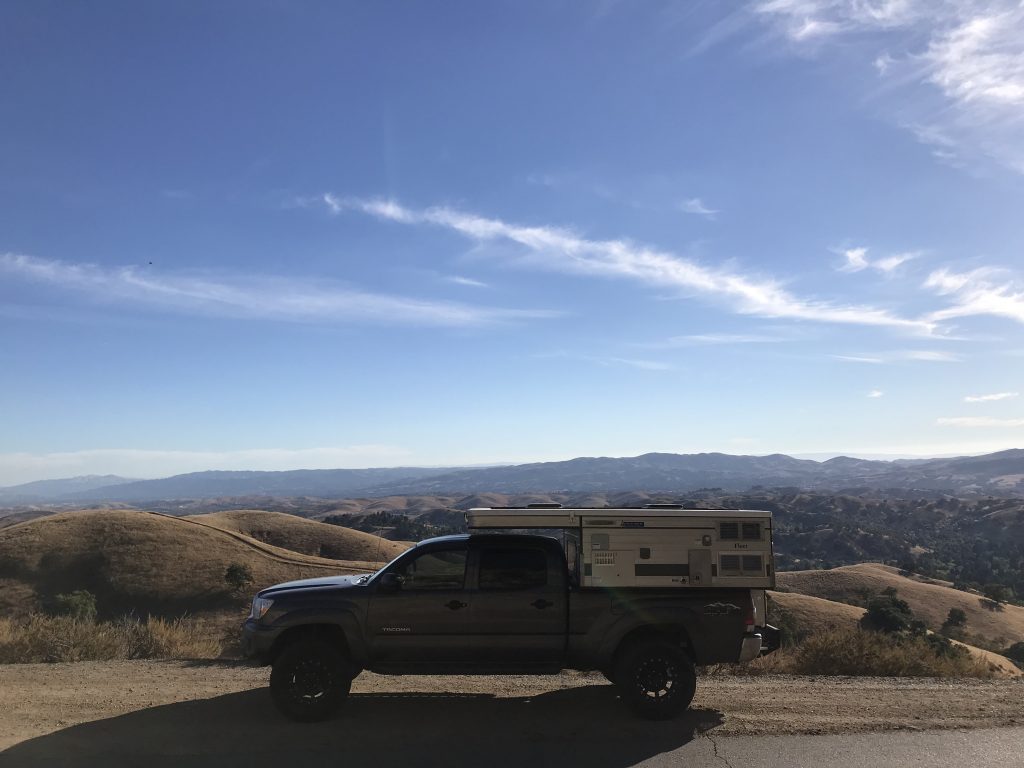 If you are a weekend warrior who is looking for a reliable off road truck camper hand built by professionals, then look no further. Head over to the Four Wheel Campers and check out this Toyota Tacoma Camper set up for yourself. Everything is customisable, so if you value a toilet over a table or a sofa over a char then make your opinions known and start the journey towards owning your dream camper!
More Content From The Van Clan Team!