The tiny home trend is growing bigger every day, and stealth campers are the undercover operatives that are helping to spread the word about the alternative living movement. There are so many van life influencers and vandwellers out there who romanticise their camper conversion and how living in it allows them to go on an off grid adventure for most, if not all of the year. When you see their pictures and read their stories, it's hard not to feel the pull towards an alternative lifestyle. If you do decide to take the plunge into the world of vanlife and tiny homes, you won't be short of vanlife tips and van life ideas from the Van Clan community.
Are you vanlifer or weekend warrior? Join our Facebook Group and connect with our ever-growing community! Are cosy wooden cabins more your thing? Head over to our sister site, Cabin Clan for some woodland vibes and off-grid inspiration!
One piece of advice that you shouldn't ignore is how to make your camper one of the best stealth campers possible; being low key is the key to success, and we've got some great examples on how to do it below! Stealth campers add a whole new level to your van life experience as you can get away with parking in areas that, for example, a beautiful but eye-catching Volkswagen Bus Camper wouldn't. Suddenly, city camping becomes so much easier; no more paying for overpriced campsites miles out of town! Mercedes Sprinter Conversions like this Mercedes Benz sawtooth conversion, this Darkstar van life conversion, or this sprinter conversion moving house can make great stealth campers as they can easily be confused for a work van from the outside. We've put together a list of ten of the best examples of sneaky rolling homes on the internet for you to get some ideas for your own build. Blink and you'll miss them (that's how stealthy they are!).
1. The Black Panther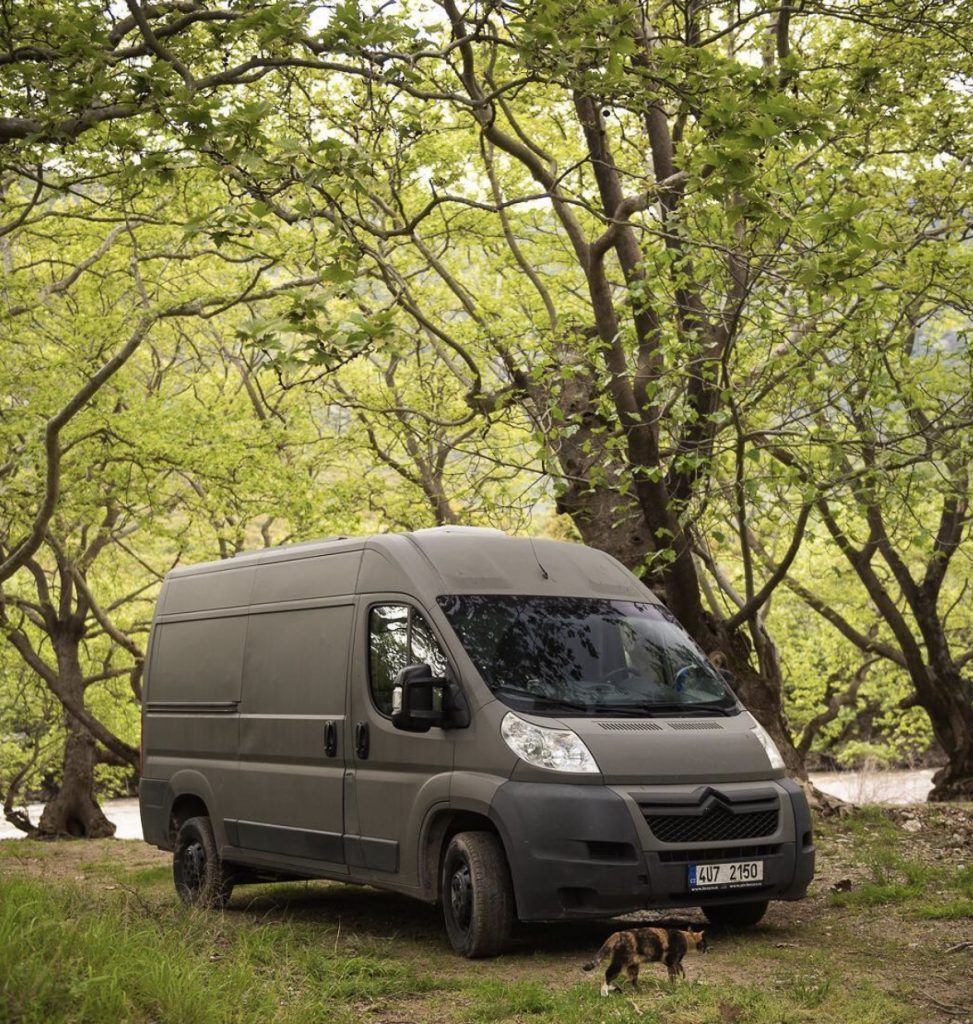 Margaret, aka @curlyhaircamping, has a self converted off grid home that is undoubtedly one of the stealthiest stealth campers out there. From the outside there is almost nothing to give the game away – there are no windows, no colourful decals, and no cool but distinct two-tone paint jobs or hand-drawn forest wonderlands. Instead of housing things on the side of her vehicle, Margaret has everything that she needs on the roof of her van – solar panels for electricity, and skylights for letting air and light into the main living space. She chose to convert a Sprinter van which is the perfect choice as they are commonly used as work vans or people carriers.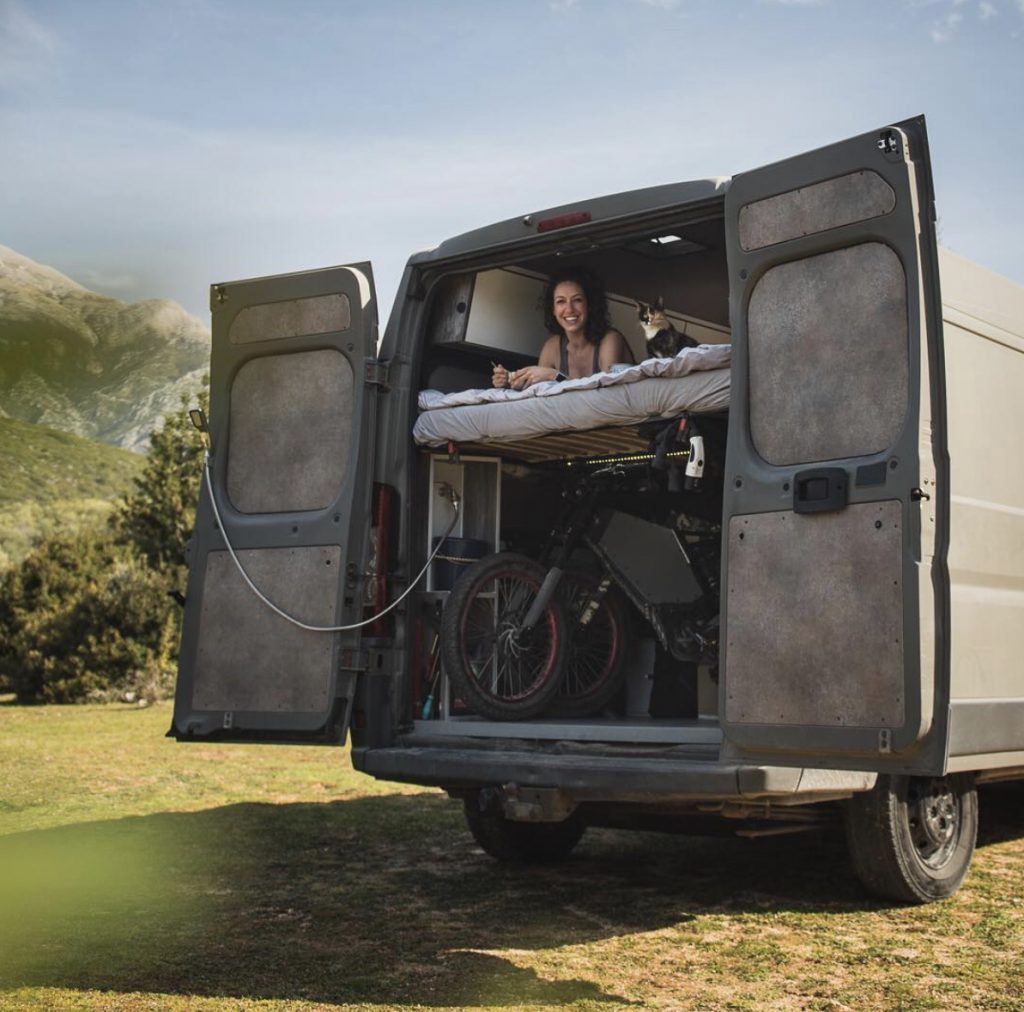 The nato green colour of Margaret's van may be a slight give away if she was city camping, but as she spends 99% of her time camping in the wilderness, the dark green paintwork actually means the van can blend into its surroundings instead of being the most apparent thing on the skyline. Being the stealthiest of stealth campers doesn't mean that you have to compromise on the interior either. Margaret's rolling home is both stylish and functional, acting as both her house and office all rolled into one. This conversion features a spacious kitchen with a sink, fridge, preparation area and a two-ring burner, a fixed double bed, a desk for working at, and space to store everything that she needs for an impromptu adventure including two bikes. Creating a space to store bikes inside your van means that you don't need a bike carrier on the back of your vehicle – keep the outside fixtures and fittings to a bare minimum! Check out Margaret's adventures on Instagram @curlyhaircamping to get more stealthy inspiration!
2. The Green Machine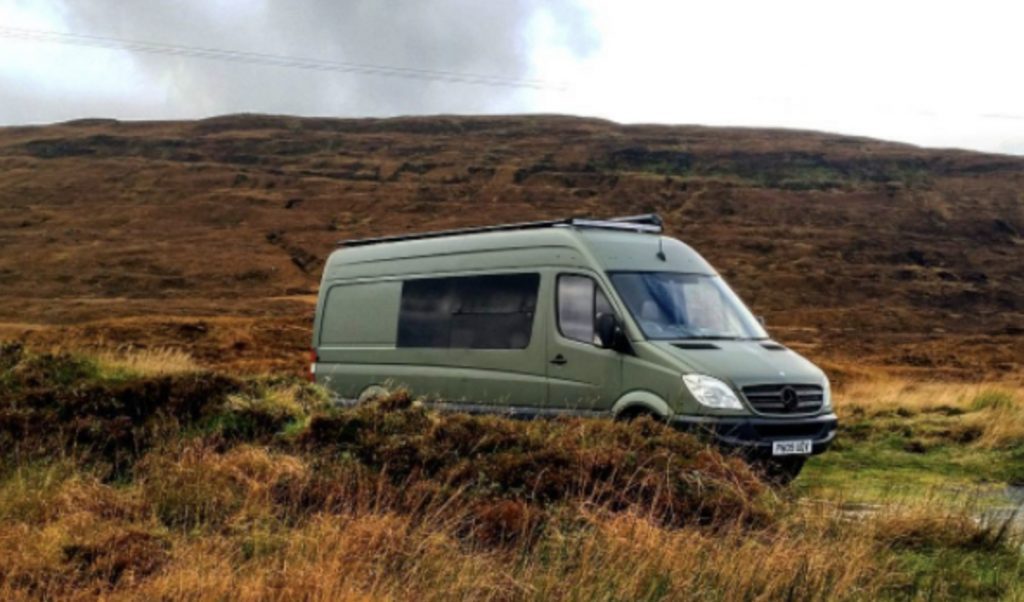 Next on our list of the top stealth campers is another nato green Sprinter Camper Van brought to us by off-grid-aficionados Helen and Jelly. Unlike the last van that we looked at, this Sprinter conversion utilises the same style of blacked-out windows that you might find in a minibus. They blend nicely with the dark exterior paint job and have a privacy screen which will stop peeping toms from being able to see into the living space beyond. If this wasn't enough, the windows are also bulletproof. Yes, you heard right; bulletproof! Thieves will definitely have a hard time breaking through this kind of armoured glass (unless they have the same super-rock that damaged the Tesla Truck Camper window, that is).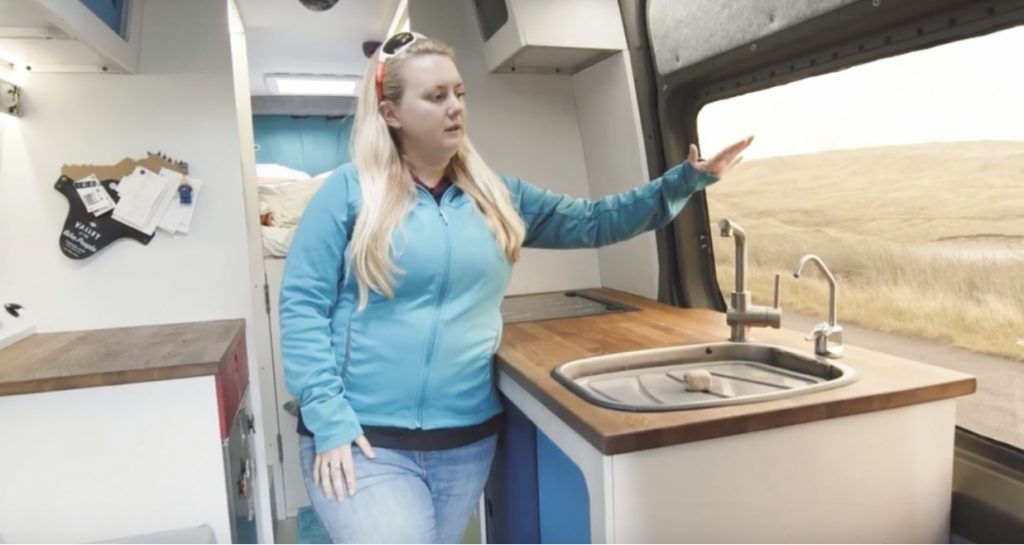 This camper van isn't just stealthy; it's also the most off-grid adventure bus that I've ever seen! Helen and Jelly can stay out in the wild for longer thanks to a large solar panel (mounted to the roof of course) and a built-in water filtration system that they can use to get fresh drinking water from any lake, river or stream no matter how dirty it is. Step inside their van, and you will find a large under counter fridge, an oven with a three-ring burner, a sink, a large sofa style seating area, a composting toilet, a shower, double bed, and under bed storage for their all-important mountain bikes. If you want to check out Helen and Jelly's van, you can see more on their van tour filmed by The Indie Projects. 
3. The Work Van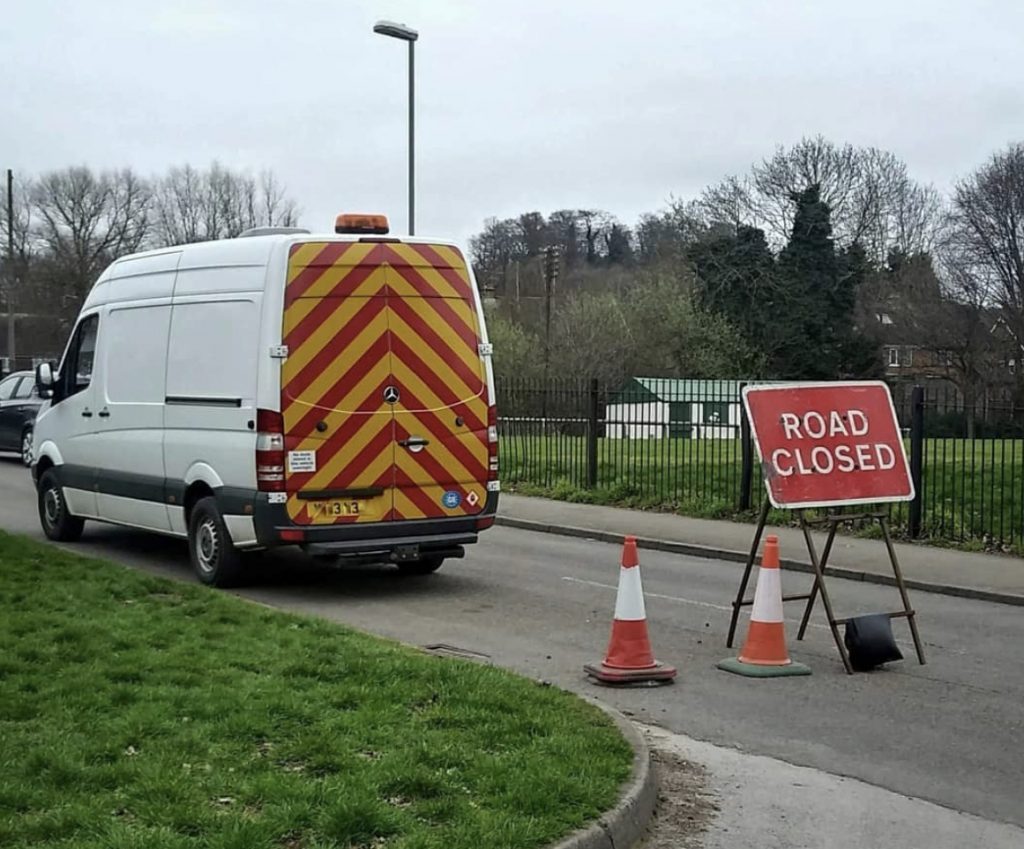 With an Instagram handle of @stealthcampervan, we thought it would be rude not to include this build on our list of the top stealth campers out there on the roads. You might be seeing a pattern as to the vans that most vanlifers choose for their conversions; Sprinters are super reliable and spare parts can be found easily all over the world. This particular vehicle spent its former days as a highway work van; it's even still got the bright red and yellow striped hazard markings and the red flashing light on the roof. It's these features above all others that make this van one of the best stealth campers we've seen; one glance at the vehicle and it looks 100% official and as though it's meant to be there on duty. The rest of the van has been left in its original white with nothing else to give the game away. No windows have been added to the sidewalls, just a skylight in the roof which is hard to see from the roadside, but it still lets plenty of light into the van.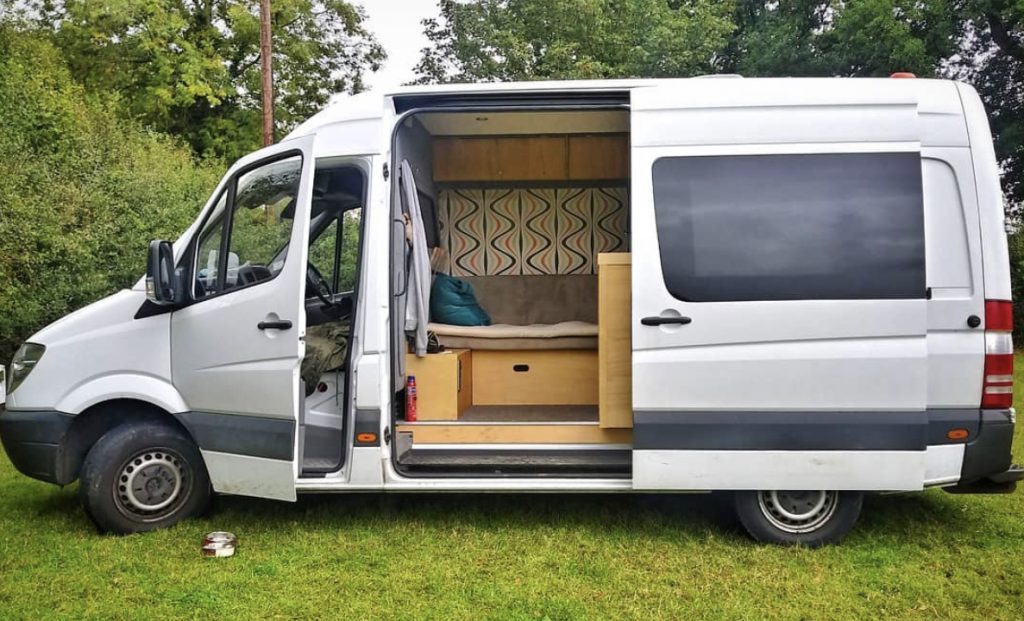 The interior of this van incredibly comfortable, with a large bench seat that turns into a bed, a full kitchenette with a sink, fridge, two ring burner and storage space, a shower and toilet area, plus a place to store a bike in the back. This camper conversion is completely separated from the driving area of the van by a bulkhead wall which has a small window with blackout curtains. This means that when the curtains are drawn there is no way to tell that the van is a camper from the outside as you can't see through the windscreen into the living area. This is without a doubt one of the sneakiest sprinter campervan conversions on the roads and could probably get away with parking pretty much anywhere. Check it out at @stealthcampervan on Instagram. 
4. The Shiny New Motor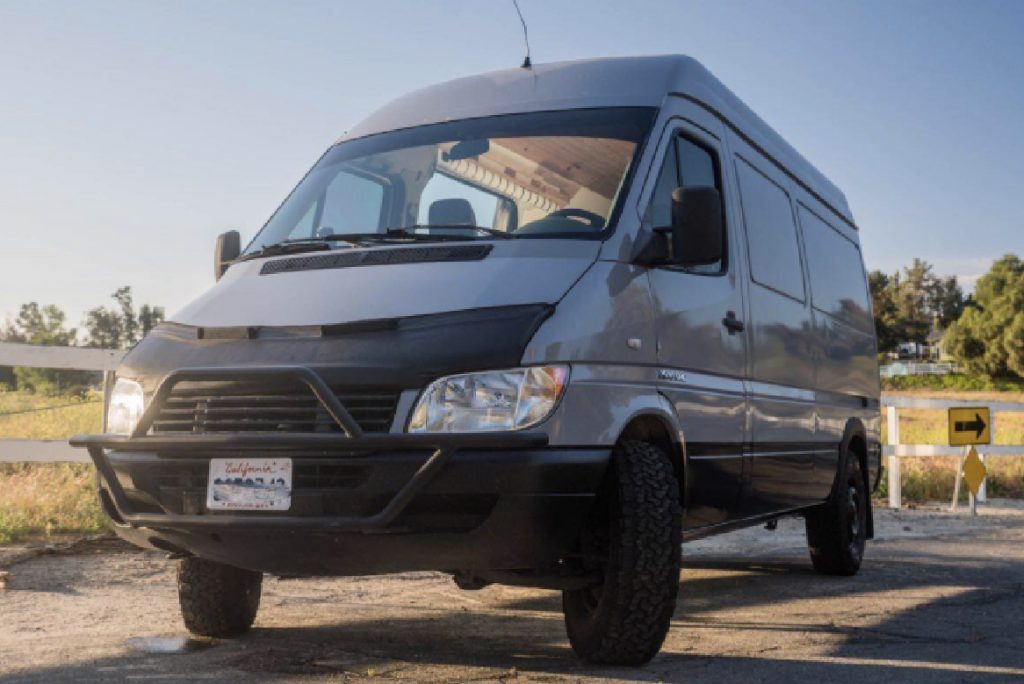 Next on our ultimate compendium of stealth campers is Quin's van from @everchanginghorizon. This van is another Mercedes Sprinter (I promise that there are some other vans on this list too) and has kept its factory silver colour that allows the camper to blend in with all the other vans and cars in the parking lot. It has all of its original doors and windows and looks for all the world like a standard work van, albeit a brand-spanking-new and incredibly clean one!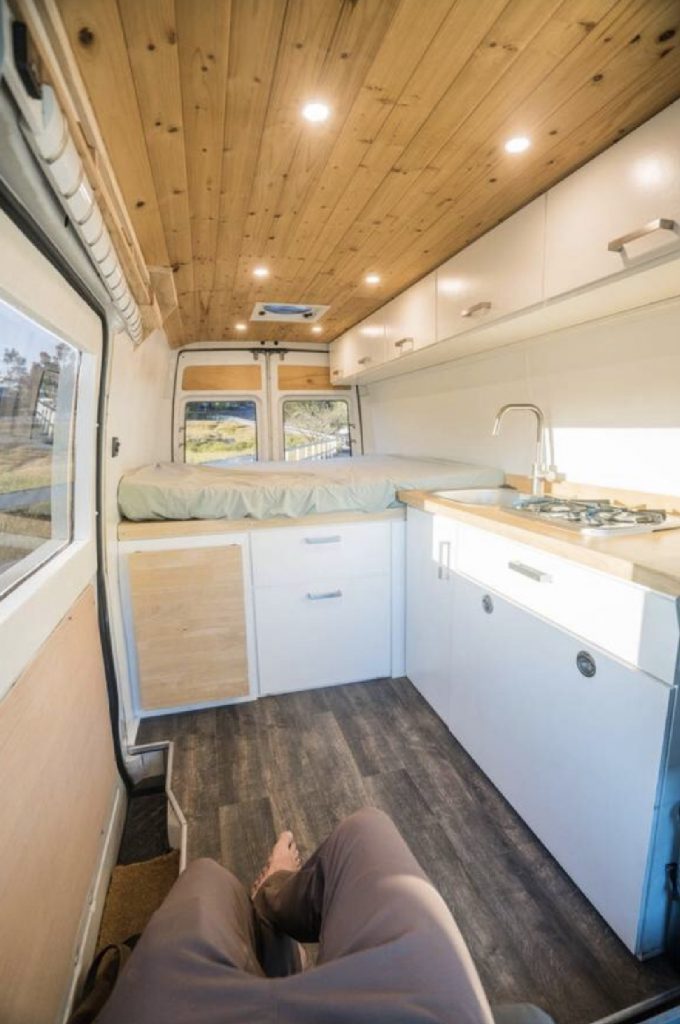 Once the blackout curtain divider between the cab and the living space has been drawn, there are no other giveaways to tell you that this sprinter is in-fact a camper van. The three windows plus an added skylight in the roof give this camper a beautifully light and airy interior which is complemented by the white cupboards and walls. This is a pretty spectacular conversion and includes a sink, two ring hob, pull out chest fridge/freezer, overhead and under-bed storage, a flip-up table, and a toilet hidden under the fixed double bed. Check out more of this stealth camper's features at @everchanginghorizon on Instagram. 
5. The Tool Shed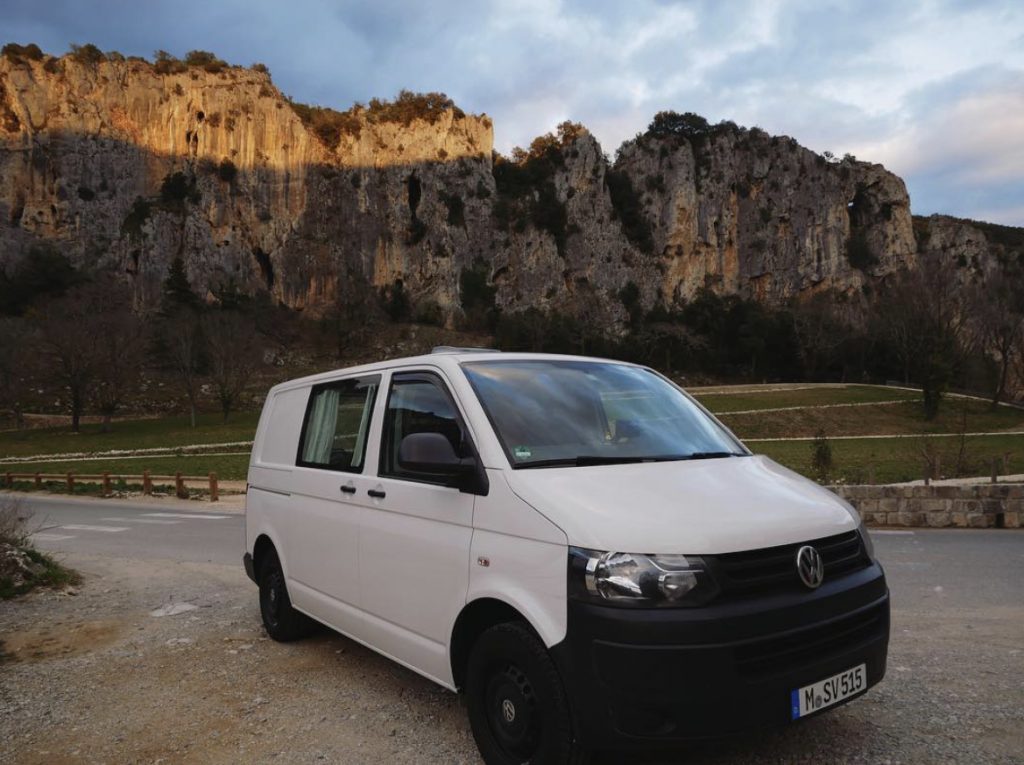 Next on our list of the top stealth campers is @whitecampervan, a VW T5 and most definitely NOT a Sprinter van. This van is much smaller than the previous four vehicles that we've looked at which helps to make it even more stealthy and inconspicuous. The less space your van takes up, the less attention you're going to draw from passers-by or pesky parking wardens. This van has kept its original white exterior colour and only has the vans original windows – one in the side door and one in the back door. Most people would expect this van to be crammed full of builders tools or plumbing supplies rather than a fully-kitted-out travelling home with all of the van life essentials needed to make life on the road more comfortable!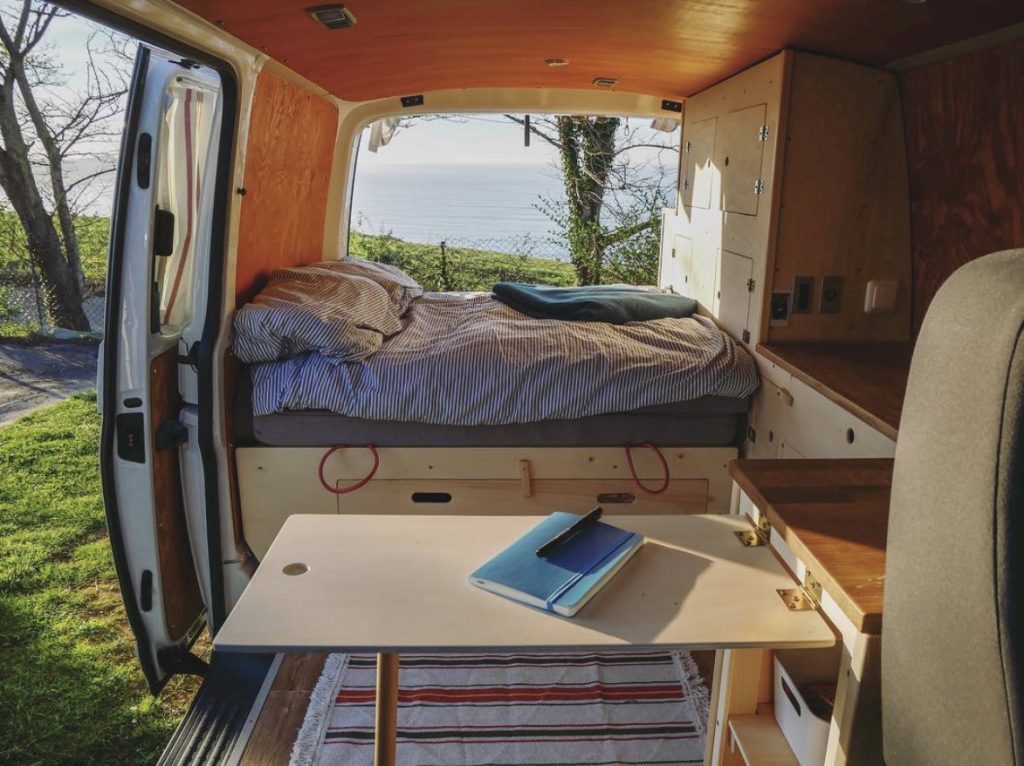 Although compact, this van has everything you could possibly need for a long weekend away or a stint of off grid living in the woods. The interior is beautifully thought out and boasts plenty of storage space around and beneath the fixed double bed, a flip-up table to go with the revolving front seats and an under-counter fridge. The outdoor kitchen is a bit of a give away that this is a camper van, but if you need to be really stealthy, you could always just have a sandwich or a can of soup! Check out more pictures @whitecampervan on Instagram. 
6. The Pro Stealth Master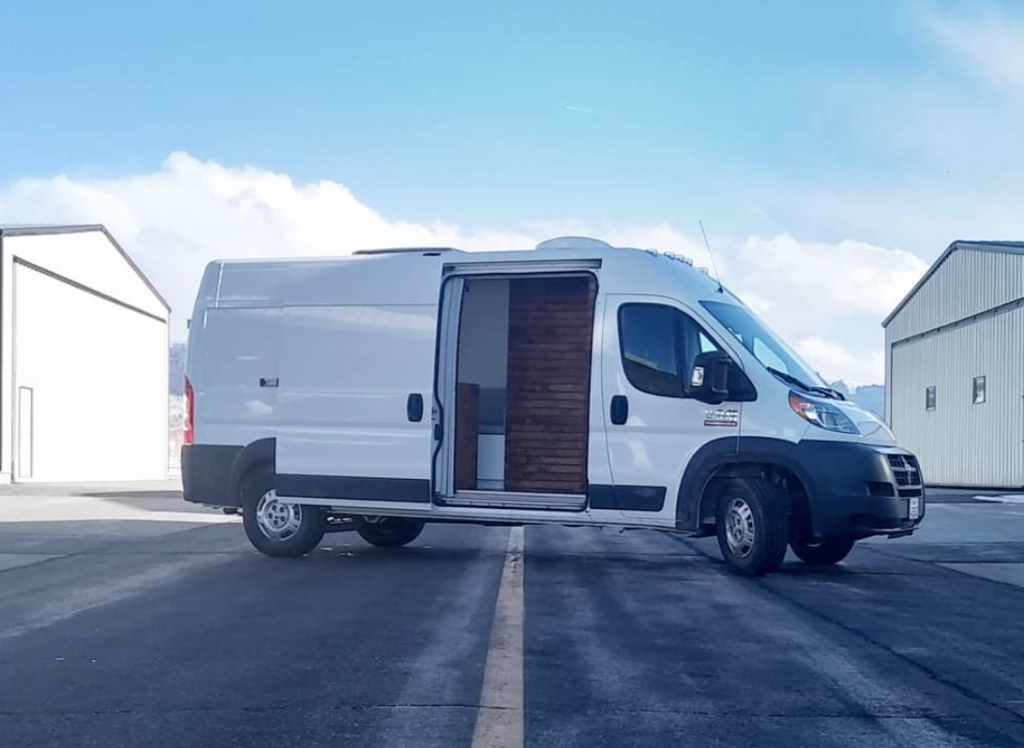 If the Mercedes Sprinter is our go-to choice of vehicle here in Britain, then the Ram Promaster would be its equal in every way when it comes to converting stealth campers over the pond. Used for everything from Amazon deliveries through to stylish and stealthy travelling homes, the Ram Promaster is a reliable motor with plenty of both stock and aftermarket parts available to keep your adventure going should anything go wrong along the way. This conversion by Brandon @bucksd is living proof that being stealthy doesn't mean you have to compromise on poor interior design. Having no side windows shouldn't make your van feel like a WW1 trench, and if converted properly, there's no reason why stealth campers shouldn't have all of the comforts of home.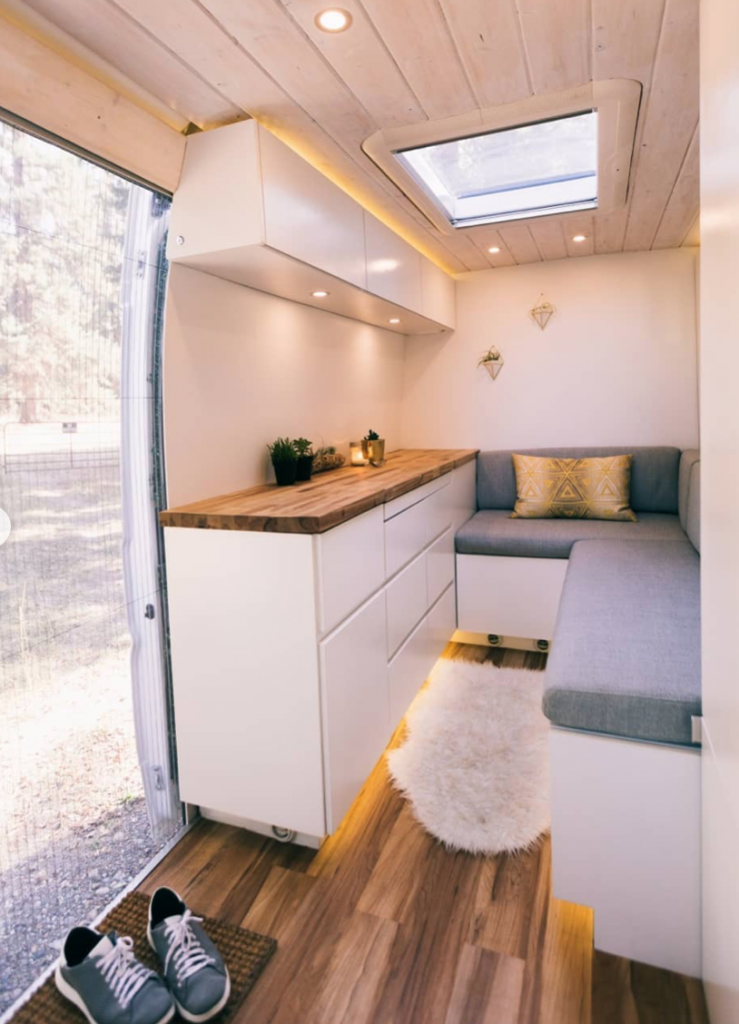 The thing that I love most about writing articles on stealth campers is that you never know what you're going to see when you open the sliding door and take a look inside. That sentence kind of had a Forest Gump feel about it, but I think you get what I'm trying to say. Brandon's conversion is light, airy, cosy, and incredibly tidy (kudos on the cleanliness!). It's a sophisticated space that is not only hidden inside an unsuspecting looking van, but also the individual elements inside all have their proper place and special coverings when they're not in use too. Head over to @bucksd to check out more pics and to follow Brandon's adventures.
7. The Toasty Ninja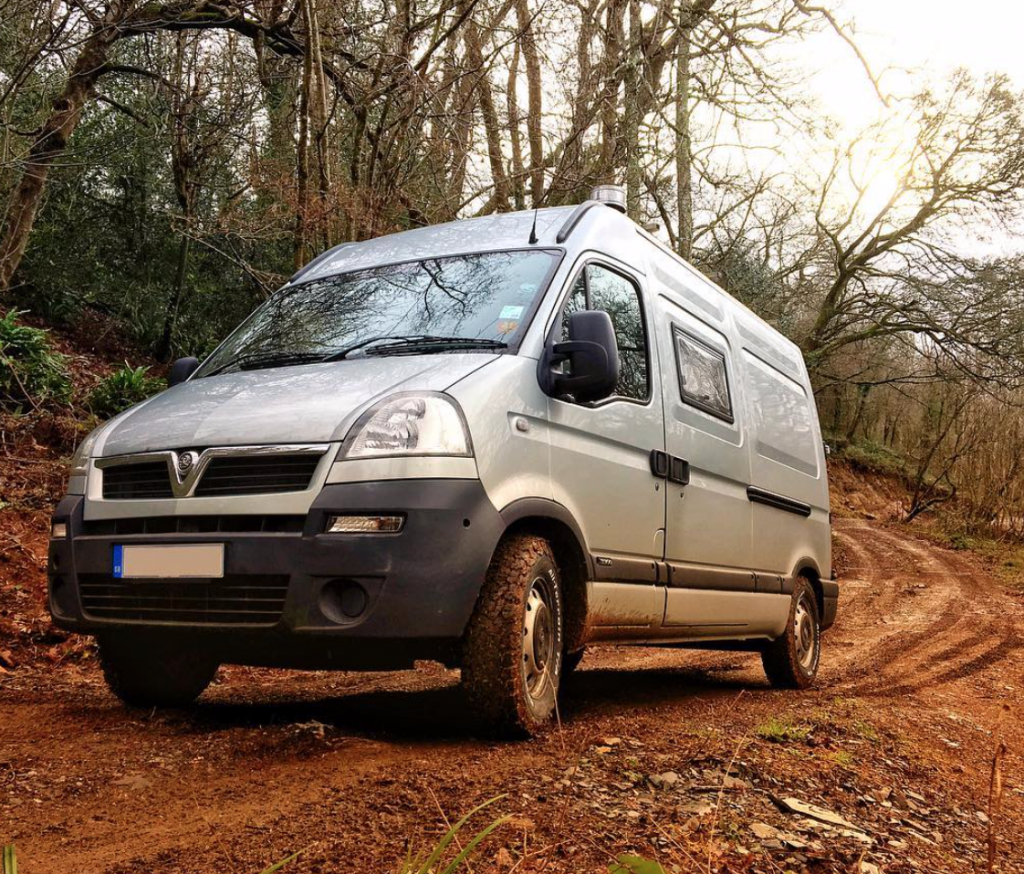 Ok, so some of you might be wondering how a van with a chimney has made it into our list of the top stealth campers on the internet. I had a chimney sticking out of the top of my van for a couple of years and it was amazing how many people thought that it was an air-conditioning unit or a radio antenna. I had the unfortunate luck of having a shiny silver chimney sticking out of a bright white van and people still didn't seem to notice. Matt from @vanlifetv.uk has since taken the wood-burning stove out of his van, but the metal chimney twinned with the metallic paint job on the outside of the van in the picture above go very well together. You'd definitely have to do a double-take if you were driving past, by which time you'd be too far away to notice that this was a camper and probably have already forgotten all about it.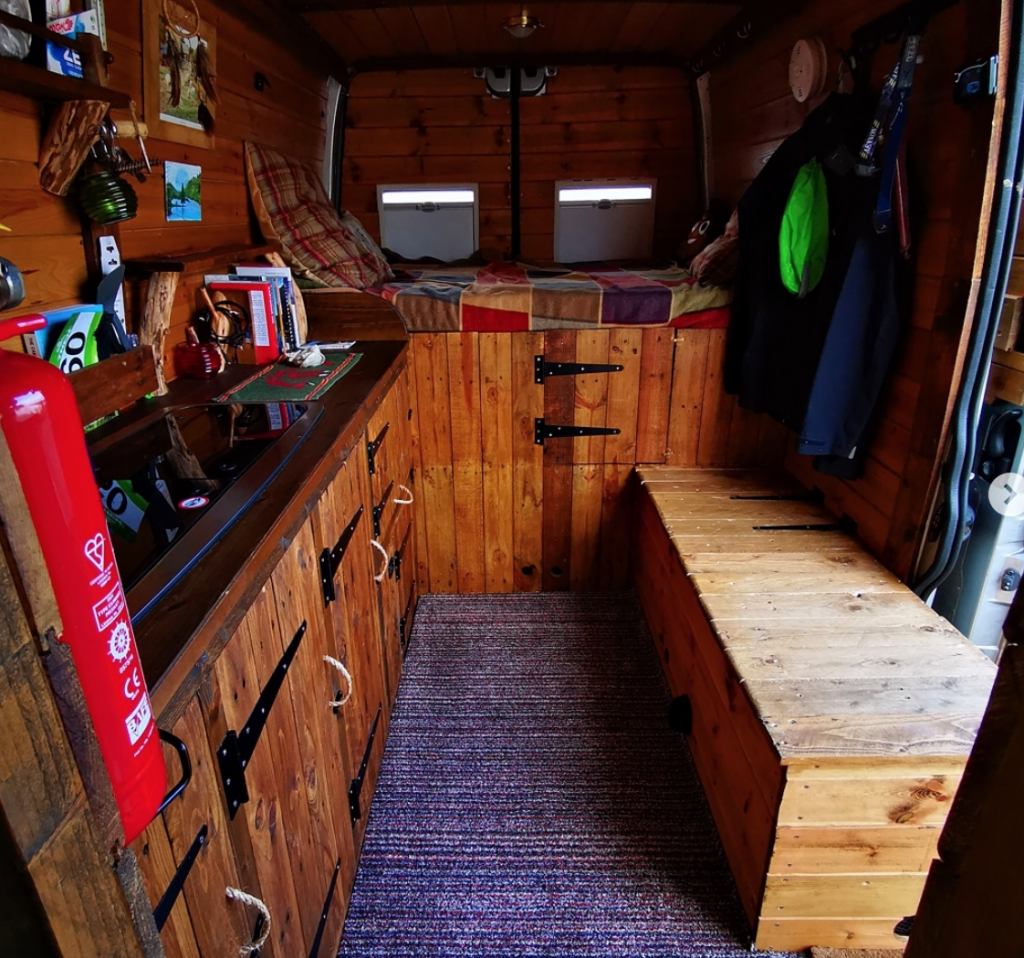 The inside of Matt's camper was and still is very rustic looking. I love the use of wood throughout the build and the choice of stains gives a country cabin feel that always resonates well with outdoor lovers. As a climber, Matt needs a lot of space for gear storage and wanted a travelling house that he could use when sleeping over at his favourite climbing spots. As well as a dual burner, sink, bed, toilet, and storage for all of his top cooking accessories, Matt has furnished his camper with pictures and trinkets that make this converted van feel like home. Stealth campers might be blank and bleak on the outside, but inside they're full of intrigue, colour, and adventure. Stealth campers are like onions; they have lots of layers (Shrek, please don't sue me). Head over to @vanlifetv.uk to follow Matt's adventures!
8. The Family Car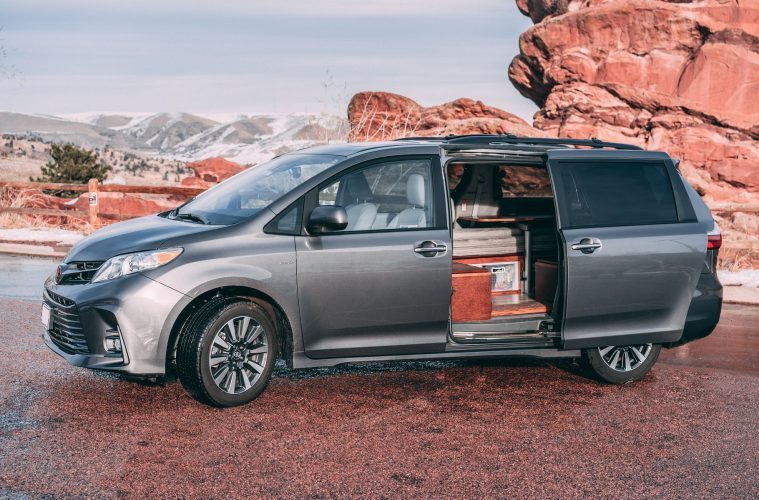 As stealth campers go, this family minivan conversion takes top prize for being the most unsuspecting camper in this list (and probably the world). I've written about this car camper conversion quite a few times now, and every time I see it I still get amazed by what the creators have achieved. You might not be able to stand up in it and you certainly wouldn't be able to have your friends round to play a board game. But what you can do is get the best park up spots at the very front of the beach, and you'll never have to worry about underground parking height barriers ever again!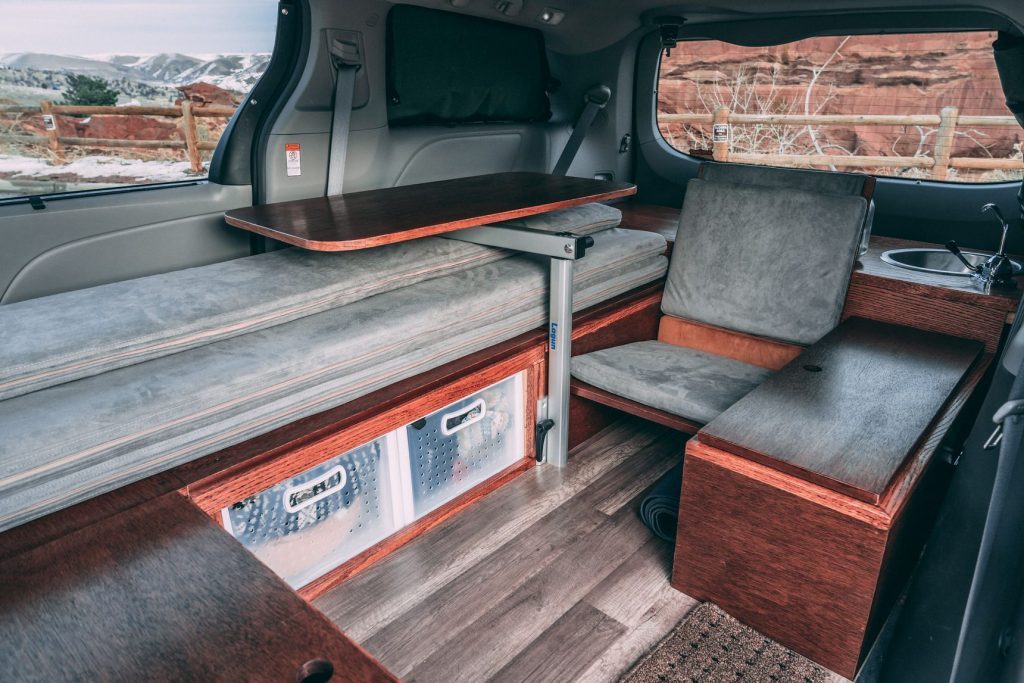 The sink and food preparation area can be used both in and outside the camper, and a useful swing-out table can be used for dining or playing a board game for one. The bed is large enough to sleep two people and there is plenty of storage to keep adventure gear packed up and ready to go all year round! This would be the perfect option for someone who needs to appear smart at meetings but who is also too tight to pay for hotels while out on the road. If you're a professional vanlifer who still needs to look like a professional person, then this is the camper for you. Head over to our full-length article on this affordable camper for more details!
9. The Little Nipper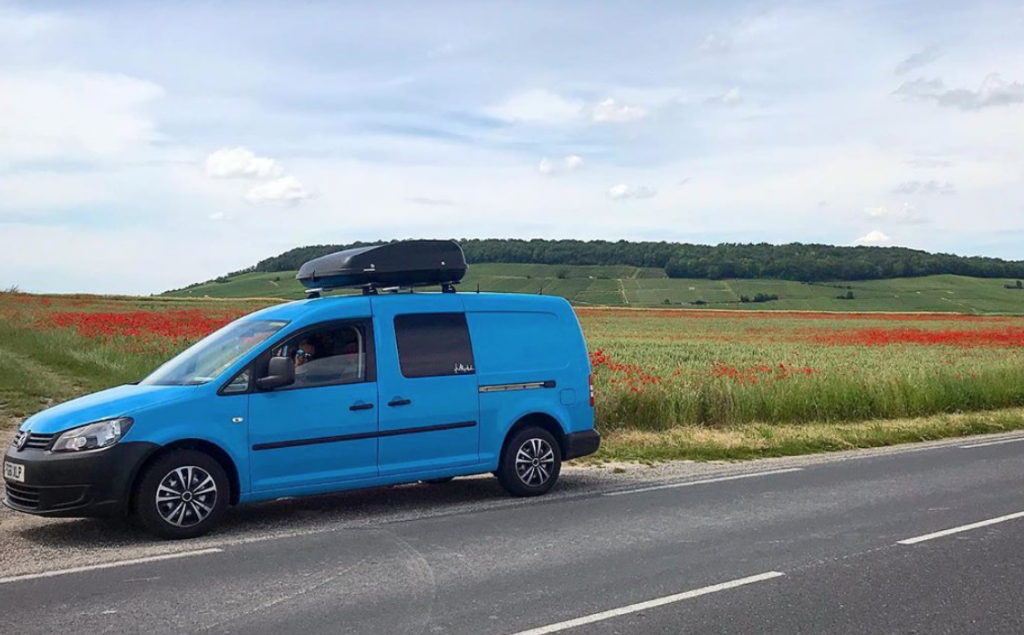 The VW Caddy Camper is one of the most underrated stealth campers of all time. In stealth mode, this van looks just like the kind of thing you would see a handyman pull up outside of your house in, crammed full of odd bits of wood and more hand tools than you've ever seen in a lifetime. While it might be small, the VW Caddy is the perfect option for budding weekend warrior types who want something small and speedy to take away on a quick break to the country. With a pop-top roof added into the mix, you can even make enough space to sit up comfortably and relax with a good book or a movie.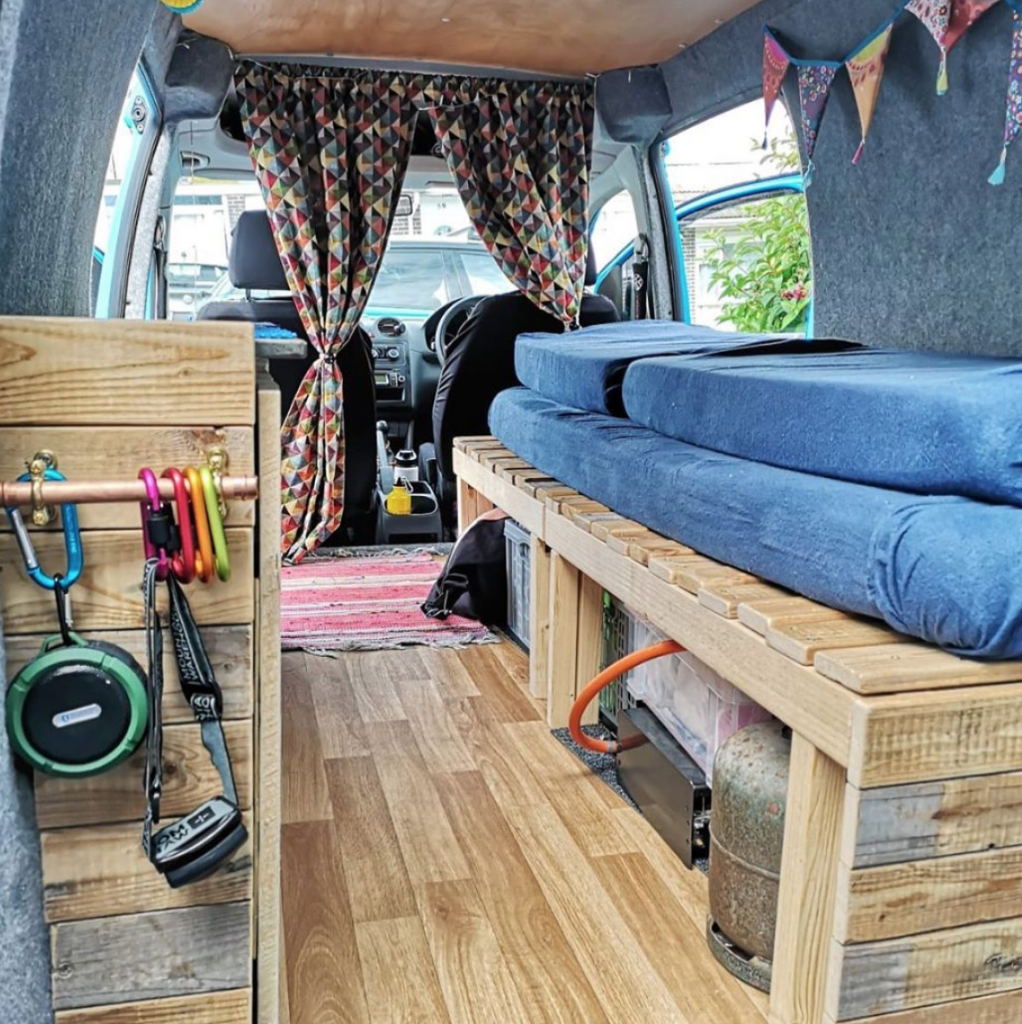 Another outdoor adventure conversion, this cosy camper built by @sam_likes_to_travel is both practical and homely with a cool pallet wood vibe that instantly makes me think of a cosy shed house in the middle of a forest glade. The bed folds out into the main walkway, almost doubling in size, and there's still tonnes of space for kitchen essentials such as a hob and gas canister combo. Living in a tiny house doesn't have to feel cramped if it's done right, and this is a great example of how stealth campers can hold so much while still looking small and inconspicuous. Follow Sam's adventures over on Instagram!
10. The School Run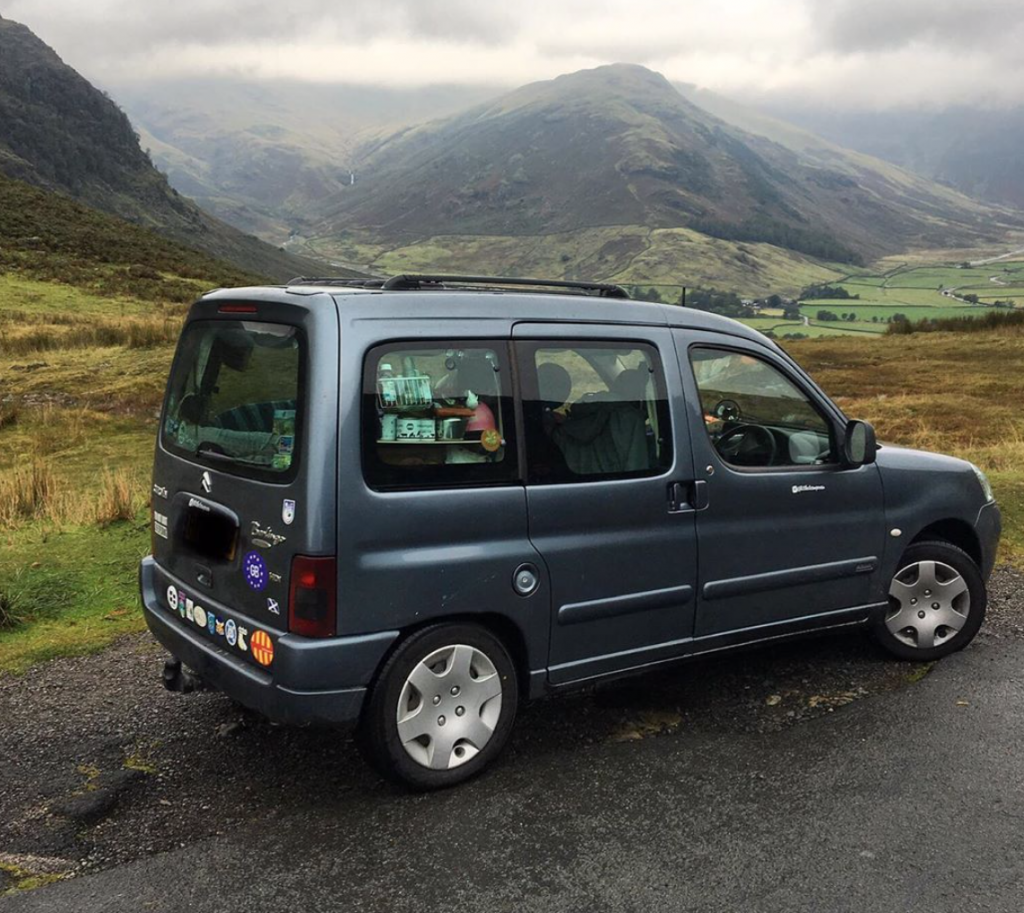 Last but by no means least, we have the Citroen Berlingo; a tried, tested, and approved conversion vehicle used by lovers of stealth campers everywhere. What at first glance might look like a family vehicle trained in the art of traversing the perils of the school run is actually a fully converted camper with a bed, shelf-storage, outdoor cooking area, and more besides! This conversion built by Anna @littlestcampervan proves the age-old saying that good things come in small packages, and the best thing is that self-conversions in little vehicles tend to be very kind on your wallet too!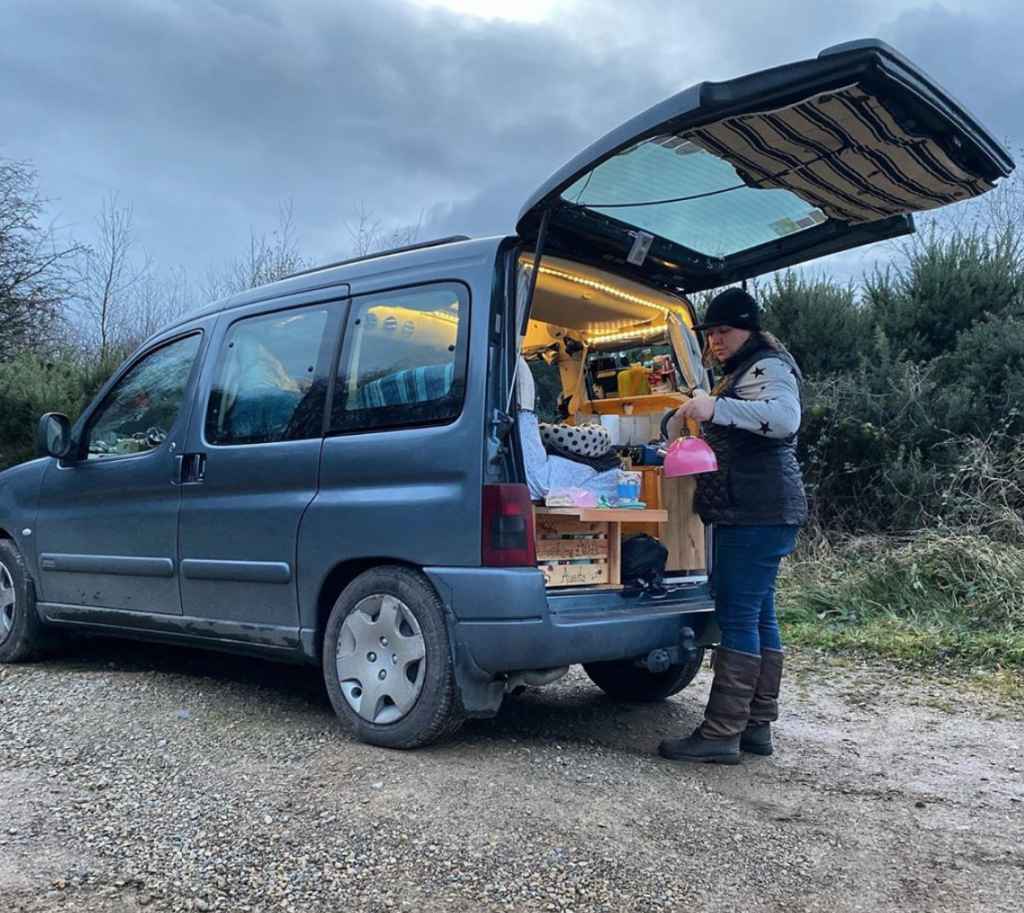 With a couple of blackout blinds drawn and the rear boot down, this vehicle could seamlessly blend into city life without anyone even batting an eyelid. Not only is it small and easy to park, but it also has an interior that's incredibly well thought out and makes the most of the available space. Nice work Anna, and you can follow her adventures over on Instagram!
So, if you want to build a stealth camper and couldn't be bothered reading the rest of the article, then here are several common themes to follow:
Low key exterior colour to blend into your surroundings. 
No or original side windows, preferably blacked out. 
A bulkhead wall or inconspicuous curtain to hide the living space from the cab.
No adventure gear such as bikes or surfboards on the exterior of your van.
Keep stickers and decals to a bare minimum, and if you're going to use a chimney, make it a small one!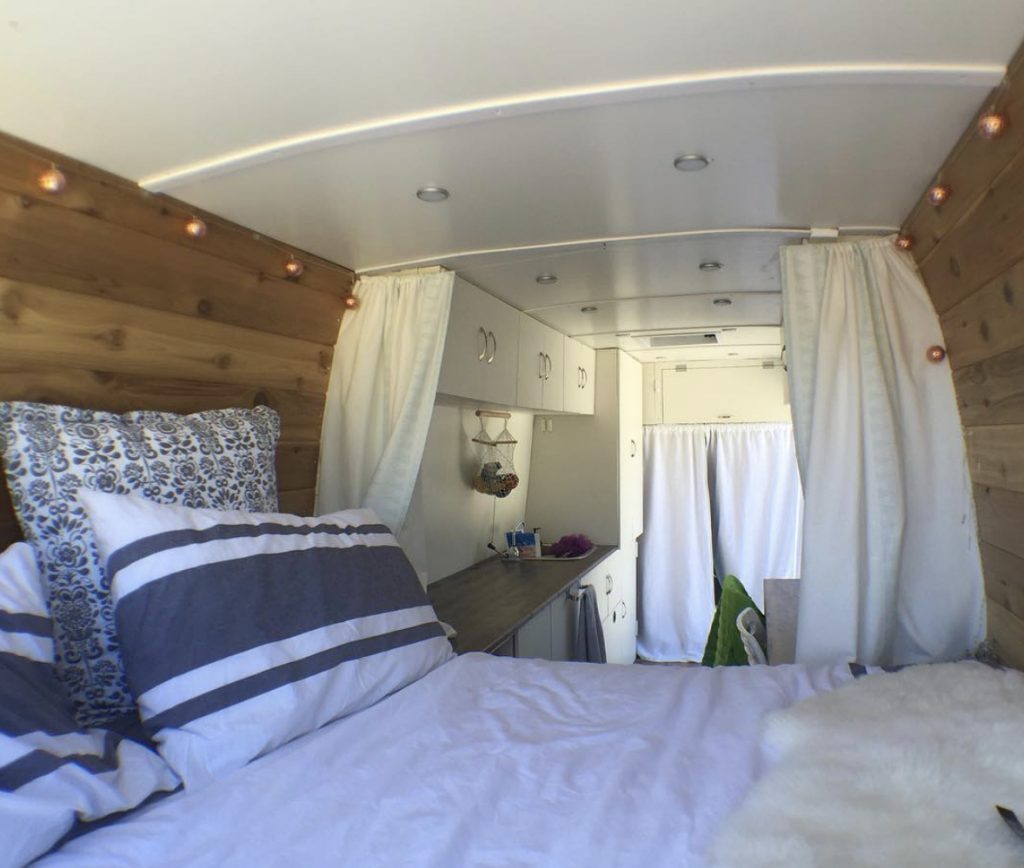 If you follow these handy points, then you should be well on the way to creating your own tiny home to rival any of the examples in our list of the best stealth campers. Good luck, and let us know your plans over on Facebook, Instagram or Twitter. 
More Content From The Van Clan Team!