The Sprinter is definitely one mean machine and a van that's big enough to transform the inside into thousands of different themes and designs. And while the Volkswagen Bus Camper might be the king of the classic camper world, we can tell you for sure a Sprinter van conversion is undoubtedly the champion of self conversion fans everywhere.
Mercedes Sprinter Van Conversions
We've picked 12 of the best Mercedes Sprinter Van Conversions that we've seen on our travels through the internet. Check them all out below, and get ready for that Mercedes Camper Dream Ride!
1. The Homely Conversion
If you're looking for Mercedes Sprinter Conversions that are truly a home from home then this build by Jack at This Moving House is definitely one for your Pinterest mood board. It's cleverly built, full of character, and makes use of all of the space inside the main body of the van.
This Sprinter has more storage than you could shake a gear-stick at, and the cream colour scheme makes us think of a classic country kitchen.
Jack's attention to detail in these builds is second to none. The splashback tiles add a splash of colour (no pun intended) into the calm and tranquil space, and the curved roof makes the most of the height of the van without creating a 'boxed in' feel. Add the flowing curves to the use of circular portholes and rounded windows, and you've got yourself a perfectly zen 'home away from home' for every occasion.
There's room enough to seat four people comfortably around the built-in table, and with a double bed for the parents and two-bed pods built for the kids, this Mercedes Sprinter really is an off-grid family paradise.
To find out more about Jack's home-built camper's visit This Moving House!
2. The Darth Vader Conversion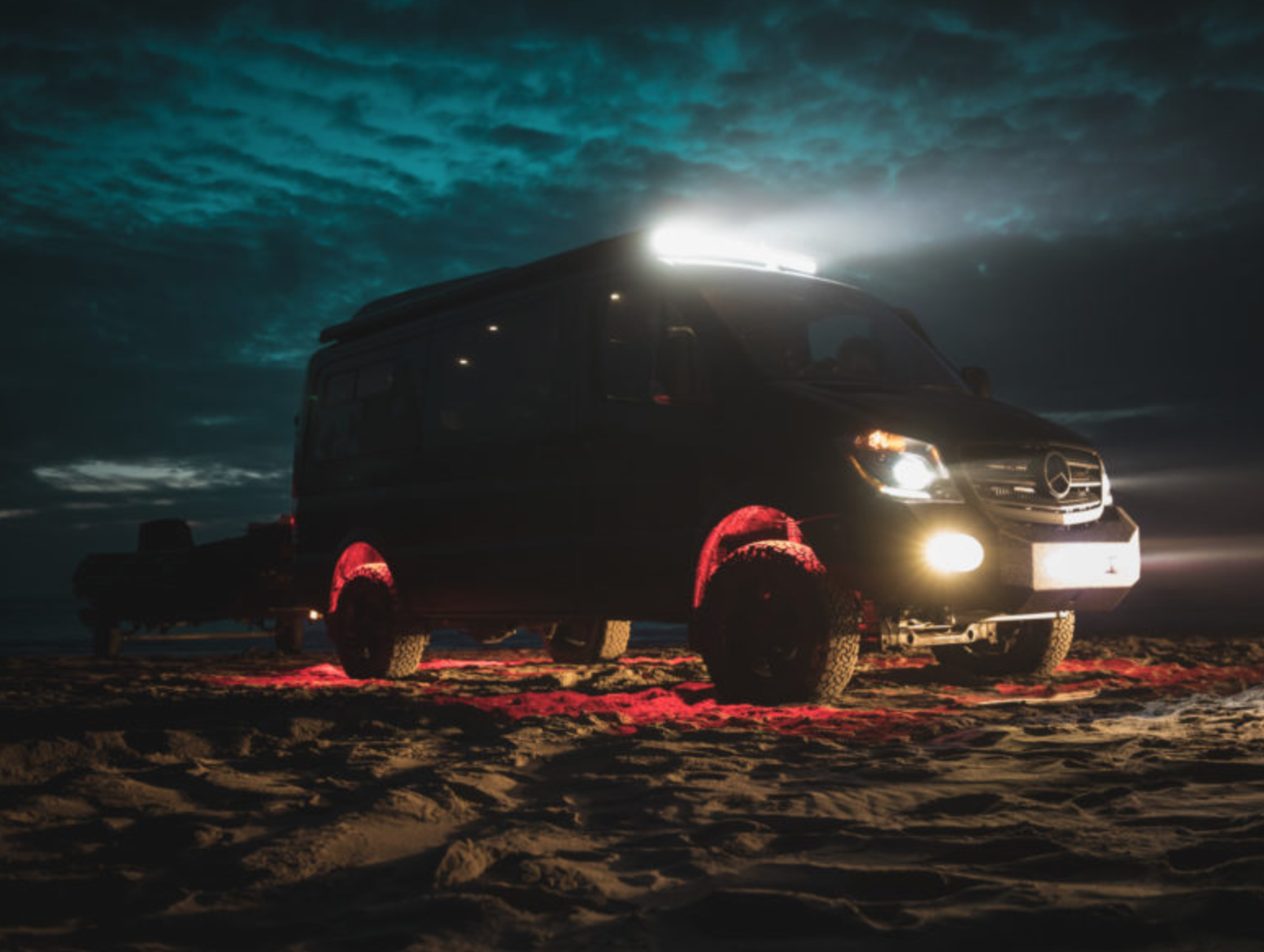 Do you want a conversion that can make the Kessel Run in less than twelve parsecs? If so then this Darkstar Sprinter from Outside Van should definitely do the trick. With more attitude than a Tie Fighter and a mean streak that would make Darth Vader look like Gandhi, the Darkstar is a beast of a camper that won't let you down on even the toughest of adventures.
Life is simple in a van; truer words have never been said! It's pretty simple inside this mean machine, but it's got everything that you could possibly need if you're off mountain biking or trekking through the wilderness.
I've always loved how Outside Van make simple vans that pack a serious amount of punch. This Mercedes Camper is perfect for the gnarliest off grid adventure and has more than enough space for all of your dirtbikes, ATV, surfboard or Bluefin Paddleboards. It might not be everyone's cup of tea, especially if you like your rolling tiny homes to come with more trimmings than the Christmas turkey. But if you like your adventures to be more about being in the outdoors rather than watching re-runs of Downton Abbey, then the Darkstar is definitely for you.
Check out our full-length article on Darkstar Van Life with this Darkstar Mercedes Conversion.
3. The Luxury Jet Conversion
Ever wanted a private jet but don't have the money or are scared of heights? This Senzati Jet conversion has made our list of amazing Mercedes Sprinter conversions because it shows the pinnacle of luxury, and it's also pretty ridiculous that it feels like you're inside Air Force 1!
Luxury leather reclining chairs, televisions for each passenger to watch, Mobile Broadband & Multi-User Wi-Fi, a toilet that looks like it should belong in the oval office – this beast has it all. There's secret storage for MacBooks, and with 8 different layouts to choose from you can really tailor this conversion to your individual needs.
This range of Mercedes Sprinter Conversions is like something out of a Hollywood movie. If you're the kind of person that likes to work on the go (maybe a high-flying Digital Nomad type), then you could seriously hold meetings in this thing and conduct business in a professional and frankly impressive manner. I'm not sure how viable it would be for living in full time; maybe you could have a smaller VW Bus for trips away on the weekend!
Want to read more about this most luxurious of Mercedes Sprinter Conversions? Check out our article on the Mercedes Sprinter Private Jet!
4. The Tourbus Conversion
We travelled in some nifty busses when we were on tour in different bands, but this sprinter conversion is the most rock 'n' roll thing on wheels we've ever seen. It's like a portable Hard Rock Cafe come mobile backstage afterparty all in one!
Cool leather sofa's, space for your guitars to hang, drinks making facilities, and there are even some bunk beds in the back too so you can sleep whilst your driver takes you to the next venue! This beast makes the Mercedes Benz Sawtooth look like it's in an Indie band!
With the awning up and the LED lights in full swing this musical menace instantly becomes a party bus. Whether you're doing a live gig or relaxing back with a cuppa and watching last nights performance on the built-in tv, it's one of the most awesome Mercedes Sprinter conversions that we've ever come across!
It's nice to see a conversion that manages to use black as its main colour scheme and not seem cramped or oppressive on the inside. As a fan of Motley Crüe and Guns 'n' Roses, I could see myself trekking around in this thing and holding impromptu band meetings that Flight of the Conchords would be insanely proud of.
The outside of the vehicle might not be as souped-up or off-road friendly as some of the other Mercedes Sprinter Conversions on our list, but if you're looking for a slick ride to travel the world in, you won't go wrong with this rockin' rollin' home. Check out more by visiting Gulf Coast Conversions online.
5. The 4×4 Conversion
This van, aptly named the Valhalla, is Viking through and through. It's the first 4×4 giant in our list of Mercedes Sprinter conversions, but don't think that adventuring comes without luxury added extras.
The Valhalla from Outside Van comes equipped with a full kitchen, sofa and sleeping area, storage, fridge and wet room. It's designed for conquering the wilderness, and with 4×4 functionality, there's no stopping you when it comes to picking out the camping ground.
A full roof rack of high output LED lights also means that darkness can't even stop your adventures. A handy ladder takes your adventure to another level (pun definitely intended), with room to store surfboards and other adventure gear that you might need on your travels.
Outside van continuously surprise us. The Valhalla is such a contrast to the Darkstar that we looked at further up this list. It's a bonafide tiny house with all of the accessories and facilities that you would find in a studio apartment or cosy city flat.
The downlighting is a nice touch for relaxing on an evening, and that shower will come in handy if you're living the van life and working full time. We knew that you'd like this camper, so here's an article on this Incredible Custom Off-Grid 4×4 Mercedes Sprinter Conversion that we made earlier.
6. The Globe Conqueror Conversion
If you like your 4×4 conversions super-charged with a shot of Espresso then this beast from Sportsmobile might just do the trick! This is undoubtedly one the most rugged Mercedes Sprinter conversions on our list, utilising a 4×4 drive that comes equipped with the highest performance power-train option (that already sounds way too cool) that you can currently get in the United States.
"What makes this so different to the van above though," we hear you ask…
Two words – Pop Top.
Now your off-road experience really can go to the 4 corners of the globe, and you've got more than enough room to stand up and gloat when your old school friends ask what you've been doing with your life.
Mercedes Sprinter Conversions are usually tall enough for you to stand up in without having to stoop, but if you've gone to town with your floor insulation or just like the feeling of being in a much larger space, then the pop-top element of this camper will provide much-needed relief to your van life experiences.
Personally, I also like the fact that you can draw extra air in through the pop-top vent-panels. This would allow you to keep your windows closed at night and eliminate any chance of burglars or bears stealing your socks while you're sleeping.
For more info on this super-charged Sprinter conversion head over to Sportsmobile and have a read for yourself!
7. The Log Cabin Conversion
We'll let you pick your jaws up off the floor before we start talking about this one! We're taking a trip over to our good friends Quirky Campers for this one, and we think that you'll agree that it's a sight to behold.
Named Saffiyah, this is definitely one of the most creative looking Mercedes Sprinter conversions that we've ever had the pleasure of looking around. The bold use of copper piping outside the stained wooden walls gives a rustic and industrial feel that is akin with an old narrowboat or an off-grid log cabin in the wood. If we could buy three we would!
Saffiyah has a very generous kitchen, a 3-ring stove that's perfect for cooking on and a spacious fridge. There's also running hot water and a waterfall shower – no need to smell if you're living off-grid. Oh, did we also mention that this van is painted like an enchanted forest?
Stealth campers are for those people that want to hide in society, but conversions like Saffiyah are for those vandwellers who either like to blend into nature and spend time away from people, or vanlifers who just don't give two hoots about what other people think.
This conversion would make for some epic shots on your Van Life Instagram account, and it will certainly turn some heads when you drive through small European towns and villages!
8. The Polar Explorer Conversion
Thinking of taking a trip as far north as you can go? The Timber Den from Outside Van is a snow sports lovers dream!
This is more of a rough and ready conversion, but it's got everything that you need if you're hitting the slopes for a long weekend. With enough room to sleep two people and plenty of storage for your boards, the Timber Van has power for your gadgets and enough storage space for all of your adventure gear.
The two beds fold down and can clip back away for extra room, and you can even fit a snowmobile in there!
This Outside Van conversion is a bit of a mix of the two previous builds that we've looked at so far; it's perfectly equipped for cooking and charging on the go, but it focuses more on custom gear-hauling rather than a 'one-size-fits-all' approach.
This is the kind of van that you might purchase with a couple of adventure-hungry friends who like to hit the slopes on weekends or travel to the lakes for a week of biking, paddling, and hiking. It's a perfect base for thrill-seekers and much cheaper convenient than booking hotels every time you want to explore the great outdoors.
Check out more about the Timber Den by visiting Outside Van.
9. The Green Machine Conversion
You might be thinking that it's about time we mentioned an eco-friendly machine in our Mercedes Sprinter Conversions list, and here it is! This sprinter is built on the classic sprinter chassis that we all know and love and is designed for those with a passion for technology and the environment.  
Aptly named the 'E-trek', this conversion is full of luxury additions and all of the equipment that you could possibly need to live an eco-friendly off-grid lifestyle.
Electric campers are the future of the van life movement; we live a much more self-sustainable lifestyle than most, and if we can work towards helping the climate at the same time, then we're ticking every box!
The E-trek proves that electric campervans don't have to be unimaginative and uncool; just look at this VW Electric Campervan for even more proof. This E-trek would be great for a travel couple who have been hit by the wanderlust bug or a retired couple who are planning on visiting all of the top road trips that they've been talking about since their wedding day. 
Check out the video above for more details, or visit Roadtrek for more info!
10. The Executive Suite Conversion
Do you ever feel the need to hold company meetings in your mobile home? With this luxury Sprinter conversion from Klassen Luxury, you can bring the whole office out for a mobile conference, as well as sharing a few drinks and taking part in some karaoke! With cruise and climate control, built-in satellite system, 42″ TV and thick plush carpets as standard, this has to be one of the swankiest Mercedes Sprinter conversions that we've ever seen!
There's storage for headphones and iPads for every passenger, and more than enough crystalware to celebrate your newest promotion. And when you're done in the office you can head to the built-in massage chairs for a nice relax. Working a 9-5 job never felt so good!
This souped-up, blacked-out Sprinter might not be ideal for anyone considering Full Time Van Life, but it sure is a cool little number if you're looking for a business vehicle or a party bus (they might be the same thing depending on what line of work you are in).
This sprinter conversion is more about show than being a functional tiny home, but if you're in the market for a mini-bus to keep the kids happy or a sweet ride for you and your friends to enjoy the high life, then look no further! Check out more details on this luxury conversion over on the Klasson Luxury website.
11. The Wanderlust Conversion
Instagram and Tiny House YouTube Channels are two of the best places to get your Wanderlust craving, and this handcrafted conversion from Always The Road encompasses everything that we love about living in a van.
Hand-built vans are always the most homely in our opinion, and you can tailor them to your own specification without spending tonnes of money. You can really stamp your personality on them right from the get-go, and when you put your heart and soul into a build your character ends up coming out in the finished article.
The thing that I love the most about the notion of a Sprinter Camper Van is that all come out looking completely different, and the things that untrained carpenters or designers can do often surprise and astound us. The build above might be a little more cluttered and lived-in than the other Mercedes Sprinter Conversions on our list, but it definitely feels the most like a real home!
Head over to Always The Road to read more about their adventures and to learn more about their fantastic conversion!
12. The Off-Grid Storyteller
We first met up with Storyteller Overland at the 2019 Overland Expo and instantly connected with their 4×4 luxury Mercedes Sprinter Conversions. These builds are perfect for any vanlifers that either live in or like to travel to the middle of nowhere and they're incredibly well thought out both on the outside and inside the living area.
Storyteller Overland campers are made for adventure lovers, but they also understand that sometimes you might want to spend a rainy day watching The Punisher on Netflix or just curled up with a good book. The folding bed can be pushed back to make extra space for your bikes and boards, and the comfortable leather seating is just an arm-stretch away from the fridge and cooking facilities.
One of the best things about this camper, however, it a little contraption that's hidden inside one of the overhead cupboards you can see in the picture above.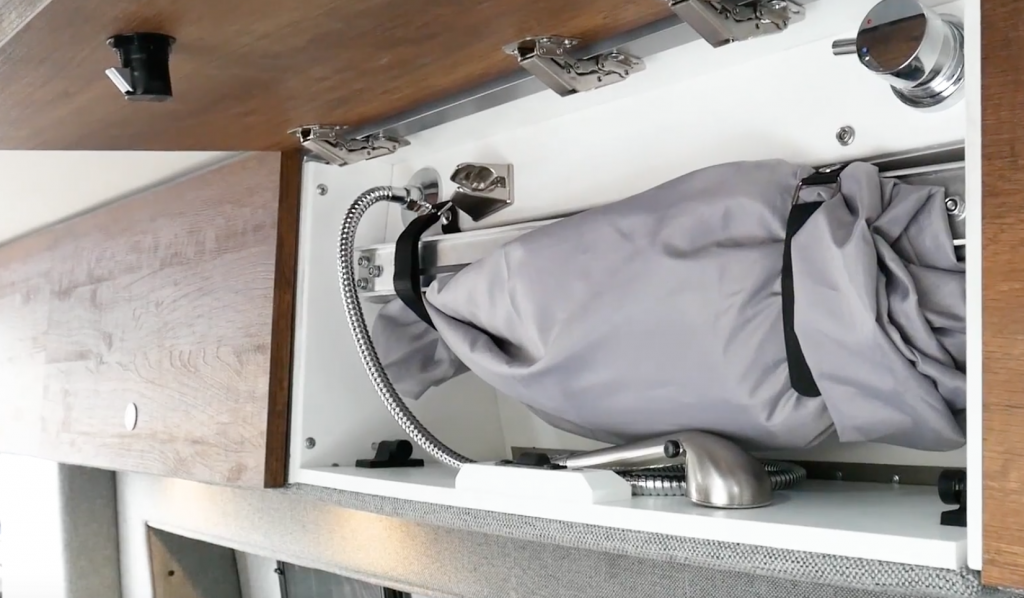 This 'Flex Space' house a pull-out shower curtain and shower head for washing indoors – how cool is that! Below the show head is a cleverly hidden bath pan which also acts as a storage unit for the portable toilet, and both the curtain and shower hose fold neatly back away when not in use. Now that's what I call clever design!
Head over to our full-length article on this Storyteller Overland conversion to get the full low down on this gnarly adventure bus!
Wrapping Up
Thanks for checking out our list of the Top Mercedes Sprinter Conversions on the internet. Join the Van Clan on Facebook, Twitter and Instagram for more Top Camper Lists and Classic Conversion articles!
More Content From The Van Clan Team!
Looking for the best van life gear around? Check out our product reviews here: