Best RVs For You To Explore Planet Earth
If you're living the van life or travelling in a van, then the chances are that you've seen a lot of different RVs on the road while you've been travelling to your favourite van life travel spots. The category of Recreational Vehicles spans across a whole host of campers, but they are usually larger, luxury vehicles that look more like tour busses than stealth campers. They're long, they're tall, and they have no problem establishing themselves as the kings and queens of the road. And why shouldn't they! They are the pinnacle of comfortable off grid living, and they're here to stay!
Do you fancy giving Full Time Van Life a try? Want to give everything up and go on the off grid adventure of your dreams? Head over to our Van Lifers and Weekend Warriors Facebook Group and connect with other Vandwellers from across the globe in our ever-growing community. Find out what van life costs sting the most when you build a campervan, share vanlife tips and tricks, and learn all about living in a van from our experts on the ground!
For some of us, luxury campers like the EarthRoamer Camper and the Palazzo Superior will always be out of reach. But if you have the money and want to invest in an all-singing-all-dancing rolling home from home, then you need to know which RVs are the real deal. You need someone to sort the wheat from the chaff and pick out the top campers on the market. You need…ok, just check out the list below and have a good read.
10 Of The Top RVs On The Roads Today
1. Tiffin Allegro Open Road
I may have first found out about this range of Open Road RVs while searching for Tiffin shops nearby, or I may have made that entire sentence up completely. How we get to the first luxury vehicle on our list of Top RVs doesn't matter, but what does matter is how awesome this beastly motor is both inside and out. Looking for all the world like something that you might see Jeff Lynne climbing down out of next to a concert hall, the Tiffin Allegro is a reliable motor that is perfect for anyone looking for the ultimate comfortable off-grid vacation this Summer.
With an RV Ford 6.8-liter V10 engine powering the ginormous 26000 lbs. chassis, you get a sturdy yet speedy rolling home with all of the ameneties that you rely on in your day to day life. LG TVs, a central vacuum cleaner, solid wood cabinets, multiple rooms including kitchen, dining, living and bedrooms, high ceilings; you name it, and the Tiffin Allegro has it, all protected by a 3mm clear mask on the outside paintwork to keep your bus looking spick and span for many years to come. Head over to the Tiffin Motorhomes Website for more information!
2. Finetza – Pinnacle Speciality Vehicles
Using the 158inch wheelbase from a Force Motors Traveller, the Finetza is one of the smaller vehicles on our list of top RVs, but by no means is it any less luxurious on the inside. Dubbed the height of luxury mobile living and the perfect office on the go by a very famous automotive journalist (just kidding, it was only me), the Finetza looks a little bit like a campervan version of Air Force One.
The Finetza can sleep up to eight-people and is kitted out with some of the best van life gadgets around. You'll find curved TV's in the living and bedroom areas, a moon roof for gazing up at the stars (not to be confused with the Moon Door that Lysa Arryn met her end through), Altered Carbon style lighting, and a bedroom that extends out past the back of the camper when you're parked up and ready to catch some sleep. It's one of the most hi-tech Sprinter sized campers that I've ever seen, and If i had the money I'd buy a handful of these to rent out on Outdoorsy so others could experience their awesomeness too. Head over to the Pinnacle Speciality Vehicles website for more info.
3. Winnebago Forza
Winnebago could well be the biggest manufacturer of RVs in the entire world, if not certainly the most trusted and well-known brand around. Camping enthusiasts have trusted in these stellar vehicles for decades, and the company just keep on producing better and better vehicles time and time again. The Tour Coach is a diesel RV that can store 84 gallons (321l) of water on board, making it the perfect bus for living off grid for long stints of time.
This range of RVs really encapsulates the feeling of being in your own house while out on the road. The spacious sofa has enough room for the entire family to gather on, and that kitchen looks bigger than any of the cooking areas in the flats (or vans) that I've ever lived in. And if the storage in the kitchen isn't enough for you, there are an extra 228 cubic feet of storage on the outside of the van! There's a table with room for four and a gas fire underneath the TV. Heck, this place is so big and cosy that you could probably have Thanksgiving or Christmas dinner in here without any trouble at all! Head over to the Winnebago website for more information on the Forza and to check out their other models.
4. SLRV Commander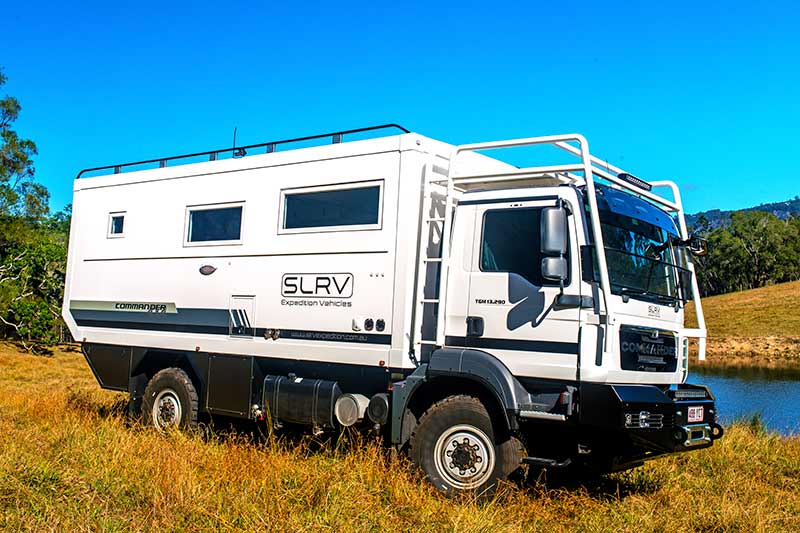 It wouldn't be a Van Clan list without throwing a few curveballs in along the way now, would it? The SLRV is one of the gnarliest expedition RVs on the planet, with more power than a raging Minotaur and a chassis that could probably withstand the apocalypse. This all-wheel-drive monster camper has a rear air suspension for off-roading and a gross vehicle mass of 13'000KG. It features 600L fuel tanks and uses beastly 385/80 Michelin tyres to get you from A to B via anything that stands in your way. To cut a long story short, this is probably the only vehicle that can command Mother Nature to do whatever the hell it wants.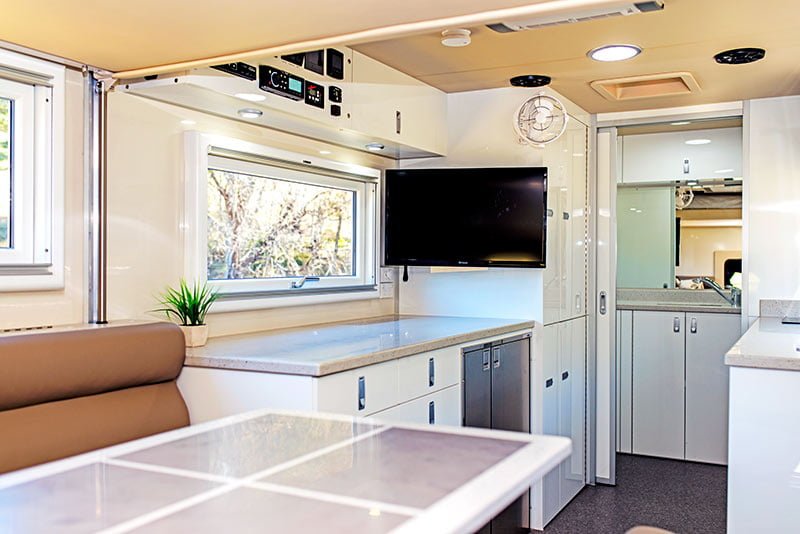 Wait, that's not the inside…is it? It might be rugged on the outside, but inside the SLRV there's a very different feel going on, one with pot plants, roof fans, soft furnishings, and plenty of storage for all of your top cooking accessories. The contrast is astounding, but then again, nobody said that overlanding had to be uncomfortable. Two king–size beds, a dinette with seat belts, en-suite toilet; this thing has it all and more. Head over to the SLRV Expedition website for more details!
5. Coachmen Beyond Motorhome
Now we move from a Class I (for insane) RV to a Class B Camper with some seriously sleek features hidden away inside. This Beyond Motorhome from Coachmen RV is a great example of how tiny home living in the best RVs can be comfortable, stylish, and functional all in one go. Built on a 148″ Ford Transit Wheelbase (arguably the best of all the Ford Campers), the Beyond is a one-stop-shop for everything that you might need to call upon while out in the wilderness. With 35 gallons of water and 25 gallons of fuel storage on board, you won't have to head back into civilisation that often while parked up at your favourite forest retreats or lakeside landings.
The attention to detail that has gone into this camper is second to none, with thick wooden drawers and doors in the kitchenette and a sink/hob combo with wipe clean glass lids to create extra food prep space. There's also a TrumaCombi system installed to heat both the water and the air inside the camper, keeping you toasty on all fronts. Head over to the Coachmen RV website for more info on the Beyond range of RVs.
6. Palazzo Superior
We mentioned it up above, so I guess it's only fair to include the Palazzo Superior in our list of the top RVs on the road today. I don't move in circles where this mammoth cyclops camper might be seen, but if you're a footballer or a rich Baron, then you might have seen one of these in action. Recognised as the most luxurious camper in over 190 countries, The Palazzo Superior is the most expensive motorhome on the planet with a price tag of over £3million. It's a mansion on wheels, and it has some of the fanciest features ever put inside a mobile home.
It looks more like Bruce Wayne's house than a motorhome, though I suppose even Batman likes to take some time off to visit the country once in a while. With a rain shower spa experience in the bathroom and the same mattress as the one supplied to the Queen of England in the Master Bedroom, you know that this camper is only for the rich and famous. An air convection system keeps the same temperature throughout the entirety of this massive bus throughout both floors, and there's even a built in bar with a wine cabinet! Head to the Marchi Mobile Website for more details.
7. Minnie Winnie 31K
There certainly is nothing mini about the next motorhome on our list of top RVs. Built on a Ford E450 chassis, The Minnie Winnie is a gargantuan camper that measures 32.9 metres in length; this is one camper that I wouldn't want to have to do a three-point turn in! You might expect Winnebago to have installed the worlds largest water tank inside this RV, but the freshwater tank sits at a comfortable 44 gallons, which although is still more than enough for taking on the road, it seems a little bit small for the size of the vehicle.
It might look like two RV's smushed together on the outside, but the inside looks swankier than most London apartments. The amount of storage available in these things is phenomenal, with cupboards, hidey holes and 'safe-keeping-shelve's everywhere you look. The size of this vehicle allows you to have both a bath and a shower installed. Gone are the days where you need to worry about packing your camper shower before hitting the road, all you need to worry about now is which suitcase has the rubber duck in it. Head over to the Winnebago website to get more details on the mighty Minnie Winnie.
8. The Predator Hunter RMV
The next range of RVs on our list are designed for the most adventurous van lifers on the planet. If you find asphalt roads too boring and the thought of parking on level terrain just downright dull, then the Predator from Hunter RMV is definitely the camper for you. This military-grade not-so-tiny house can do 800 miles on one tank of fuel and is powered by a 6-cylinder, 6.6L Caterpillar turbocharged diesel engine. If I was going to take over the world, I'd probably start by buying one of these things.
The inside of the Predator is a lot more homely and has less of a 'kill and destroy' feel about it. It looks a little more dated than some of the other interiors in this list of RVs, but it still features a fridge/freezer and a washer/dryer and also has a fully kitted out kitchenette with hob, oven and sink to boot. If overlanding to the heart of the planet is on your bucket list, then take a trip over to the Hunter RMV website to get some more details.
9. Thor Quantum KW29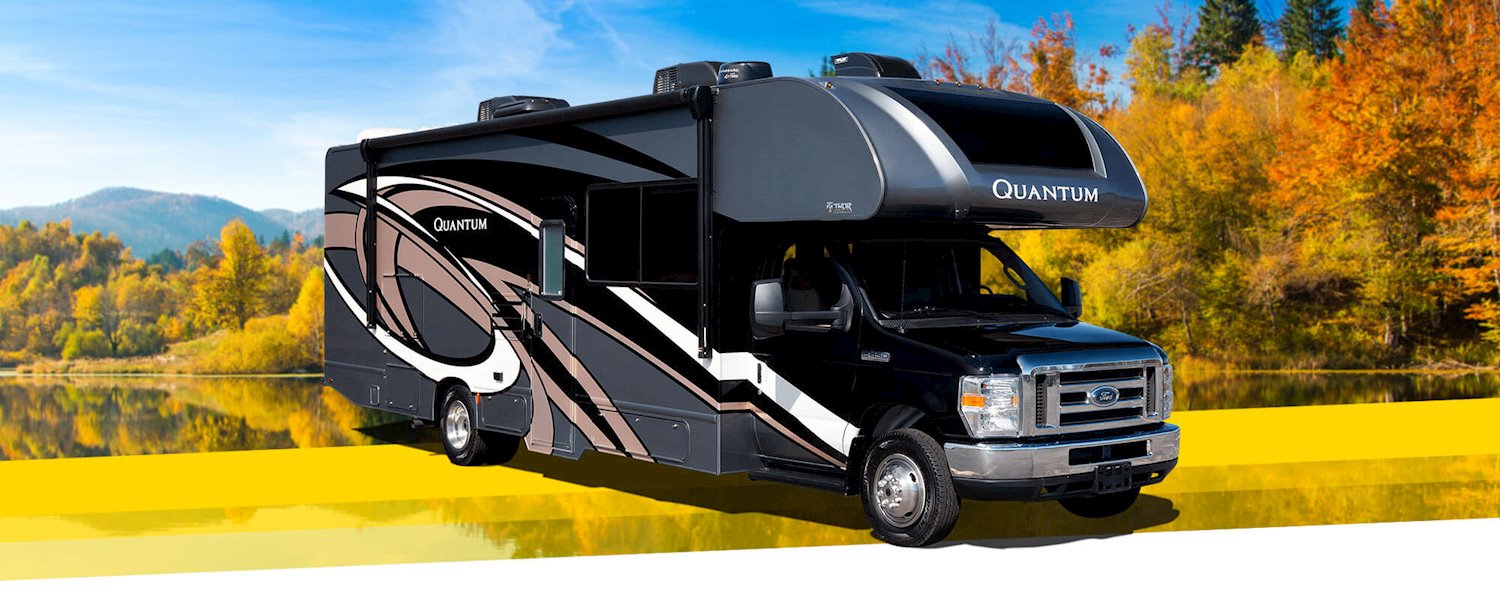 Here's one for all of you Marvel fans out there, except this one doesn't come with the Hammer of the Gods as an included extra. Like the Minnie Winnie, the Thor Quantum KW29 is based on a Ford E450 and features some pretty nifty interior features designed to make your life on the road as easy as possible. The camper itself utilises a 6.8-litre Triton V-10 and can tow a mind-boggling 8,000 pounds. At least you know you can always pull one of our small travel trailers behind you if you need any more space!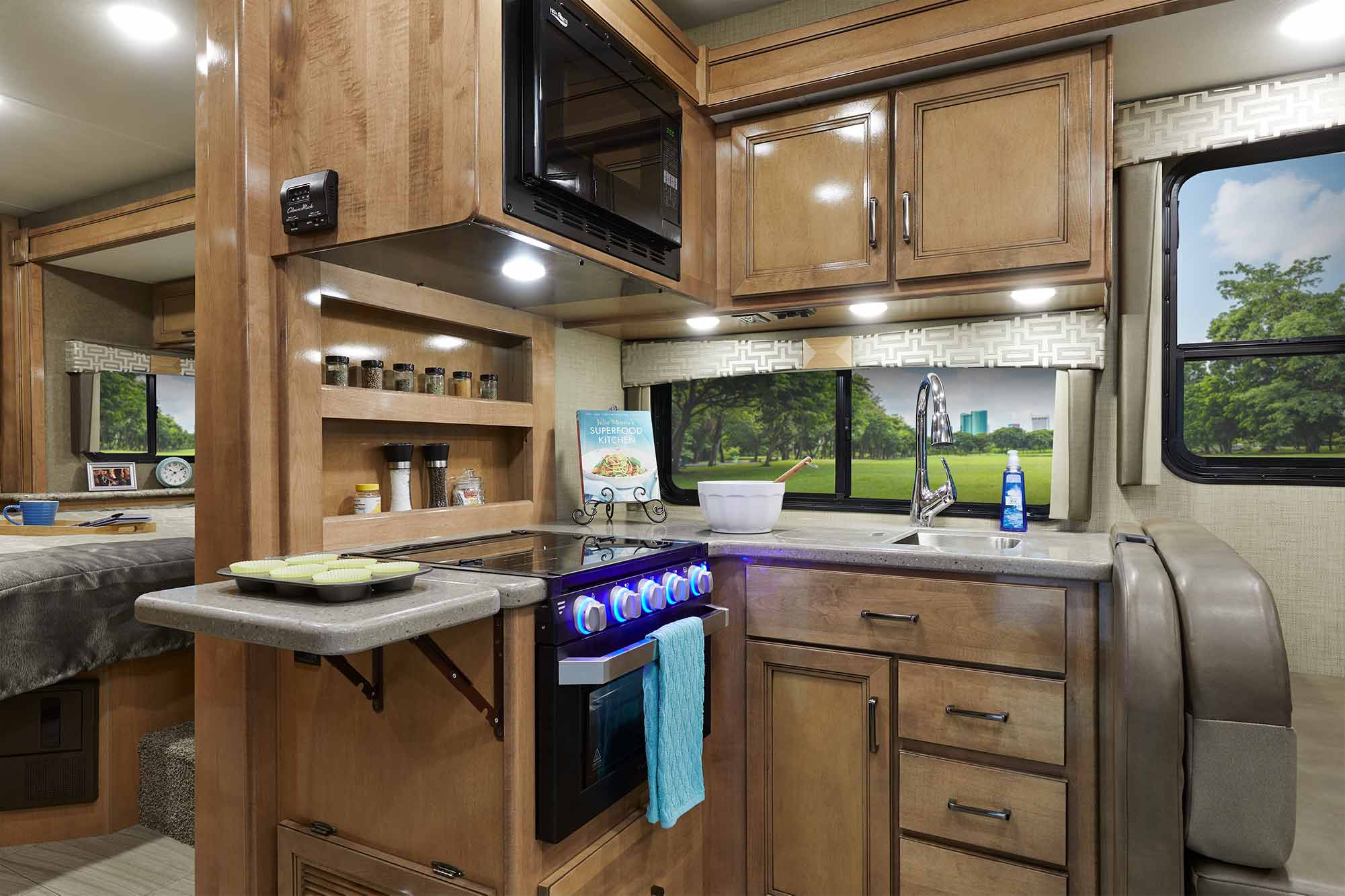 This four-wheeled avenger stands at 32'7″-feet long and has a ceiling of 84″. With a queen size bed, bunk beds, and a jack-knife sofa, there's plenty of space to slob out and catch some shut eye. Swivel TV's, a 'dream dinette', an en-suite shower and much more complete the off-grid luxury package inside this stellar travelling home; now all you need to do is to decide which section of the 11-cubic metre fridge will house your beers! Head over to the Thor Motor Coach website for more details.
10. Airstream
I usually like to save the best till last, and that's exactly what I've done with this next brand of ultra-iconic RVs. They say that an RV's value plummets as soon as you drive it off the forecourt, but not an Airstream. These terrific trailer campers are still as sought after today as they were when they first hit the streets, and that futuristic silver exterior with its curved roof will never lose its cool appeal.
Each Classic XL Airstream trailer includes a touch panel electronic control system, a Polk audio system complete with a 200W subwoofer, four external pre-wired solar ports, a bathroom with a heated shower floor, a large dinette, and a Cognac Maple décor throughout the entire trailer. That last bit sounds like something that Ron Burgundy might have in his apartment, but what do I know. The Airstream above is an example of one of the top-of-the-range trailers that the company produce, but you can find smaller, more retro ones if you like your RVs with a bit of a nostalgic vibe. Head over to the Airstream website for more details!
More Content From The Van Clan Team