Ask anyone about their favourite campervan conversions, or their opinion on the best van to live in, and they'll show you some of their favourite Mercedes Sprinter conversions or the classic Volkswagen Bus Camper. What they won't do is show you a finely crafted list of Ford Campers, because, in the van life world, the Ford Camper just doesn't seem to scream 'cool van' like some of the other big names out there. I'm here to show you that ford campers can make amazing tiny homes and that they're here to stay.  I've made my own list of 12 of the best Ford campers that the Van Clan team have come across on our travels through the internet; now all you need to do is print the entire thing and distribute it around your friends.
12 Conversions That Prove Ford Campers Are Still In The Game!
1. The Family Camper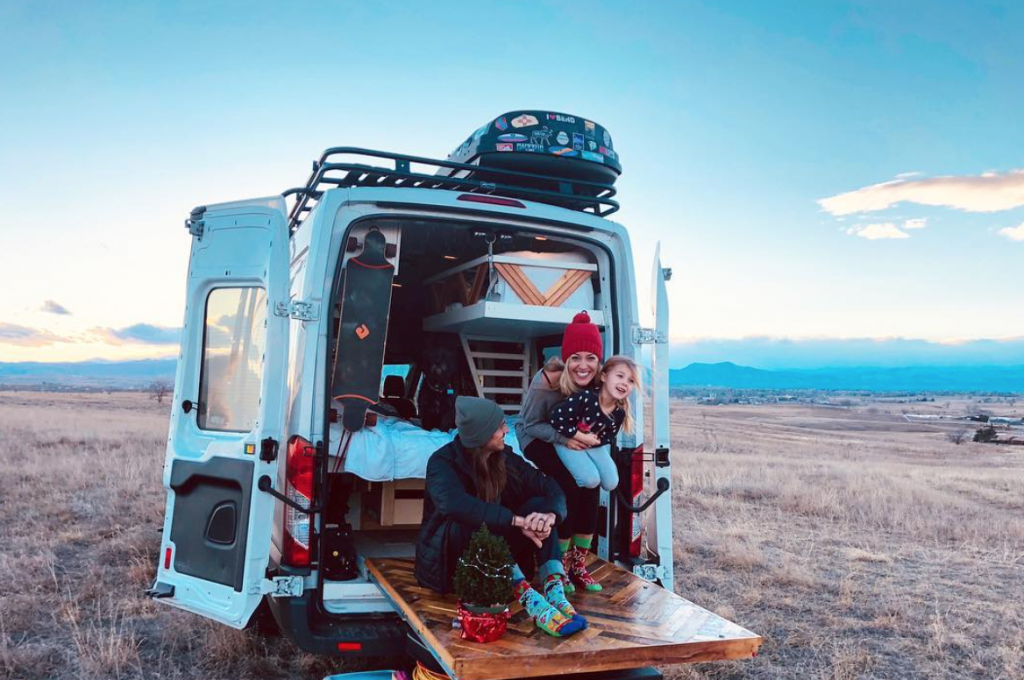 You might recognise this first conversion from our Van Life Instagram article; it is one of the most recognisable Ford Campers out there after all! The Fites @fitetravels are big names in the vanlife movement and have been living in a van since April 2017. Their tiny home turns heads everywhere they go; they've even featured on national television!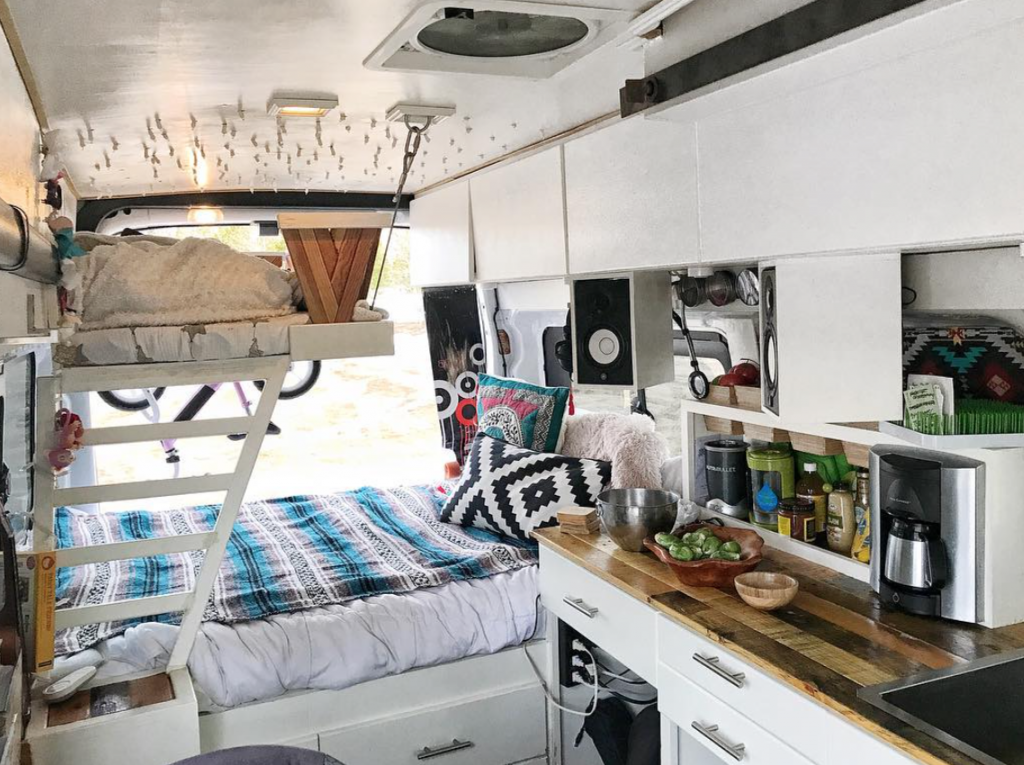 What is it about this camper conversion that I like so much? Well, the Fite Family have made so much use of the space in their ford transit camper, adding a mezzanine sleeping area and a kitchen area with a modern yet country feel that has everything they could need for life on the road. They're so used to the van life now that they can't ever see themselves moving back into a conventional house (and who can blame them!) This is a family camper and the type of rolling home where you can imagine life-long memories being made. And don't forget, those life-long memories are being made in a Ford!
2. The Spartan Camper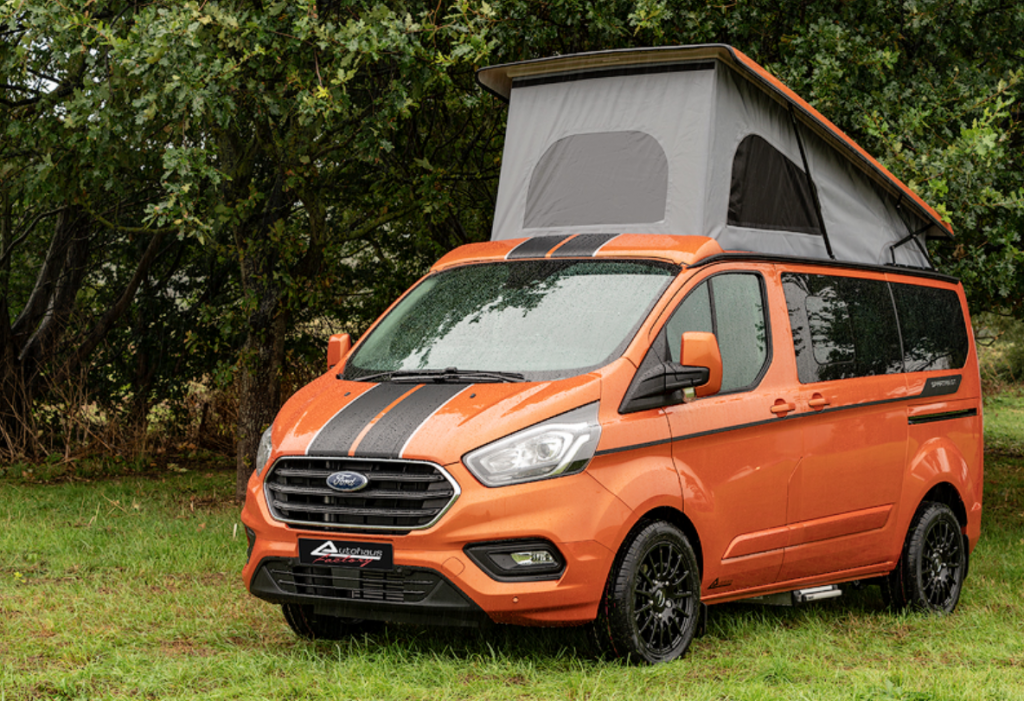 From a family camper van to a day van that would make the toughest of boy racers feel like a kid in a candy store, the GT Spartan is a bright and bold van that you won't be able to use to sneak up on your Persian enemies (if you've not seen the film '300' then I would skip to the next camper now). Some might call the GT Spartan the King of the day vans, making it the perfect choice for a weekend warrior who likes to make a statement on the campsite.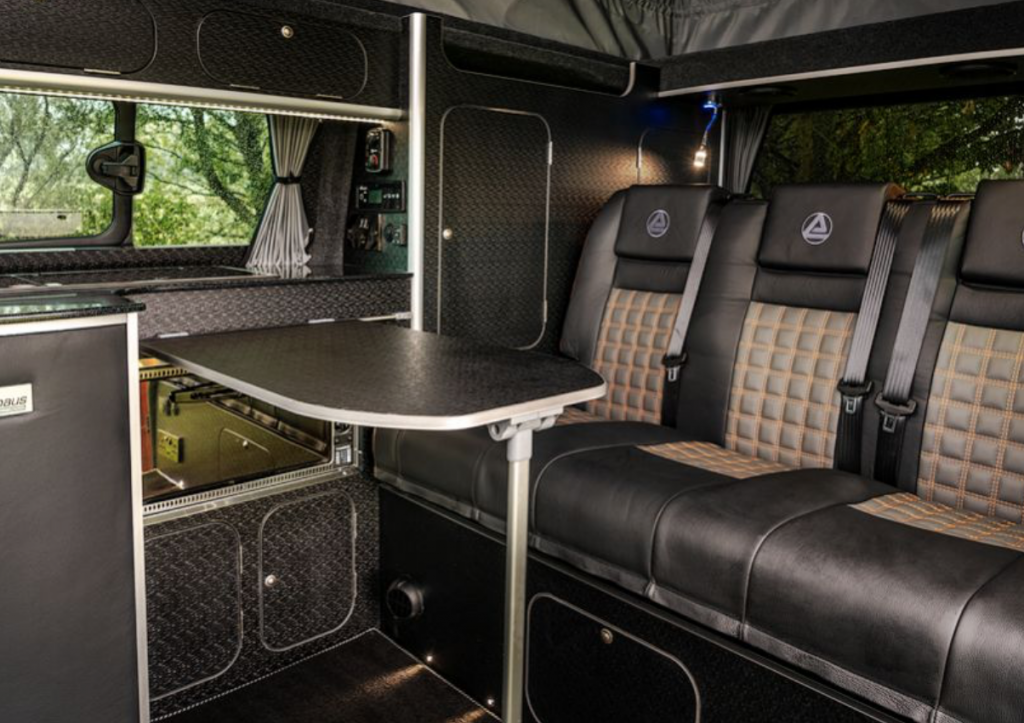 This Spartan range of ford campers are far from spartan in design, in fact, they come with a lot of amenities that make living off the grid much more comfortable, even for long periods. The luxurious leather seats fold down into a comfy bed, and I could see myself spending a relaxing weekend in here quite easily. The pop top gives you extra height too (there's nothing worse than not being able to stand up on long trips). It's perfectly set up for you to hook up to 240v mains in a campsite when you need to recharge, and you'll look like a proper gangster as you cruise down the motorway listening to your best road trip songs.
Check out our full article on this ford transit campervan here!
3. The Wanderlust Camper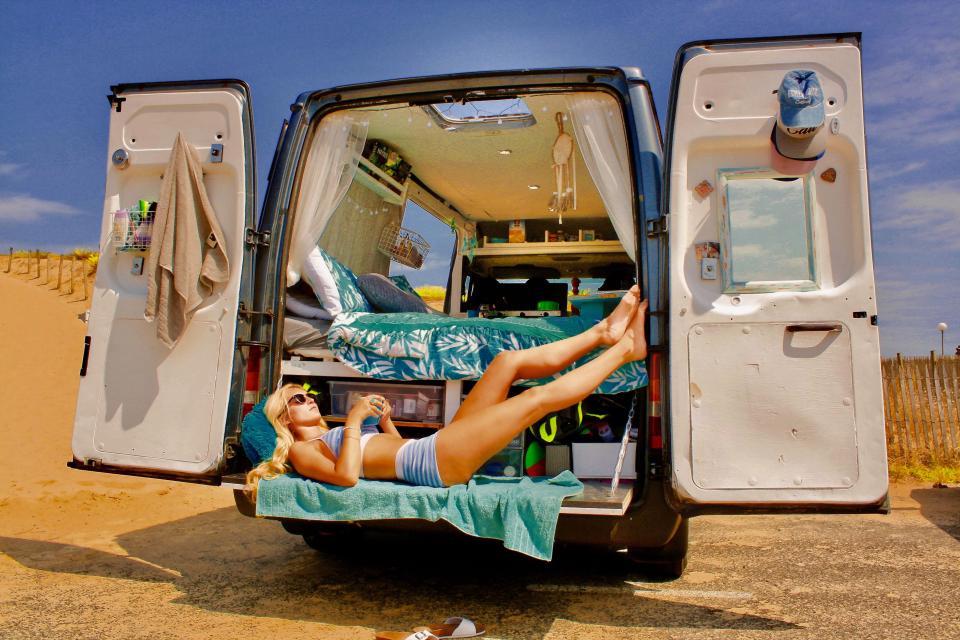 Sophie from @_advanture_ might not be living the van life anymore, but the legend of her handmade home continues on Instagram and throughout the depths of the internet. This is one of the ford campers that we always come back to when we talk about wanderlust, that sense of packing up everything and scratching that travel itch that's so hard to ignore. Sophie decked out this can into a cosy adventure bus for around £900, making it one of the cheapest ford campers on our list too!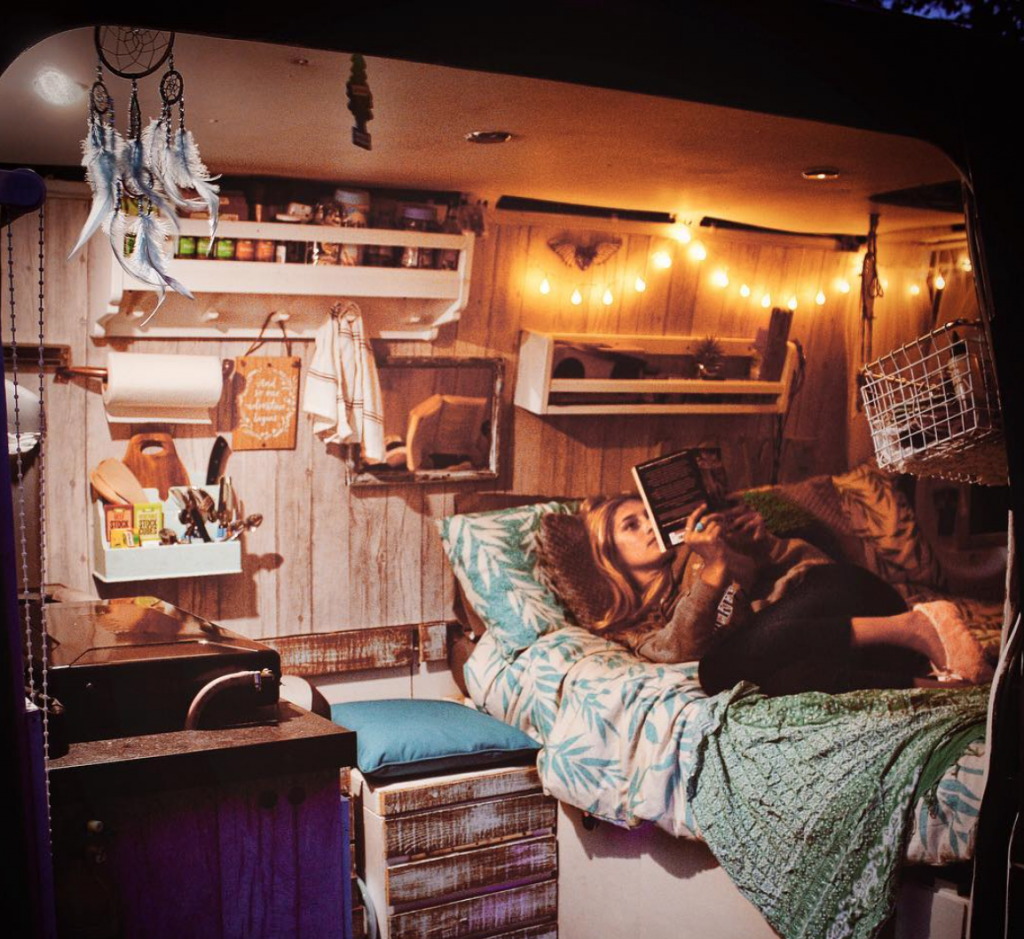 Sophie's van 'Stella' looks as though it could quite easily be a log cabin in the woods, and seems like the perfect place to relax down up with a good book after a long day of hiking and exploring (kind of like Sophie's doing above!). This conversion doesn't have any bells and whistles worth showing off about, it's just a really appealing home that we can't help but love. If after these pictures you still think that ford campers aren't suitable for alternative living then maybe there's no hope, but perhaps if you read the full article on this ford transit camper conversion then your soul might just be saved.
4. The Fairytale Camper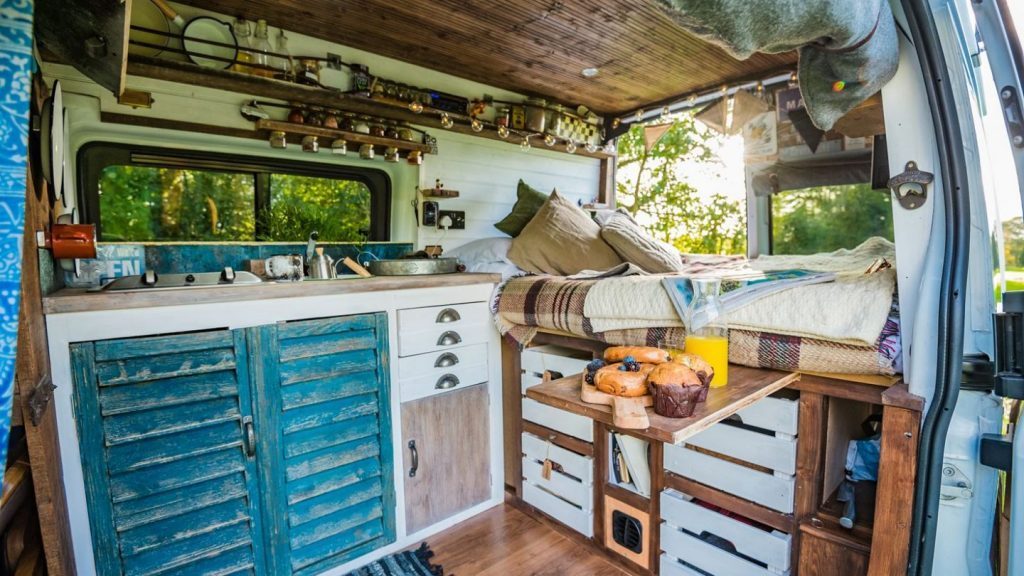 We first met 'Dave the Wanderland Van' at Camp Quirky, a campervan festival held by our good friends Quirky Campers. The inside of this conversion is like something that you might find on grand design, and the great news is that you can rent it out and actually spend time in it yourself! Dave is one of the most inviting looking Ford campers that we've come across since Van Clan began, and from the apple-box draws right down to the pallet wood cupboard, the thought that has gone into the conversion is downright astonishing. We particularly liked the little Hulk Hogan figurine on the spice rack; I guess Dave is a real American at heart…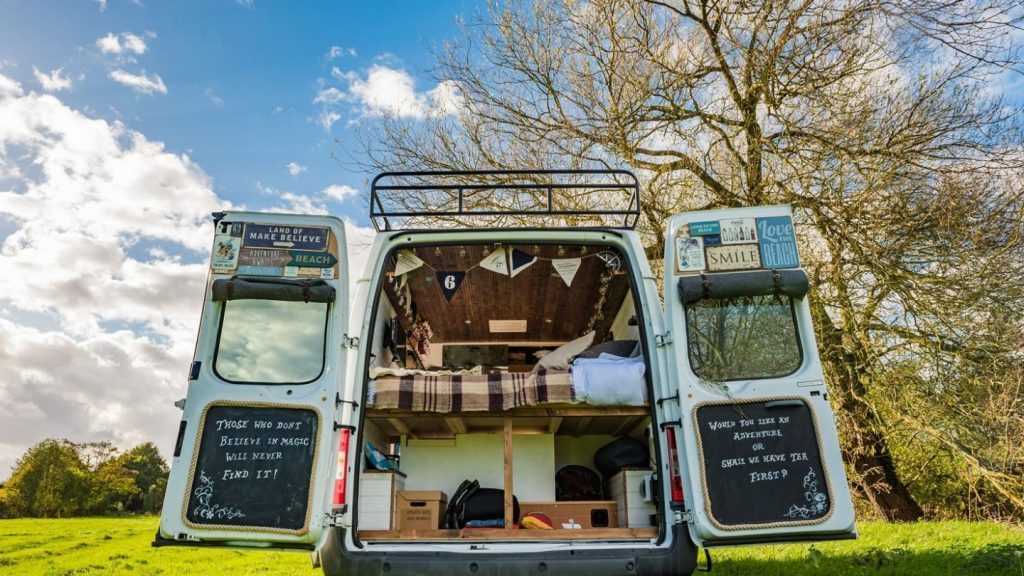 Campers should be fun, and they should be able to take you back to a time where you felt carefree and could change the world (unless you're already travelling in a van, then you're living this life every day!). Dave proves that Ford campers can be used to create a wonderland on wheels that you can use to escape modern life at a moments notice, and all signs point to this home on wheels being a great success for Quirky Campers in the years to come.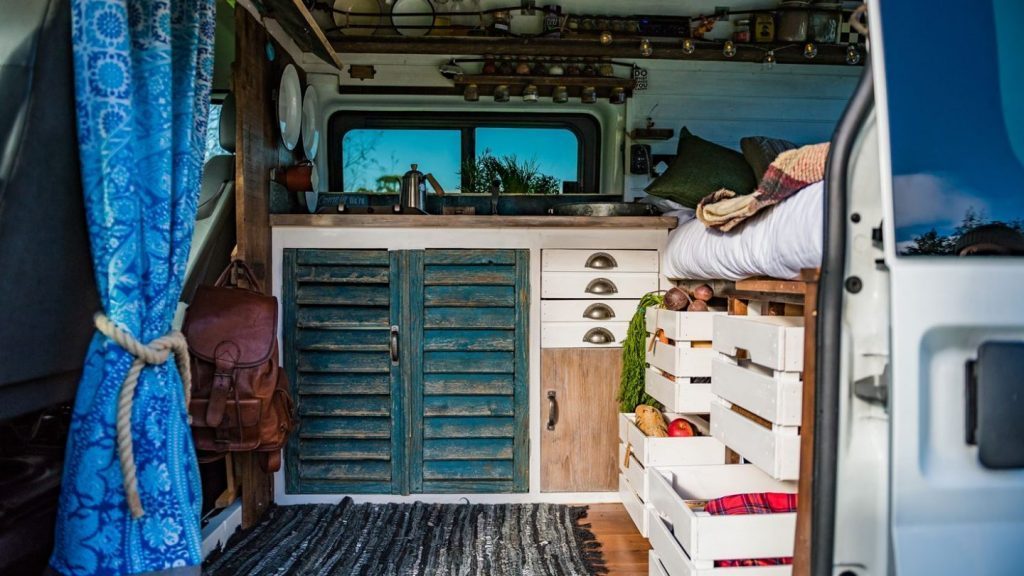 5. The Adventure Camper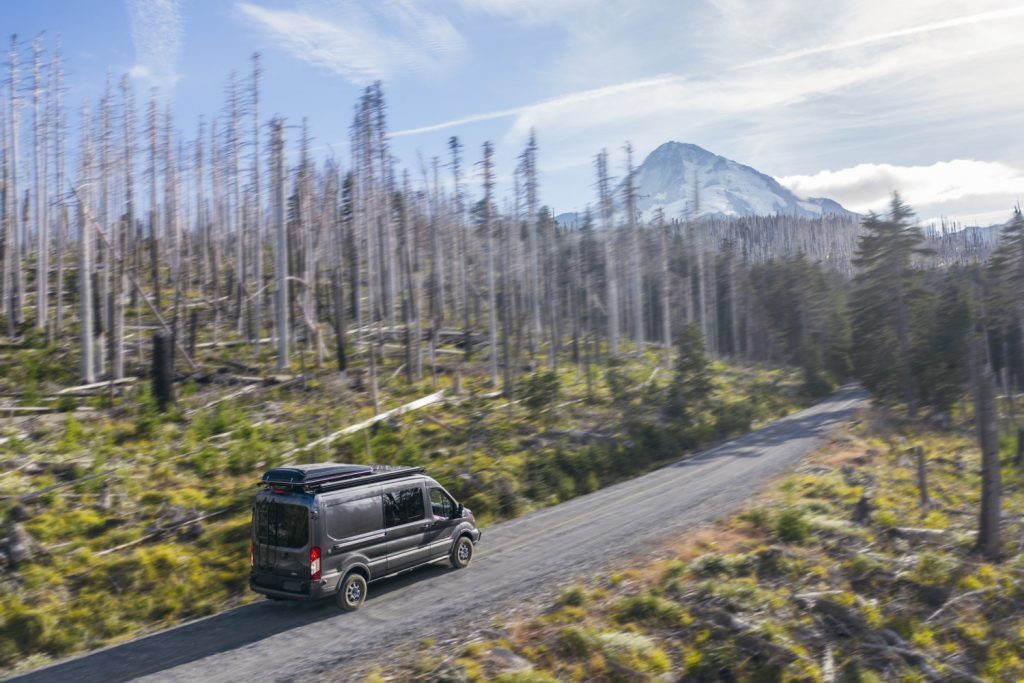 Many billed this range of ford campers as 'The Ford Camper Conversion that we've all been waiting for' (or at least I did at any rate), and Outside Van certainly didn't disappoint when this beauty finally hit the roads. Their 'Cascade' range of Ford campers is purpose-built for adventurers and has all of the outboard gear that you could need for gnarly off-road trips into the mountains and beyond.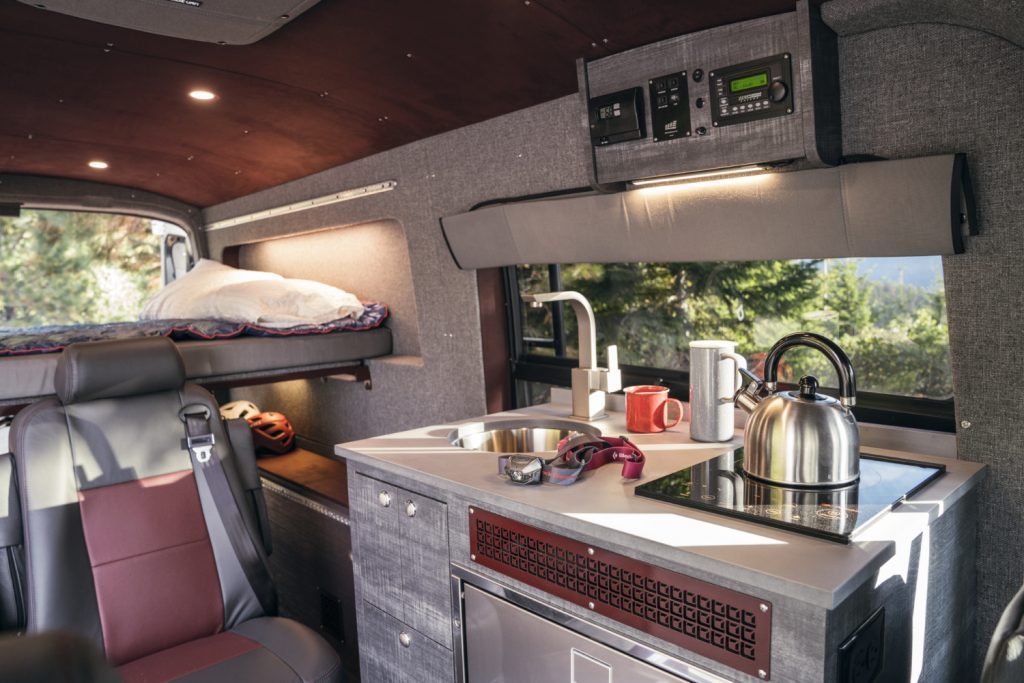 From solar panels and light bars to outdoor showers and bike mounts, these ford campers have it all. There's a fully functioning kitchenette area with running water, fridge, storage, and countertop space for your top cooking accessories. Add that to the fact that you can stand up comfortably and there's a fixed bed there ready and waiting for you whenever you want to catch some z's, and you've got yourself a ready-made off grid camper that's just waiting for you to grab the wheel and put the pedal to the metal.
6. The Woodland Camper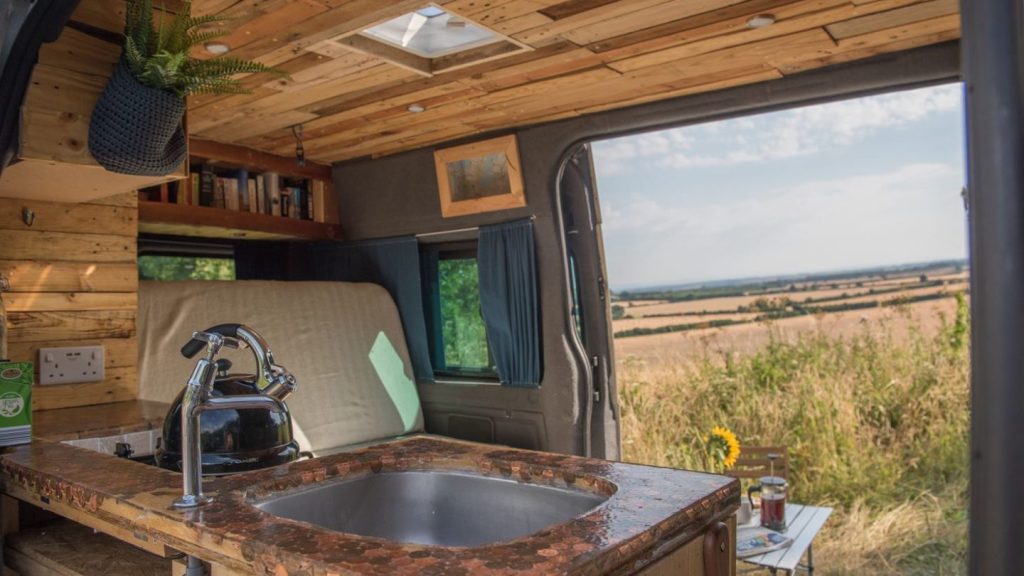 If you're wondering whether this is another quirky addition to our ford campers list, then you'd be right. We're heading back to Quirky Campers again to check out the acorn van; a nutty little motor with a robust wooden theme throughout. This is undoubtedly the most rustic conversion on our Ford campers list, proving that these vans don't just come with a 'one style fits all' mindset.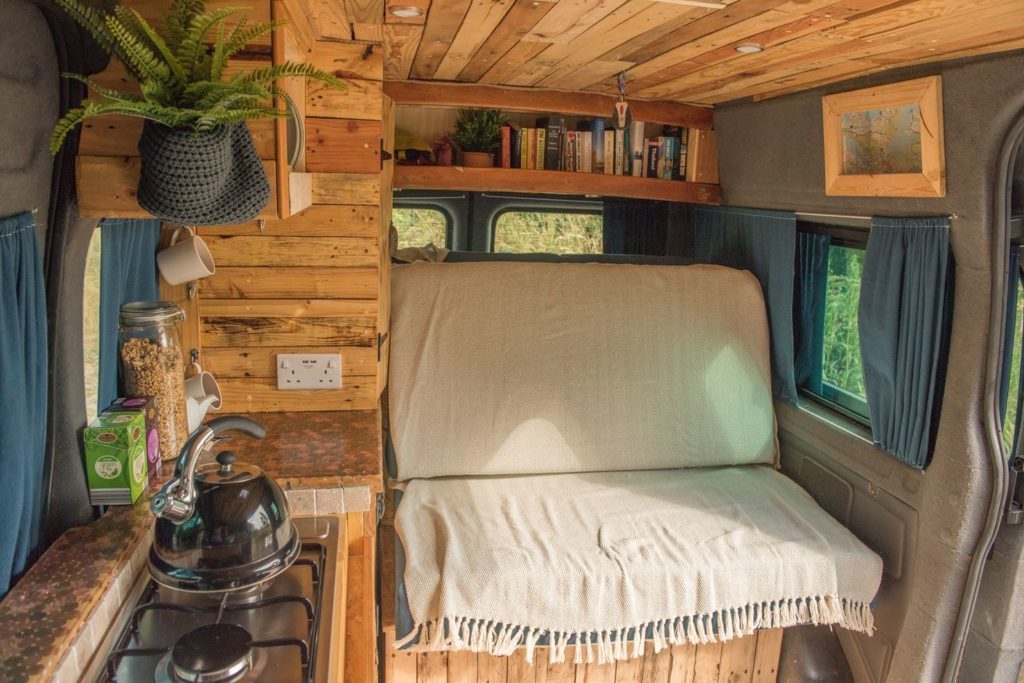 The Acorn van is simple in design and won't ever win most technical van of the year award, but that's why it originally caught our eye. It's comfortable and quaint and doesn't try to be anything else apart from a good, honest camper. I also like the dual sliding doors on this van too, bringing the outdoors indoors and making the whole world an extension of our living room. You can hire the Acorn van from Quirky Campers, so head over there to inquire about booking!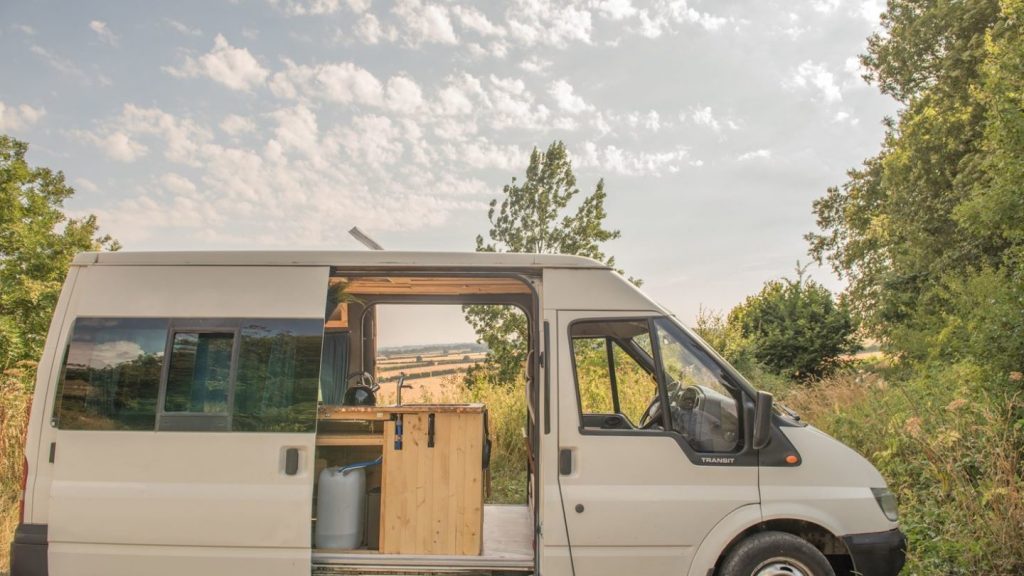 7. The Sporty Camper
If you liked the look of the GT Spartan, then this next range of Ford campers should be more up your street. I wrote a full-length article about the Ford Terrier M Sport a few months back, and since then the Terrier range of ford campers has taken off like a storm. (I'd like to say that it was all down to me…and that's the story that I'm sticking with). The Wellhouse ford campers all make use of the latest driver assist technology and can comfortably transport a family of five.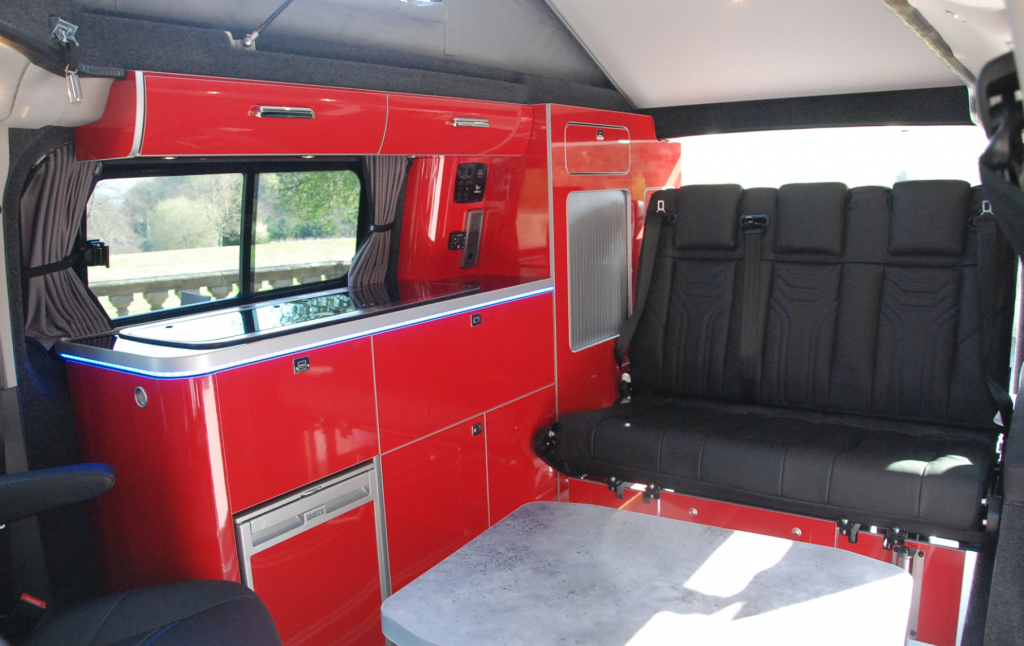 This is another day camper for the weekend warrior, although if you just want to head out into the wilderness with a loved one or a friend, then you could probably make your off-grid adventures last for a few days at a time. The interior is funky fresh, with the cabinets and kitchenette area all moulding into one smooth wall of dreams. But the only thing that you should really be focusing on is how cool you'll look cruising down those country lanes, and the other cars around you of course.
8. The Monster Camper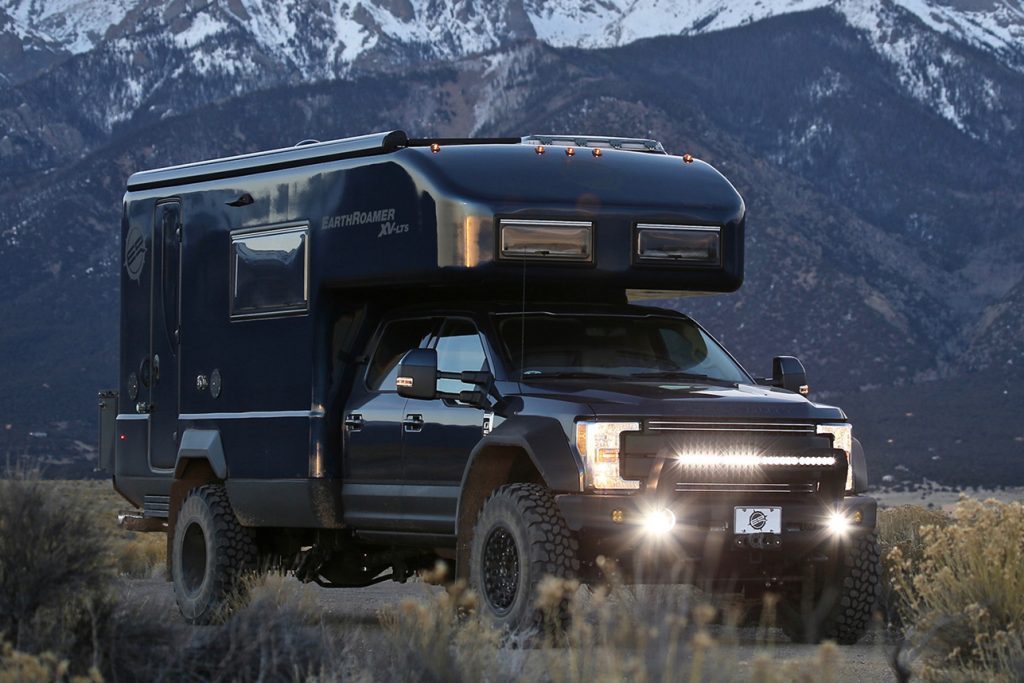 I bet when you first started reading this article that you didn't expect to see a monster camper like this popping up in the list. Yes, ford campers can even drive into the realms of giants, and this one looks as though it could barge down the gates of Valhalla and drink as much mead as you could stick in its engine and still not pass out. Meet the Ford Eathroamer, a luxury range of ford campers for the adventure lovers who like to splash their cash.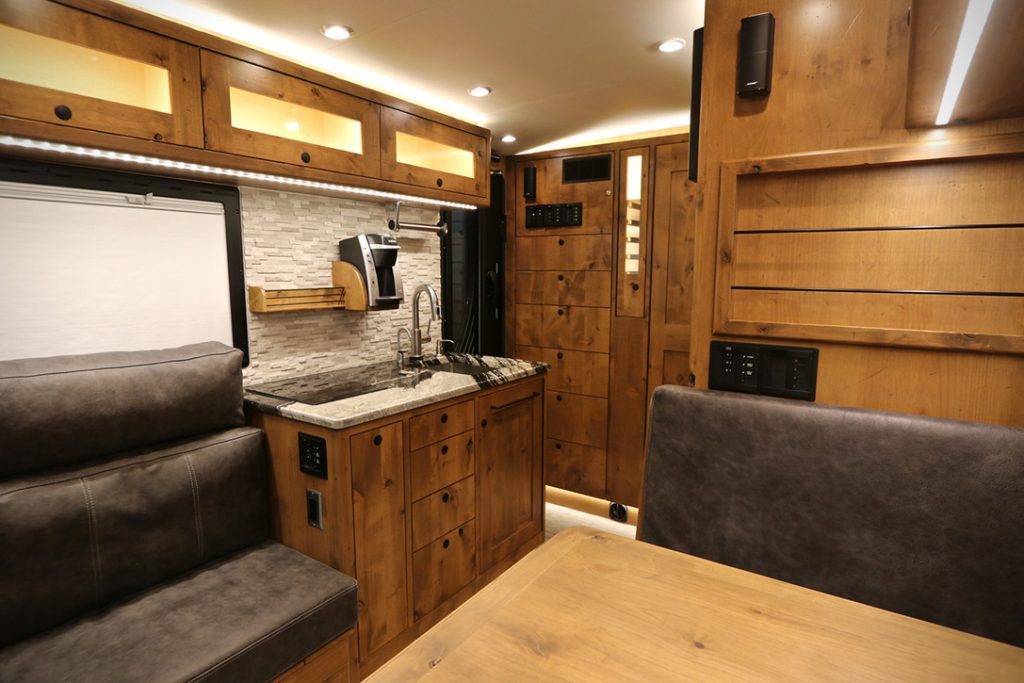 I know that you're thinking, and the answer is yes; this is better than your house, and it's able to go over (or through) any terrain imaginable. It looks like a five-star hotel room and has all of the mod cons to go with it too. Some of the more expensive models even have an onboard washing machine! The luxury seating area creates tonnes of sleeping space, and you can have a party with about eight people and still have enough room to move.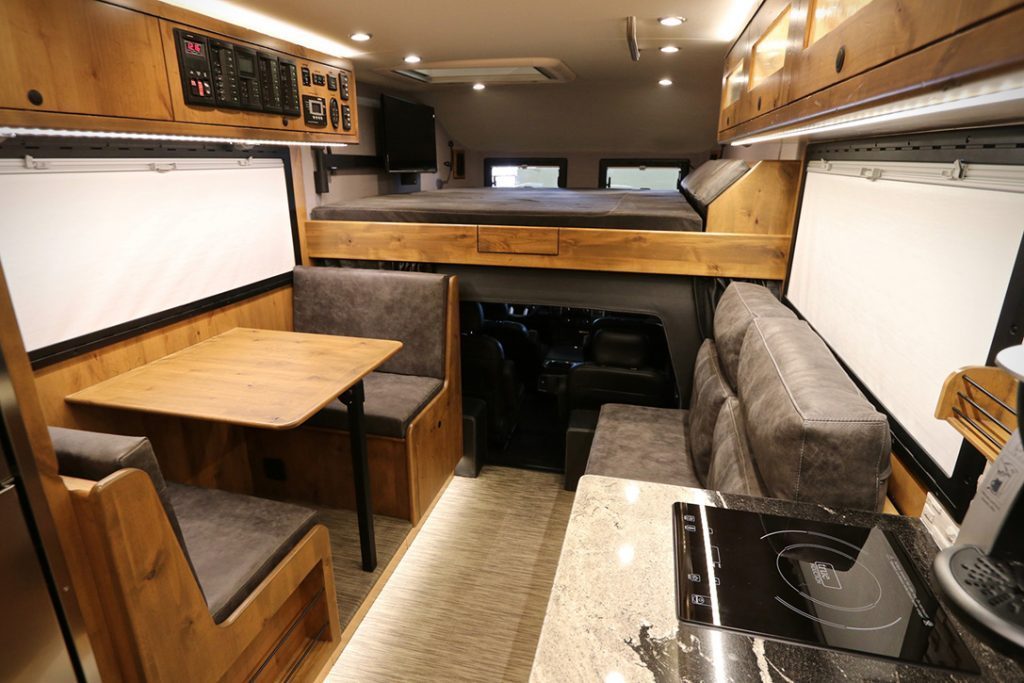 The mezanine sleeping level is spacious enough for you starfish out on, and the window blinds double up as projector screens for late night movies (the PG kind of course). This range of Ford Campers are built to withstand sub-zero temperatures and stand at 12 feet high – in short; you might want to consider something smaller for day trips to the beach.
9. The Basecamp Camper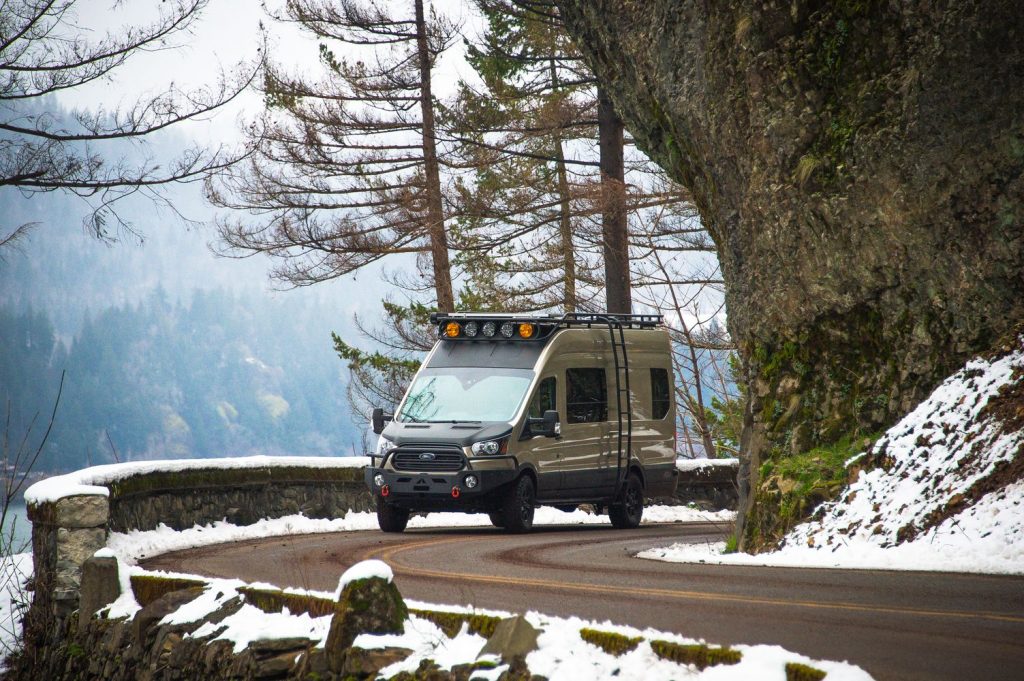 Speaking of vehicles that like trekking through the snow, here's another range of Ford campers that is more than used to dealing with harsh weather conditions and ploughing headfirst into the toughest adventures. Meet the Mobile Basecamp from Benchmark Vehicles, a Ford Transit camper integrity and creative, intelligent design.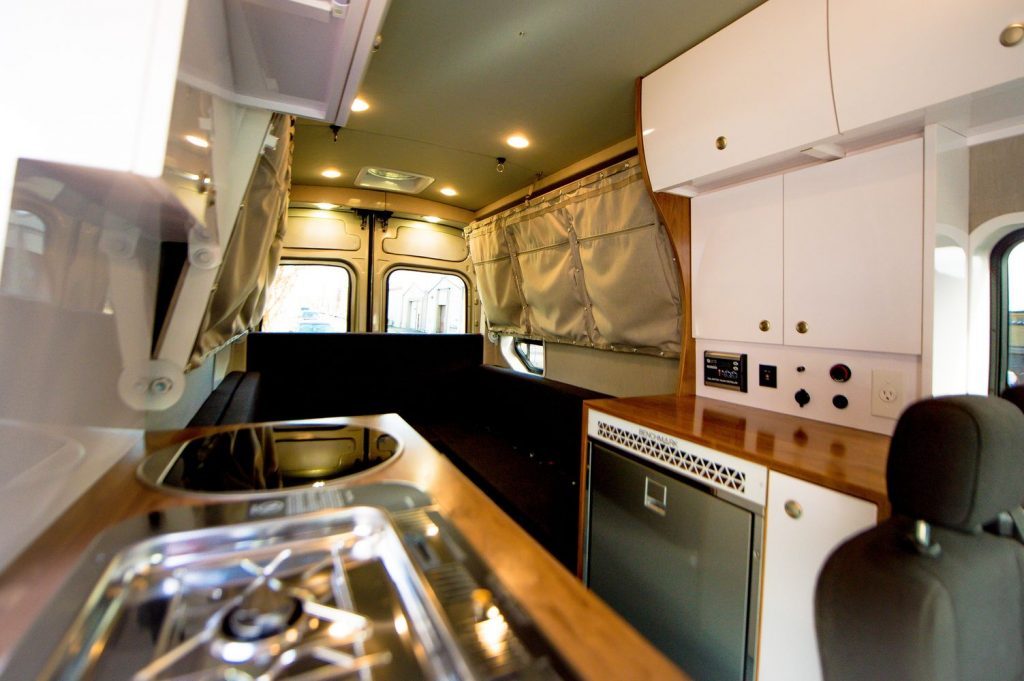 Benchmark Vehicles really do set the benchmark for adventure conversions (see what I did there), adding extra gear such as alloy wheels Fiamma awnings, carrying out van lifts and solar panel upgrades, as well as creating a functional interior that's fully insulated for any trips into chilly territories. The front grills on these ford campers also look super gnarly, in fact, I'd probably get one of Benchmark's conversions just for that!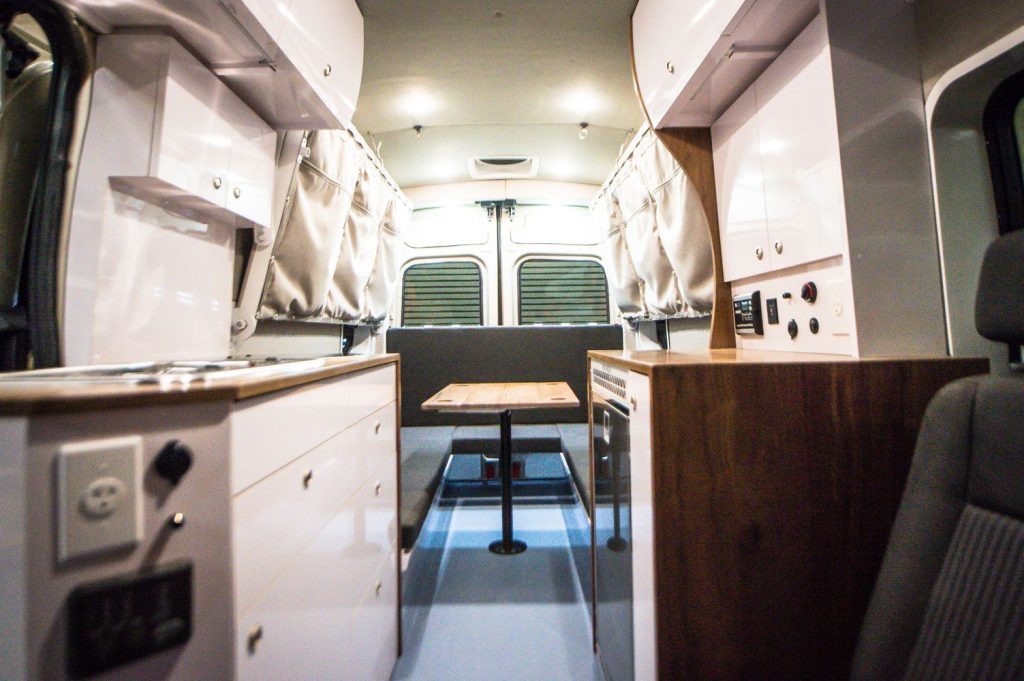 We'll be writing about Benchmark Vehicles sometime soon (if you're reading in the future then it might already be uploaded – check out our Facebook to see if it's there!), but for now, head over to the Benchmark Vehicles website to learn more about these custom campervan builders!
10. The Surf Shack Camper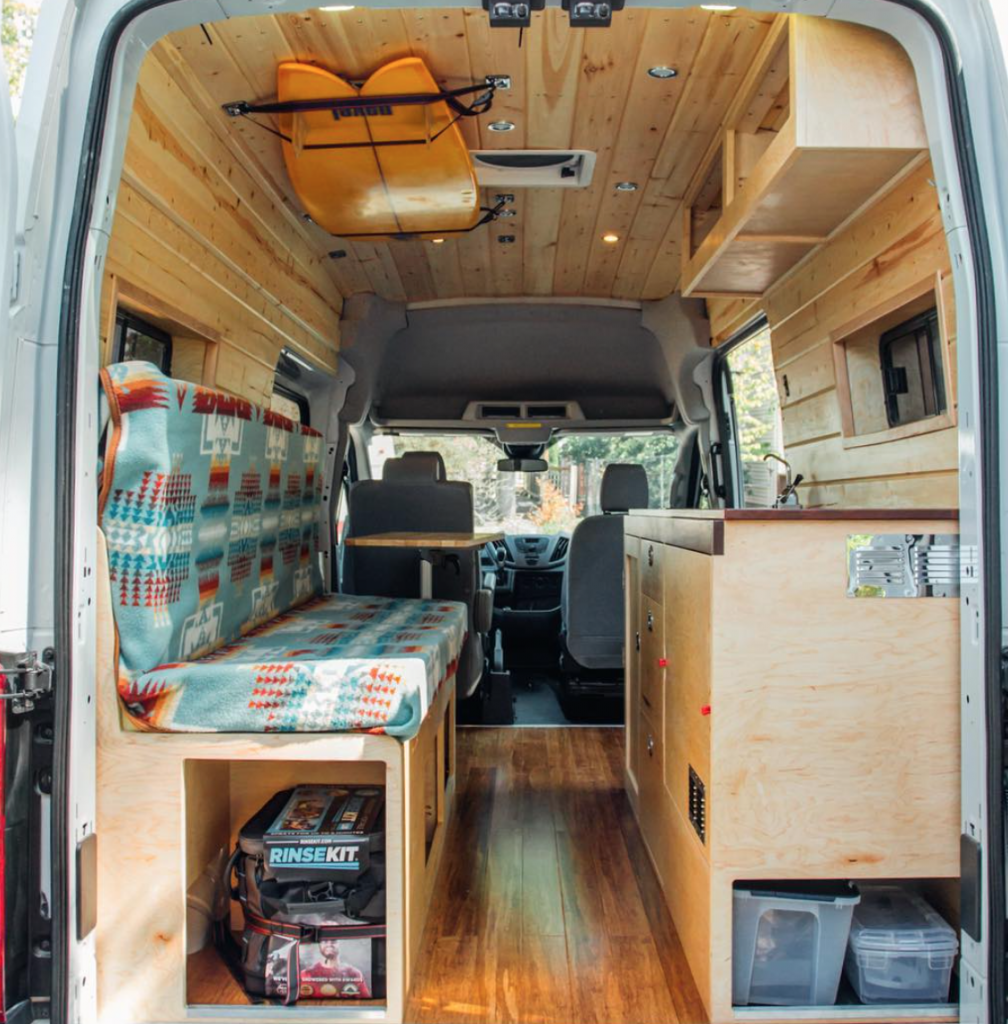 No ford campers list would be complete without a mobile surf shack, so it's lucky that we found this one while scrolling through Instagram the other day! You might think that this is a rough and ready conversion, but it's got everything that you could possibly need while prowling the coastline in search of killer waves. There's space for your camper shower, a fold-down bed, and a kitchen work surface to prepare meals / look after your surfboard.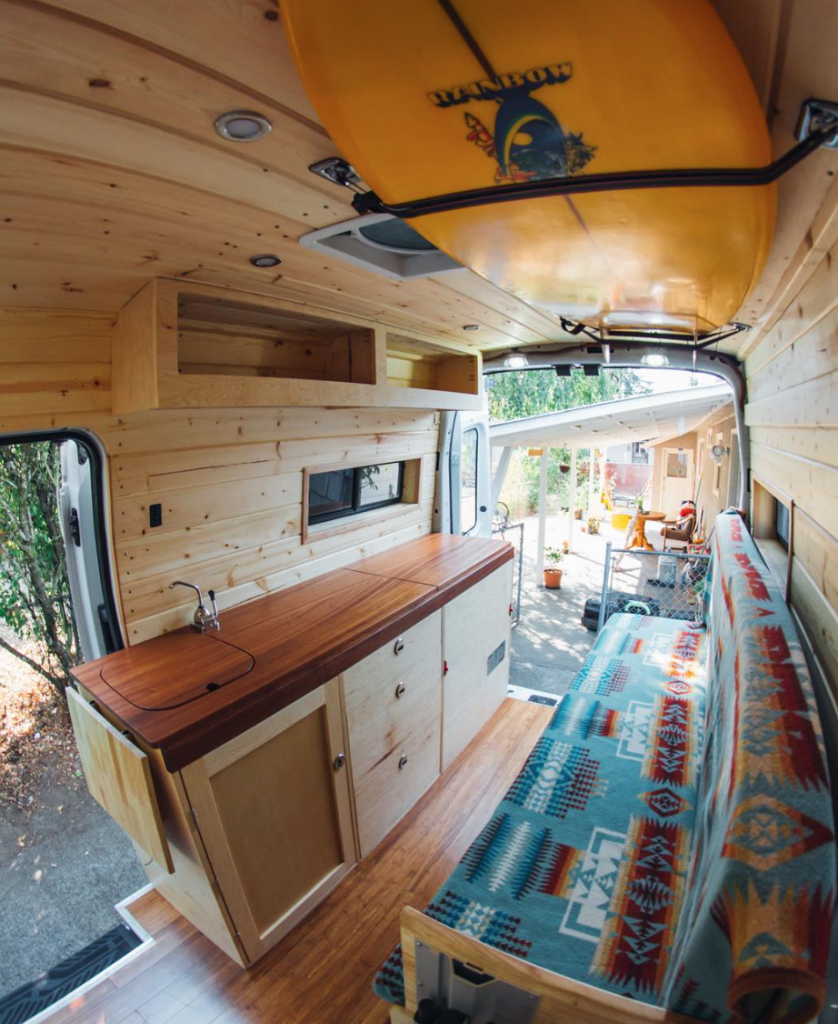 This conversion from @noblecampers is perfect for the surfer who likes to live in comfort and an ideal place to dry off after a session with friends. It's got the bare minimum that you'd expect in a camper van, but when you're spending 90% of your time outside it doesn't need anything else! It's tidy, sturdy, and a great design if you're looking for Ford campers that simply get the job done.
11. The Tiny House Camper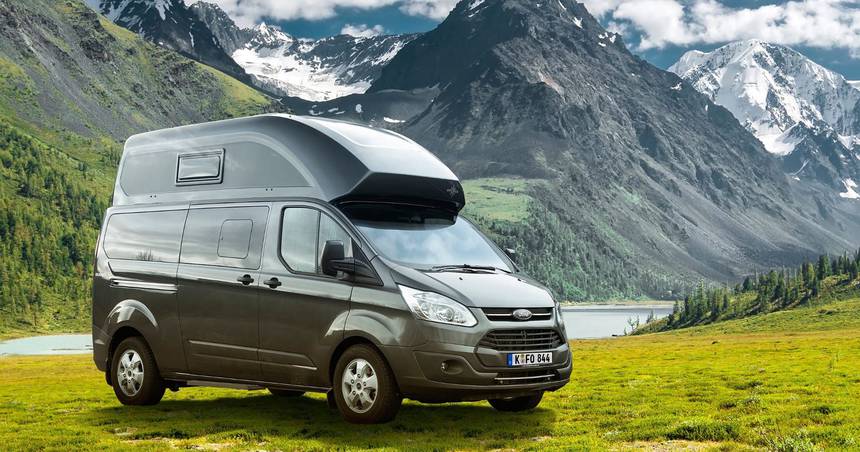 The shape of this camper might look a little familiar to you if you're a VW enthusiast. Ford has teamed up with Westfalia on this latest range of Ford campers to bring a family camper that has all of the mod cons of a tiny house and more – including an eagerly awaited built in toilet! The shape and style of the entire build are very similar to the Volkswagen Westfalia Camper, but the interior on this van, 'The Nugget Plus', has a much more open plan feel and a brighter, family-friendly interior.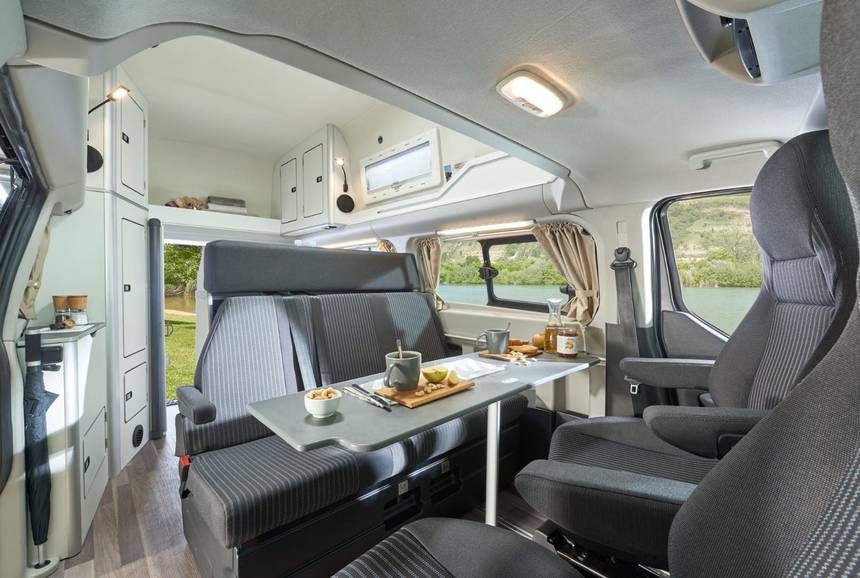 The addition of a toilet in the rear of the Nugget seems to have got people very excited, a missing feature in the  Volkswagen California XXL that disappointed many camping enthusiasts. It lacks the rustic feel of some of the other Ford campers that we've looked at, but if you're looking for a family vehicle to take the kids to the lake, then this could be a perfect weekend getaway vehicle.
12. The Retro Camper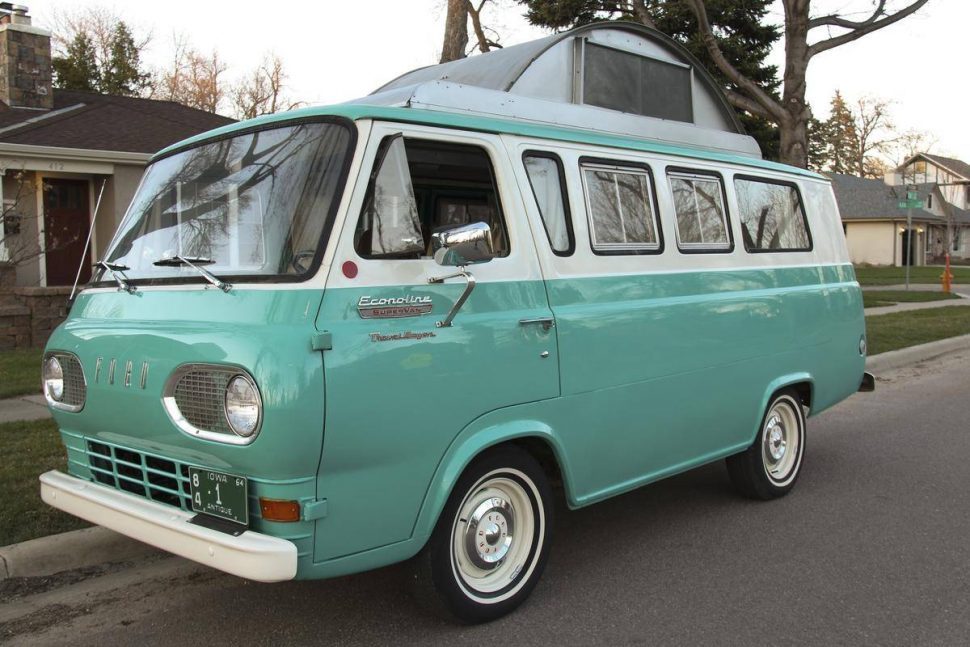 Last but not least, we've got a retro camper that has gone down in Ford campers history; this 1965 Ford Econoline Camper Van. They're quite rare these days and have a very strong resemblance to the iconic Volkswagen Bus Camper or this Mercedes Camper Dream Ride that had us glued to our screens for about a week.
It might not follow the strict 'any colour, as long as it's black' rule that Henry Ford implemented in Ford's early days, but what it does have is a classic vintage camper feel that makes you think about days down at the beach with Brian, Mike and the gang. If you're after a retro van but don't want to jump on the VW bandwagon, then consider getting an Econoline and reviving a long-lost trend.
More Content From The Van Clan Team!