Meet The $200,000 Adventure Truck Made For Global Expeditions
Can you remember that feeling of walking into a toy store when you were younger and being overwhelmed by all of the fantastic toys crammed onto the shelves? The sights and sounds of all of the different games and figurines left us wanting one of everything, even though we knew that our pocket money wouldn't allow it. Fast forward 20 years, and we're experiencing the exact same feeling at the Overland Expo West with Four Wheel Campers, looking at all of the amazing off road trucks, camper trailers, and insane campervan conversions! Today, we're getting up close and personal with the Adventure Truck from Global Expedition Vehicles, and boy are we excited!
Are you a weekend warrior? Ever thought about full time van life? Head over to our brand new Facebook Group for even more vanlife tips and campervan talk!
'Adventure Trucks' is a partner company to Global Expedition Vehicles, and they make some of the most bad-ass trucks that we've ever seen! Custom built to fit into tight spaces and with one of the best off grid living rigs we've ever seen, this adventure truck is perfect for an off grid adventure in sub-zero temperatures or a sudden zombie apocalypse (though we hope we won't need to test it out in that situation any time soon!
Meet The Adventure Truck That's Shaking Up The World Of Overlanding!
We've been looking forward to checking out this adventure truck ever since we boarded the plane from London. At 22 foot long and weighing just under 15'000lbs (that's 5500lbs a payload for anyone who wants to get down to the nitty-gritty), this is one monster camper that we would love to take for a spin through the desert.
What's On The Outside?
So, let's start from the top and check out what's on the outside of the Adventure Truck. For starters, you are probably going to want to know how this thing can tackle going off road, and it won't surprise you to know that it could probably scramble up the side of any ravine or mountain quicker than a Pika (the desert rabbit, not the annoying Pokemon).
GXV start by taking a Ram or Ford 5500 chassis and mount the camper onto the back. The wheels of the truck are lifted up around 5 inches, and performance shocks and adjustable stabilisers are added. I know that might seem a bit much for anyone who is used to just tootling down to the shops and back in their car, but trust me, if you're off-roading across America, then these elements are crucial to your success.
As well as lifting and adding a gnarly suspension system, GXV has also added 20″ military grade wheels and a set of military grade 40″ tyres onto the rig. That's a lot of military grade gear, which should give you an idea as to how serious these guys are about staying off the beaten track!
Has It Got Any Special Features?
Apart from the ones that we've mentioned already? You guys are hard to please! Well, it just so happens that the mysterious and all-knowing AEV have added their own touch to this vehicle, turning the Adventure Truck into a true American Expedition Vehicle. The AEV heavy duty bumper on the front of the Adventure Truck features a brush guard, LED off road lights, and a winch that you can use to pull any adventure bus back onto the road. The raised Air Intake pipe is also an AEV part, making this off road beast capable of driving through lakes and rivers to get to those ultimate van life travel spots.
The cool looking rack on the top of the Adventure Truck is a custom built piece that GVX build by hand in their factory in Missouri and provides a great place to store any extra luggage or bulky items that you don't want to clutter up the living area. Just behind that, you'll find some insanely bright LED flood and spotlights, making any trek through the dark a breeze. We've covered loads so far, and we've not even got to the back yet!
What's On The Back?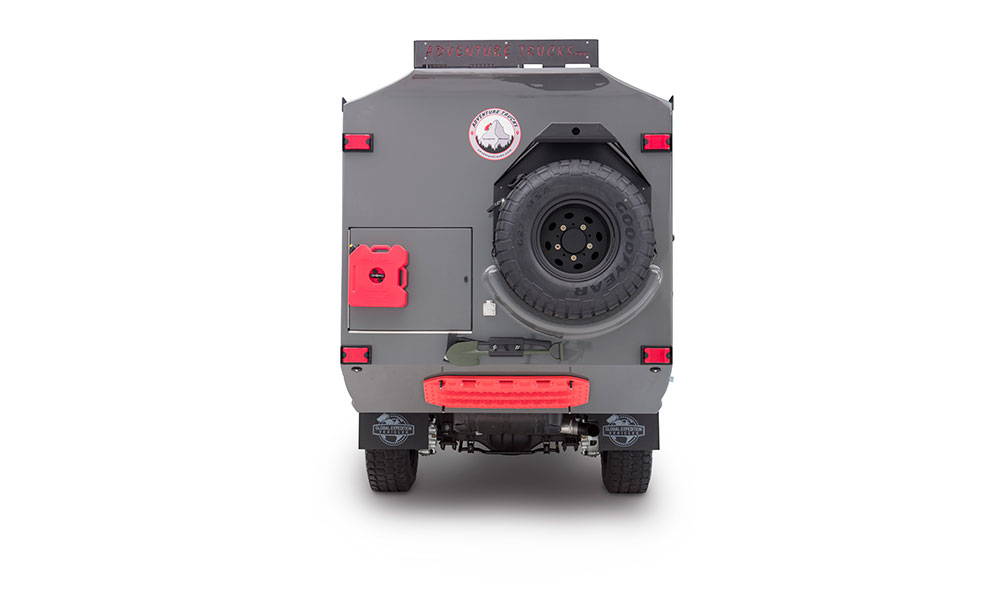 The Adventure Truck is pretty unique in the fact that it has storage running along the exterior section of the van. Heavy duty flaps open up to create spacious compartments that you can use to store your van life essentials or adventure gear. It's a great place for keeping muddy boots and other items that you might need to grab while outside the van without having to trample back through the living area.
At the rear of the camper, you'll find a spare tyre and more storage, this time filling up space under the bed in the main living space. You can also get access to what we like to call 'the power house'. All of the electrical components are (you guessed it) military grade, and there's space to add more into the mix if you feel the need to upgrade your electrical rig.
What Kind Of Power Is The Adventure Truck Packing?
The Adventure Truck uses lithium-ion batteries which last for approximately 10 years, as opposed to lead-acid batteries that conk out after 3 or 4 years. They work in hot and cold climates, providing perfect results even in sub-zero temperatures. If you climb up onto the roof, you'll find a state of the art 650-watt solar system, generating 400 to 800 amp-hours for your batteries. Check out our How To Build A Camper e-Book for more info about putting together your own electric system! The Adventure Truck has a battery bank that can store 20'000 watt-hours, which is enough to take on the EarthRoamer!
The interesting thing about the Adventure Truck is that everything in the living compartment runs from electric power, apart from the air heater, the water heater, and the wet bath, which run from their own diesel system that is separate from the engine. This means that you can be in the harshest of climates and still have enough power to run all of the essentials without using up too much energy! That could come in handy for any solo travellers who get into a spot of bother!
Speaking of diesel, the Adventure Truck can carry up to 100 gallons of fuel, with extra storage on the back for more fuel if you need it. This is one off-grid behemoth that will seriously take some beating and is designed to keep you out of the city and in the wild where you belong!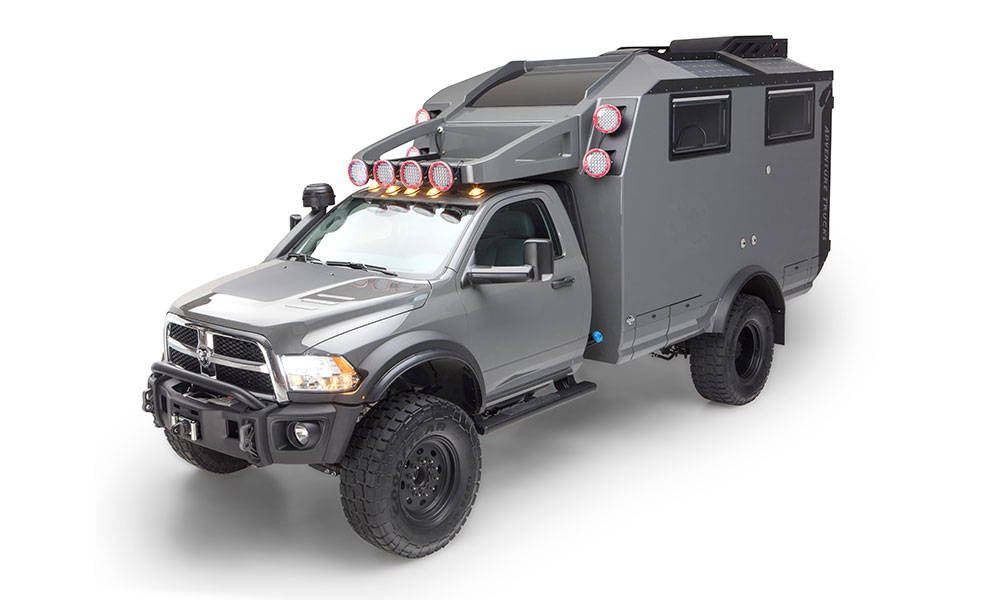 What's Inside The Adventure Truck?
GXV use a pre-moulded design on the interior of the Adventure Truck, meaning that every vehicle is designed in the exact same way. Now you might be thinking that this isn't very adventurous, but it's a simple way of keeping the overall cost down for the consumer. And to be fair, once you have seen the inside of this insane camper then you'll soon agree that it has everything that you could possibly need!
The Adventure Truck can hold a whopping 90 gallons of fresh water, and the tank is located directly under the bed. No, we're not saying that GXV have fitted a water bed (although that might be cool for a retro twist), but having the water tank inside the insulated living quarters ensures that your water won't freeze in harsh conditions. GXV are always one step ahead of the game!
The inside of the Adventure Truck is spacious and looks nice and fresh with ample storage space. All the heavy duty composite laminate storage units make use of a push-lock system to stop things from flying out while you're driving, and you also have easy access to a kitchenette with a fridge and an electric hob. You can also add a microwave into the mix if cooking isn't your forte.
Is It Comfortable?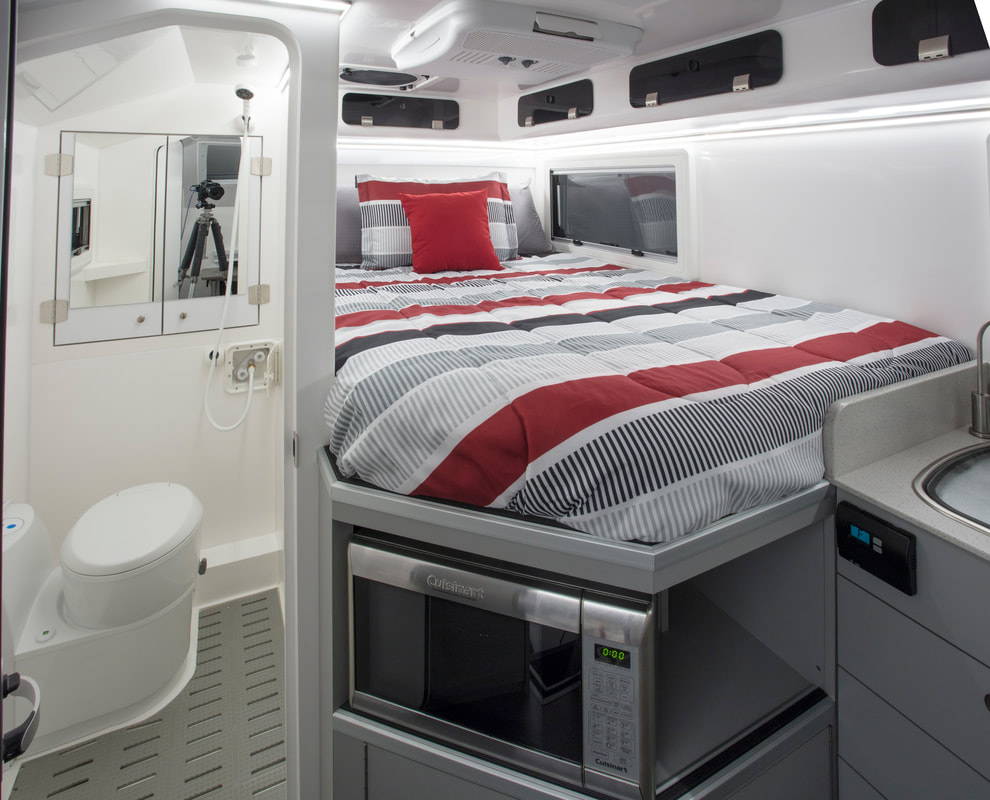 This Adventure Truck boasts an extra large mattress that we didn't dare sit down on for fear of falling asleep. Just looking at it made us feel tired! Above the bed you'll find an air conditioning unit to keep you warm or cool depending on the temperatures outside, and just around the corner you'll find your wet room.
The wet room has a fully working shower, a cassette toilet, and enough space and the necessary attachments to fit a washing machine if you're planning on living off the grid for long periods of time. I don't have anywhere near enough power to run a washing machine, so it looks like i'll be sticking to my Scrubba Wash Bag for a little while longer.
What About Monitoring?
The Adventure Truck has a super-swish control centre that you can use to monitor all of your gas, electric and water consumption, an essential bit of kit for keeping an eye on everything that you need to stay alive while out on the road. You can easily change settings and set certain parameters, and keep an eye out for when things are looking low.
Final Thoughts…
This heavy-duty, military-grade Adventure Truck is perfect for people who love a heavy-duty, military-grade lifestyle. If you're looking for a fancy mall-crawler then this certainly isn't it, but if you're looking for a vehicle that you can push to the extremes and that will help you to experience epic thrills in return, then the Adventure Truck should be high up on your wishlist.
Now all that's left for us to do is to check out the price! You can drive the GVX Adventure Truck away for $198'000. Any off-grid goliath of this calibre is going to cost a similar amount, but will they be as well built and as cleverly thought out as the Adventure Truck? After taking a closer look at it, we think it's safe to say that it will be hard to beat, and we wouldn't mind having a few for the Van Clan fleet (are you listening, GXV?). Let us know your thoughts on Facebook, Twitter, and Instagram!
We want to say a huge thanks to our sponsors, Four Wheel Campers! Look out for our in-depth article on Overland Expo West dropping soon!
More Content From The Van Clan Team!