2019 has undoubtedly been a top year for eco-conscious campers, with more and more vandwellers learning about and being introduced to new and exciting electric campervans. Gone are the days where a cool looking adventure bus or monster camper has to be a diesel guzzling planet killing Goliath, and where the thought of a 'tiny eco house' makes people think of affordable tiny homes made from sandbags and clay. Our digital nomad based generation is continuously improving the range of top eco campers on the market and making electric vans travel further than ever before, and now we're in a position where there are so many eco campervans around that were utterly spoilt for choice!
Does Full Time Van Life sound like something that you would like to try out? Are you itching to become a Weekend Warrior in order to curb those Monday-Friday 9-5 blues? Head on over to our Van Lifers and Weekend Warriors Facebook Group and join our ever-growing van life community! Learn about all of the van life costs associated with living in a van, find out what the best campervan toilets are for your new build, and share vanlife tips and vanlife recipes with off grid living enthusiasts all over the world!
Whether you're into electric campers or are a fan of trailer life in a futuristic electric trailer, the electric campervan scene has upped its game significantly with the arrival of tiny homes like the solar powered off grid caravan and the super sleek Electric Mercedes Sprinter Concept. But where do you start if you want to get a gnarly off grid motor that will impress both your friends and the Mother Nature? Luckily for you, we happen to know a thing or five about electric campervans. We've put together a list of the most impressive electric machines on the planet for your green-minded pleasure. So sit back, grab a cup of green tea, and join us as we delve into the future of campervan conversions!
1. Volkswagen Type 20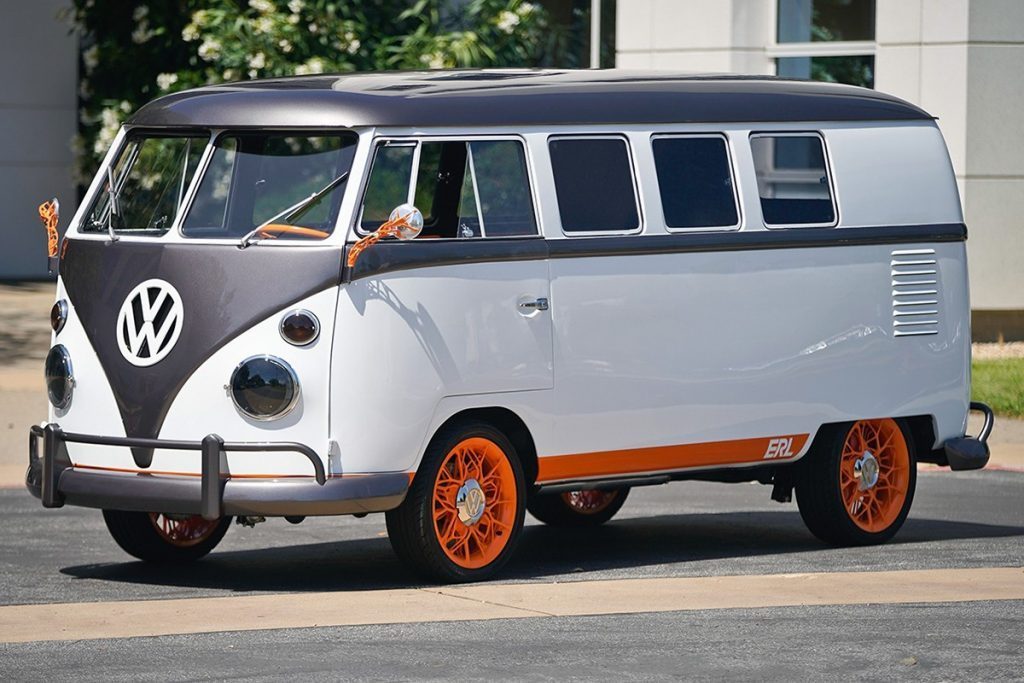 I bet you weren't expecting this to come up first now, were you? We've all spent a lot of time either drooling or fuming over the new VW Buzz which will soon be hitting a dusty highway or bustling city near you, but while we've been getting to grips with the new evolution of the world's most iconic brand, something else has been lurking in the background. The genius minds behind the classic Volkswagen Bus Camper have been working on a little beauty behind the scenes that might make you feel a little bit like a kid on Christmas Eve; a range of electric campervans that encompass all of the incredible features of the bus that we know and love, but with a new electric system that doesn't require any tinkering with.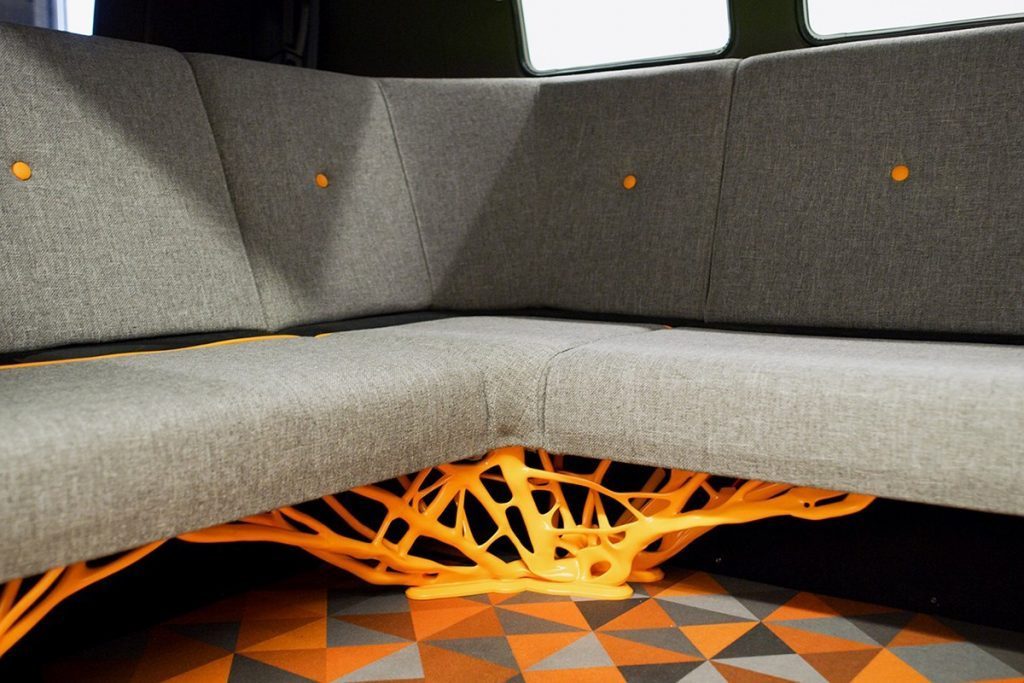 The Volkswagen range of Type 20 electric campervans will hit the ground running with 120bhp and 173lb-ft of torque. That's a serious amount of punch for such a classic looking vehicle. Speaking of looks, the inside of this camper conversion has had a major uplift too. You'll find futuristic and psychedelic looking fixtures and fittings in both the cab and the living area, paying homage to both the new modern elements that help to keep this machine nice and green and the far-out vibes from the summer of love that made this camper what it is today. We've cleverly left out a lot of details about this camper van, so if you want to read more and see more pictures, then you'll have to head over to our dedicated article on this VW Electric Campervan!
2. Fiat Ducato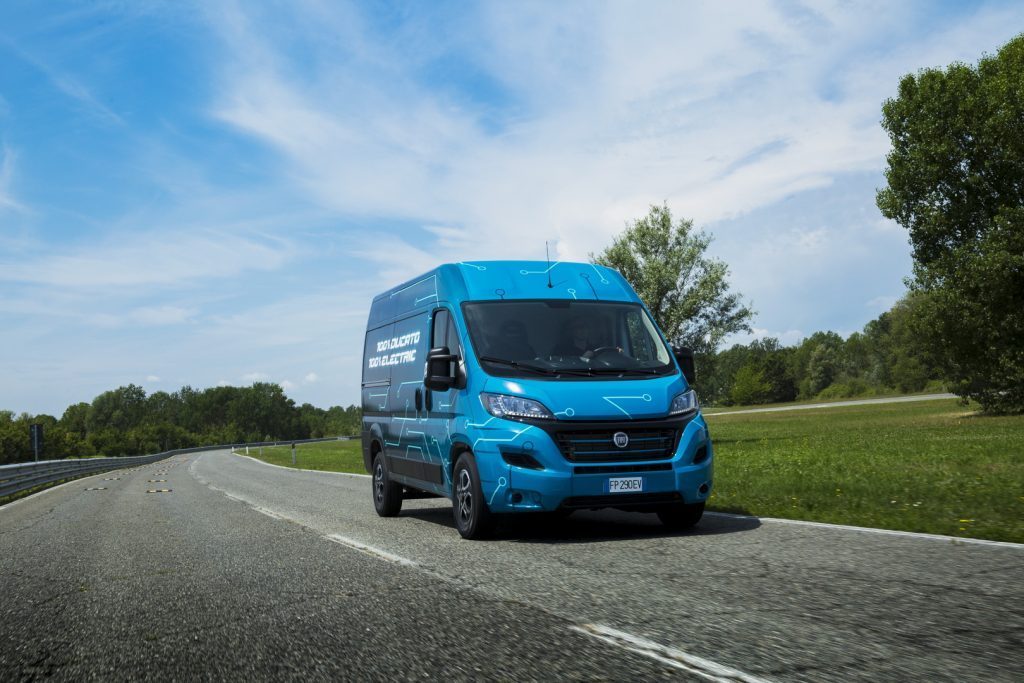 The next vehicle on our best electric campervans list might also surprise you. This one is directed towards all of our readers who are looking to build a campervan themselves, or who value the benefits of a self-converted camper when it comes to living off grid with your home comforts. Fiat have finally brought out an electric version of their incredibly popular camper van base, the Fiat Ducato. You might not initially be able to tell, but the Ducato is the vehicle of choice for so many modified campervan models on the road today. From professional builds to DIY dream homes, the Ducato provides people with a sturdy base vehicle to make their alternative living dreams come true, and now it's ready to become one of the largest eco-friendly rolling-homes in your neighbourhood.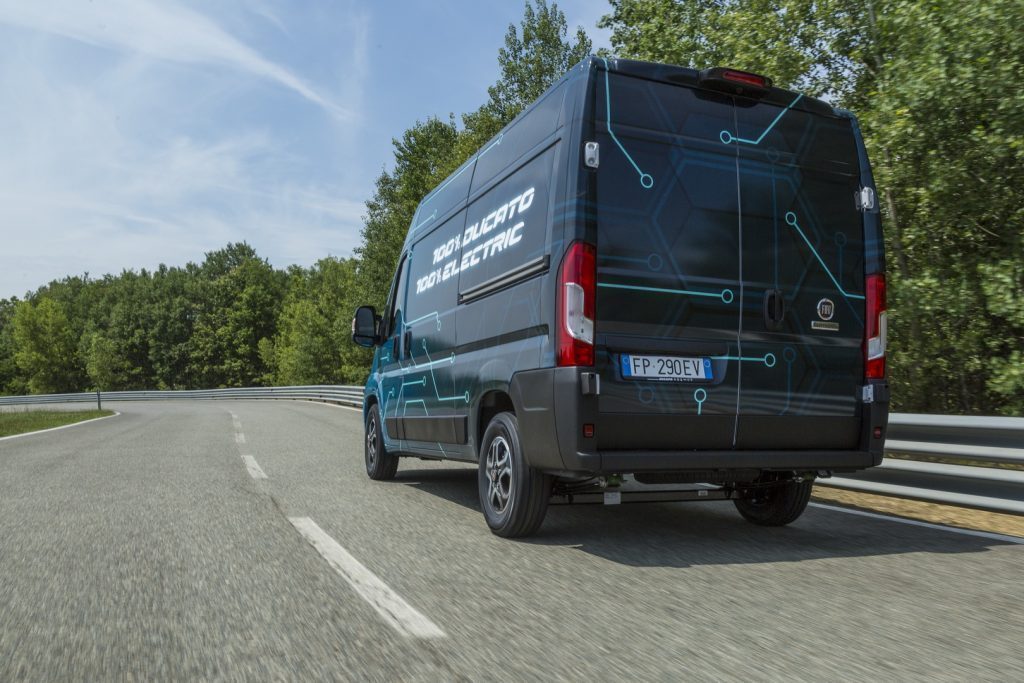 Let's give you a few stats to whet your appetite. For starters, you can say goodbye to the notion of electric campervans only being able to travel to the local shop before running out our juice. The batteries in this beast are expected to produce somewhere between 130 and 230 miles (around 220 to 360 km) per charge depending on the model that you choose. That's some serious ground that you'll be able to cover, and with electric car charging points in so many places these days, you don't need to worry about carrying the worlds largest and best power banks around with you to keep your motor running.
These electric campervans will have a top speed of just over 60mph, which is fast enough when you're carrying your entire world around with you, and will still have all of the space and features that have made the Ducato one of the most popular camper choices along with the Sprinter Camper Van.
3. Nissan Pop-Top Electric Campervans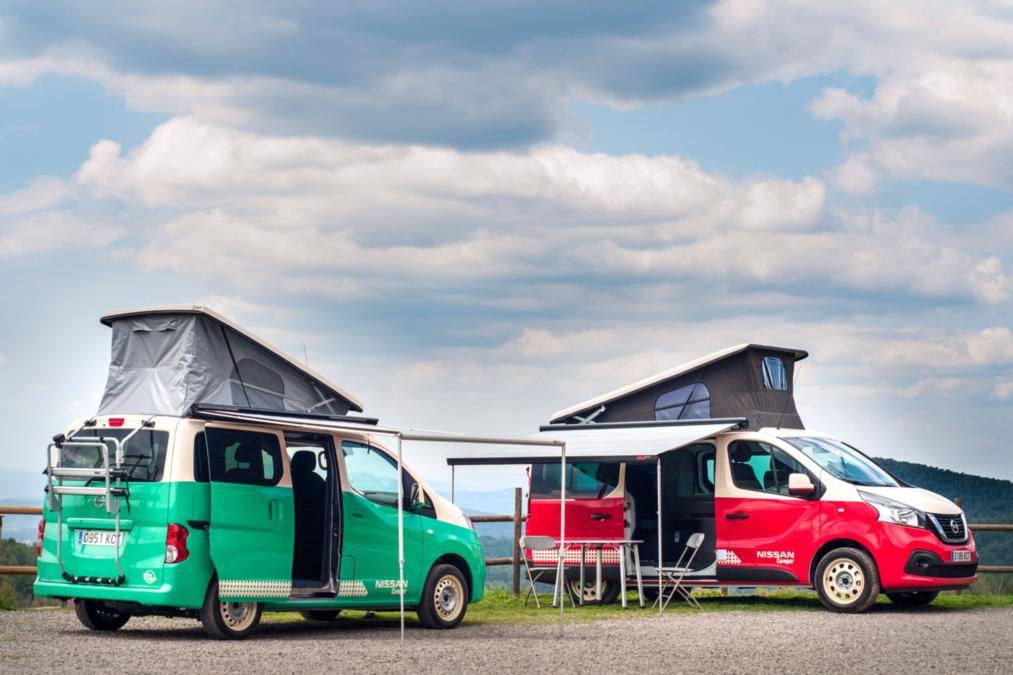 Weekend warriors around the world will rejoice after reading about the 3rd range of electric campervans on our list. These Nissan Electric Pop Tops, otherwise known as the NV200 and the NV300, are the perfect day vehicles for a trip to the beach with the family or an overnight stay in your favourite forest location. Strictly speaking, the NV200 is the 'fully-electric' camper out of the two while the NV300 is a hybrid, so if you want to go fully eco-friendly, then the smaller build will be the one for you.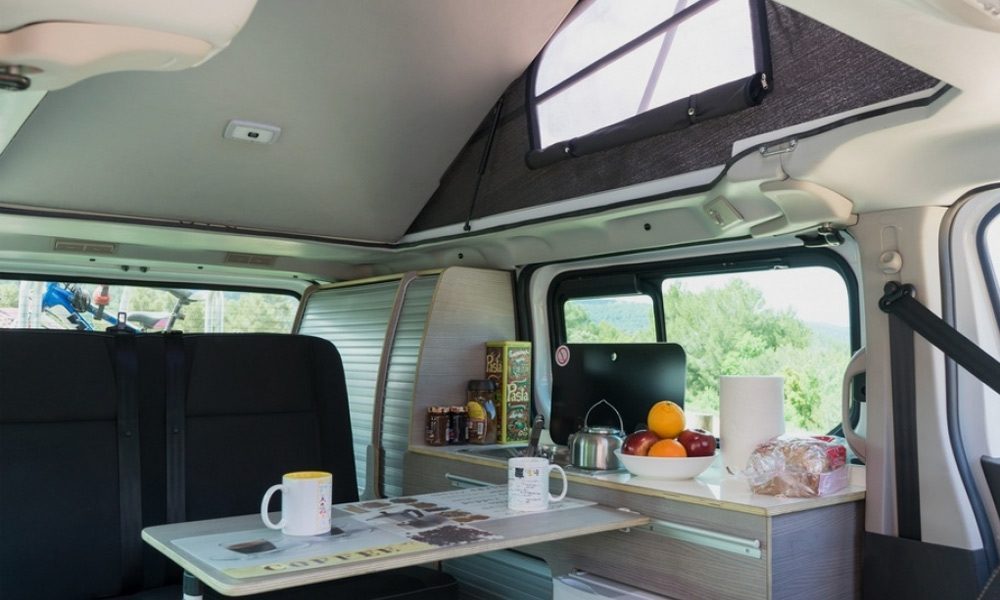 With that in mind, let's take a look at some of the stats and facts associated with the NV200. This all-electric, emission-free camper can travel up to 124 miles on a single charge, which is pretty impressive for such a nippy little motorhome. It's a pretty affordable camper too, coming in at a respectable £15'000 for the basic unfurnished version. That's a great starting price if you're thinking about doing this van up in your own image, or you can shell out an extra £5'000 and have somebody do it all for you. Simples!
Each camper has all of the van life essentials that you might need to live comfortably in the wilderness, including a kitchen that has enough room for a whole range of top cooking accessories. The pop top provides that much-needed space for standing and cooking and lets extra light into the living space. We like these electric beauties so much that we've given them their own full-length article, so click to read more about these electric campers!
4. Iridium E-Mobil Motorhome
The luxury RV or motorhome might not be everyone's cup of tea, but there's no denying the brilliance of the next vehicle on our electric campervans list. The Iridium E-Mobil Motorhome is designed to be charged while you sleep, leaving you to crunch those miles the next morning when you're bright-eyed and bushy-tailed. It works by combining a synchronous motor (this effectively means that the shaft rotation is synchronized with the frequency of the supply current), a heavy-duty lithium iron phosphate battery (which you now know all about after reading our best camper van batteries article), and an ingenious battery management system.
The best thing about this vehicle is that it can do around 200KM with ease, and you can charge it up from either a standard wall socket, a regular charging station, or a 50kw fast charging station. The time in which it takes to charge the battery will vary depending on which method you go for, but you can count on the fact that you'll have a full battery when you wake up in the morning. The E-Mobil, which for all of you hungry fact-finders out there is based on the Bela Edition P69, is expected to launch with a cost of around €169'000 (approx. $194,500 or £152'000).
The fact that such a big motorhome can be powered fully be electricity is amazing, and if the Iridium E-Mobil can do it, then maybe we might see larger overland vehicles like the EarthRoamer Camper going the same way in the next few years. Having the space to move around freely and to implement bulkier items like larger fridge/freezers and sofas into your conversion really lets you stay off the grid in comfort for longer. It's a bulkier and slower option than the VW Type 20 or the Nissan NV200, but if you prefer motorhomes to panel vans, then it might be time to start saving up for an E-Mobil.
5. Dalbury E-Electric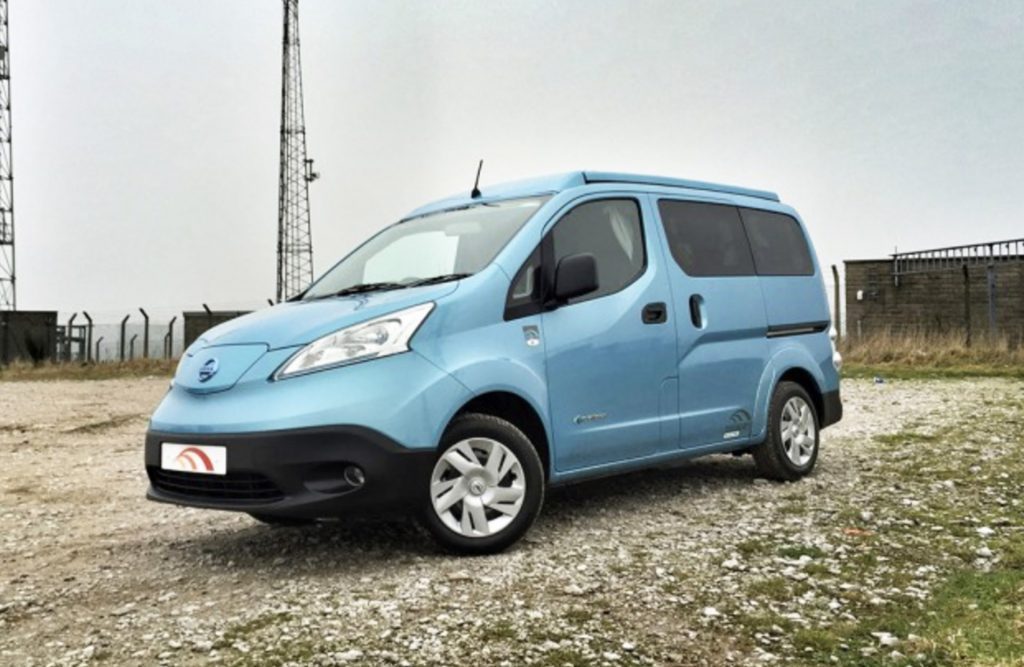 You might have expected to find the Dalbury E-Electric in our best electric campervans list, and rightly so. How many other vehicles can boast an 80% charge after 30 minutes, a running cost of just £0.02 per mile, and come with a home charging kit that is installed for free? This is exactly why the Dalbury E-Electric makes every Eco Camper list that we make here at Van Clan, but if you're still not convinced, then you better read on.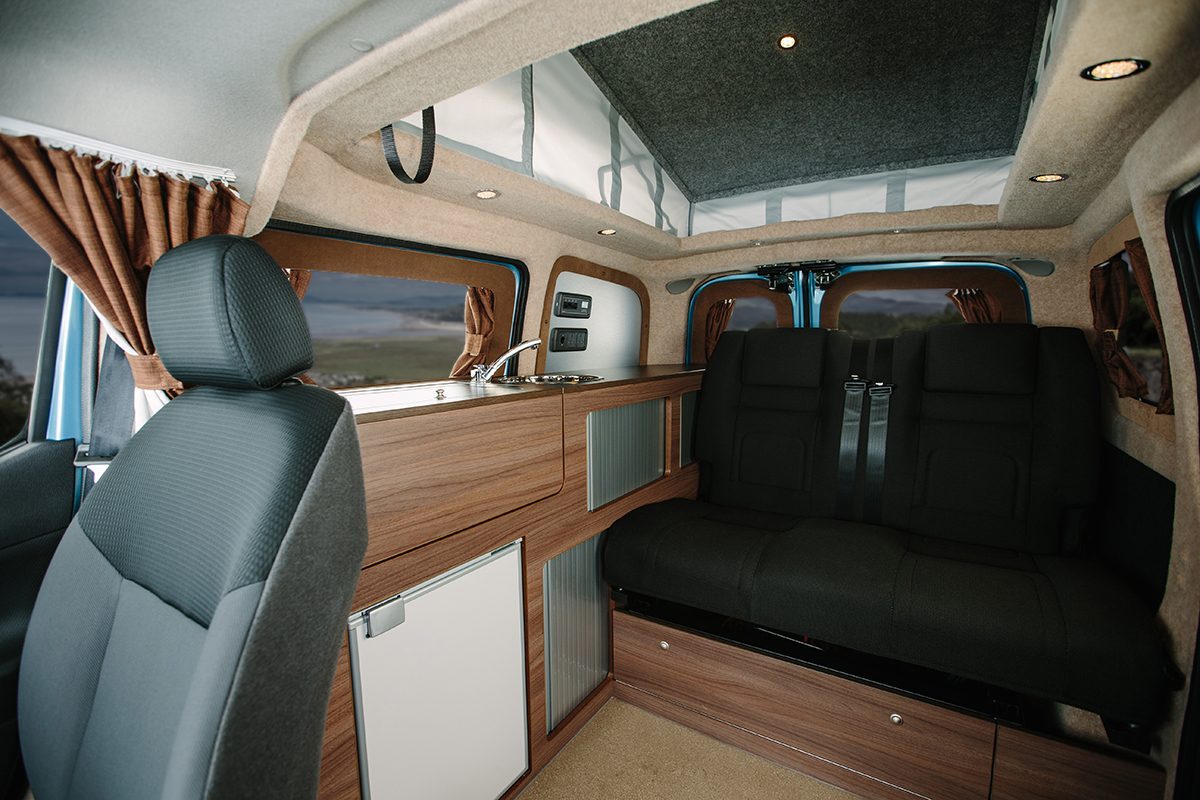 Hillside Leisure know what it takes to make a campervan worthy of the ultimate off grid adventure, so it's no surprise that the Dalbury E-Electric comes with the most equipment out of all of the electric campervans in our list. It comes complete with an all-important air conditioning system for when you're holidaying in hotter climates, and even manages to house a 39–litre fridge that hooks directly up to the 12V electrical system. The Dalbury E-Electric even comes with a solar panel and a rearview camera so you don't scratch or bump your eco-house as your pull up into that perfect park up spot.
We can't say enough good things about these all-electric campervans from Hillside Leisure; from the nifty pop-top to the cleverly designed fold–out table and comfy sleeping area, this small camper has everything that big adventures might need while out on the road. Hillside Leisure have proven that camping doesn't have to increase your carbon footprint, so if climate change keeps you awake at night, then grab your phone and order a Dalbury E-Electric and start cruising with a guilt-free conscience!
6. MOIA Electric Van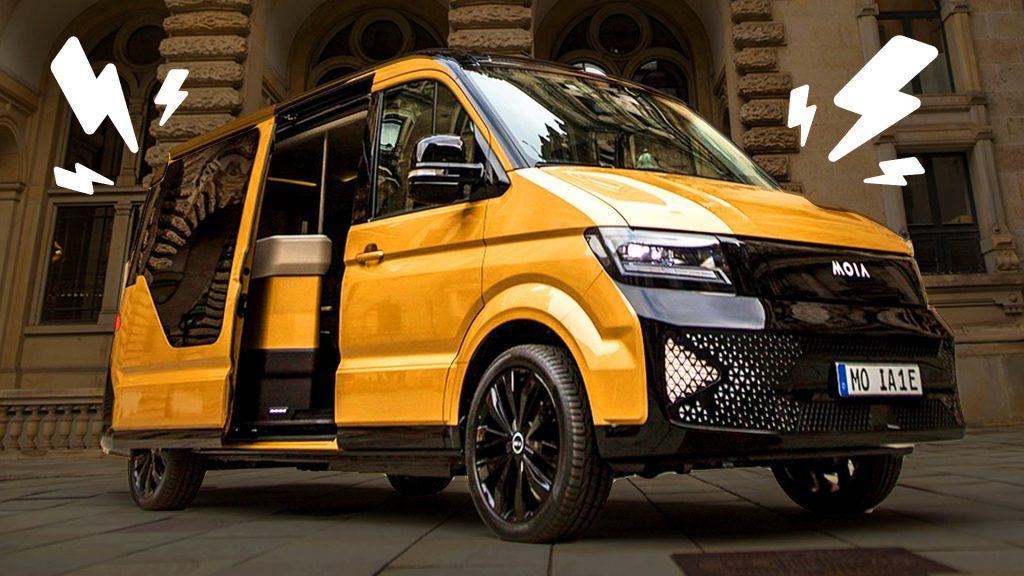 The MOIA is a unique electric van, it's not built to live in but it could be… they just have the wrong idea. MOIA is a german based Uber built for those who want luxury and space, so they decided to create this Transformer looking van which we can't help but love.

We just wish MOIA took interest in the camping market instead of the taxi market. Imagine that, a batch of high end campervans that you could rent out for the weekend. Now that's what we want! Plus these things will look the part with a double bed, some technology and a kitchen in there!
7. Mercedes Sprinter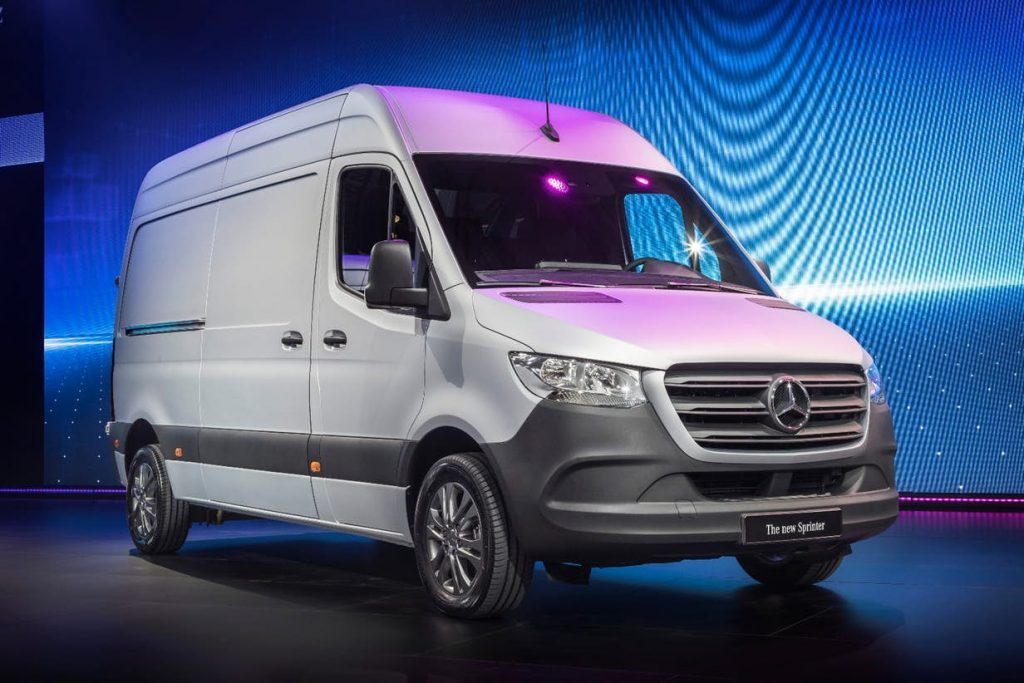 The Mercedes Sprinter is by far one of the most popular panel vans of choice by van lifers, but now it's getting a serious upgrade by Mercedes themselves. They've noticed a bigger demand from campers, and have decided to start working on a fully electric camper that can be controlled by an app. There's no news on when this will be officially released but they want you to be able to set the temperature, open up the awning and even manage all of your mechanical problems via an app too.

This is something we can get behind, and something we think will be more common in the next 5 or so years.
8. Rivian RT1 Electric Truck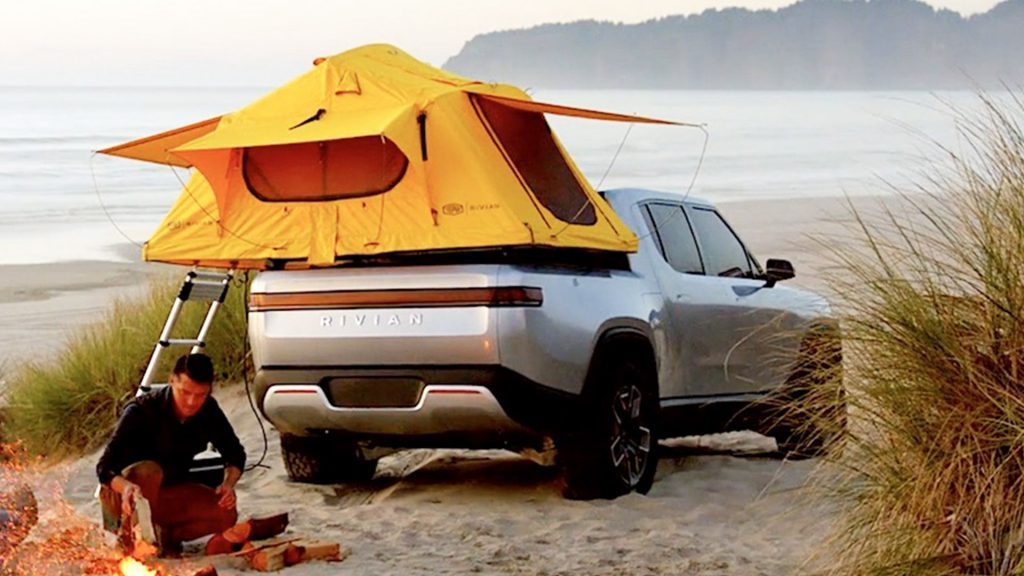 We had the privilege of seeing the Rivian R1T at this year's Overland Expo, it was kitted out with a tent on the back, with storage underneath. One of the neatest features we saw was the extra compartments under the back seats which allowed for cool gadgets or used for even more storage. On this version, the Rivian was kitted out with a pull out kitchen that allowed you to cook your food on the go.
We can see this truck being teamed up with an awesome rig on the back when it's released, turning this thing into one of worlds first electric truck campers. It can do up to 400miles on one charge and it can hit 60mps on just 3 seconds… this thing is VERY powerful.
9. Tesla Camper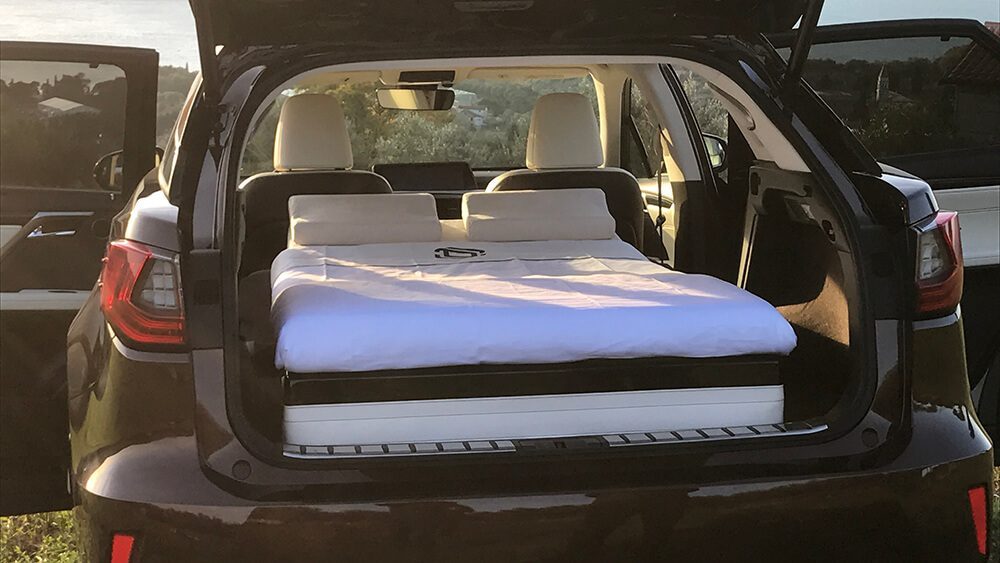 This one is not official but it still works. The Tesla is becoming a very popular choice of vehicle for those living in the city, but one company called dreamcase has now turned your average Tesla into camper by using a transformable bed.
And because of the Tesla's swing-up doors and open boot, the bed can actually come with some cracking views. Admittedly there's no pop-top, no kitchen and no toilet but it's an affordable way to camp in your Tesla for a short period of time.
10. Neuron EV Electric Truck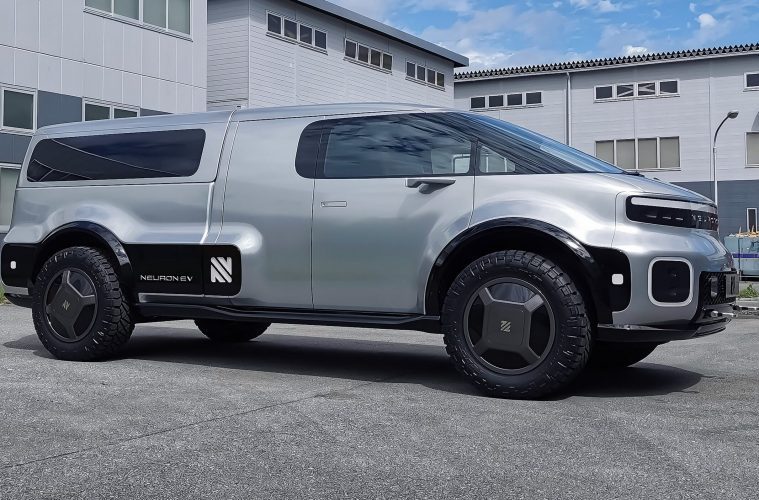 Ok, so the last of our electric campervans might not actually be a campervan per se, but it would make an incredible conversion vehicle and has one of the greatest front seats of all time. How would you like to save the planet by driving a three-seater truck with a large panoramic windscreen and a single Jean-Luke Picard style captains chair? If the answer is yes, then keep reading!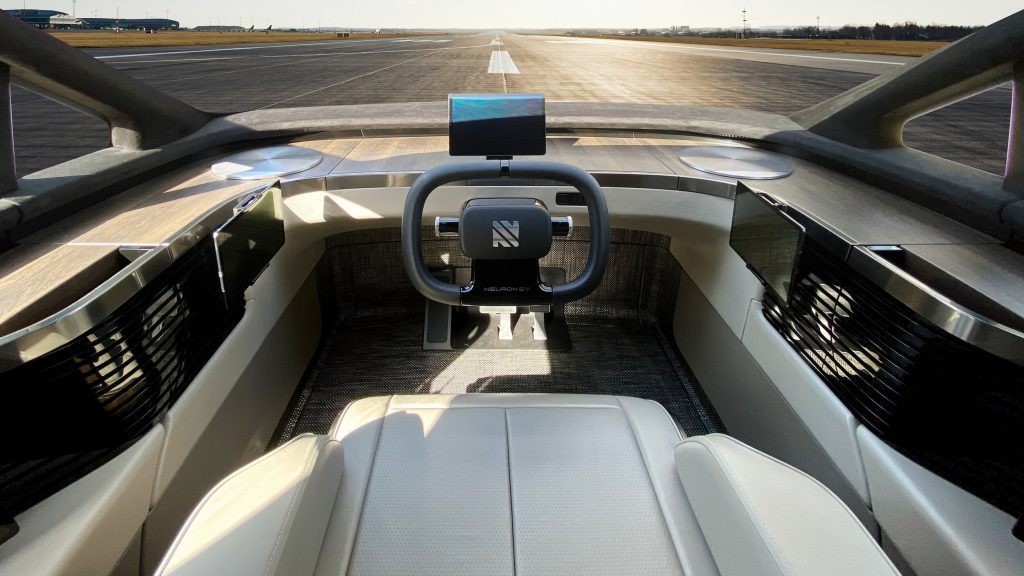 Neuron has a company ethos about creating safe and reliable vehicles for their customers to drive, so don't be under any impressions that you'll be hurtling through the forest at 5-zillion miles an hour in this truck. The exterior profile looks a lot like a Ford F-350 crossed with a light show, which can only be a good thing when you're pulling up to a parking spot in the dead of night. The bodywork also looks super smooth and sleek as though the EV has been created to be the most aerodynamic truck on earth – maybe Neuron could use that as their marketing slogan?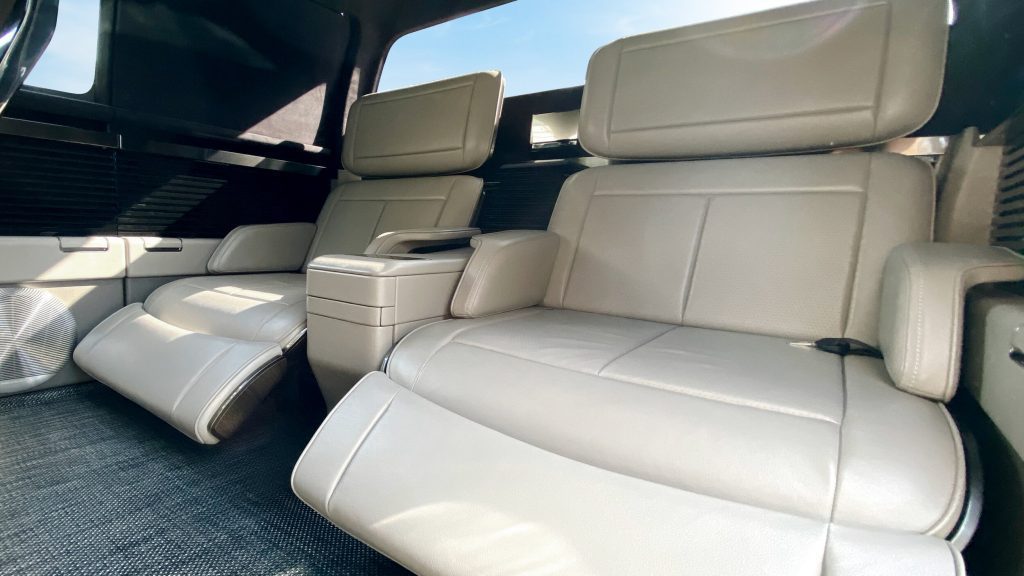 The doors open in the classic GMC style to reveal a spacious interior with two luxury reclining chairs. Who needs a bed when you can sleep on one of these, right? Multiple cupboards line the sides of the interior space and look as though they would be big enough to fit camping gear and more inside, and the truck is more than sturdy enough to be able to house a pop-up roof tent or tent awning. This could be an interesting conversion project, just don't get rid of those amazing chairs! Check out our full-length article on the Neuron EV Electric Truck for more details!
More Content From The Van Clan Team!