If you're planning an off grid adventure, then you definitely need to take a look at our list of the best adventure vans on the road today. Completing some of the world's top road trips is an amazing experience, but doing it in your off grid home is even better. There is nothing like pulling up to a beautiful view and being able to appreciate it with a cup of tea in your hand. The ultimate camper looks different for everyone; it may be an all terrain camper, compact camper van, or maybe a stealthy pop top camper. But which option is right for you? Today, we're going to look at ten different gnarly off-road camper conversions to help you find the best van for your next adventure.
Itching to try out Full Time Van Life? Want to reveal to the world that you're a weekend warrior? Head over to our brand new Facebook Group! It's a place to pick up vanlife tips, share ideas, and meet other van life enthusiasts from around the globe!
1. Storyteller Overland MODE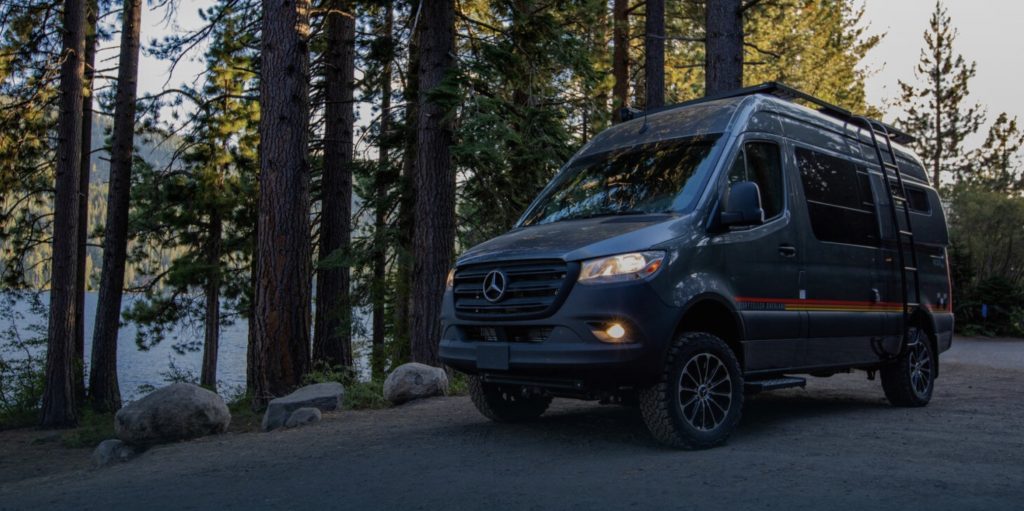 First up on our list of the best adventure vans is the MODE 4×4 by Storyteller Overland. This epic Mercedes Sprinter conversion is a monster camper that has been built with adventure, and six essential qualities in mind. The Storyteller Overland MODE is safe, it's simple, it's fun, it's flexible, it's rugged and, most importantly, it's ready to go. With these factors as the basis of the build, you know that you are investing in a vehicle that's ready for a cross country road trip but also one that is suitable for everyday use. The versatility of the MODE camper means it's just as comfortable cruising down dirt tacks, utilising its four-wheel drive, as it is zooming across the city.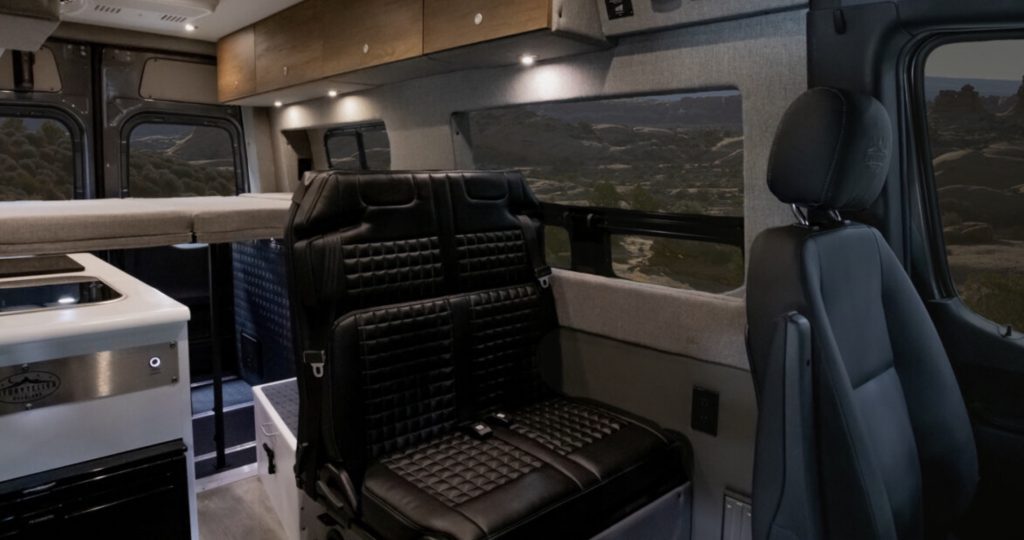 Inside, the Overland MODE has everything you need to live comfortably, and there is also enough storage onboard to bring along all the gear you'll need to live life on the wild side. Beneath the bed at the back is a garage area large enough to store travel bikes, climbing gear or blow up paddleboards. If you need even more space, then the bed can fold away, allowing more storage area when in transit. In the living space you'll find a galley kitchen, a seating area that converts into a second bed, storage, and a toilet. There is even a hidden camper shower system, giving you the luxury of a hot indoor or outdoor shower after a day on the trail. The Storyteller Overland MODE would make a great van for any vandwellers wanting to upgrade to an off-road rig.
2. Winnebago Revel 4×4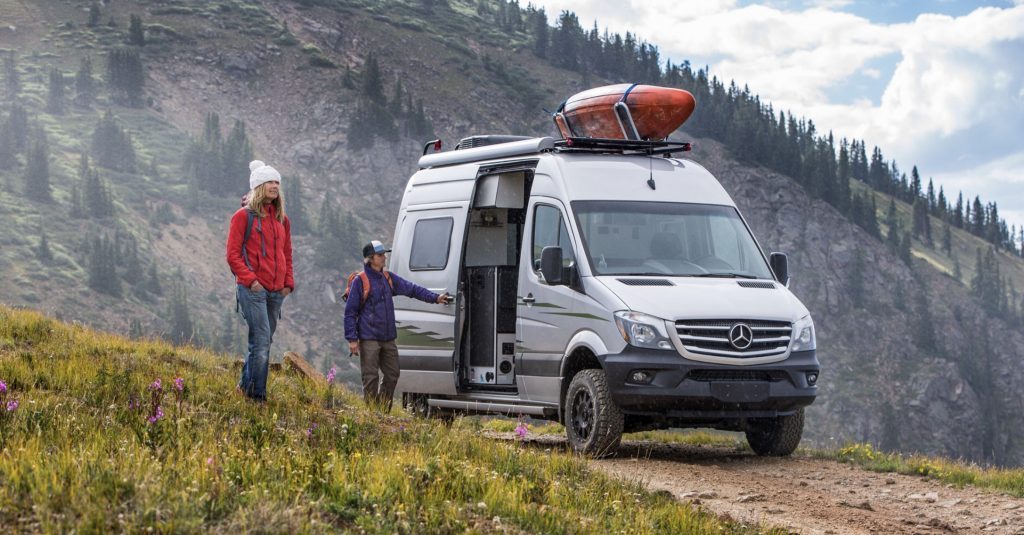 The Winnebago Revel 4×4 is another all terrain camper that has earned a spot on our list of the best adventure vans of 2020. As well as off-road capabilities that allow you to easily take the road less traveled, the Winnebago Revel features a rugged roof rack to transport any adventure gear that won't fit inside the camper van. A ladder allows you to access the roof rack where you will also find solar panels meaning you can rely on this off grid camper to keep your gadgets charged on the go. Finally, an electronic awning doubles your living space and gives you some shade from the elements.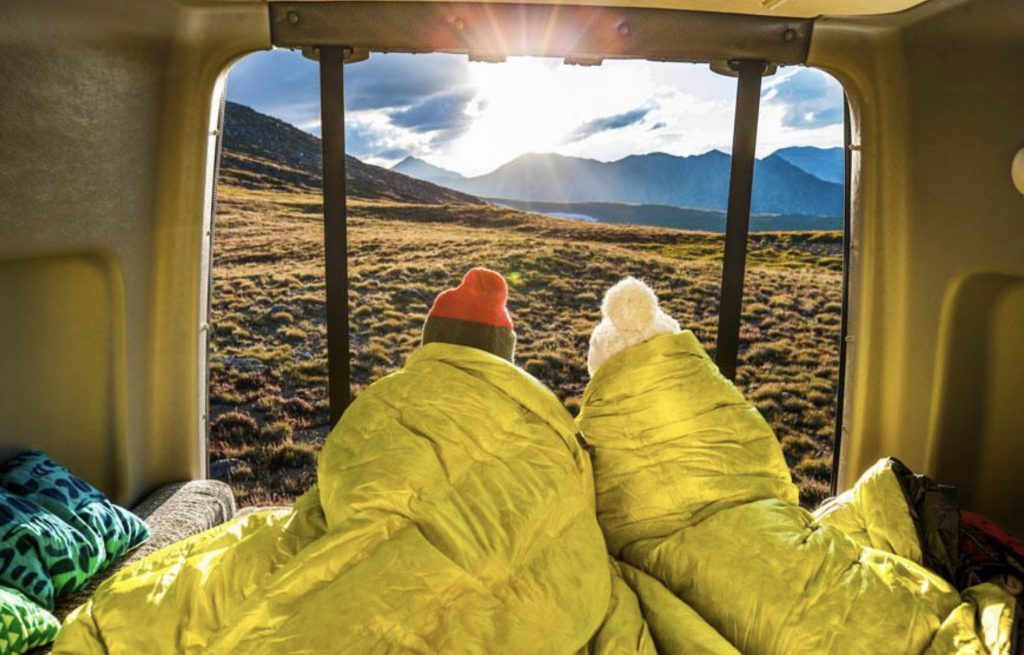 One of the most unique features of this adventure bus is the power lift bed. This amazing feature allows you to raise the comfortable double bed to the ceiling of the van, all at the press of a button, allowing you a massive 140 cubic ft. garage which is perfect for all your van life essentials. The rest of the interior is also built with adventure in mind; the flooring, cabinets, wall coverings, and seats are all made out of easy to clean materials so it doesn't matter how wet or muddy you are when you get back to your home base. As well as the bed, this camper features a full kitchen with hob, sink and fridge, seating areas with table and front swivel seats, gear closet and wet bath, as well as overhead storage. The Winnebago Revel 4×4 starts at $163,292.
3. Adventure Truck XT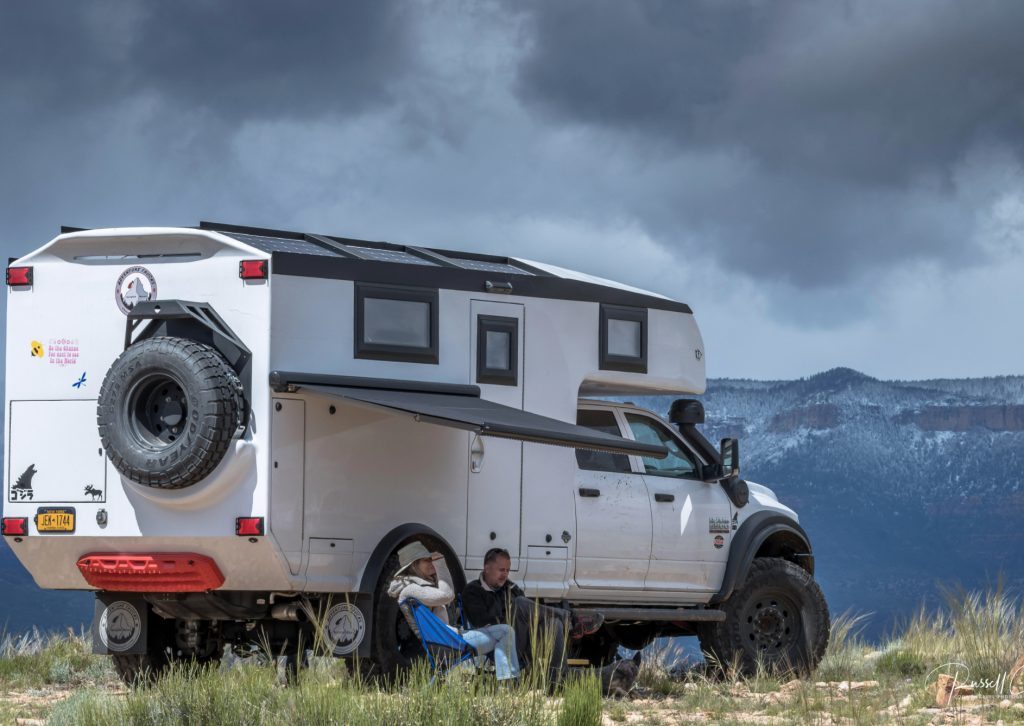 Next up on our list of the best adventure vans we have the Adventure Truck XT. Aptly named, these off road trucks are built with extreme terrain in mind. The Adventure Truck XT is ideal for living off the grid long term as they can be fitted out and upgraded to suit your needs. These beasts are built with a long expedition in mind and are perfect if you're planning a long overland trip to remote corners of the earth. Your camper base model could be a pick-up truck or a medium-duty truck if you need something larger; the Adventure Truck XT is fixed to the vehicle. It's like Harry Potter where the wand chooses the wizard…sort of.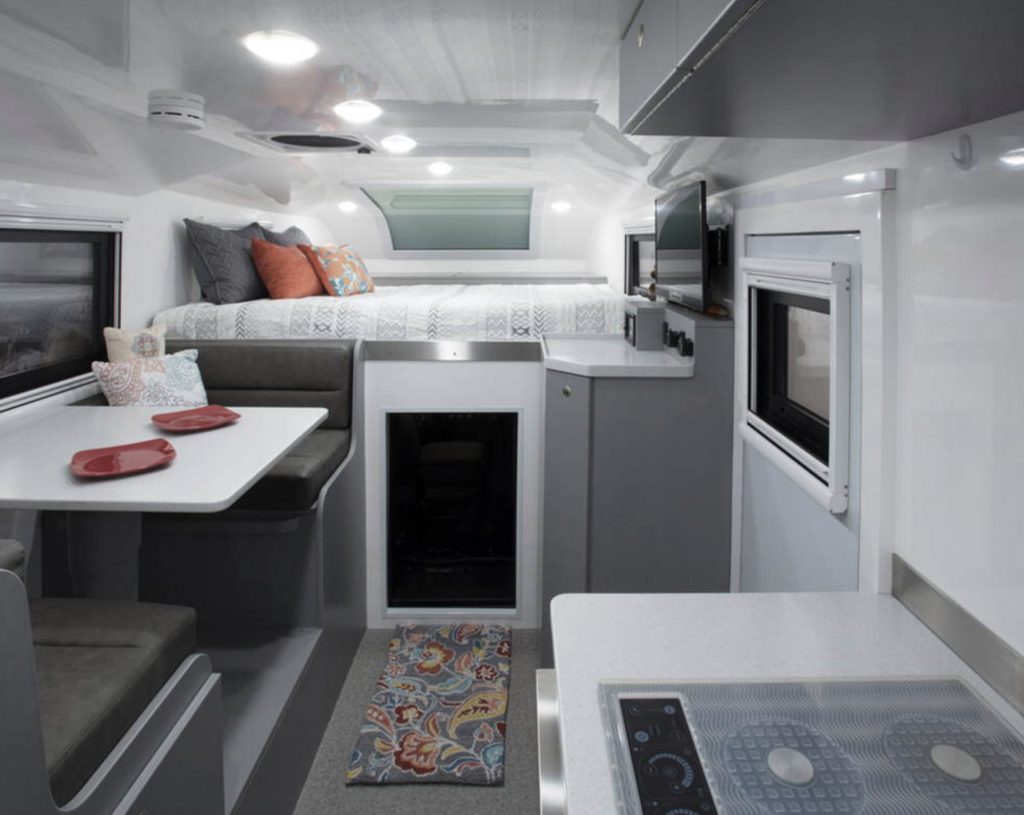 The spacious interior of the Adventure Truck XT lends itself to full time truck life as the space has everything you would find in a small apartment. An over cab sleeping area allows the main space of the camper to be utilised as a living space, and the camper comes complete with a full kitchen, bathroom, a dining area that converts into an extra bed, and heaps of storage. The Adventure Truck XT also has heating and air conditioning that runs off of the solar electrical set up. This camper can even be fitted with a washing machine, which is perfect if you plan on living off grid for long periods. Prices for the Adventure Truck XT start at $368,000.
4. Mitsubishi 4WD Terrain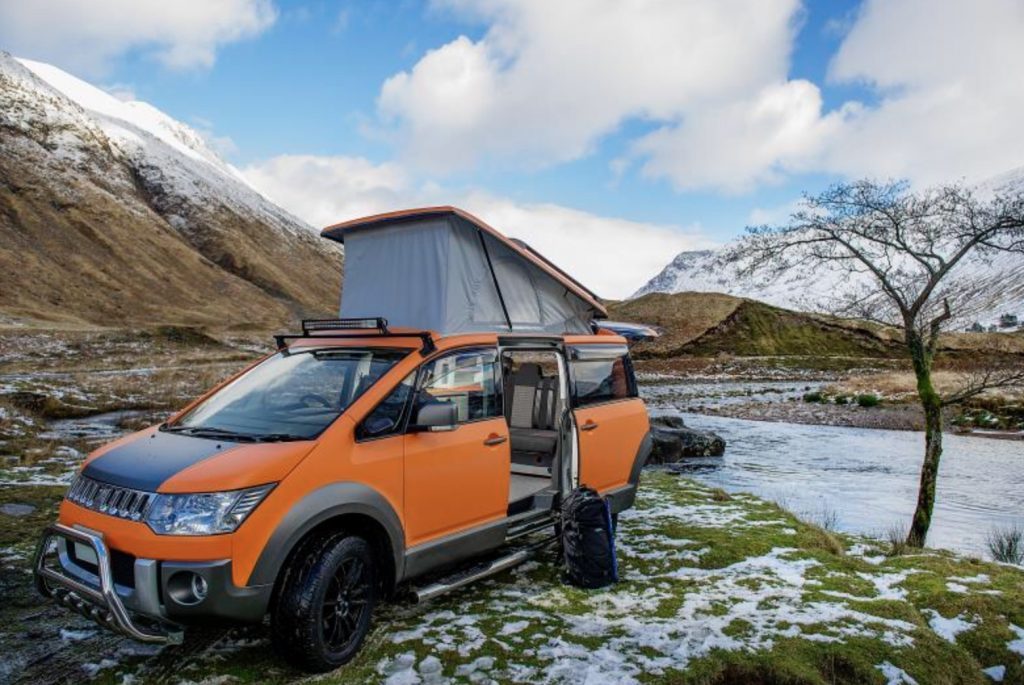 Up next in our list of the best adventure vans we have one for the small van fan, The Mitsubishi 4WD Terrain. Small campers have many benefits; they're often more affordable, more fuel-efficient, and are easy to drive and park. Pair the benefits of a compact driving experience with a full 4×4 conversion, and you have the perfect adventure campervan for exploring those off-road tracks. This Mitsubishi camper van is built on a Delica base with a switchable 4WD option to give you full control on and off the road.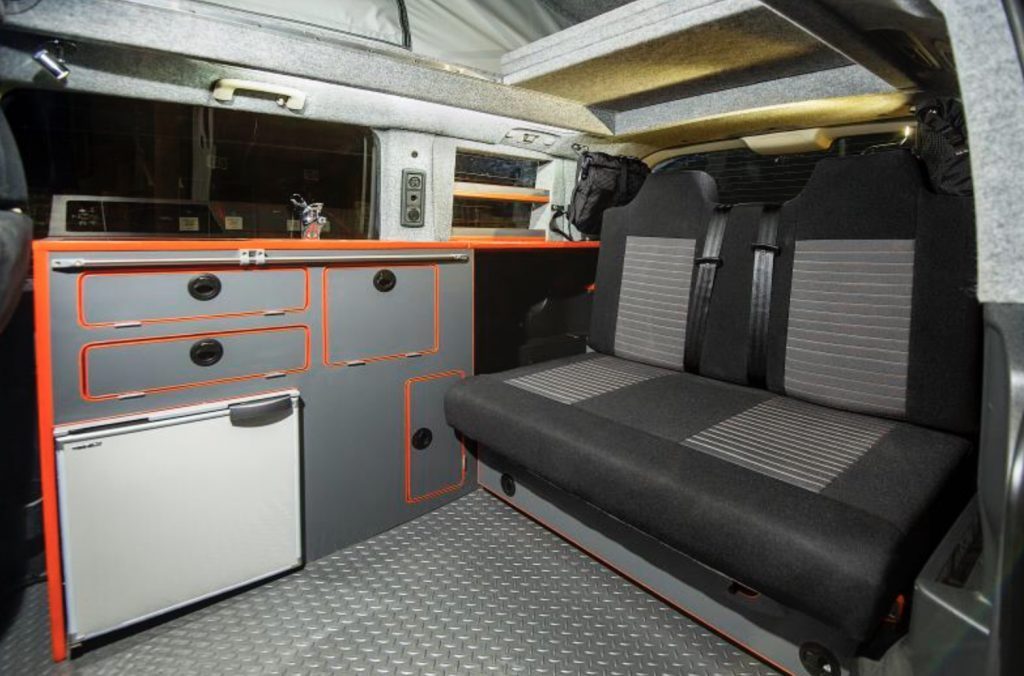 While the Mitsubishi 4WD Terrain may be small, it still has room to sleep and seat four which is perfect if you're traveling with kids or friends. Two can sleep on the double bed in the pop-top roof, and two on the rock and roll bed downstairs. The rock and roll bed also doubles as a seat-belted seating area providing a safe space for extra passengers. The kitchenette can be used to whip up campervan recipes either inside or out, meaning you can create delicious meals on the go no matter what the weather throws at you. This great little camper is affordable too, coming in at a starting price of £27,995.
5. Cascade by Outside Van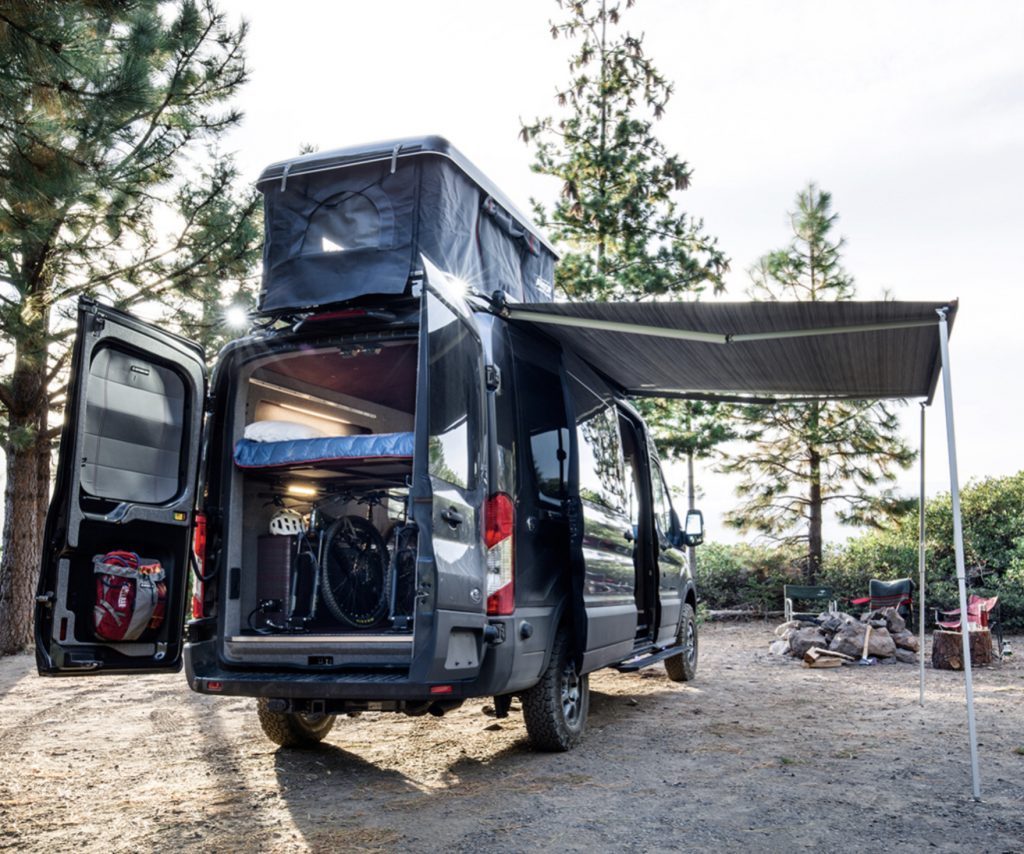 We're halfway through our list of the best adventure vans, and at number five we have the Cascade by Outside Van! Outside Van are the masters of custom vans, meaning you can control exactly what you would like in your conversion. This camper is built on a Ford Transit chassis and comes complete with a 4×4 conversion, tyre and wheel upgrades, safari roof rack, extra exterior lighting, ladders, and an L-track mounting system. As well as all of the extra equipment that turns this Ford Transit in to and off-road-gear-carrying beast, Outside Van have also mounted a roof tent to the top of the camper, creating an extra 'bedroom' perfect for kids or friends to come on the road with you.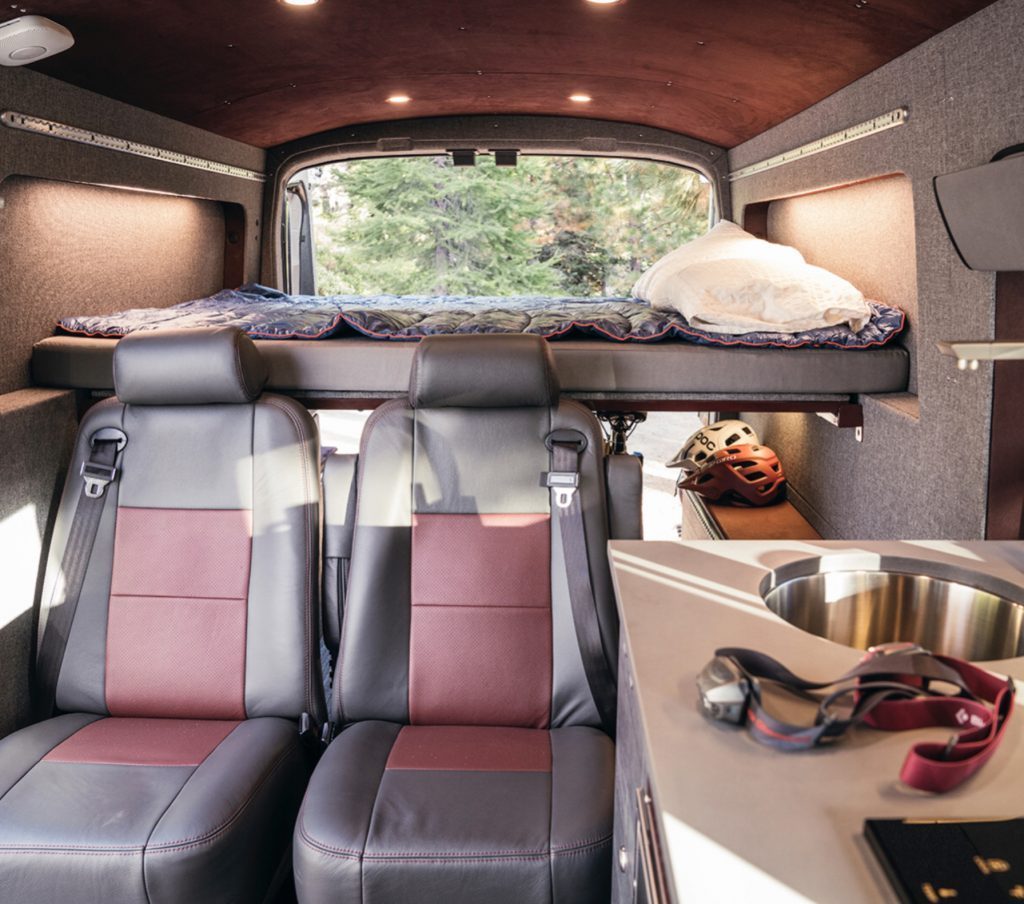 Inside the camper is comfortable and durable, with all of the comforts of home ready and waiting for your next road trip, and many more besides. At the back of the van is a large double bed with a garage storage area below. This storage is hidden from the rest of the van by the two extra passenger seats positioned at the foot of the bed. Beyond the seats is the kitchen which includes a sink, hob, fridge, and storage space. We love the materials and colours used in this van; it stands out from the crowd and looks more homely than many off road campers that are built to be practical and not stylish. Prices vary depending on conversion, so contact Outside Van for more information!
6. Zion by Roadtrek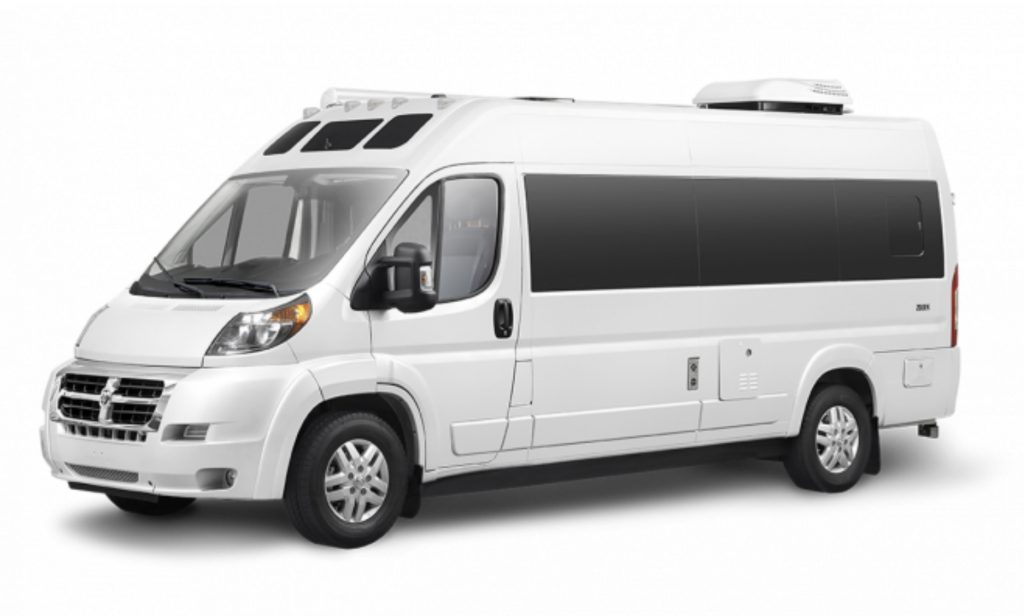 At number six on our list of the best adventure vans, we have Zion from Roadtrek. The Zion is built on a Ram Promaster chassis, seats up to five, and can sleep three (unlucky if you're passengers four and five!) This build is perfect if you are looking for a more versatile interior space in your campervan and need less storage for gear. The bed at the back of this camper van converts into a large seating area with two comfortable bench seats running along both walls. These seats are perfect for lounging around in the day and allow more space to entertain friends or keep your kids occupied on a rainy day. At night, the benches can be flattened into a comfortable double bed, with a single bed set up in the cab are.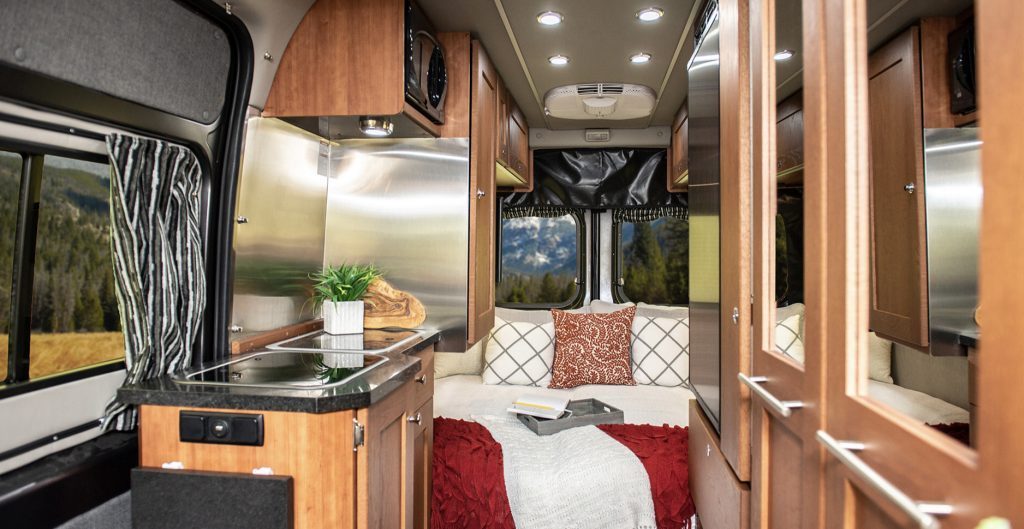 Beyond the bed is a kitchen and lots of storage cupboards for clothes and other essentials. If you do need to carry gear on board, this can be stored in the central aisle of the camper and removed once you park up. This camper is great for trips all year round with a propane furnace to keep your warm in the colder months. A good heating system in a camper is essential to stop the cold becoming a barrier to getting outdoors. The Zion camper van starts at $101,681.
7. Project M by Four Wheel Campers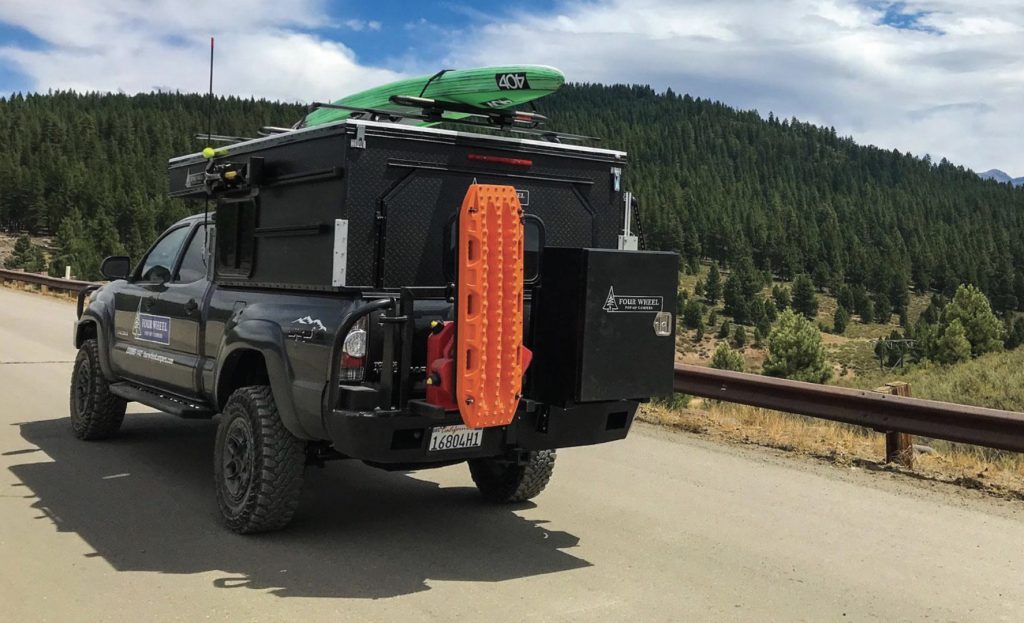 At number seven on our list if the best adventure vans we have the Project M Truck Camper by Four Wheel Campers. These pop up campers are perfect for anyone who just wants to get out into the wild and isn't too bothered about having all the bells and whistles of a digital nomad inspired camper. This is an affordable adventure vessel that allows you to see the world and start exploring, ideal for the outdoorsy younger generation. The Project M slides onto your truck bed, so if your vehicle is compatible, there is no need to splash out on another truck, cutting the cost of buying an RV and making road tripping more accessible.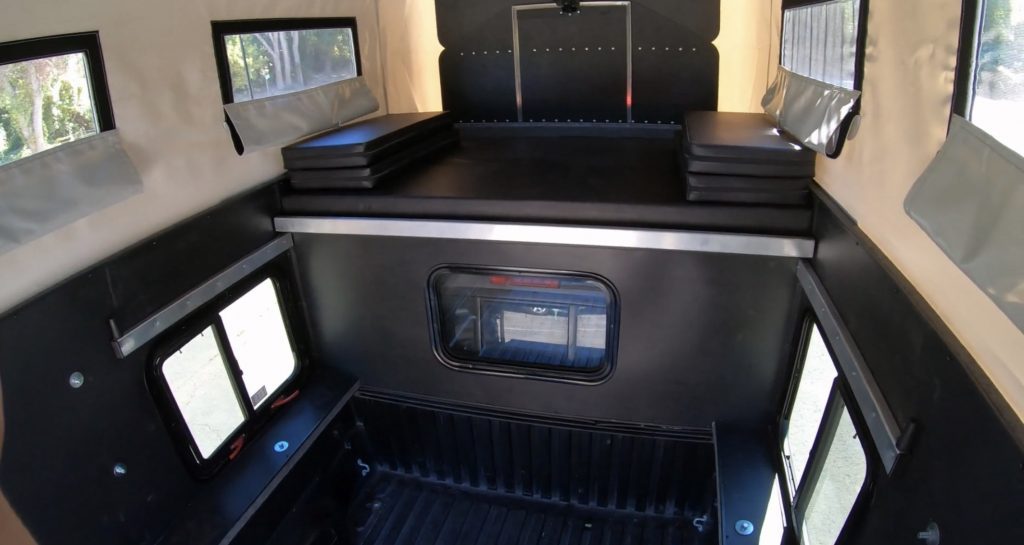 The Project M gives you an over cab bed which can be extended to comfortably sleep two while the roof is popped open. In the most basic model, this is the main feature of the Project M; a true adventure crash pad! The rest of the interior space is dedicated to storing your gear or building out your conversion piece by piece. Optional extras are available such as pre-wiring for power and lights, a roof rack for even more gear and L-track on the interior walls. Project M starts at just $8,995 and is a great base to use to be able to get outside.
8. Chinook Countryside
At number eight on our list of the best adventure vans, we have the Chinook Countryside, a luxury RV built to be the best on the road. This swish campervan may not be to everyone's taste, but if you're looking for a bit of decadence, then this is the camper for you. Fitted out with cream leather seating and glossy veneer cabinetry, the interior of the Chinook Countryside feels more like a luxury yacht rather than a campervan. The cream seating area at the back of the van doubles as the bed and can also safely house extra passengers that you might want to bring on your journey.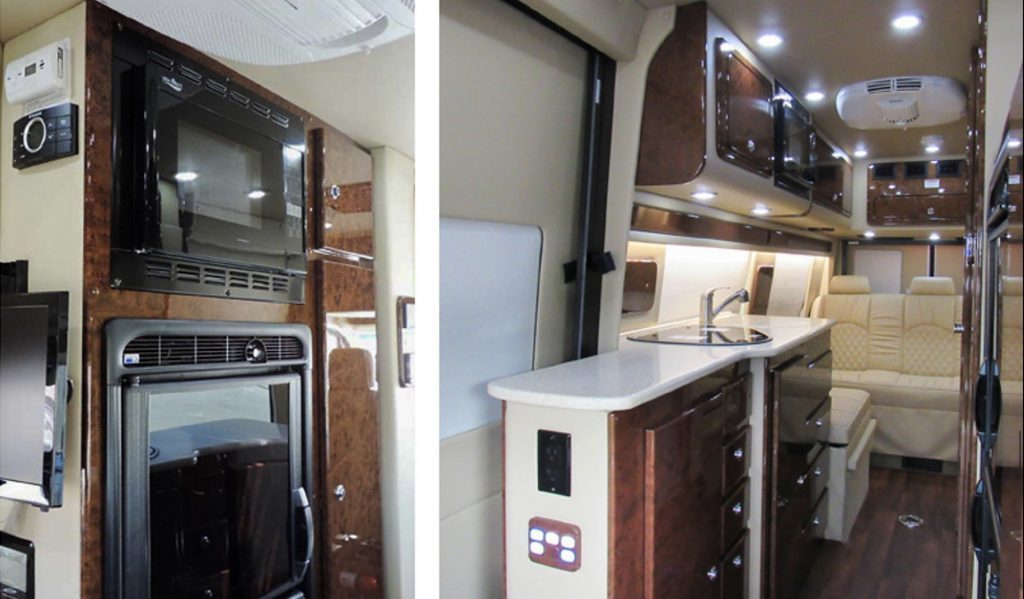 A full bathroom takes up one side of the camper (no need to bring along one of our best campervan toilets!) complete with a porcelain toilet, shower, and a retractable clothesline. Opposite this is the kitchen, which is ideal for whipping up anything from a quick snack to a full three-course meal. The kitchen comprises of a microwave/convection oven/grill, two-burner cooktop, sink, and fridge. The Countryside's Mercedes Benz Sprinter chassis can be upgraded to a 4×4 conversion, allowing you to combine luxury with the dirt road. What's not to love!
9. Sportsmobile Classic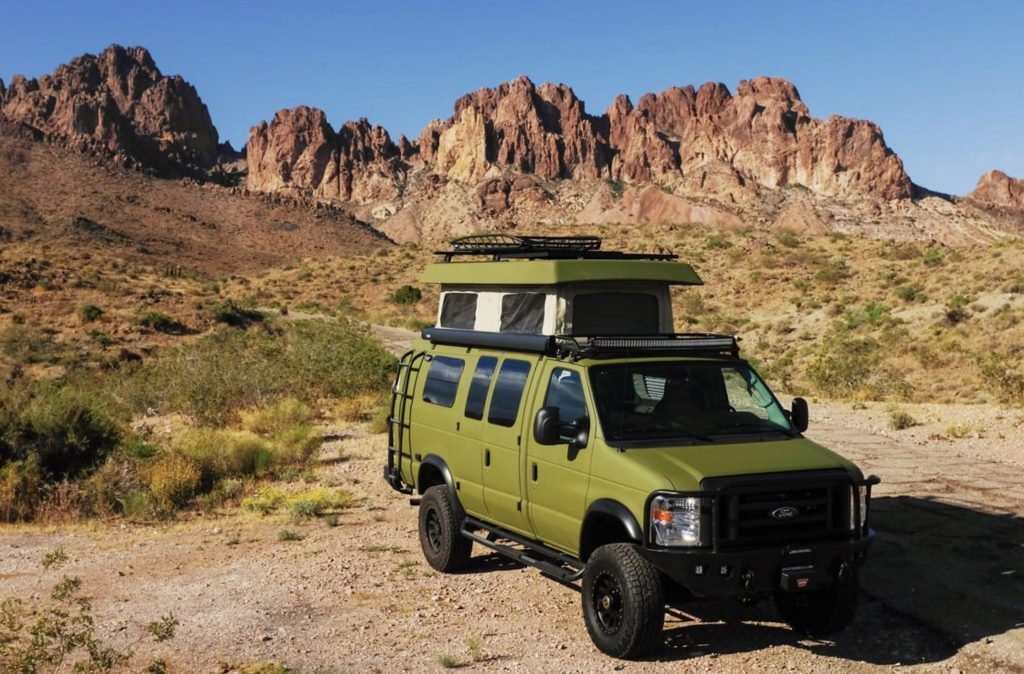 We're coming to the end of our list of the best adventure vans, and at number nine we have my all-time-favourite; the Sportsmobile Classic 4×4. This is a great vehicle if you like your road trips with no limitations. Built on a 4×4 Ford Cutaway chassis, this heavy-duty adventure van's body is moulded with a steel reinforced fibreglass shell to give maximum durability. This camper has a complete and extensive off-road conversion, meaning you can travel not only on the dirt roads, but on a complete overland adventure up mountains, through ravines, and across any terrain going!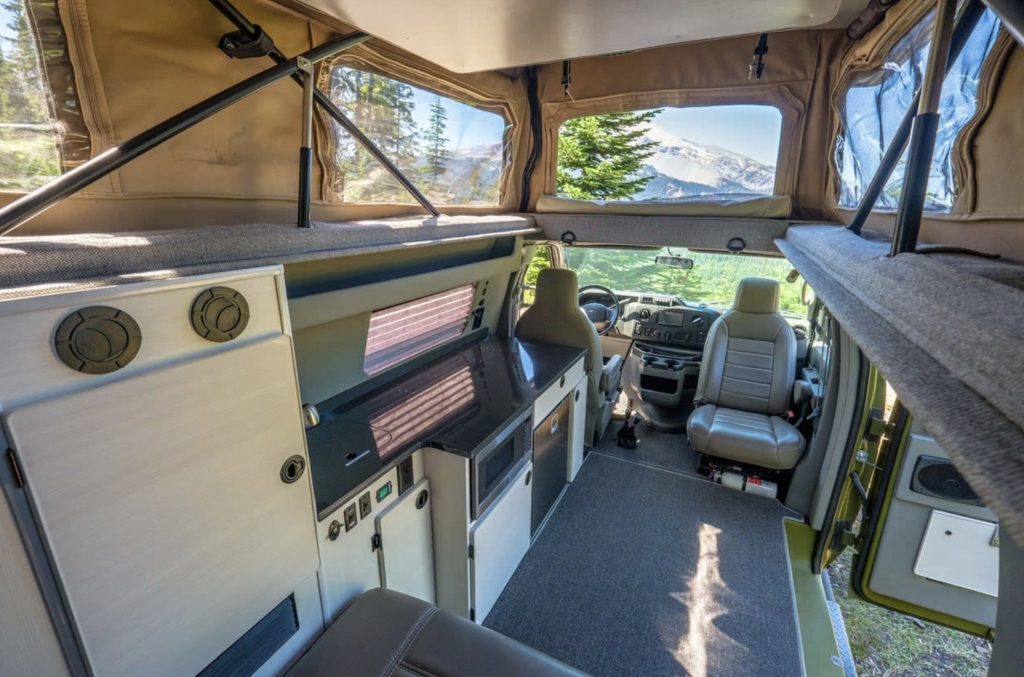 The Ford Cutaway is a relatively small vehicle, giving you more freedom and control when driving off road. To make up for its compact size, Sportsmobile has added pop top penthouse roof, giving you more than enough space to stand up and move around inside once you've found the perfect park up spot. The interior layout is customisable depending on what your needs are, but conversions can include a full kitchen, a cosy sleeping area, dining area, plus plenty of space to store gear and added extras.
10. Timber Den by Outside Van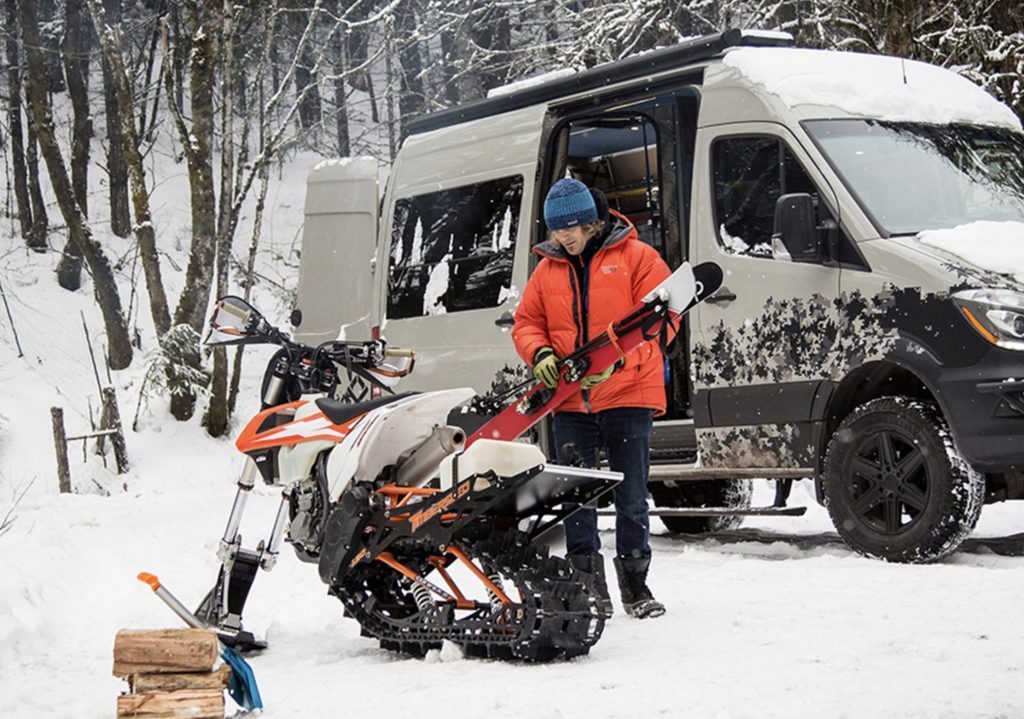 Our last camper on our list of best adventure vans is the Timber Den by Outside Van, another excellent example of the kind of custom off-grid-paradise that the company can produce. The Timber Den is the ultimate gear-hauling camper, with space to carry an extensive amount of equipment inside, including a motorbike! This large storage capacity is achieved thanks to an open plan layout and minimal 'home comforts'. On the exterior, there are also surf/SUP racks and solar panels for off grid power. This camper is all about the adventure; couch potatoes may look away now.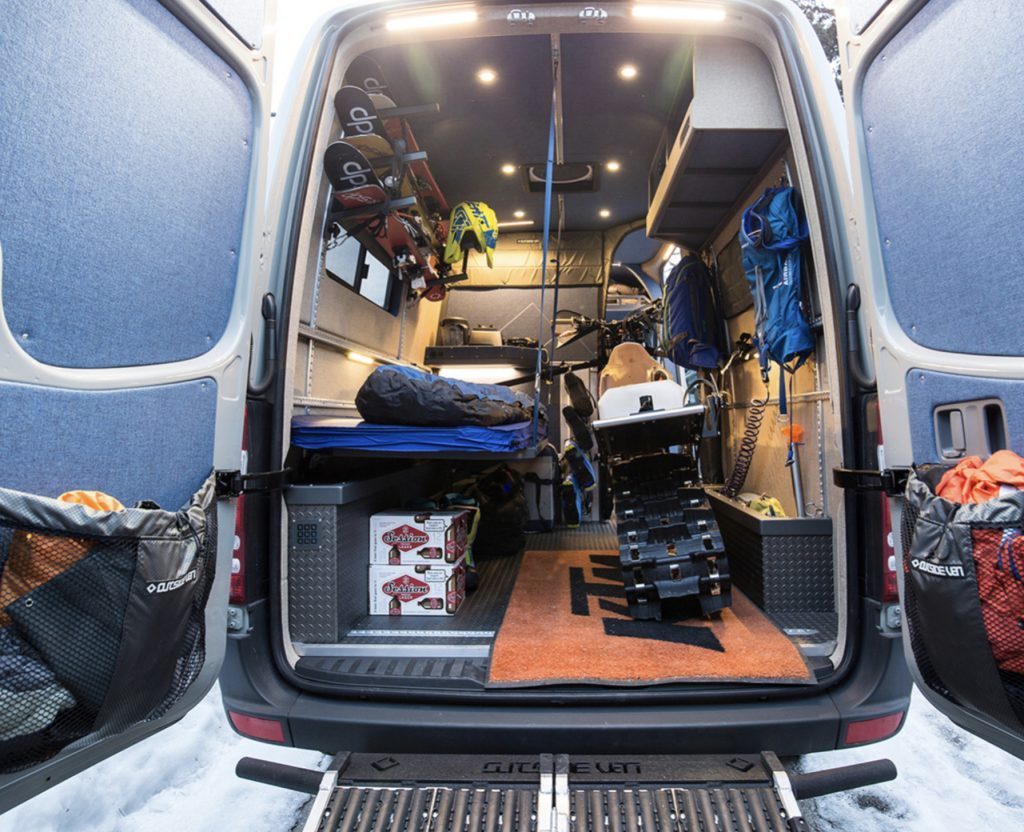 Aside from the storage space, the interior of this campervan features two different sleeping layouts: bunk beds or a double at the back. The double bed can be used if there is enough room around the gear, but the bunk beds work just fine if you need the space for all of your snowboards or skis. The camper doesn't have a full kitchen, but it does come with a fridge for storing tasty snacks to keep you going on the road. If you want a suitable base that is well-equipped for all manner of outdoor sports, from then the Timber Den is for you.
Final Thoughts…
There are so many different adventure vans out there to suit your individual lifestyle and budgets. While the vans on this list may all vary in shape, style, size, and cost, they do have one thing in common: they will help you to get off the sofa and out there. Choosing the right adventure van is important, but not as important as the journey that you will find yourself on when you're out on the road. So what are you waiting for? Choose a van and start exploring! For more content from the Van Clan Team join us on Facebook, Instagram, and Twitter.
More Content From The
Van Clan Team!