If you get mega-overexcited by those clever cards that pop up into cathedrals or forests when you open them up (I'm counting myself in this group too by the way), then you're definitely going to love these pop up campers. What could be better than having a streamline vehicle or trailer that pops up into a fully-kitted-out tiny home with room to stand up and move around in? They've got more pull out accessories than a Swiss Army Knife, and many can be used free-standing once erected, so you can nip into town for supplies while your family fight about who's going to play as the dog in monopoly and who gets left with the boot.
Are you a fan of Cosy Cabins and Tiny Homes? Head over to Cabin Clan, our brand new alternative living page!
We've had the pleasure of checking out a lot of pop up campers over the years and have seen many different shapes, sizes, and styles of these clever space-saving vehicles. If you don't have a lot of space on your drive or simply don't have the extra capital to purchase another vehicle, then pop up campers could revolutionise your life. Check out our list of the very best products on the market below, and get ready to have your mind blown!
1. Air OPUS – $22,000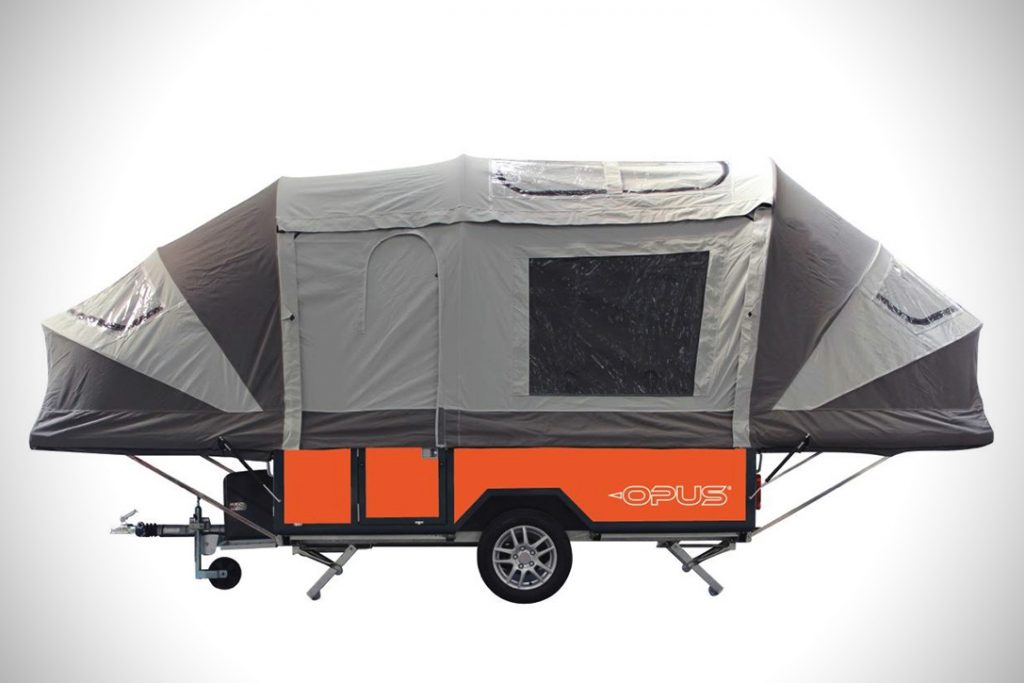 The Air OPUS is a great pop up camper and one of the coolest tent trailers we've seen that sits inside a small lightweight towable trailer. It's fully equipped with everything that you could need for a trip into the wild and can be stored neatly in your garage when it's not being used.
Using something called "Air Pole technology", the trailer opens up and self-inflates into a full-sized camping trailer in just 90 seconds, using air-tubes and an electric pump (no more messing about with metal poles in the rain!). Taking it down is pretty simple too; just let out all of the air and pack it back into the trailer. You may need to get your hands wet and dirty for this to help it deflate, but there's nothing like a little work out before your trip home.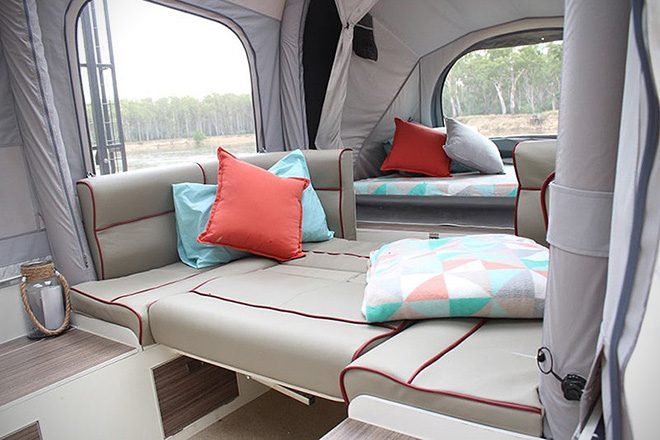 Looks can be deceiving; it might look simple on the outside, but OPUS pop up campers all have a fully-fitted kitchen, a comfortable seating area, and a built-in bedroom! You can choose between leather or fabric interiors upon ordering, we recommend leather because it's easy to clean should you spill your beverage or miss your mouth when eating a hot dog whole.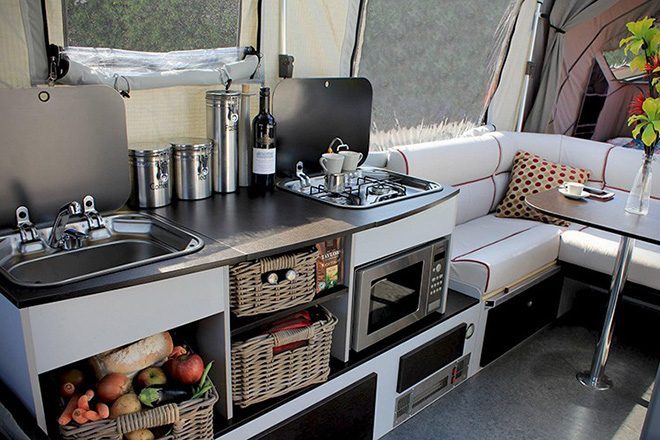 The Air OPUS Inflating Camper Trailer starts at around $22,000. It comes fitted with everything you see in the image above, a kitchen area with a microwave, storage, internal heating, a dining area and places to sleep a whole family. This is one of the best pop up campers for those wanting to tow their home with a normal everyday vehicle, you wont need to splash cash on expensive small camper vans, just attach and go.
2. Four Wheel Campers – $15,000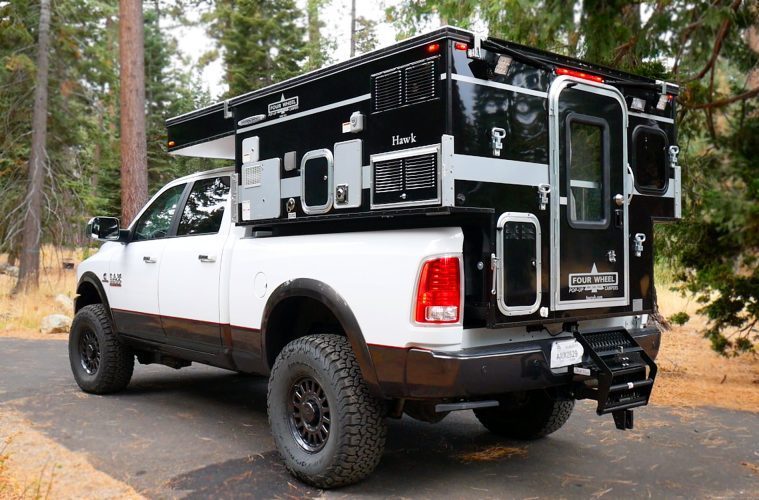 We've had the pleasure of working with Four Wheel Campers on a number of occasions now, and their products continue to both intrigue and excite us. Made entirely from a robust aluminium frame, these truck campers have been described by their customers as 'virtually indestructible'. Using a series of safety hooks and clasps, these removable camping pods can be attached directly to your existing truck and removed when you need to use your vehicle for everyday activities like work or moving your granny's old wardrobe to the dump.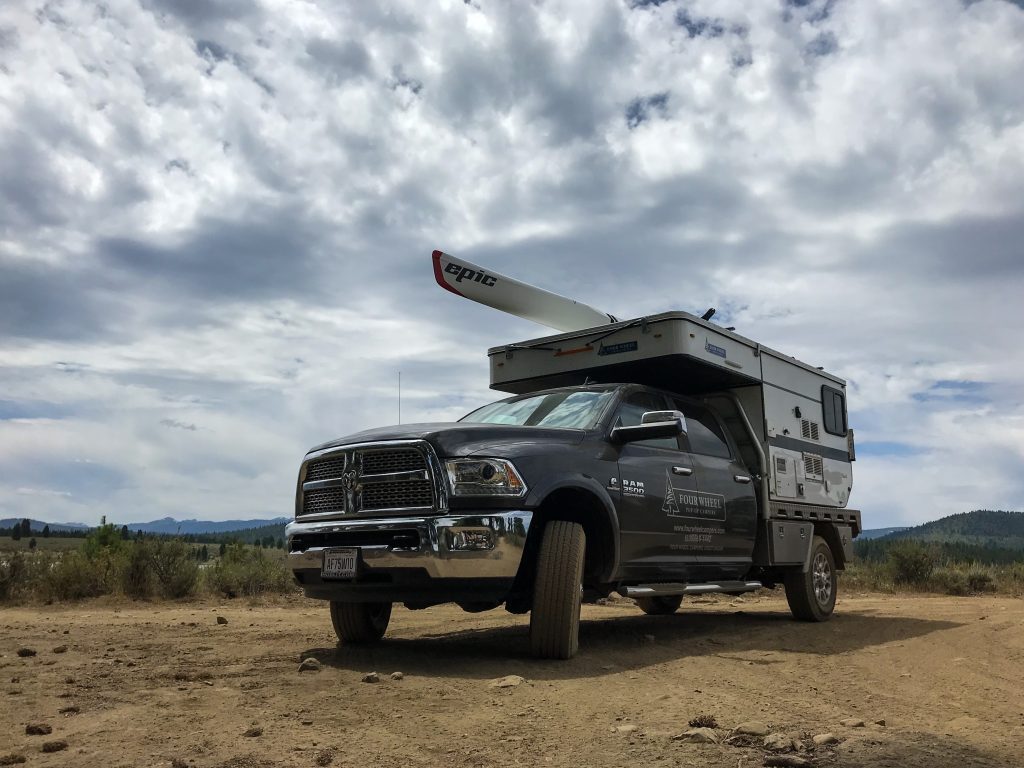 There are multiple options available for truck camper enthusiasts to get excited about, from base models aimed towards travel-hungry off-grid adventurers to luxury models with built-in showers and comfortable bench-style dinette seating. So far I've driven and lived in a standard and flatbed model, the latter providing more living and storage space which is super useful when spending a lot of time off the grid. Prices start at $10,000 for the Project M camper, and you can find out more information about what living in a Four Wheel Camper is like by checking out our dedicated articles. Project M isn't for everyone, but there more expensive models are by far the best bang for your buck.
Each camper comes with a large queen size bed that goes over the top of your truck and is only accessible when the pop up campers have been "popped". Once it is popped, and that only takes a few seconds with a good push, you are greeted with a dining area that seats two, a kitchen area, full blown heating, a bunch of windows that have mossy nets and a place to sleep two. It's an almighty invention, and we absolutely love it.
3. Jayco Jay Sport Trailer – $12,000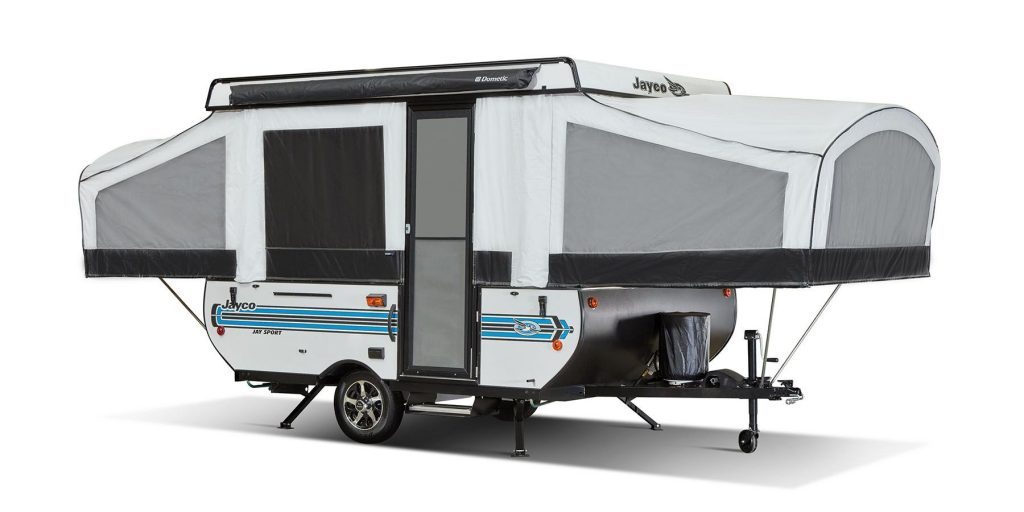 Jayco have a tagline of 'Camping Done Right', and after looking at the Jay Sports range of pop up campers its hard to argue with them. With its branding looking straight out of a retro gaming movie, you might think that this trailer might be a bit of an old-timer. You'd be very wrong.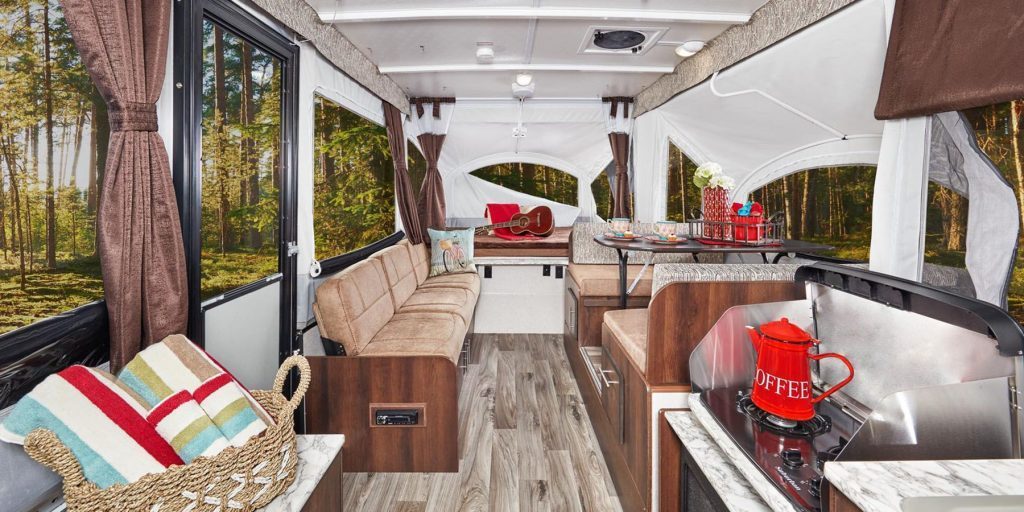 Can you believe that this is inside a pop-up camper?! Stylish, airy, plenty of seating areas and furnishings that give it a home from home feel – what's not to love! On the interior it features a seating area for a whole family, with a sofa opposite a table that can be used for movie nights. Behind that is a double bed, and towards the middle a fully fledged kitchen to cook up a storm when camping. It's all been lined with premium furniture, lighting, and insulation, this thing will keep you cosy in the cold nights, and even cooler in the hot summer days, with more windows that you can ever imagine.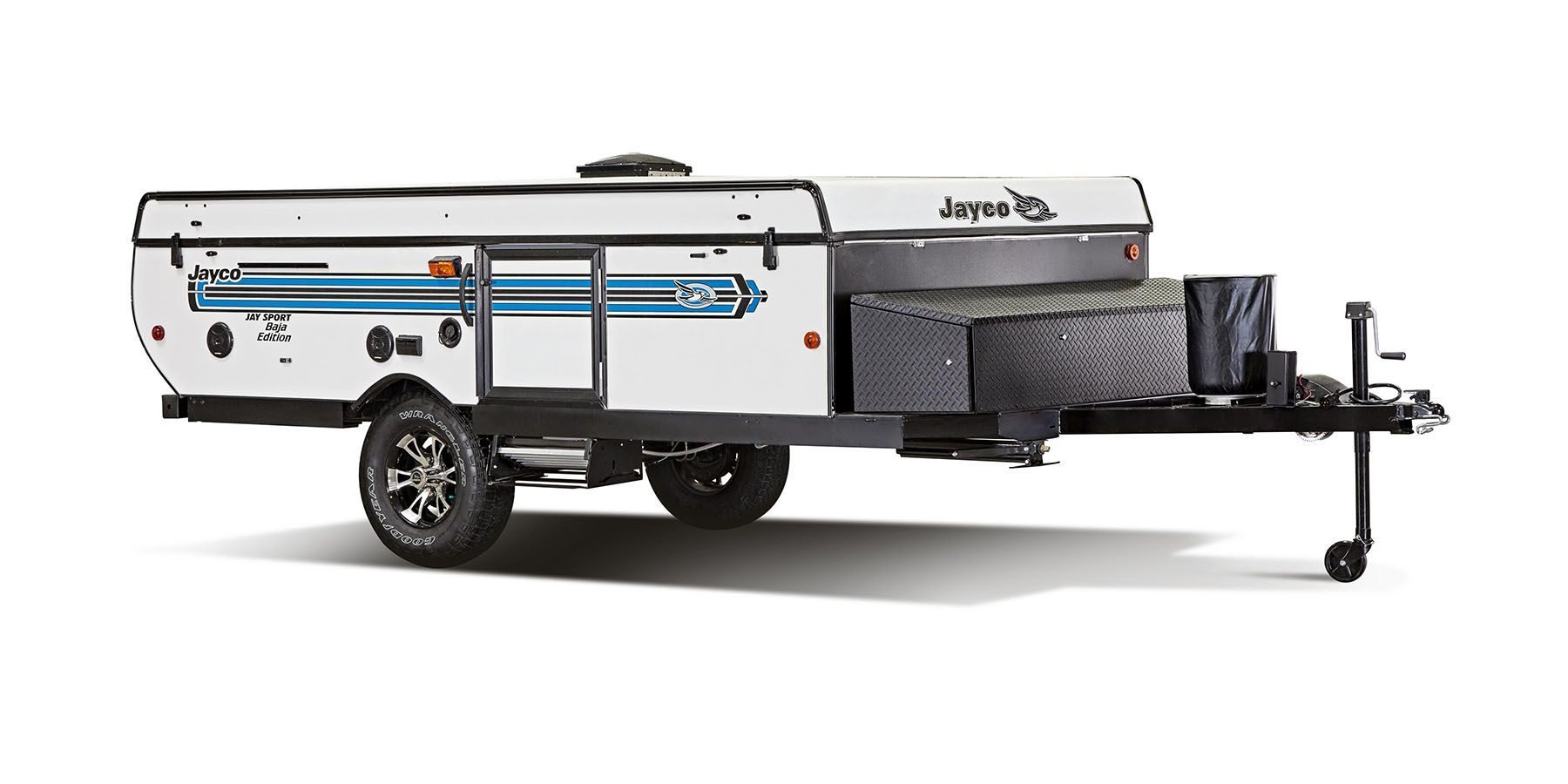 On the exterior this Jayco Pop Up Camper has a heavy-duty, corrosion-resistant frame construction, a domed, seamless fibreglass roof and mildew-resistant aluminium ceiling, and an easy-to-use lifter system with wide lifter posts integrated into the tent. It's practically a mechanical marvel! It's a solid choice, and with prices starting from $12,000 dollars it's incredibly affordable too. When it's all compacted down this pop up camper won't take up any drag, and it can be stored in a garage, with extra head space to store stuff on top, should you use it just for summer breaks.
4. Rockwood Extreme Trailer – $20,000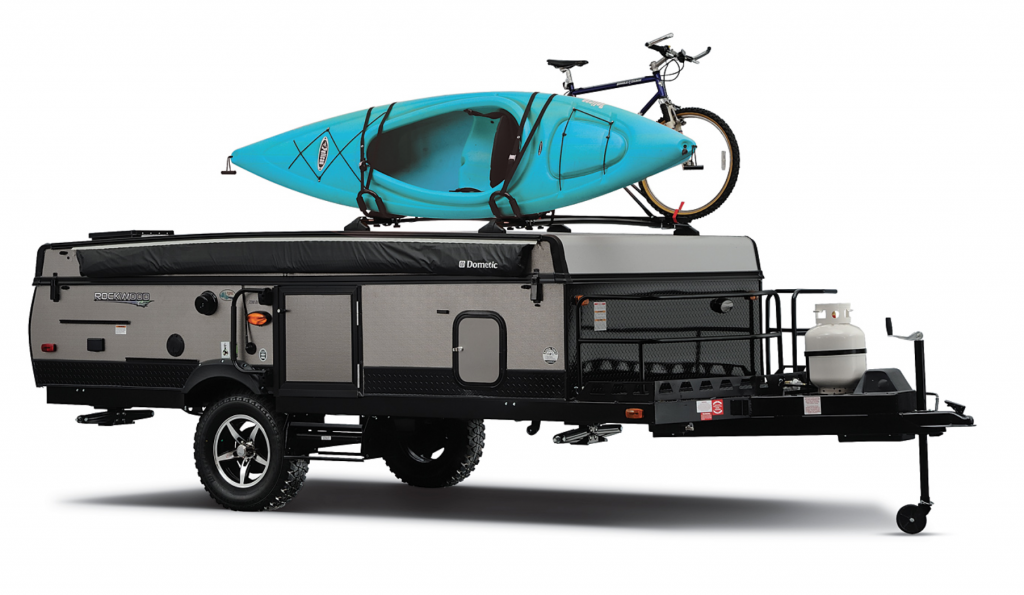 Any trailer that has a kayak and a mountain bike on it is good enough for us. The ESP package made by Forest River has interior features targeted for the modern-day nomad, including a Digital Media Receiver with Bluetooth, MP3 player, USB and auxiliary ports, WiFi Ranger WiFi Booster, recharging station with (2) additional USB ports, LED interior lighting and more! Plus the rack on top can secure up to 150lbs of a wide variety of outdoor sports equipment.
Have you seen how good it looks when it's erected too? Wooden units, wood effect floor; there's even what looks like a four-poster bed in the background. A top choice if you like to mix adventure with luxury (let's face it, who doesn't?!)
The Rockwood Extreme Sports Package is one of our favourite looking pop up campers to date. The interior is phenomenal, with the L shaped sofa that converts into a bed, and a huge cooking area that's fit for a king, this is a trailer for an adventurous family with style.
Outside the grey and black will go with any vehicle you would want to pair it with. Combine it with expedition vehicles and you'll have a truly magnificent duo to take to the open road with. It comes with a bunch of external storage, a place to fit a number of surfboards, mountains bikes and even kayaks, plus a light load allowing it to be towed by your average vehicle. It comes in at just under $20'000 dollars, so it's not the cheapest, but the price is shown within the quality of the interior.
5. GZL 300 – $35,000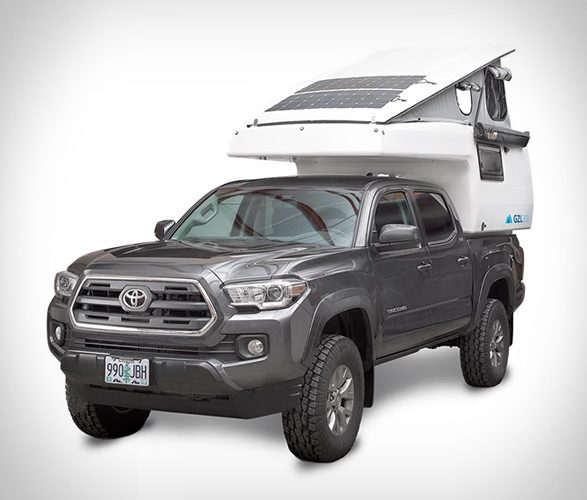 The EarthCruiser GZL 300 is the second of our truck-friendly pop up campers and comes with all of the mod-cons that you would expect from a luxury campervan in an easy to operate removable pod. If you know a thing or two about the $100'000 EarthCruiser campervan, then you'll already have an idea about how this camping pod might look inside. For those that are new to the brand, you're in for a real treat!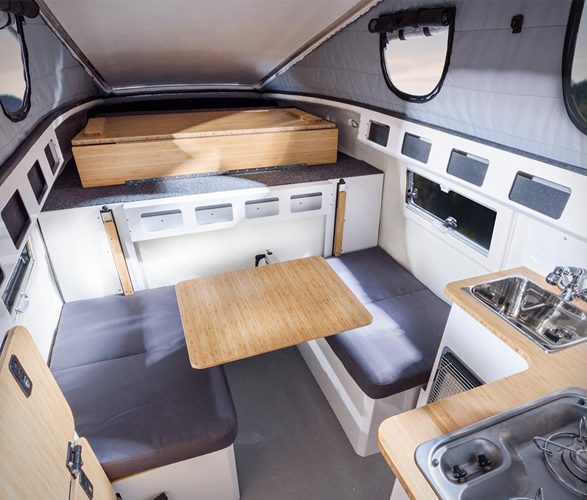 Unlike the Four Wheel Camper pop up models, the Earthcruiser GZL 300 opts for only popping one side of the roof rather than elevating the entire ceiling. But just look at that interior layout! Everything is well thought out, with the L-shaped dinette making enough room for a spacious dual-seating area. The bed folds out into an uber-king-size comfortable cloud that you and your partner can starfish out on after a long day on the trail, and a handy folding table gives you the perfect place to work on the go.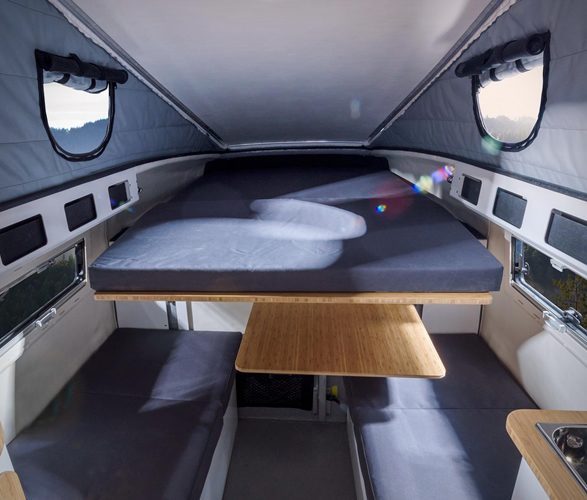 One of the best parts that creators of pop up campers usually always get right is the window situation, and EarthCruiser has nailed it with the peep-holes in the GZL 300. I really like the shape and the roll-up style to that your blackout blinds aren't just flapping around and getting in the way. All in all, you're probably thinking that the GZL 300 is one neat little pop up truck campers.
6. Sportsmobile Classic – $100,000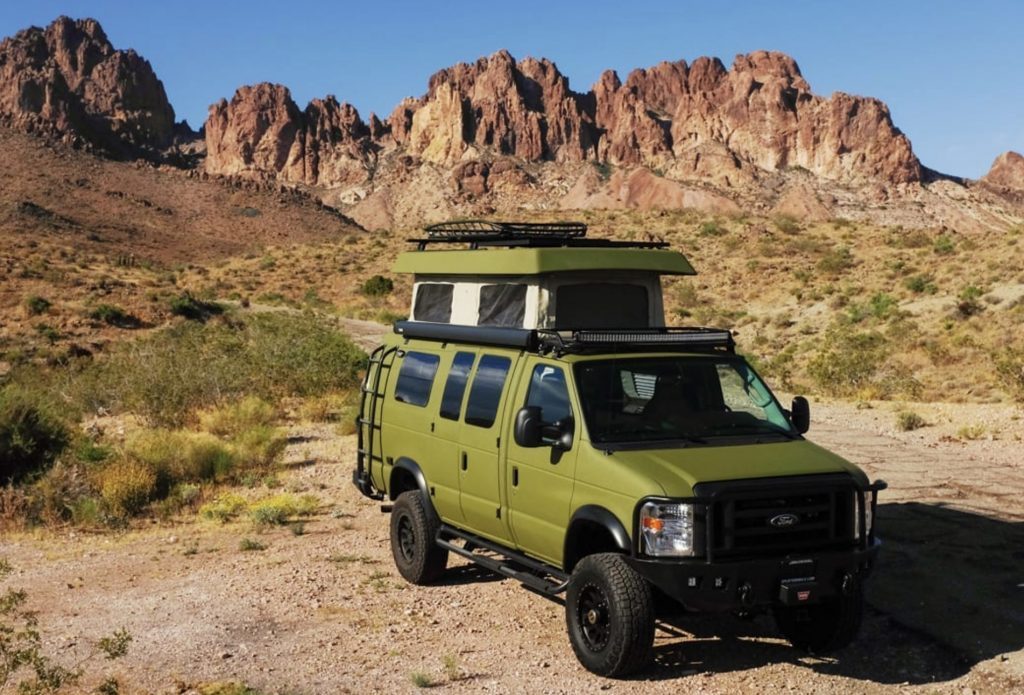 Next up on our list of the best pop up campers is possibly one of the coolest looking custom campers of all time. When I see the Sportsmobile Classic 4×4, it always makes me think about tearing across the Serengeti, and for some reason of dressing up like Van Pelt from the original Jumanji film. These overlanding beasts are the ultimate off-grid pop up campers; they have a low profile for both fitting into tight spaces and for blending into urban and wild environments alike, and they have enough space to stand up and enjoy the inside of your camper without feeling like Gandalf in Bilbo's home.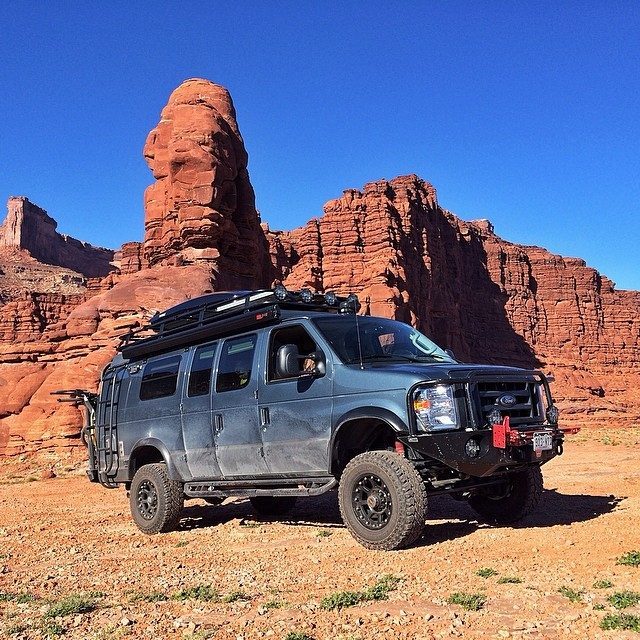 Sportsmobile are renowned for their ability to build campers that go anywhere. But what many seem to miss out on, is some of the incredibly well designed interior that they have to offer. Each inch is perfectly design to have a job. Cabinest are spacious, the fold out rock and roll bed works a treat, and there's space to work comfortably on your laptop while your adventure buddy cooks up a cracking meal.
The lesser spotted Sportsmobile may often be found gathering around discarded fuel tanks with its brethren in sandy, rocky terrain – it's a campervan that loves adventure! With a Dynatrac Pro-Roc 60 front axle, High Knuckle Front End for extra tie rod clearance, and Fox 2.0 Performance Series Shocks, it's no surprise that these campers are loved by thrill-seekers and digital nomads alike.
7. Conqueror Overland Adventure Trailer – $50,000
Now we've seen the cosy pop up campers, it's time to look at the big guns! The conquer overland adventure trailer takes your house into the outdoors, with more bells and whistles than you could ever need to live comfortably out in the wilderness. This is how Rambo goes on holiday, and that's a fact.
Conqueror off-road Camping trailers have been safari and outback tested for over 25 years in the harsh and unforgiving environments of Africa and Australia, so we already know that they're rugged and can withstand anything that you're likely to put them through. They're made of metal (so no chance of rot) and come prebuilt with more storage than your rich uncle's mansion.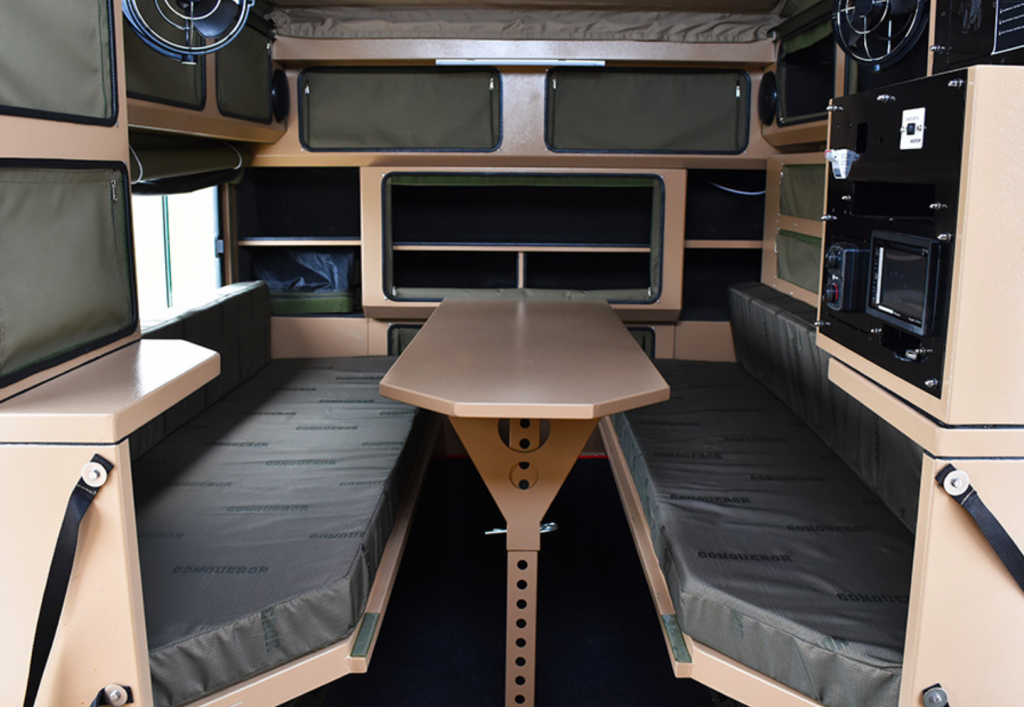 Ok, so it's not as luxurious as some of the other pop up campers that we've looked at, and it certainly is a bit of a beast compared to the smaller trailers that we've seen, but it's got that rough and ready adventure feel that would make you feel at home in the back garden (albeit of an Army General's house) or in the middle of a sandy desert.
The Conquer Overland Adventure Trailer comes in a variety of sizes and styles, but be prepared to fork out a lot of money for one! You can find out more info (including how much you're going to have to part with) on the Conquer North America.
8. VW Transporter – $60,000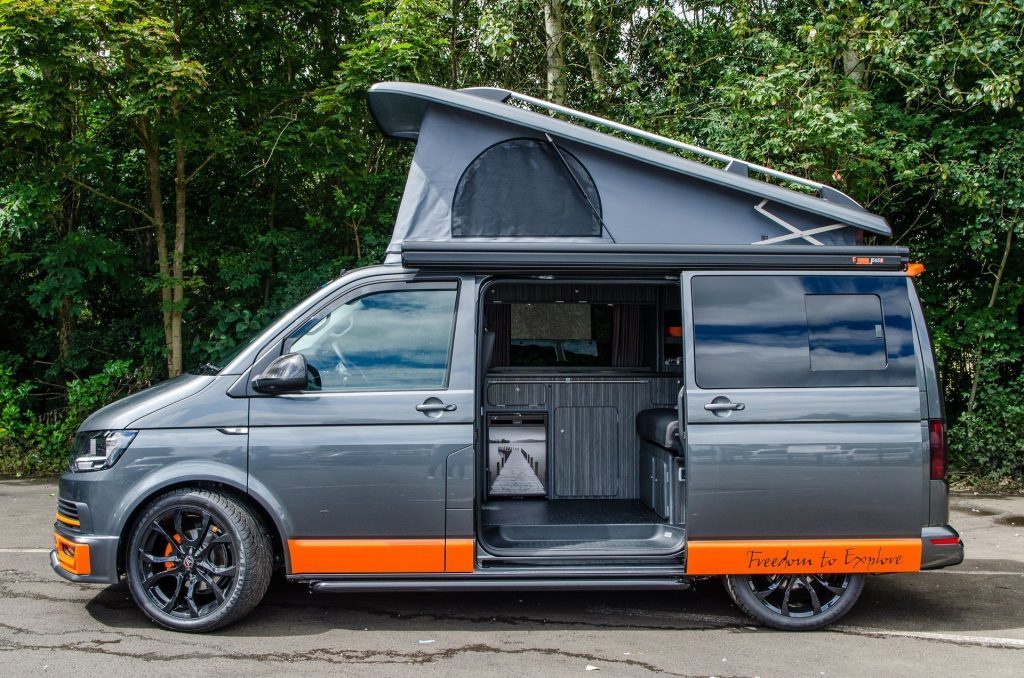 The VW Transporter needs no introduction, but as I am contractually obliged to write one I better think of something quick. No other range of pop up campers has influenced the history of the camper van more than the Transporter, with weekend warriors and Full Time Van Life enthusiasts alike living the van life in VW busses all over the world (how's that for an intro?). Modern T6 conversions have all of the space-saving features and classic elements that the older generation of VW campers first brought to the fold, and they're also a lot more reliable on the road.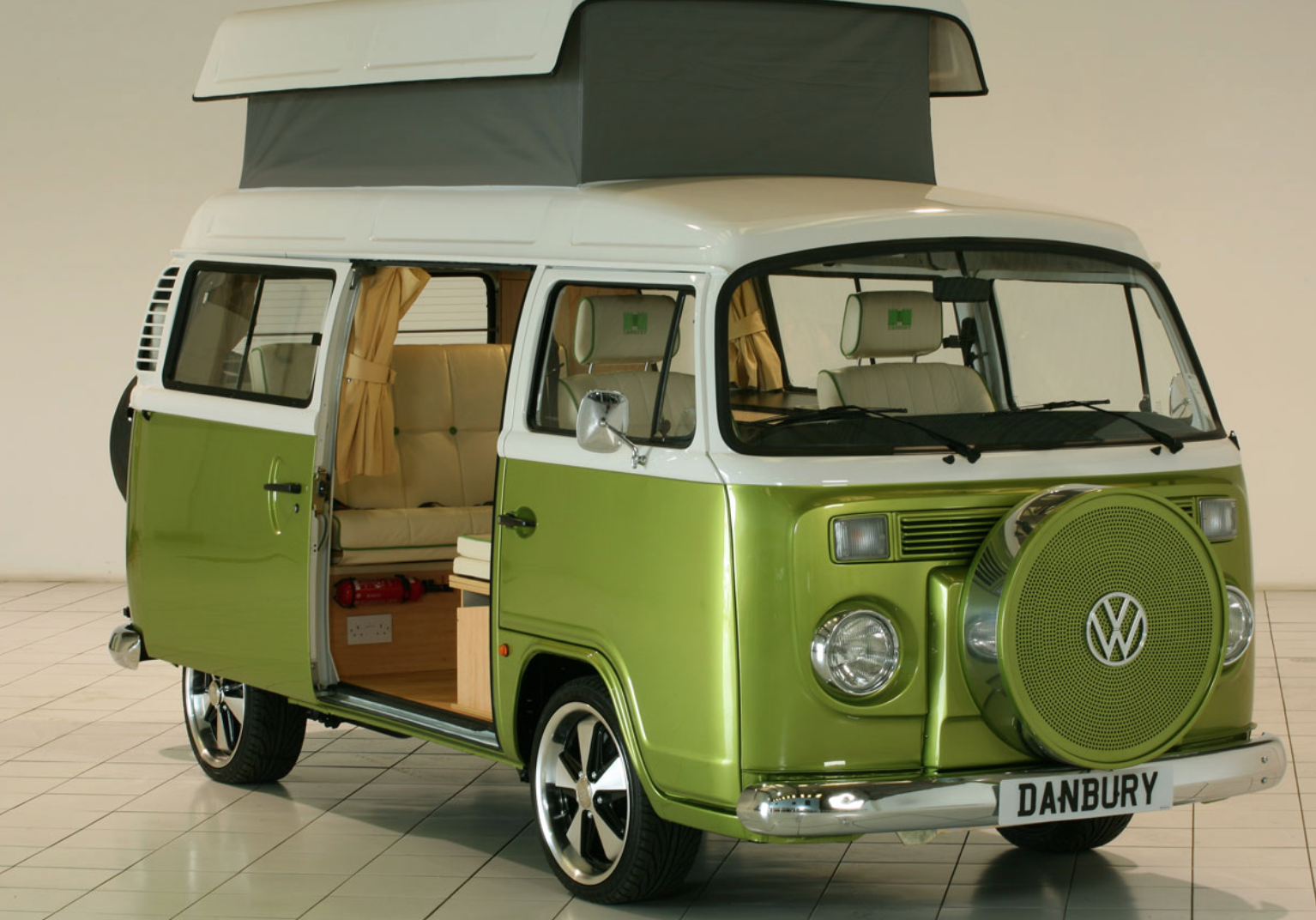 Still, who cares if you breakdown at the side of the road when you're driving a camper that looks as good as this! With companies like Danbury lovingly restoring old T2s, it's hard not to be tempted into parting with your hard-earned cash. Whether you opt for the modern conversion with the sloping roof and extra window/bed combo or the retro pop-top that allows you to stand in style, the Volkswagen Bus Camper was, is, and always will be the nicest looking vehicle on the road.
If a VW Transporter is too big for a pop up camper of your demand then we suggest looking at the VW Caddy camper, it's a smaller panel van, one perfect for nipping about the city, getting down smaller trailers and those of you that have a much smaller budget. We actually converted our own VW Caddy Maxi for under $15,000, and its the perfect weekend warrior's camper. Small, admittedly, but its all you need for weekends, or the odd trip around Europe for a few weeks.
9. iCamp Pop Up Trailer – $18,000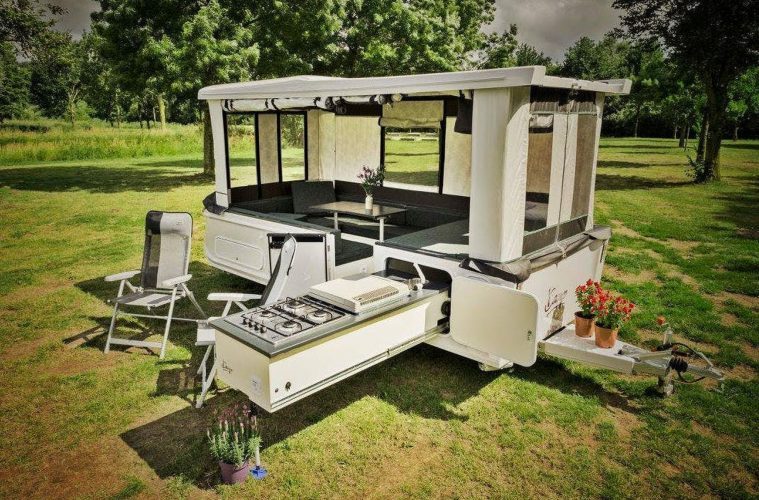 We're heading back to the world of towable travel trailers for our next entry on our list of the best pop up campers. The iCamp is one of the trailers that surprised me the most throughout 2019; with minimal effort, this futuristic super sleek trailer can be transformed into a full box-apartment in just 30 seconds. The iCamp by URVUSA raises up a whopping 6.5 feet into the air and gives the user 14 feet of living space to play around with. That is mighty impressive for a tiny off grid trailer!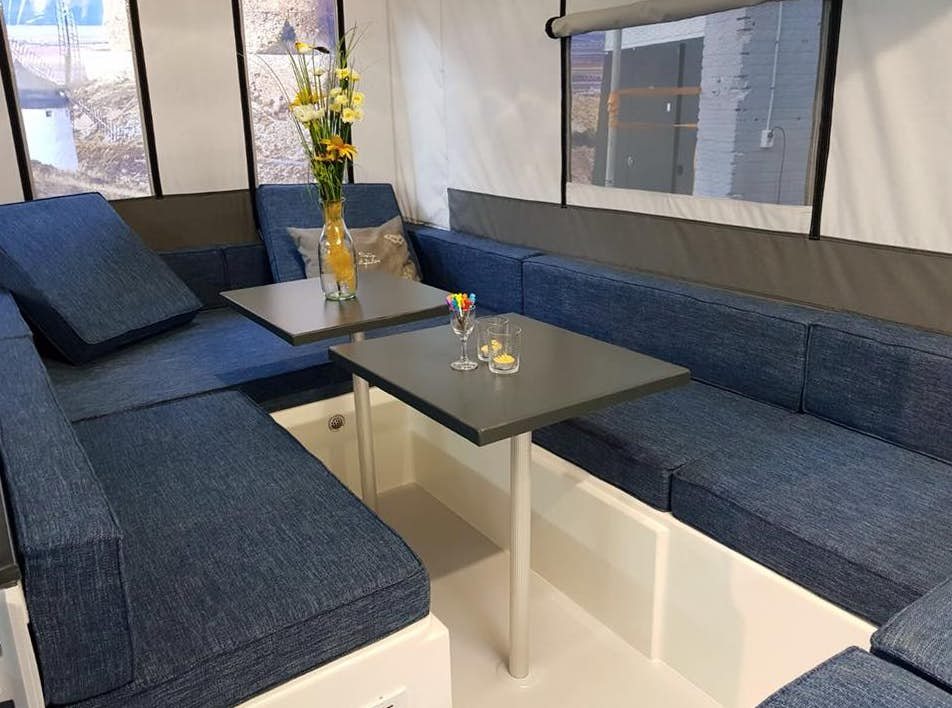 At just over $18,000, the iCamp has everything that you and your family could ever need while living off the grid. It looks a little like a luxurious conservatory, and the best part is that it can be towed by pretty much any vehicle, meaning that you don't need to invest in an off road bus to pull your new tiny house to your desired destination. A kitchen area can be found underneath two sections of cushion (better make sure you turn that gas hob off!) and can be used both inside and outside the trailer. Spacious windows provide plenty of light, and the cushions arrange nicely into one heck of a bed!
It's a very modular trailer, and although it may not look like a beast, or even look anything premium-like it does everything you'd want from a camper, for a very affordable price. It stores all of your families clothes, opens up a dining room with tonnes of ventilation and windows to see the beautiful wilderness, and fits compact in a high end, portable trailer. The only downfall with something like this is that it relies heavily on decent weather, anything wet or cold and this won't be fully enjoyable.
10. Sparrow Roofnest – $2,800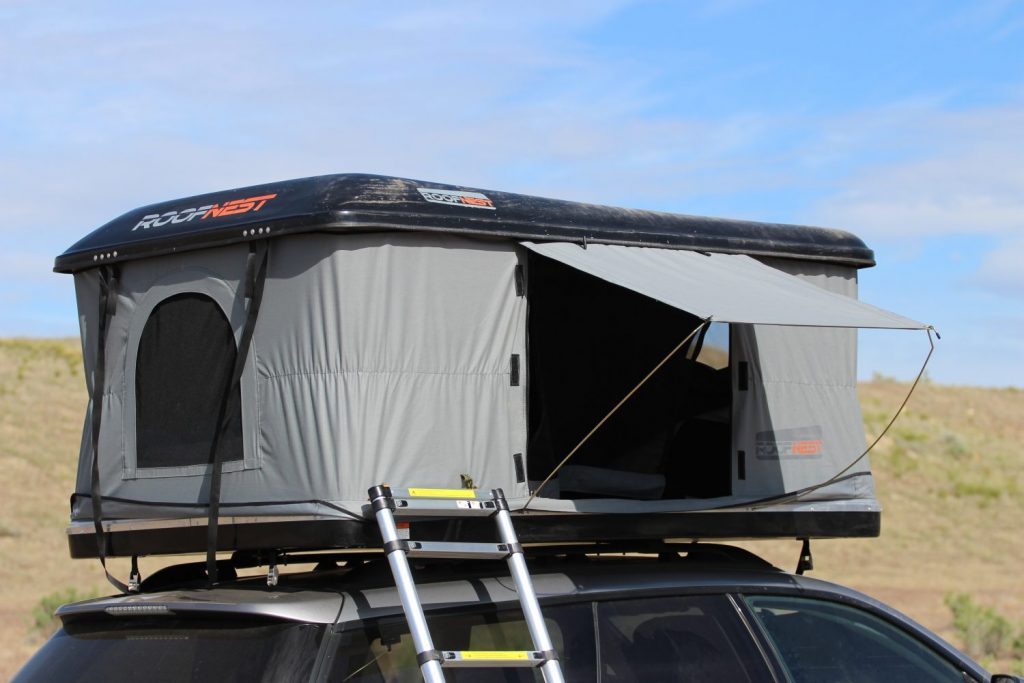 If you don't have space for a trailer, you can always stick a pop up camper on top of your car! From Ferrari to Mini, roof campers can fit on any vehicle and provide a great alternative to lugging around a tent or driving a massive vehicle. They come with a handy ladder so you don't have to clamber up your car and risk sticking a foot through your window, and you don't have to worry about extra floor space. If your car can fit there, then so can you!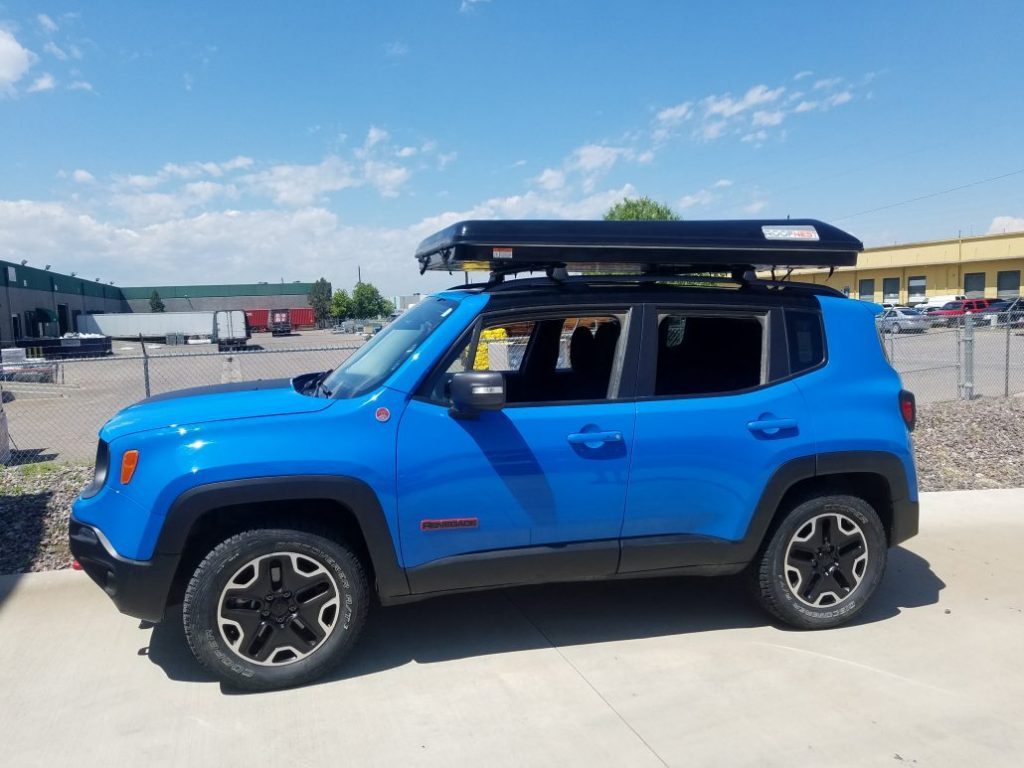 The Sparrow by Roof Nest is by far the cheapest pop up camper on the list for obvious reasons, by why it's so popular is far beyond the price tag. It opens up camping to a whole new audience. It's cheap to ship to your door, incredibly easy to setup, and fits two people with ease. Heck, you could even fit your small dog in there too if you don't mind throwing it up the ladder!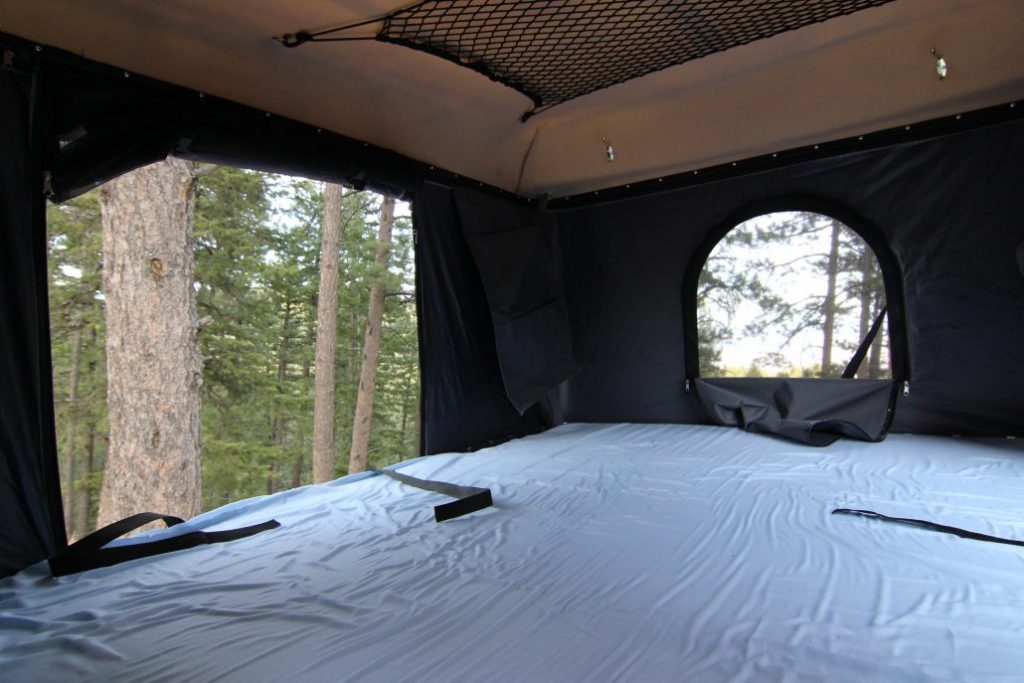 There's not much to look at inside, but if you're the sort that likes to travel light and doesn't need any gadgets to enjoy the wilderness, then this could be a good bet! It features a 5″ mattress, netted storage in the roof for your phone, wallet and keys, plus four windows that can be zipped down to mosquito netting, or full blown vents to let the air flow in should you want to take in the views before you sleep. This things are selling like hot cakes just make sure to bring your best camping chairs too.
11. Taxa Mantis Trailer – $32,000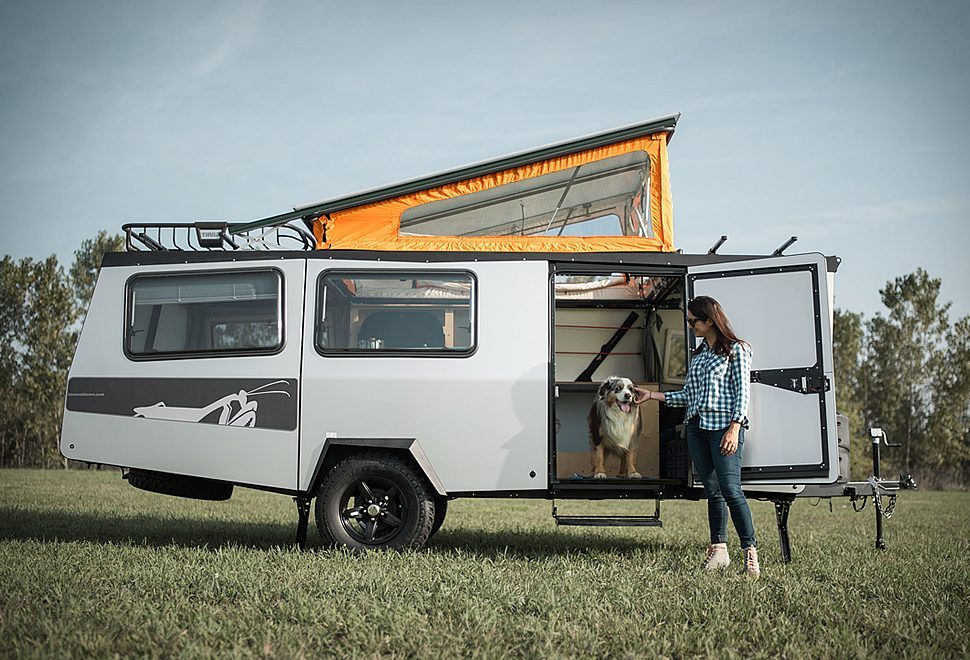 The Taxa Mantis trailer may well be the mother of all pop up campers. At 18 feet long, this towable trailer is a spacious home from home for any off grid adventure. It might also surprise you when I tell you that it weighs just over 2KG. So it's not as light as the best lightweight trailer on the market (that thing has to be seen to be believed), but at least it won't guzzle all of your car's fuel when you tow the Mantis from place to place.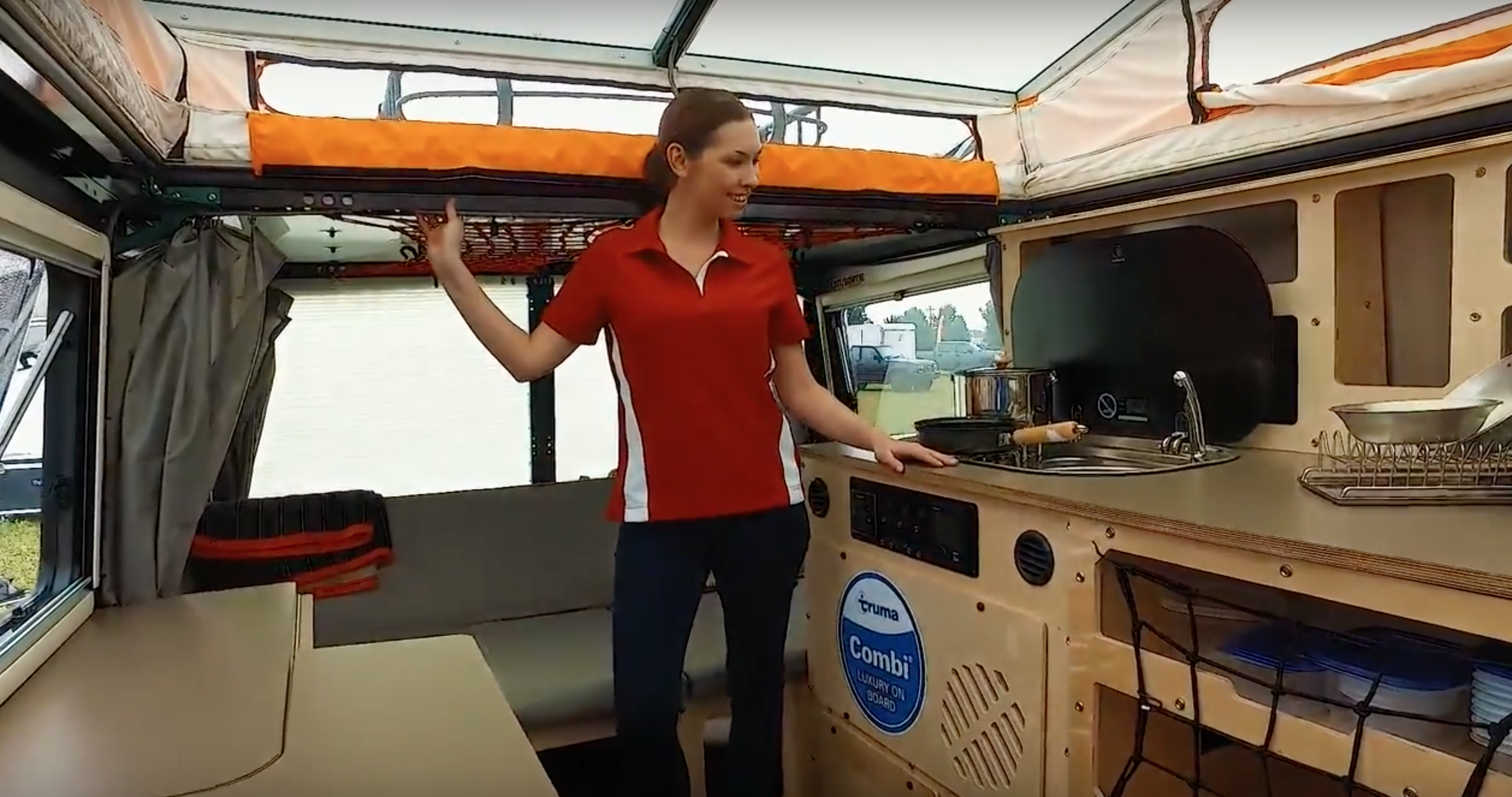 With a queen-size bed and two adult-sized bunk beds inside, this camper is perfect for families, friends, or couples who like picking up hitchhikers. The Mantis has a spacious albeit bland looking kitchen with plenty of space for all of your top cooking accessories, and it even comes with a nifty shower 'wet-room' that also houses a portable toilet.
At £32,000, the Taxa Mantis is a little pricier than some of the other trailers on our list, but it's also a heck of a lot longer. That pop-top would give even the tallest vanlifer ample headroom to headbang along to Motley Crue, and if all else fails, you can always sleep outside on the cargo deck if you want to stretch out! Head over to our dedicated article on the Taxa Mantis Trailer for more information.
12. SylvanSport Go – $10,000
SylvanSport know a thing or two about how to make pop up campers, which is why the funky-fresh, metallic SylvanSport Go is a tour-de-force in the trailer camper world. Named the 'Swiss Army Knife' of tent campers, the 'Go' can hold boats, boards, boxes, bikes, and much more when in transit mode. It can be used as a camper, a gear haulier, or even just a trailer if you need to carry supplies down to your local school or when taking that old sofa to the charity shop. National Geographic Adventure declared this range of tent trailers the "Coolest. Camper. Ever", and I would think that any trailer life advocate would tend to agree!
The extra pull-out porch provides users with much-needed shelter from both the glaring sun and sudden downpours, making the SylvanSport Go a camper that can be used in all weathers. This corrosion-free camper weighs just 840lbs and is made from a 220-denier fabric that is far superior to normal family tents that you might find on the market. It's a solid choice for the couple that likes to get off-grid at a moments notice and a firm favourite of the Van Clan team.
13. Hymer Vision Venture – $300,000
If we're going to make a list of the ultimate pop up campers on the market, then we can't pass up the opportunity to chat about the Hymer Vision Venture. We got to see this creation in the flesh (or metal at least) back in the Summer of 2019 and wow; what a camper! It's 100% custom made, so much so that you can't actually buy it (talk about a one-off!). Hymer has teased us all with a real-life 2019 Mercedes Sprinter conversion complete with an automatic pop-top and one of the most luxurious interiors we've ever seen inside a vehicle.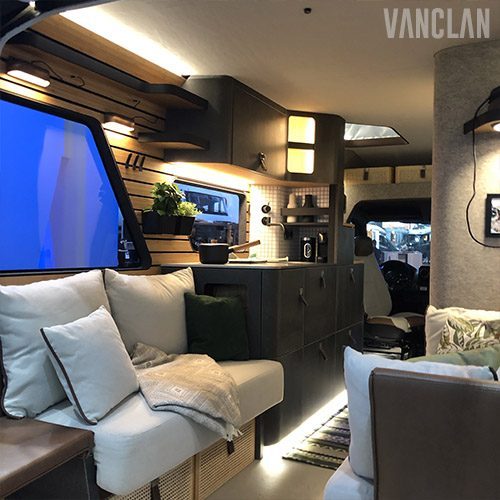 This camper looks more like someone has built a metal shell around an existing house and added wheels to the bottom, not built a tiny house inside a van. Textured walls, stairs up to the sleeping area, a kitchen complete with a pot plant and wall taps – this shouldn't be real, but it is. The Hymer Vision Venture is undoubtedly the future of camping, and we hope that Hymer put their ideas into action and make this thing before someone else snaps up the idea!
14. Isabella Camp-let Dream – $20,000
The thing that makes the Isabella Camp-let Dream so special is the fact that it transforms from a tiny trailer into a ginormous tent village. It might look a little like the back section of an old school boat-trailer, but don't let appearances fool you. With two sleeping pods, storage pouches, a large communal area, and a customisable built-kitchen, the Camp-let Dream is the perfect product to make your camping dreams come true (see what we did there).
Yes, folks; that massive tent does fold out of that tiny little box. I've written about this trailer a couple of times now and I still can't believe that you have so much living space to play with once it's all erected. Granted it might be a bit of a pain to fold away when you're finished, but the pros far outway the cons. It comes with large windows so that you can sill gaze at your surroundings when the frost is nipping the tips of the grass outside, and the communal space is perfect for cosy evenings playing board games or sampling some tasty beverages. Head over to the Isabella website to get more details on this mighty-morphin' camper!
15. Tesla Truck Camper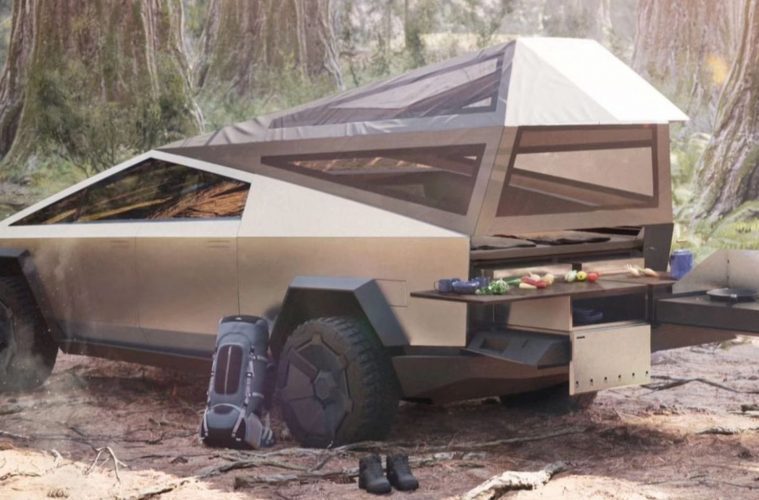 Electric Truck Campers are ripping up all stereotypes in the overlanding world, and none more so than this new space-age beast from the mighty Tesla. With a pull out kitchen in the rear of the truck and a pop-top camping pod that can fit two people for a cosy night under the stars, this range of pop up campers could well be the most exciting that we've ever seen! With Tesla Armor glass, a payload of 1.8T and 100 cubic feet of storage inside the truck, this Polygon-esque Pokemon inspired camper will definitely take its place in campervan history once it launches in 2021.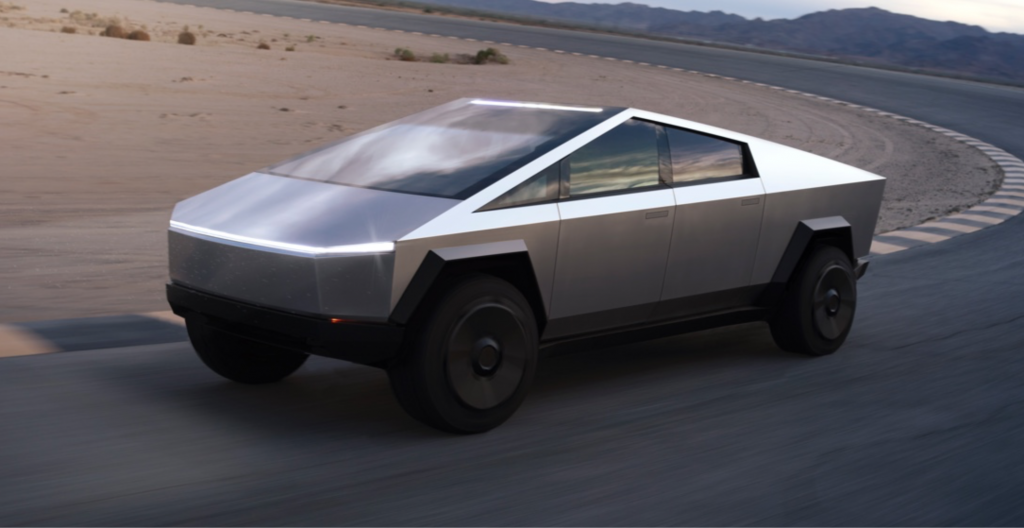 I love the fact that there are no curved lines on this thing (apart from the wheels of course), and while it might not exactly be the kind of truck camper that we're all used to, it certainly proves that you don't need a gas-guzzling titan to get to those remote park-up spots of overlanding legend. The pop-top itself isn't very glamorous and only provides space for a couple of sleeping bags, but in a geometric spaceship with an impenetrable vault-style boot, I don't suppose that really matters!
Thanks for checking out our list of the best pop up campers on the market. Join the Van Clan on Facebook, Twitter and Instagram for more Terrific Trailers and Classic Campers!
More Content From The Van Clan Team!