If you like getting out onto the wilderness but you don't have the room on your drive for a Winnebago or an Earth Roamer, then pop up campers could be the answer. They've got more pull out accessories than a Swiss Army Knife, and most importantly they are free standing once erected, so you can nip into town for supplies whilst your family fight about who's going to be the dog in monopoly.
Air OPUS Inflating Pop Up Campers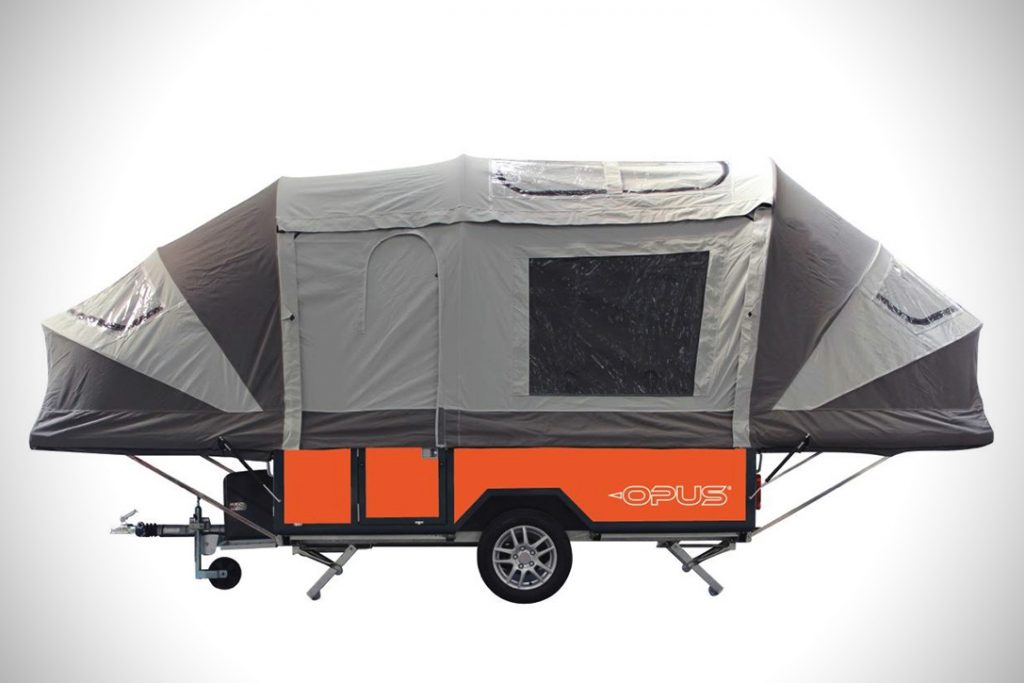 The Air OPUS is a great pop up camper that is sits inside a small lightweight towable trailer. It's fully equipped with everything that you could need for a trip into the wild, and can be stored neatly in you garage when it's not being used.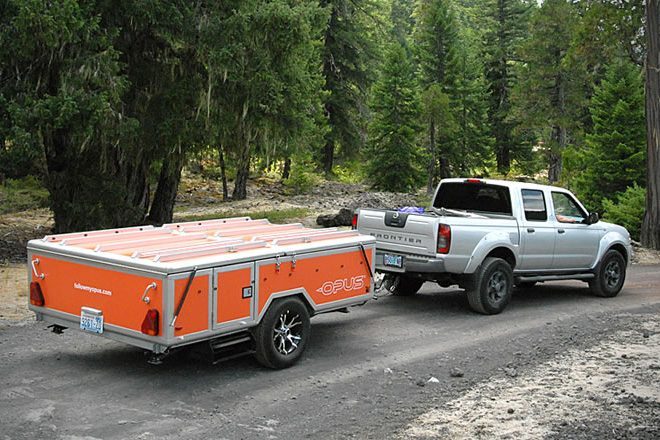 Using something called "Air Pole technology", the trailer opens up and self-inflates into a full-sized camping trailer in just 90 second, using air-tubes and an electric pump (no more messing about with metal poles in the rain!) Taking it down is pretty simple too; just let out all of the air and pack it back into the trailer. Simple!
Looks can be deceiving; it might look simple on the outside, but OPUS pop up campers  all have a fully-featured kitchen, a comfortable seating area, and a built-in bedroom!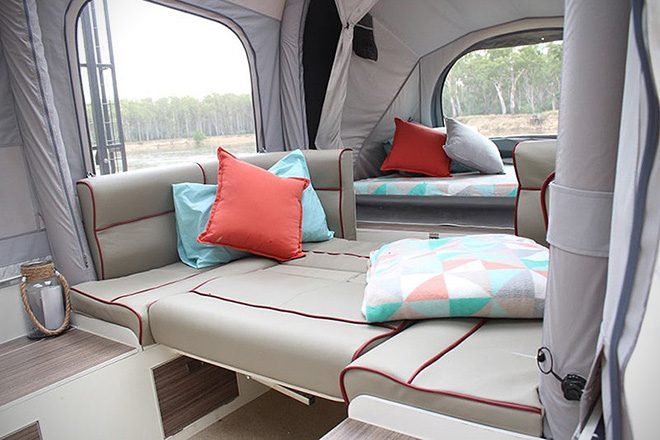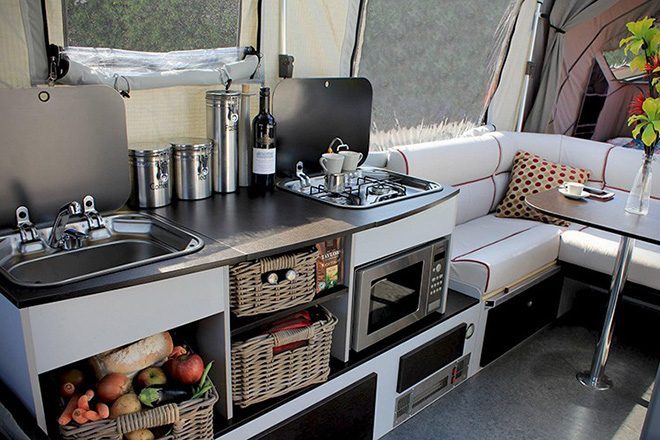 The Air OPUS Inflating Camper Trailer £16,495.
Check out the OPUS website for more info!
Jayco Jay Sport Camping Trailer
Jayco have a tagline of 'Camping Done Right', and after looking at Jay Sport's range of pop up campers it's hard to argue with them. With its retro looking branding you might think that this trailer might be a bit of an old timer. You'd be very wrong.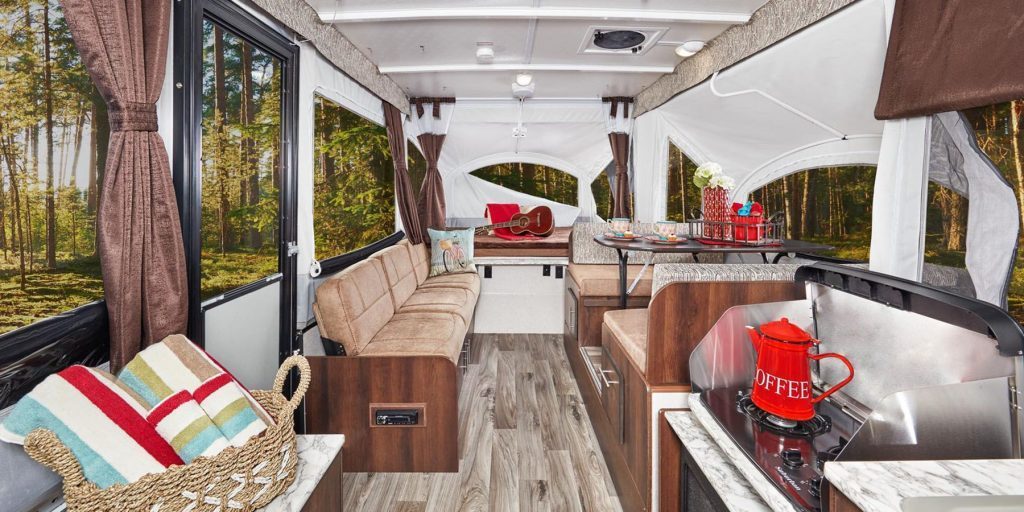 Can you believe that this is inside a pop up camper?! Stylish, airy, plenty of seating areas and furnishings that give it a home from home feel This Jayco Pop Up Camper has heavy-duty, corrosion-resistant frame construction, a domed, seamless fiberglass roof and mildew-resistant aluminium ceiling, and an easy-to-use lifter system with wide lifter posts integrated into tent.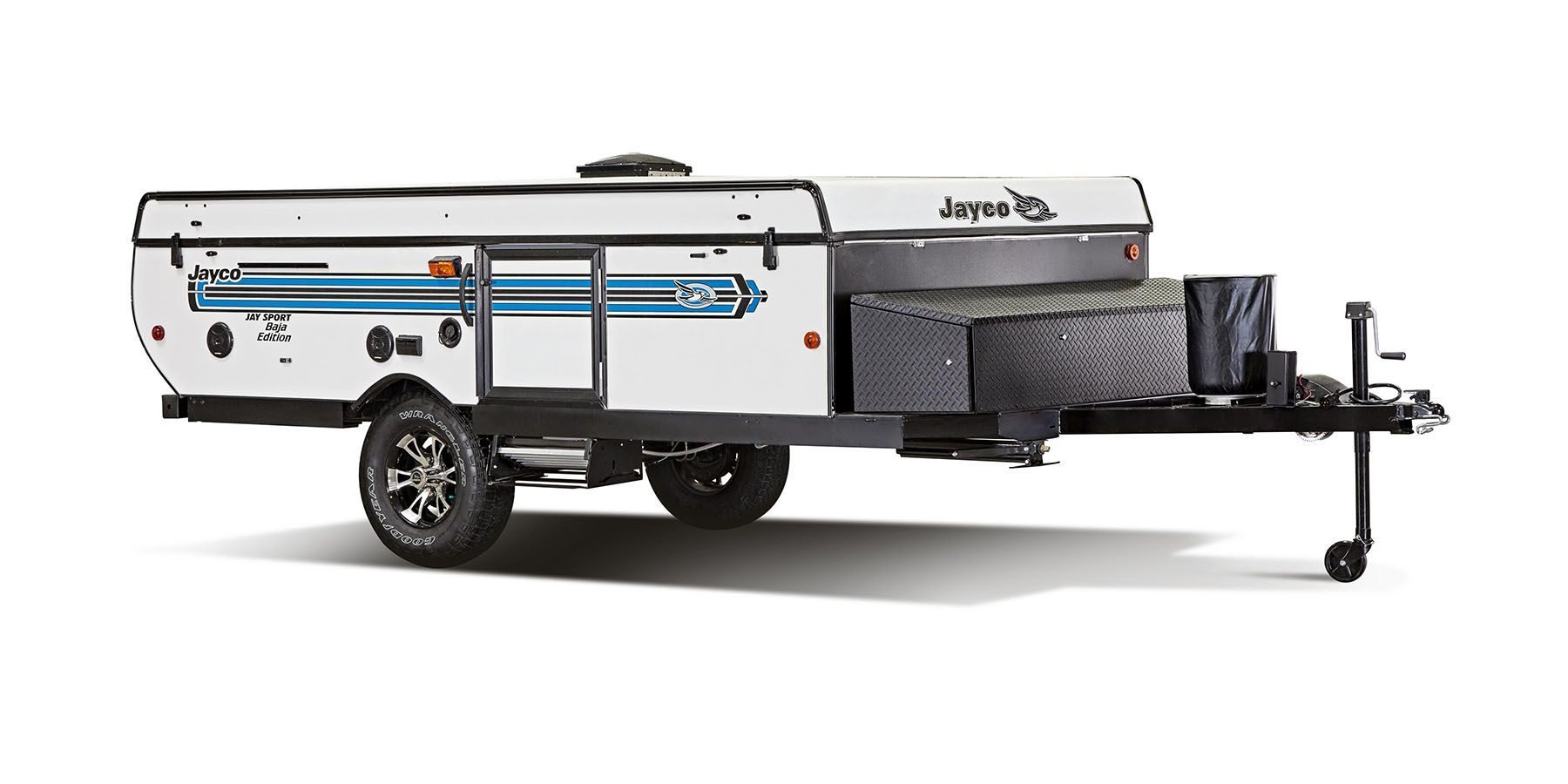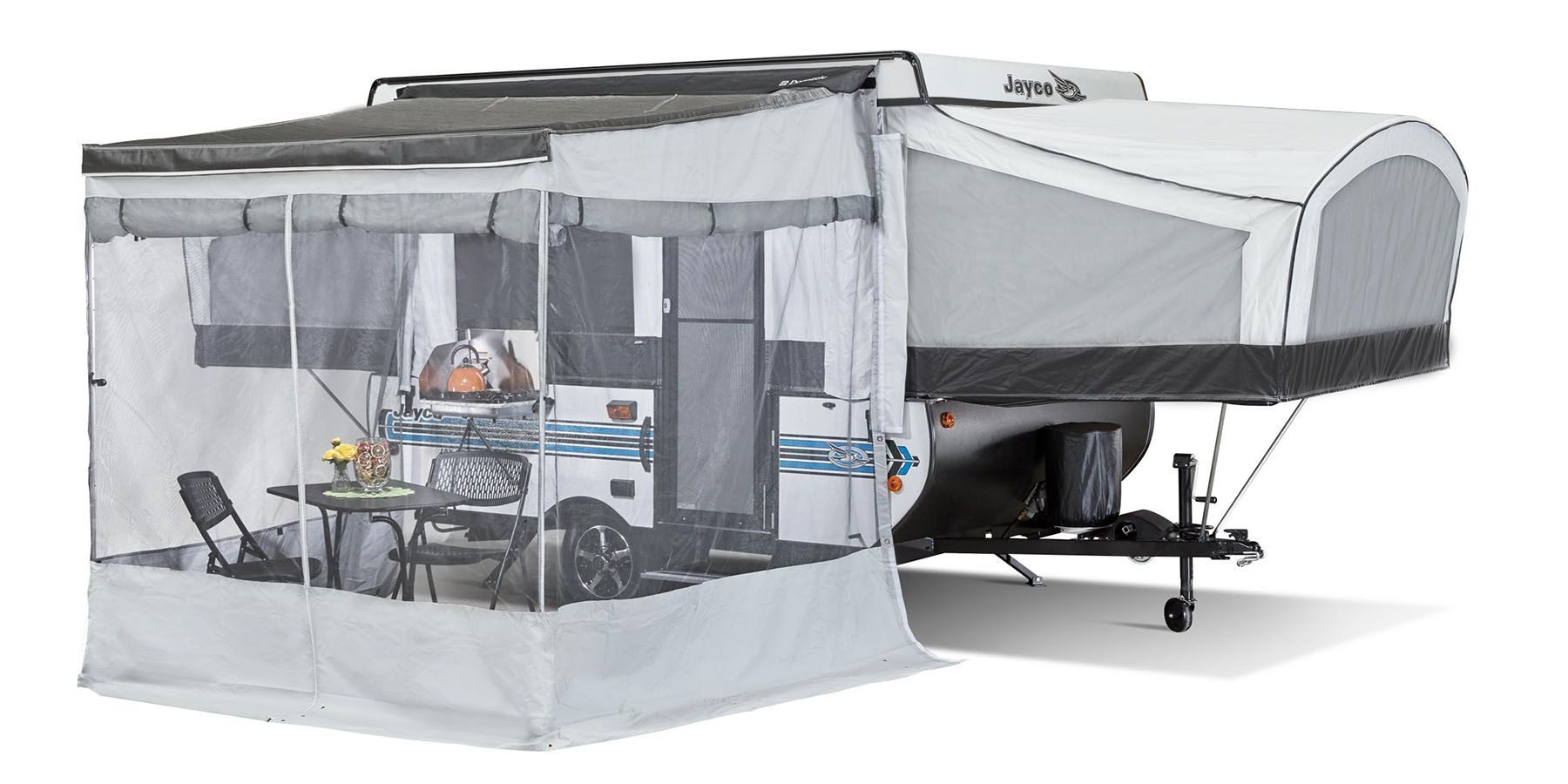 It's a solid choice, and with prices starting from $11.747 dollars it's incredibly affordable too. You can find out more by visiting the Jayco website. 
Rockwood Extreme Sports Package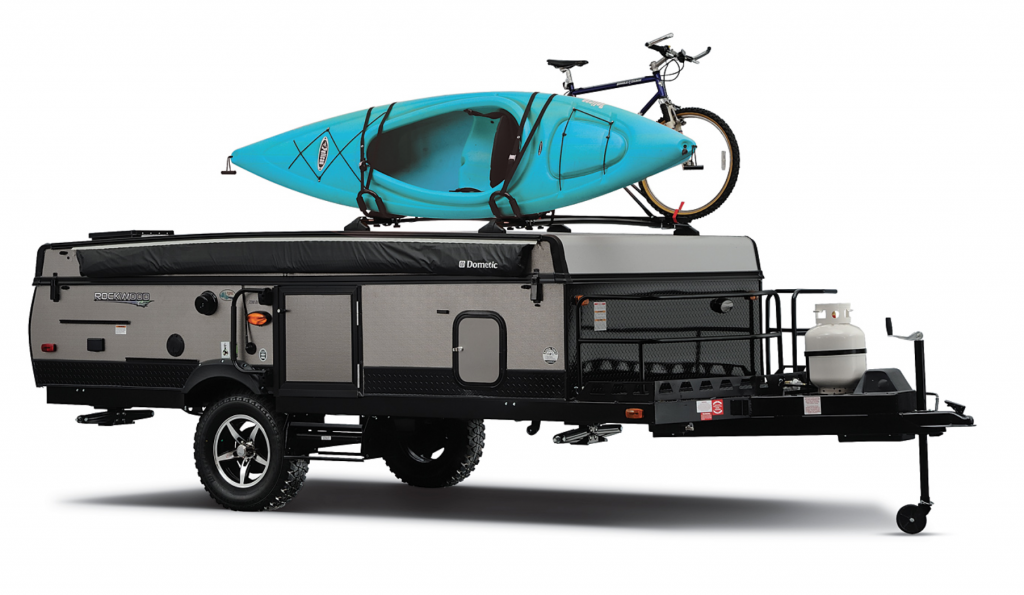 Any trailer that has a kayak and a mountain bike on it is good enough for us. The ESP package has interior features targeted for the modern day nomad, including a Digital Media Receiver with Bluetooth, MP3 player, USB and auxiliary ports, WiFi Ranger WiFi Booster, recharging station with (2) additional USB ports, LED interior lighting and more! Plus the rack on top can secure up to 150 lb of a wide variety of outdoor sports equipment.

Have you seen how good it looks when it's erected too? Wooden units, wood effect floor, there's even what looks like a four poster bed in the background. A top choice if you like to mix adventure with luxury (let's face it, who doesn't?!)
The Rockwood Extreme Sports Package is one of our favourite looking pop up campers to date. It comes in at just under $20'000 dollars, and you can find out more info about it on the Forest River Website.
Conquer Overland Adventure Trailer
Now we've seen the cosy pop up campers, it's time to look at the big guns! The conquer overland adventure trailer takes your house into the outdoors, with more bells and whistles than you could ever need to live in the wilderness.
Conqueror off-road Camping trailers have been safari and outback tested for over 25 years in the harsh and unforgiving environments of Africa and Australia, so we already know that they're rugged and can withstand anything that you're likely to put them through. They're made of metal (so no chance of rot) and come prebuilt with more storage than a your rich uncle's mansion.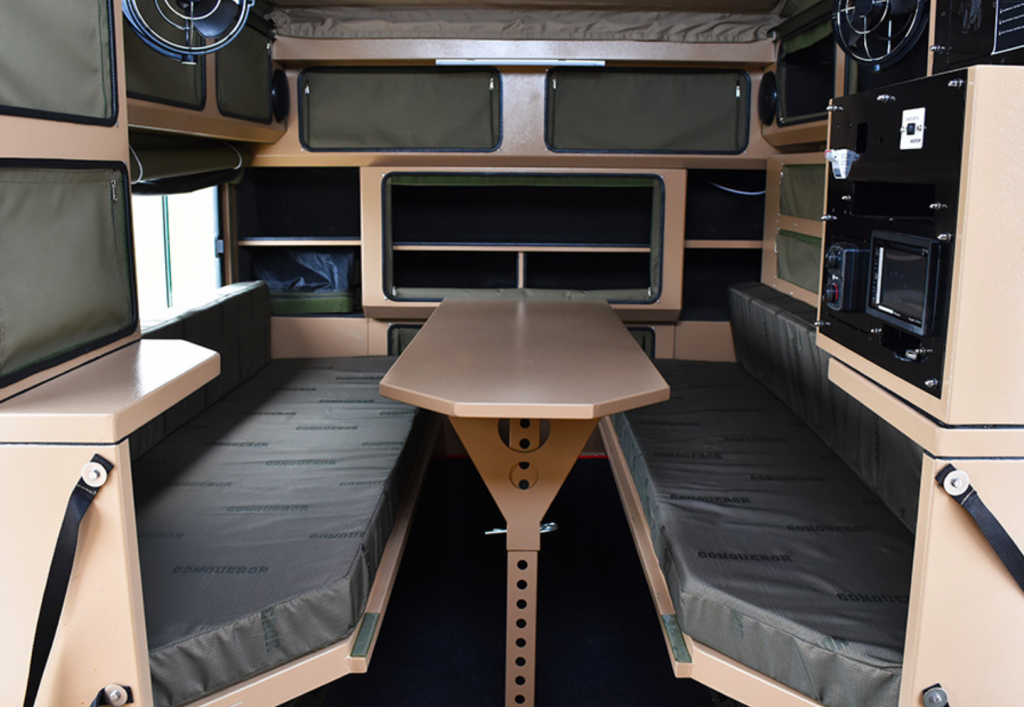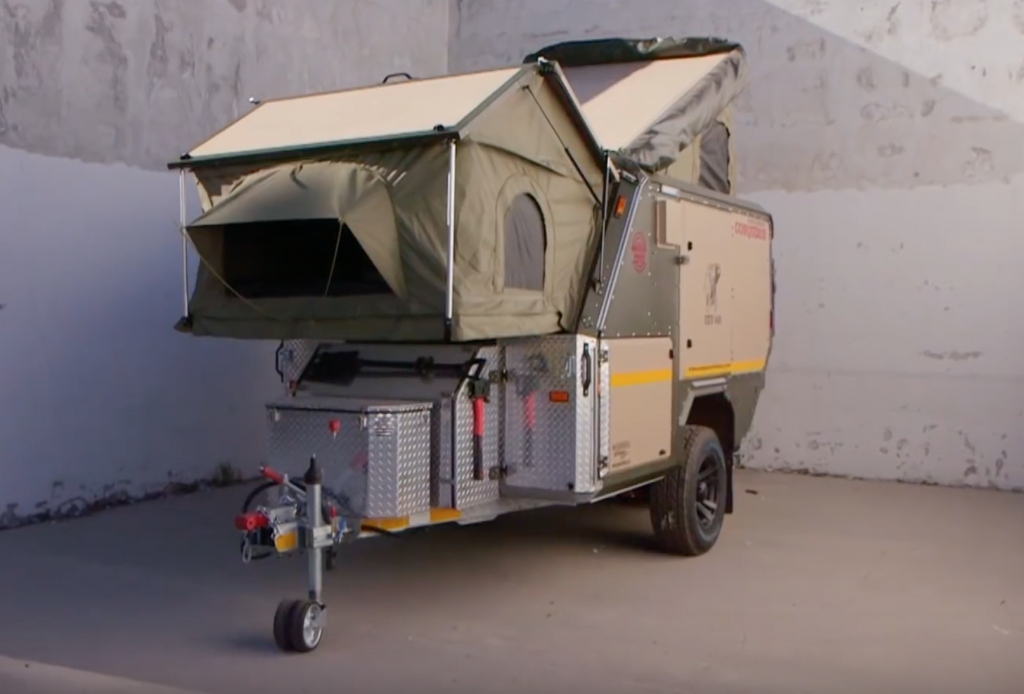 It's not as luxurious as some of the other pop up campers that we've looked at, and it certainly is a bit of a beast compared to the smaller trailers that we've seen, but it's got that rough and ready adventure feel that would make you feel at home in the back garden or in the middle of a sandy desert.
The Conquer Overland Adventure Trailer comes in a variety of sizes and styles, but be prepared to fork out a lot of money for one! You can find out more info (including how much you're going to have to part with) on the Conquer North America Website
Sparrow Roofnest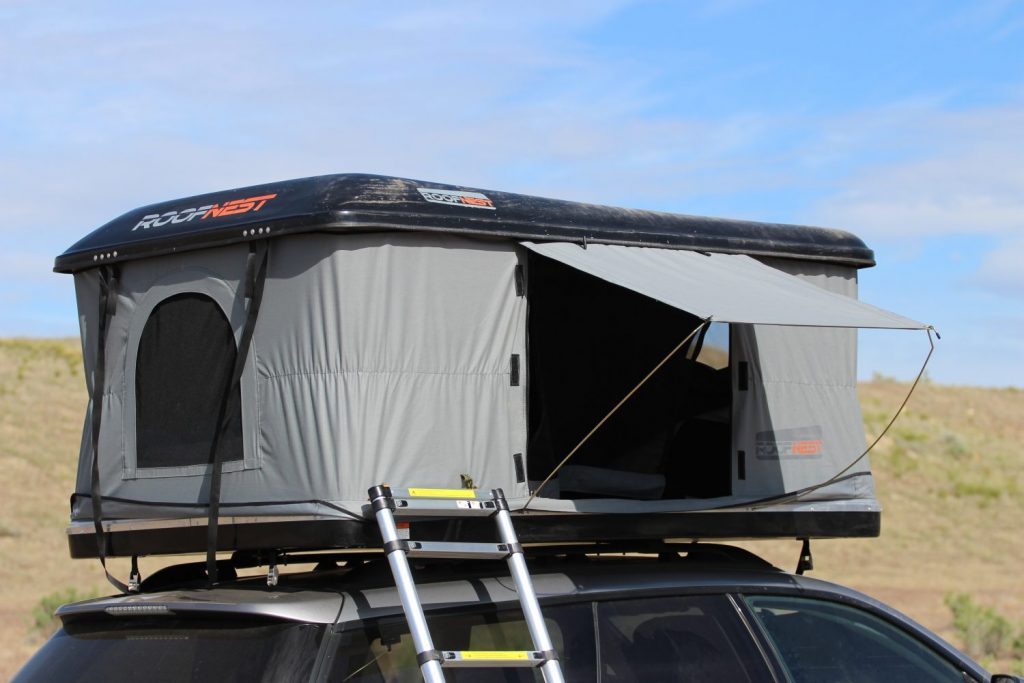 If you don't have space for a trailer, you can always stick a pop up camper on top of your car! From Ferrari to Mini, roof campers can fit on any vehicle and provide a great alternative to lugging around a tent or driving a massive vehicle. They come with a handy ladder so you don't have to clamber up your car, and you don't have to worry about extra floor space; if you're car can fit there then so can you!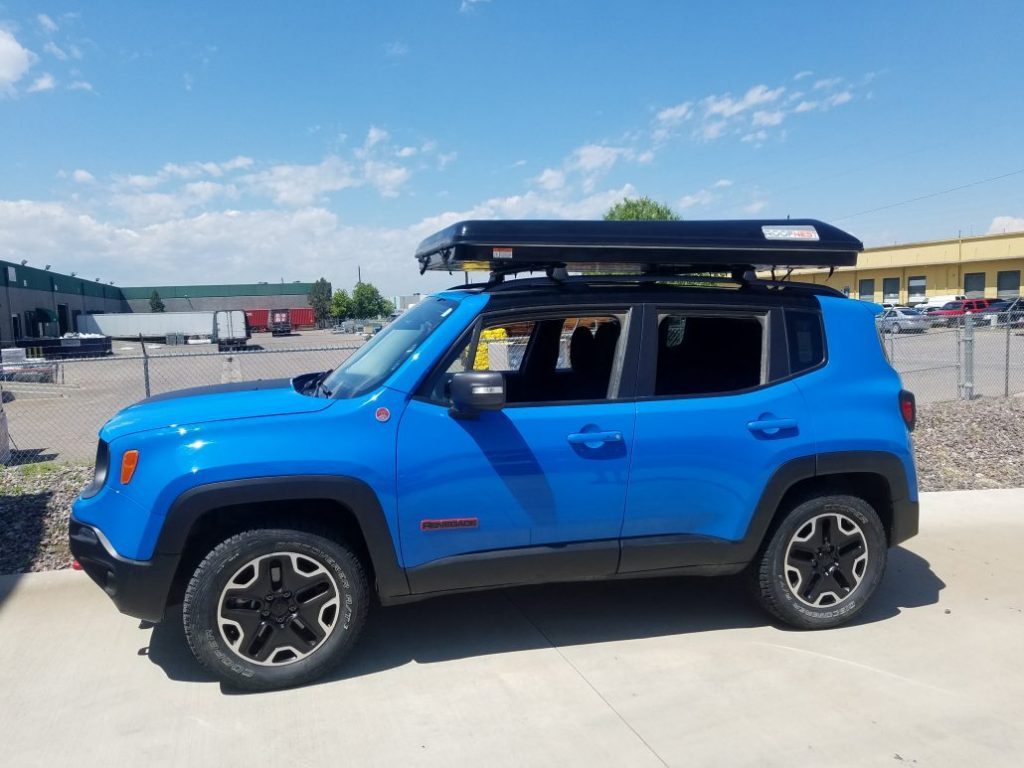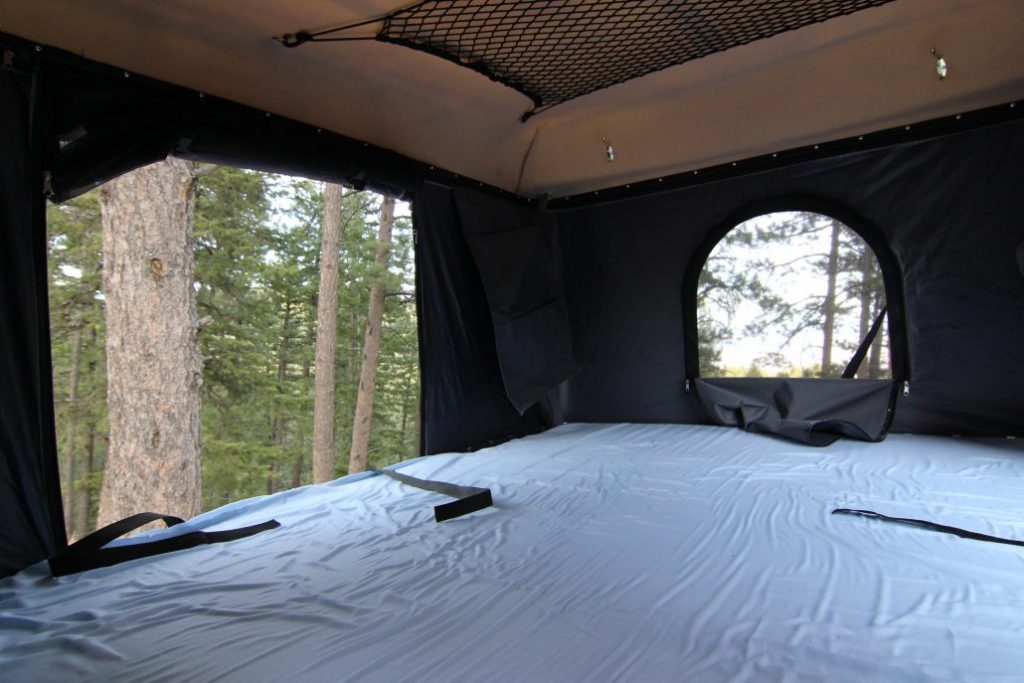 There's not much to look at inside, but if you're the sort that likes to travel light and doesn't need any gadgets to enjoy the wilderness then this could be a good bet!
If you enjoy the idea of a pop up camper on the roof of your car, check out the Sparrow the Roofnest website.
Thanks for checking out our top 5 pop up campers. Join the Van Clan on Facebook, Twitter and Instagram for more Terrific Trailers and Classic Campers!