10 Best RV Brands – Who Should You Trust?
Picking the perfect recreational vehicle isn't easy, nor is it an exact science. There are so many factors to consider when choosing your new rolling home, and with so many RVs out there to choose from, it's hard to know which one will be right for you. Overall height and length, included amenities, storage, electrical set-up; these variables are really down to personal preference and change from user to user. But one thing that we can all be agreed on is which names are the most trusted in the business and which companies can be relied on to provide quality vehicles for the perfect off grid adventure. If you're looking for the best RV brands on the market, then you've come to the right place.
Fed up of the boring 9-5 lifestyle? Want to leave the rat race and give Full Time Van Life a go? Head over to our Van Lifers and Weekend Warriors Facebook Group and join our ever-growing community of vanlifers who have done just that! Be inspired by exciting camper van stories from epic van life travel journeys, pick up vanlife recipes that you can cook on the road, and find out about the best van life essentials that are crucial when living in a van!
1. Hymer
If we're making a list of the best RV brands around, then Hymer deserve the top spot. With a stellar selection of motorhomes and campervan conversions in a variety of sizes and all with comfortable and well-planned interiors, Hymer have made themselves one of the most trusted names in the RV industry. The Hymercar Grand Canyon is a Mercedes Sprinter Camper Van with an optional pop top, taking the sleeping berth up to 4 people. With 4×4 capabilities, an outdoor shower and all of the comforts of home under one (extendable) roof, the Grand Canyon is a tour de force of motorhome ingenuity and class.
The Hymercar range of campervans are built on Mercedes or Fiat chassis'; now you have one of the best RV brands using two of the most reliable base-vehicles for camper conversions on the market today. If that doesn't convince you, then I don't know what will! As well as panel van conversions, Hymer also make some of the most luxurious B-Class motorhomes that are big enough to sleep five people and are affordable enough not to break the bank. Head over to the Hymer website to check out more details
2. Knaus
There's something about Knaus that I can't get enough of. The Boxstar XL is a beast of a camper; the interior is very modern, clean, and everything just works. That's the thing about Knaus; their builds are up to date and current, and they take everyday items that you might find in older camper conversions and drag them kicking and screaming into the 21st century. Magnetic iPad holders, hidden storage solutions; they're essentialy the equivalent of buying a house 50 years ago, except now you can be a digital nomad in a rolling home and travel all over the world.
Multiple layouts, lifting beds, separate sleeping areas, a SkyRoof panorama window for gazing up at the stars; you can get all of this and more in the Knaus Boxstar XL. Their vehicles are perfect for adventure couples of all ages, families, or groups of friends that just want to see the open road. Head over to the Knaus website to check out the Boxstar XL in greater detail and to find out more about the different motorhomes in their catalogue.
3. Winnebago
Everyone knows the next name on our list of the best RV brands, but the product that we're looking at in this next section might surprise you. Winnebago are usually known for making big Class A motorhomes, the kind that you usually see congregated around the free-aires in the Algarve, but the 'Era' is a stylish van conversion that looks like a cross between a swanky London apartment and a mobile meeting room. If you owned one, then you could probably work and live out of it at the same time!
Based on the Mercedes Sprinter chassis, the Winnebago Era is a slick looking camper for the coolest of adventurers. It comes with a roof rack, awning, exterior speakers, and 4×4 capabilities, and the inside is just as impressive. Cool stainless steel tones mixed with the black cabinetry make this thing the real deal. Premium leather upholstery and dimmable LED lighting create a smooth tiny house that can be used a full-time home or a romantic getaway. Winnebago know how to make a proper motorhome; they've been doing it since 1958 after all! Head over to their website for more details!
4. Pinnacle Vehicles
The Pinnacle Finetza might be a little less well known than the other vehicles in this list, but once you've checked out this luxury motorhome, we guarantee that it will go straight to the top of your own best RV brands list. Looking for all the world like a land-scouting version of Air Force 1, the Finetza is stylish RV with multiple rooms, a built in bathroom, two widescreen tvs, soft lighting, and an extendable bedroom at the back that pops out when the camper is stationary. How cool is that!
The Pinnacle Finetza has recently been awarded the German design award for excellent product design, and after looking at the pictures above it's not hard to see why. With a wide spectrum of opportunities for customising vans available to the buyer and an award-winning team of experts behind the vehicles, Pinnacle are the ones to watch. If you want a luxury RV that is miles above the ordinary, then head over to the Pinnacle Vehicles website!
5. Airstream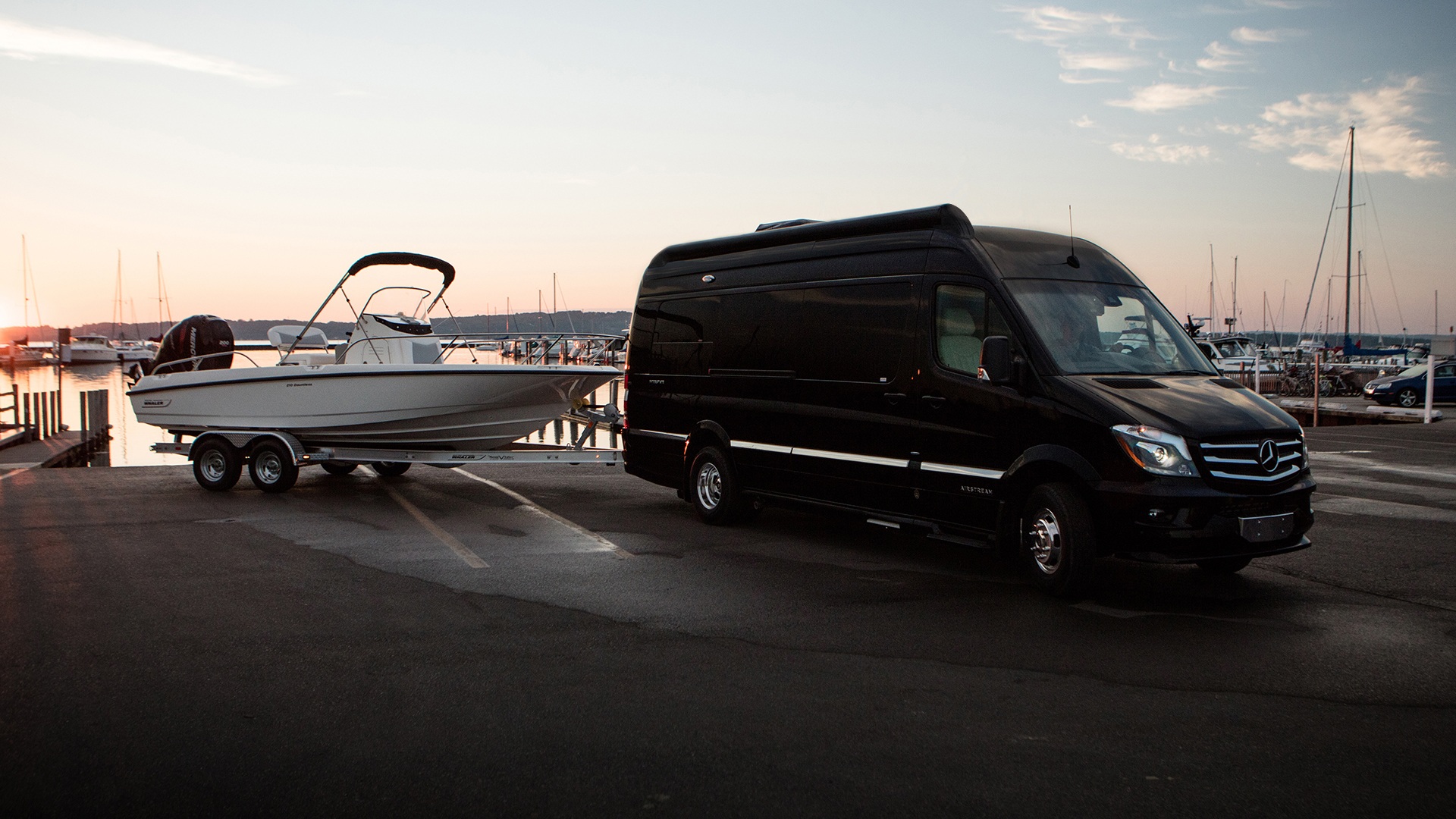 Whenever we see a list of the best RV brands on the market, we always see the classic Airstream trailer somewhere among the other equally impressive vehicles. It's a great trailer and a suave looking RV, but Airstream make a heck of a lot more than the shiny futuristic dome house that we all know and love. The Interstate EXT is Airstreams luxury camping vehicle, based on the ever-reliable Mercedes Sprinter and furnished with some seriously cool feautres included as standard (50+ of the very best in class, as a matter of fact).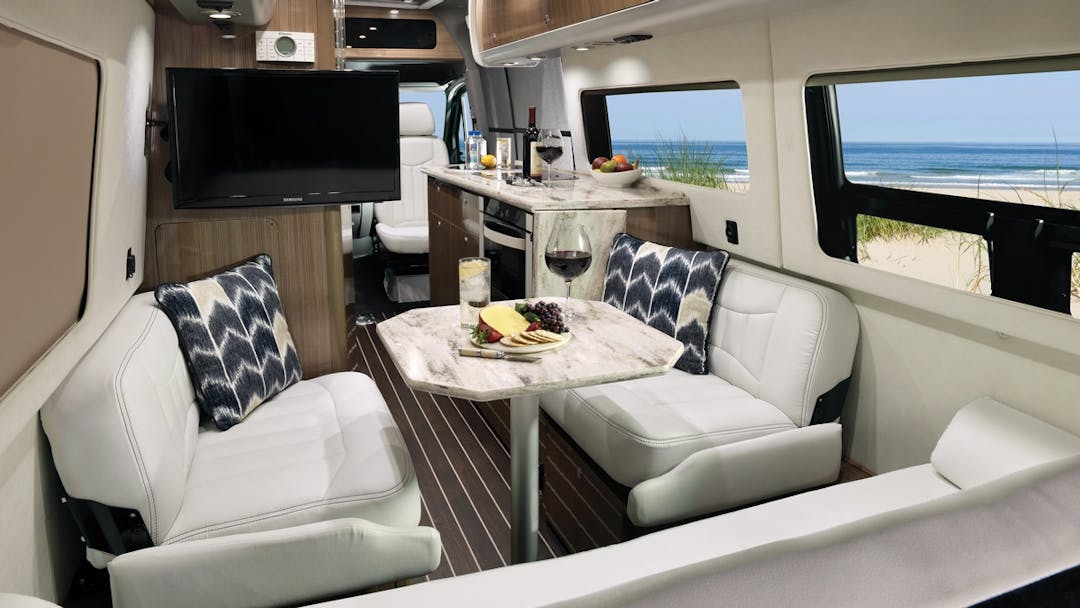 This is luxury camping on a whole new level. Combined with the fact that the Interstate can seat up to nine people and comes complete with all of the bells and whistles that you would expect from a first-class Mercedes Benz driving experience, this Airstream Camper is sure to turn a few heads whenever you pull up at the campsite or collect your friends for a trip on the open road. Enjoy the same level of Airstream style and build satisfaction in a self-contained RV experience like no other. Head over to the Airstream website to find out more information and to check out what other exciting models they have in stock.
6. Newmar
Not to be confused with the Brazilian football genius, Newmar make some of the tidiest luxury busses that we've ever seen. They're one of the best RV brands for touring coaches, and the insides of their conversions are perfectly suited for long term living in any season. The 2020 Dutch Star is the most popular RV in the Newmar lineup and boasts a master bedroom that looks as though it was pulled straight out of a stately home!
Honestly, I've said this a lot in articles, but this looks way better than some of the houses that I've lived in during my life so far. Flexsteel furniture, cathedral ceilings, and an all-rear bath feature as standard, not to mention a retractable Samsung 50" 4K LED TV with a Sony® Blu-ray player and a Bose® Solo 5 sound bar. Head over to the Newmar website to check out more pictures and to find out more about the 2020 Dutch Star!
7. Entegra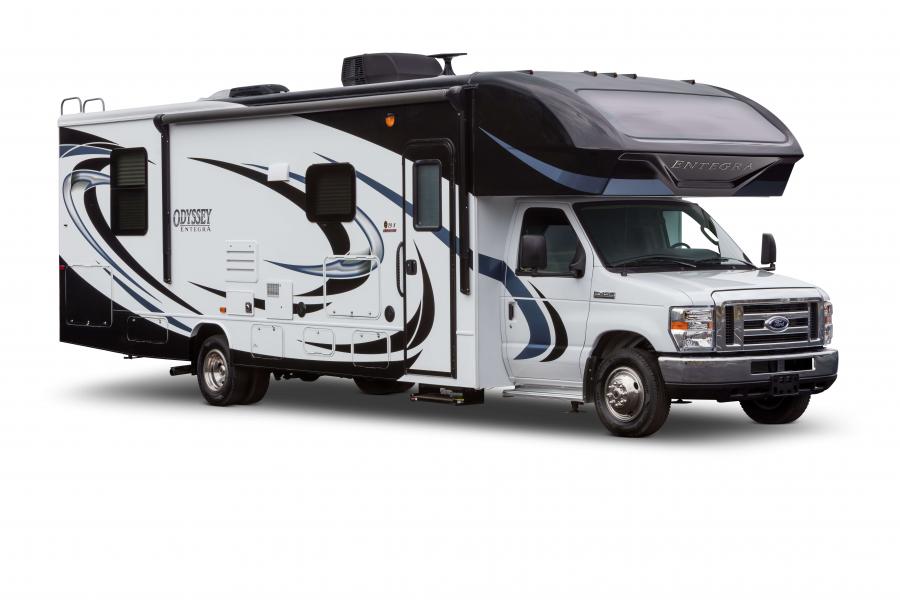 Keeping on the theme of large touring motorhomes, the Entegra Odyssey is a one-stop-shop for all of your glamping needs. Entegra are another company on this list of the best RV brands that our readers might not have heard of, but their quality and style speak for themselves. Designed to navigate life's adventures, the Entegra Odyssey comes with a spacious dinette, a living area, built-in toilet, and plenty of storage compartments for you to fill with your clothes, camping equipment, and top cooking accessories.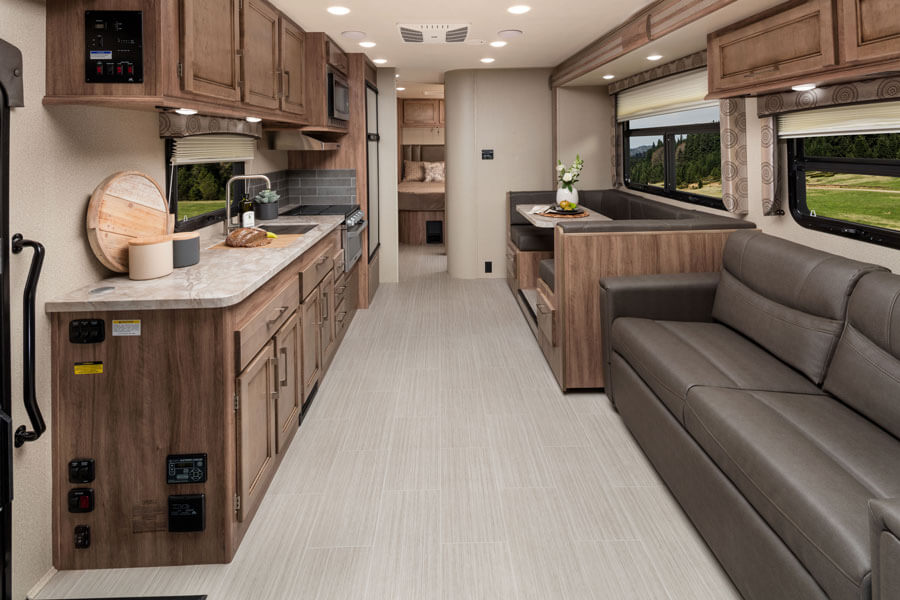 The Odyssey features a galley kitchen that you'll find in many of Entagra's builds and revolves around a classy mahogany theme that Ron Burgundy would be proud of. Built onto a Ford E-450 chassis, this RV is perfect for long road trips with family or for the digital nomad that likes to work in the great outdoors. With multiple Class A and C vehicles available, Entegra are sure to have something that will tick all of your boxes. Head over to their website for more details.
8. Coach House
Coach House make pimped out campers that turn heads wherever they go. They have more comfort than the finest hotel rooms, and they're built to last. The Platinum III is also built onto the chassis of a Ford E-450 and comes complete with a pull out awning, outside shower, exterior storage, and a 30,000 BTU furnace for those cold winter nights. That exterior paint job is funky-fresh too, and check out those shiny hub-caps. Daaaang; this thing is nice!
The inside of the Platinum III is just as impressive, with a full-sized fridge-freezer and a microwave oven available for hungry traveller to make tasty treats on the go. It comes with a spacious kitchen prep area, twin beds in the back, a bathroom, a 1'200watt sine inverter, and a WiFi booster. What more does a person need! Head over to the Coach House website for more details about the Platinum RV range
9. Benchmark Vehicles
Out of all of the companies on our list of the best RV brands, Benchmark Vehicles may take home the prize for the camper with the best name. Meet the Argonaut, a gnarly Mercedes Sprinter conversion that was built for the best off-road adventures. Complete with a 4×4 wheel package, roof rack, utility ladder, and an air-intake pipe for any forays into the drink, the Argonaut is an overlanders dream come true. Heck, even Jason would be proud.
The Argonaut looks simple and sophisticated on the inside with the bare essentials that you need for living off grid, all of which are crafted with precision and care to make a functional, modern tiny home from home. Benchmark Vehicles make a variety of adventure campers for outdoorsy wanderers and thrill-seekers alike, and they come in a variety of styles, sizes, and colours depending on what you're looking for in your recreational vehicle. Head over to the Benchmark Vehicles website to find out more!
10. Hobby
Hobby are somewhat of a household name when it comes to the best RV brands on the market, and while you may be used to the traiditional motorhomes that they produce, you might not be overly familiar with their new range of camping car van conversions. The Vantana Premium looks a little bit like the kind of RV that Darth Vader might take a holiday in, which instantly makes it a winner in our books.
The Vantana Premium comes with a 130 hp engine and features intriguing gadgets on the inside that can all be controlled by the Hobby Connect app, even while you're out on the trail. Clever storage solutions can be seen in pretty much every available surface that isn't being used, making this the best camper van for family living or long-term trips on this list of the best RV brands. The slide-out table and communal seating area is a nice touch for the family that likes to dine together, and the spacious sleeping area in the rear of the van is perfect for cosy couples or kids that don't mind bunking with their parents. The Vantana also comes with lots of adventure add-ons for the rear of the camper too. Head over to the Hobby website for more details!
More Content From The Van Clan Team!