Seeing the world can be expensive; if you don't keep your van life costs in check, then you might soon find your mobile phone screaming alerts at you from your bank account. For many, the prospect of making their own camper conversion or buying a monster camper adventure bus just doesn't fit in with their day to day lives and income stream. It might be a waste of money to have a modified campervan just sitting on the drive all year growing moss, (that's why you should use Outdoorsy to help people who want to rent an RV; click these articles for more information), especially if you're a weekend warrior that just likes to get out every now and again. That's where the Cricket Camper from Taxa Outdoors comes in, a lightweight, tiny trailer that looks as though it just plummeted down from a space cruiser!
Trailer Life is becoming a huge movement all over the world, with many vandwellers and tiny home enthusiasts all over ditching their campervan conversions for small travel trailers. You might have seen our article on the Taxa Mantis Trailer, the Cricket's off grid trailer bigger sister, but don't be fooled into thinking that bigger means better (it just means that it's bigger…). The Cricket Camper has everything under one nifty pop top roof, providing a spacious place to work for the digital nomad who likes to hustle on the go or a comfortable living area for the travel couple who love the idea of towable affordable tiny homes. Say goodbye to expensive holidays and hard to tow trailers; alternative living just got more interesting, affordable, and downright funky. 
Does full time van life get you feeling pumped? Fancy yourself as a weekend warrior? Join our new Facebook Group and become part of our ever-growing community!
The Cricket Camper – An Escape Pod With Attitude From Taxa Outdoors.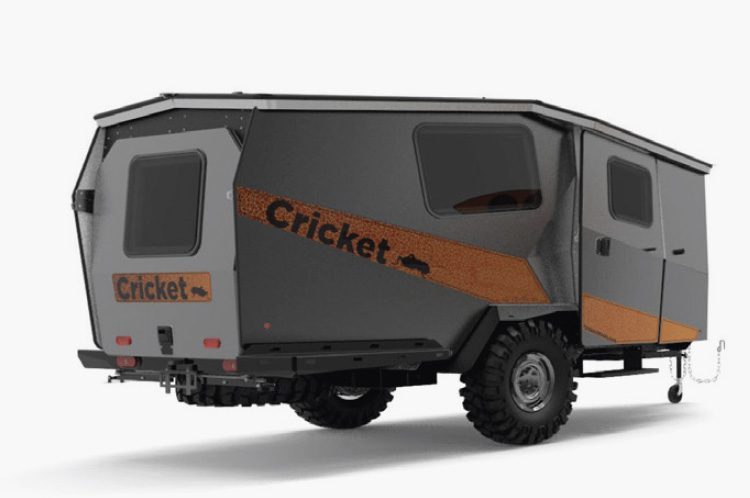 Before we delve into checking out this awesome off-road trailer, let's take a look at this crazy design. You might think that the overall design looks a bit as though it's come from the mind of an astronaut, and you'd be right! The side door on this NASA inspired vehicle almost looks as though C3-PO might walk out of at any second. The cool angled roof and overall shape remind me a little bit of a Jacob Witzling camper conversion, and every bend, ridge and slant on this travel trailer has a very special purpose. 
Taxa have worked very had to make sure that the Cricket Camper trailer is lightweight. They want to make sure that you can take this camper wherever you want, whenever you want without having to ask the neighbours to come round to help you attach it. It won't need the local police force to give you an escort when you're driving up hills, and it certainly won't eat away at your fuel consumption either.
The Cricket camper has a dry weight of 1450 lbs (when we saw dry weight we mean without any extra bits or your van life essentials, we're not planning on driving it into a lake to weight it). It's a lightweight alternative to some of the other off road camper trailer models like the Lotus Caravan. At 15″ long the Cricket Camper is much more manageable to manoeuvre than the Mantis, making it a joy to tow no matter if you own one of our top eco campers or a family saloon car!
What's On The Outside Of The Cricket Camper?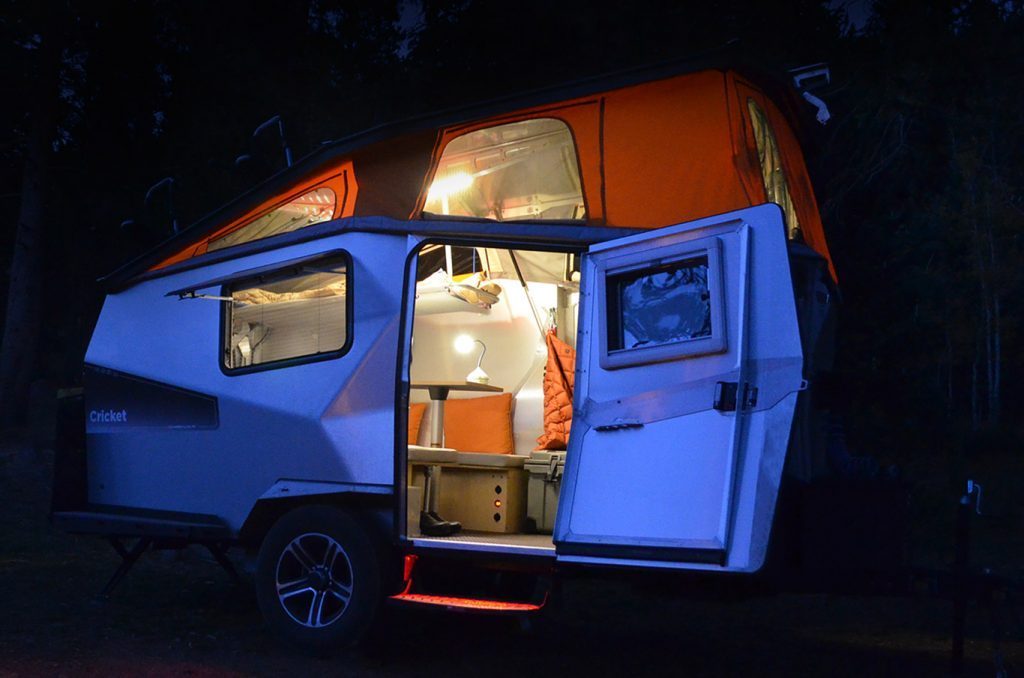 Half camper, half Tim Burton house, the Cricket Camper comes with an amazing LED porch light that turns your camper into a haunted house whenever the sun goes down. Apart from this neat little trick for any horror fans out there, this pop up trailer can sleep two adults and two children thanks to the added room provided by the pop top! It's my opinion that you should be able to stand up in your camper, especially when living off grid for long periods, and a pop top instantly makes any small trailer more comfortable. Not only that, but it also provides superior ventilation, keeping your camper nice and fresh.
The trailer itself is made from Kynar-Painted & UV Treated Aluminum Panels, which sound like parts of the Millenium Falcon (queue Chewbacca noise), and the aluminium frame has been laser cut to ensure that everything fits together like a jigsaw. As well as Tempered Tinted Windows and a Torsion Axle Suspension, you'll also find Two 20lbs Liquid Propane Tanks with covers to keep you and your top cooking accessories whipping up those vanlife recipes for longer, and a full 15 gallons of fresh water with a matching grey water tank for waste. The 15″ all terrain camper tyres will make mincemeat of any ground, and if you work up a sweat on the road, then you can use the exterior camper shower to freshen up before tea time.
One of the main selling points of the Cricket Camper is that you can store it in your garage when not in use, and with front stabilising jacks and gravel guards available as optional extras, you can park this trailer pretty much anywhere. You could even use it as a conservatory or a reading room on your drive when you're not on the trail!
What's Inside The Cricket Camper?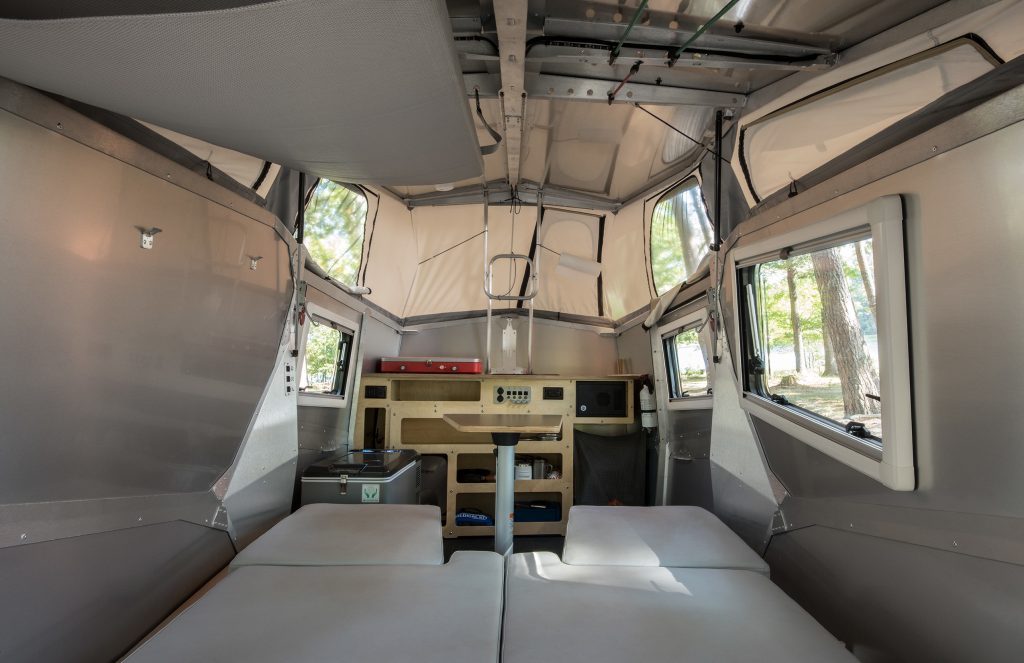 Some of the pop up trailer and expanding trailer models that we write about lose points when you get to the interior, and although the Cricket Camper is a little on the bland side one you open the door and step inside it is still a fully functional living space with everything that you need for your off grid adventure. Maybe we're being a little bit unfair; the Cricket Camper does have a marine grade birch wood countertop after all, which would certainly withstand my intense food preparation techniques. And if you spill anything on the vinyl floor, then it's not going to take an age to wipe up.
What else is there in here? Well, you can make use of a multi-speed fan to let steam out and fresh air in, and there's a specially designed hot air and water system integrated into the camper to keep you nice and toasty and your pots and pans nice and clean. The Cricket Camper comes with a stove and sink combo, and you have the option of adding a fridge/freezer and a toilet into your build should you wish.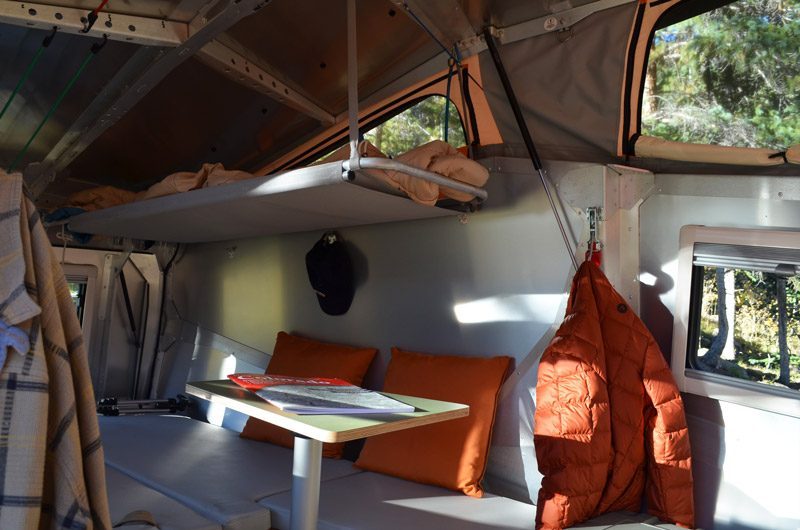 But what about if you want to look out and take in the views? Four swing windows open up to let air in and also give you a chance to sit and watch the world go by with a cup of tea in your hand. They each have a shade that you can pull down when you want to have a sleep in, and five mesh windows in the tent side give you a refreshing breeze and stellar views from all angles. If you're after spectacular vistas, then you can sit and gaze out of the 32″ x 20″ picture window and get some inspiration for your next book/painting/lazy daydream.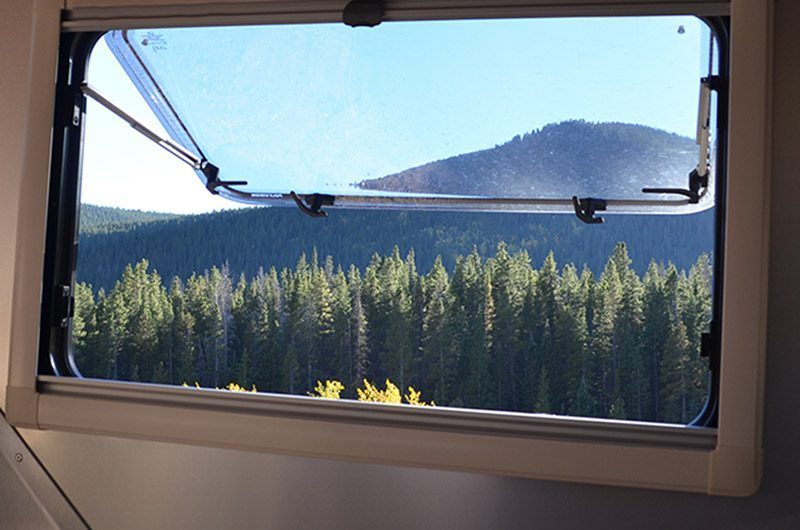 Can I Charge Up On The Go
Remember when T.V's were 'H.D Ready'? Well, the Cricket Camper is solar panel ready, with all of the wirings in place should you want to add a solar package to your trailer. I would highly recommend doing so as it means that you can stay off grid for longer and not have to rely on a portable solar charger to keep your devices topped up (though the one in the link is pretty good if you are looking for one to add to your electrical arsenal!).  Other optional extra's include a roof rack for any extreme sports gear that you might want to bring along with you on your adventure, and a fully enclosed shower tent so you can get naked without having to worry about the paparazzi snapping your private bits.
Final Thoughts…
The Cricket Camper is making a big noise on the tiny trailer scene, and it's not hard to see why. It looks the part, it's easy to tow, and it provides a comfortable setting for any off grid living adventures. The pop top makes it accessible for the taller van life enthusiasts amongst us, and everything is neatly designed to maximise the amount of living space inside the camper. With a queen size bed for lazy days and lots of hidden storage solutions, this camper comes with pretty much everything that you need right from the dealer's forecourt. As I said before, I would recommend getting solar straight away. You won't have to spend all of your time chained to the electrical hook up cable, and you can enjoy life off the beaten track away from all of the other holidaymakers.
We couldn't find a price on the TAXA website, but a quick search through a dealers list gave us a price of $17'000. That's a lot less than some of the cheap camper conversions that we've covered here on Van Clan, and you also get a heck of a lot more for your money. If you own a truck and want to make a 4×4 camper that knows no bounds, then perhaps you should consider buying one of these pop-top units from Four Wheel Campers for the same price. Truck life isn't for everyone, but if you prefer camping at the very top of mountains then this could be the way to go!
More Content From The Van Clan Team!
Join the Van Clan on Facebook, Twitter and Instagram!