10 Best Truck Campers For Off Road Exploration
If you're thinking about getting off the grid and exploring the wilderness, then you're probably spending a lot of time considering which are the best truck campers on the market. Off road trucks don't just come in a 'one-size-fits-all' category. True, most of them are beastly and a force to be reckoned with, but there are so many different shapes and styles depending on the type of terrain that you want to cover and indeed the type of life that you want to live once you're out of the city and into the wild.
Do you like the idea of Full Time Van Life? Head over to our Vanlifers and Weekend Warriors Facebook Group and join our ever-growing community! Are woodland retreats more your thing? Follow our sister channel, Cabin Clan, for hand-build homes and superb shed house hideaways!
Not everyone wants to spend $65'000 on a brand new truck when they have a perfectly good Chevy sitting on the driveway, and I would imagine that even fewer people have the money to shell out on a million-dollar off road bus that looks more like the oval office on wheels. That being said, there are some incredible rides out there that have blown our minds when we've had the chance to take a look inside them, and they more than justify a place in our list of the best truck campers for the sheer amount of time and effort that it has taken to make them a reality.
From affordable truck life classics to off-grid beasts with more gadgets than a James Bond car, our list of the best truck campers has something for everyone and every scenario. So dive on in and take a look as we kick off with an affordable camper that's taking the United States by storm!
1. Project M – Four Wheel Campers
Road exploration doesn't have to mean seeing the world in 5-star luxury. We've spent countless generations camping in woods with nothing but a pack of smores and a bit of tarpaulin to keep the rain off our heads; camping is meant to be simplistic, that's why it's so accessible and fun! Four Wheel Campers know that that the heart of camping lies in what you see around you and not how big a fridge or how powerful a generator you have, which is why their new Project M range of campers is proving to be incredibly popular with camping enthusiasts and weekend warrior truckers alike.
At just $10'000, these removable camping pods have the bare essentials that you need to keep warm, safe, and dry out on the road, and they're spacious enough to store all of your bulky outdoor equipment, including an ATV! The inside of the truck camper has a pull out bed that doubles in size, the FWC signature pop-top with gas-assist lifters, and four windows that can be adjusted to let in light, air, or blacked out completely when you need to catch up on your sleep.
Project M doesn't come with any fancy bells or whistles as it is designed to be an affordable way of getting into the van life, but extras can be added such as solar power, T-track, surfboard racks etc for an additional cost. Head over the Four Wheel website to find out more about their new camper and their other pop-top models, or take a look at our dedicated article on the Project M camper!
2. Rivian Electric Truck
The hype surrounding the Tesla Truck Camper has helped to introduce the idea that electric trucks can be just as gnarly as their diesel counterparts, all while making the world a cleaner, greener place. If, however, you're looking for a truck that still looks like a truck and not the lovechild of a protractor and a platypus, then this electric truck from new kids on the block, Rivian, could well be one of the best truck campers for you. We could talk for hours about this truck and how excited we are about its release later in 2020, but we'll leave you to read up about what this beast can do over on our dedicated article on the Rivian Electric Truck.
When it comes to camping and living off grid, the Rivian electric truck has lots of hidden tricks up its sleeve. Specialising in electric adventure vehicles, the company has built a nifty gear tunnel that can house a pull-out kitchen, and they have also created a space big enough for a roof-top tent that's the perfect size for you and your partner or friend to sleep in comfortably. This stylish truck can be converted into a fully-fledged camper in a matter of minutes!
As well as a 19L fridge and more storage than you can shake a stick at, the kitchen unit in the Rivian truck has a two-burner induction cooktop that is 100% electric. There's no need to faff around hooking up external gas bottles, and running the hob for a week will only deplete the battery by around 11%. Head over to the Rivian website to find out more!
3. EarthCruiser
We were lucky enough to take a look around this next vehicle in our list of the best truck campers at the 2019 Overland Expo, and it certainly did not disappoint. The EarthCruiser is a super-sleek flatbed truck camper with an electrical system more advanced than the International Space Station. From the cosy dinette to the inbuilt water filtration and purification system, every element of the EarthCruiser has been designed to make your life on the road less stressful and 100% more comfortable. The pop-top, as well as countless other features in the camper, can be controlled via a tablet computer, and the 2000W inverter is more than big enough to power and charge all of your devices and gadgets.
The neutral colour tones inside the EarthCruiser make for a calming and relaxing space that you and your family can enjoy whatever the weather. Thanks for the webasto heater and the built-in air conditioning, this truck camper can be used all year round and driven over any type of terrain with ease. Snow, sleet, rain or mud are no match for those all-terrain tyres; they're so big that you have to use a hand winch to lower the spare down from the back of the vehicle! There are too many exciting facts for me to tell you all about right here and now, so head on over to my dedicated article on the $100'000 EarthCruiser camper and read all about it!
4. Arctic Fox 1150 – Northwood
This thing might look as though it's too heavy to fit on a lorry, never mind a truck-bed, but the Northwood Arctic Fox range of campers are considered by many to be the best truck campers of our generation. With extending sides and an over-cab sleeping area that makes a hotel suite look like a $10-dollar-motel, this larger-than-life slide-on camping pod has everything that you could possibly need and more for a week away in the wilderness.
Designed for flatbed trucks, this hardshell camper can sleep up to three people and weighs in at a whopping 3'953lbs. The sturdy support poles allow the user to keep the pod erected while driving the truck away and also provide a means of storing the camper on a drive or in a garage when not in use. I'd have this thing up in the garden 24/7 as a games room with all of my best N64 games; it would make the perfect man cave!
See what I mean about that over-cab bedroom area? While the outside of the Arctic fox might look sleek and white like it's four-legged namesake, the inside of the camper is full of comfortable furnishings and luxury accessories designed to make you feel at home even when you're in the middle of a dense jungle or an arid desert. The kitchenette has tonnes of storage for all of your top cooking accessories, and campers can whip up some of their favourite van life recipes using either the gas oven or microwave oven (depending on how lazy they feel). The camper can hold 59 gallons of freshwater, 35 gallons of grey wastewater and 43 gallons of black water. That should keep you away from the campsite and out on an off grid adventure for longer! Head over to the Northwood website for more information!
5. Four Wheel Campers
I've had the great pleasure of living in one of these Hawk Four Wheel Campers on a number of occasions now, and I'm still amazed by how well designed they are and how everything just works without any worry or stress whenever I climb inside. It's no wonder that you see these things absolutely everywhere when you're driving through the States, and with new Four Wheel Campers stores opening all across both North and South America, these pop up truck campers will soon be the best truck campers in the entire world!
Each camper takes around 2 months to build due to the sheer high demand from customers all over the USA. They are hand-built out of aluminium for a flexible yet sturdy frame that can withstand pretty much anything that you throw at it. We've seen trucks roll over and have to be written off, but the campers on the back have still looked as good as new. I don't want to say that they're indestructible, but they're pretty close!
The inside of the camper can be customised completely so that you get the exact living space that you want from your build. Standard features are a BTU furnace controlled by an analogue slider; solar panel hook up points and a built-in regulator; a battery and water level monitor system; a spacious fridge for all of your meats, treats, beers and perishable items; and the signature FWC pull-out bed that converts into a super-king-sleeping-legend size mattress once the additional seating cushions have been arranged. With prices starting from around $17'000, you really can't go wrong with one of these Hawk truck campers. Check out our dedicated Four Wheel Campers article for more details!
6. Adventure Truck – Global Expedition Vehicles
$200'000 might be enough to buy you a small house somewhere in a quaint little village, but it's also what it will cost you to get your hands on the earth-conquering Adventure Truck from Global Expedition Vehicles. At 22 foot long and weighing just under 15'000lbs, the Adventure Truck is an automotive force to be reckoned with complete with military-grade 40″ tyres that can (and will) make mincemeat of any terrain. You won't have to worry about pot-holes or craters anymore in this beast. Built on top of a Ram of Ford 5500 chassis, this overlanding giant has been kitted out with a whole host of AEV parts to make it one of the most powerful and reliable vehicles in the wilderness.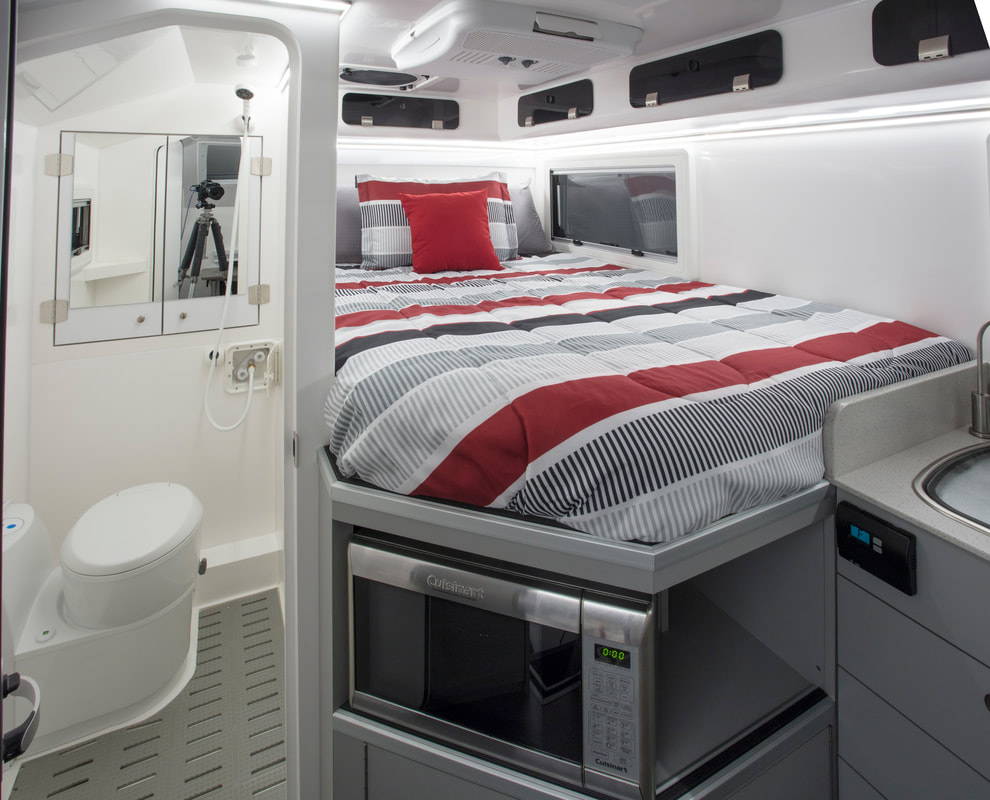 The interior of the Adventure truck might look a little bit like a college dorm room, but the efficiency of the design and the way in which GXV has managed to perfectly fit all of the necessary van life essentials into the build without the interior feeling cramped or overly busy is to be commended. Push-lock laminate storage systems, a 90-gallon water tank underneath the bed in the living quarters to stop it from freezing over in harsh conditions, air conditioning, battery monitoring; this monster camper has it all and lots, lots more. Head over to our dedicated article on this Adventure Truck for more details and to see lots more epic pictures!
7. Cirrus 920 – nuCamp RV
If you want your truck to be ready to get into at a moments notice and don't want to have to faff around with popping a top when you get to your final destination, then the Cirrus 920 from nuCamp RV will be right up your street. If you're an avid Van Clan reader, then you may remember us checking out the range of TAG teardrop campers from nuCamp while on our mission to find the best teardrop trailers on the roads today. That same attention to detail and craftsmanship that we found in the TAG trailers is clearly evident in their Cirrus camper range, a selection of mountable luxury camping pods that many American off-roaders describe as being the best truck campers in the business.
With an overall length of 18′ 10″ and an internal height of 6'6″, the Cirrus 920 can be justifiably called a camping colossus. It comes with a three-way fridge, 38 gallons of fresh water, a bed area of 60″x80″, and a handy dinette area that's perfect for your digital nomad work duties or just eating some of your favourite campervan recipes with your friends.
The interior of the Cirrus 920 is kept warm and toasty via an Alde hydronic heating system, and the easy-to-wipe, stain and dirt resistant Infinity flooring is perfect for adventurous hikers who never fail to bring mud back into their tiny homes. Two 6V AGM batteries producing 224Amps can be found inside the camper and are more than sufficient for charging all of your drones, phones, gadgets, and gear. Head over to the nuCamp RV website to find out more about the Cirrus 920 and to book a time to take a look at one for yourself!
8. EarthCruiser GZL 300
If you like the build quality of the EarthCruiser camper but don't want something as high tech or expensive, then the GZL 300 pop-top camper may well be one of the best truck campers for you. Opting for a fixed-point triangle raised roof rather than a four-corner pop-top, this low-profile camper comes complete with a shower, toilet, kitchenette, roll-up window flaps, dining area, and more. It's the perfect solution for someone who already has a truck that they use for work or getting around town and just wants a slide-in unit for camping trips at the weekend.
Access to the inside of the GZL 300 comes in the form of a set of stairs that lower from the back of the camper. Every time you climb in you can pretend that you're boarding a spaceship! The 6L water heater and the built-in furnace will keep both you, your hands, and your living area warm and toasty all year round, and the queen-sized bed will be perfect for snoozing down on after a hard day on the trail.
There'll be no need to stoop thanks to the 7-foot of headroom inside, and the roof pops down when not in use to allow you to get underneath those pesky campground height barriers. Head over to the EarthCruiser website to stay informed about the brand-new 2020 GZL, and then take a peek at our dedicated article on the GZL 300 pop up truck camper!
9. Alaskan Campers
This 8.5′ Cabover pop-up camper from Alaskan Campers is probably one of the most traditional looking products on our list of the best truck campers, which is probably because it's one of the most original truck camper brands in the United States. Dubbed the 'original Alaskan camper', these pop-top campers have been keeping people safe, warm, and dry since the 1950's. Now with telescopic roofs, this solid-wall camper continues to astound and amaze truck camper fans throughout North America and is still as popular as ever with newbies to the overlanding game.
The plush-leather interior might not be for everyone, but it certainly does give off a heavy 'out-in-the-wilderness' vibe and is easy to clean and maintain if you have messy, muddy campers on board with you. With the roof popped, you'll have plenty of overhead storage space for all of the van life gifts that you've brought back for your friends and loved ones, as well as ample cooking space to prepare food or socialise down in the main living area of the camping pod. The added awning gives owners a chance to shelter from the elements while still enjoying the views of nature, and the solid-wall design is perfect for any adventurous types who might be hurtling down gravel roads or through dense undergrowth in search of the perfect van life travel spots. Head over to the Alaskan Campers website to find out more about their range of truck campers and to make an enquiry.
10. Super Lite – Travel Lite RV
Last but by no means least on our list of the best truck campers is a super light truck camping pod with a difference. The 'Super Lite' from conversion company Travel Lite RV can sleep up to 4 people and has a floor-length of 6'9″. At just over 1,000lbs in weight, it's one of the lighter entries in our list, which is partly down to the way in which the Super Lite is made.
Instead of using a strong and durable metal for the frame, Travel Lite RV opt for a solid wood construction. They believe that wood offers the best solution for durability, strength, and ease of repair, all while providing the customer with a lightweight build that won't cost the earth. Every Super Lite camper is purpose-built for adventure and can 'withstand the abuse' that comes with it.
The Stay Lite camper comes with a two-burner hob, sink, air-conditioning, a 2-cubic-foot fridge, and 9 litres of fresh water storage. This camper is designed for users who are heading somewhere for a short stay rather than those who are planning on living in a van or a truck long term, though Travel Lite RV do cater for those customers as well. The layout of the Super Lite feels clean and bright (I'm also a poet now too) and is the perfect cosy solution for anyone who is looking for a home-from-home for the weekends and holidays. Head over to the Travel Lite RV website for more details!
More Content From The
Van Clan Team!