If you've been keeping up to date with our van life articles over the past few months, then chances are you'll have seen a whole heap of different camper conversions hidden amongst my ramblings. From the ever-popular Volkswagen Bus Camper through to small campers and the new range of micro campers that are becomming popular with vandwellers everywhere, we at Van Clan try to cover as many different types of vehicles as possible to give you a try image of what's out there for you to buy. But, that's not enough; we can do more, and we can give you more information about van life costs and what you might end up paying out for a tiny home from home. You asked us what the best motorhomes were for under £60'000, and we have answered (it's our job, so don't start praising us until you've got to the end of the article!)
Love full time van life or fancy your self as a weekend warrior? Join our brand new Facebook Group and become part of our ever-growing vanlife community!
Whether you're planning on living in a van or travelling in a van to experience living the van life, there are a whole host of affordable tiny homes out there from you to choose from. We've narrowed the choice of the best motorhomes down for you to six of our favourites, encompassing a variety of styles to suit everyone no matter what your individual needs. So, without further ado, let's kick off with camper number one and get you on your way to living off grid!
Check Out Our Choice Of The Best Motorhomes Under £60K!
VW California – From £50K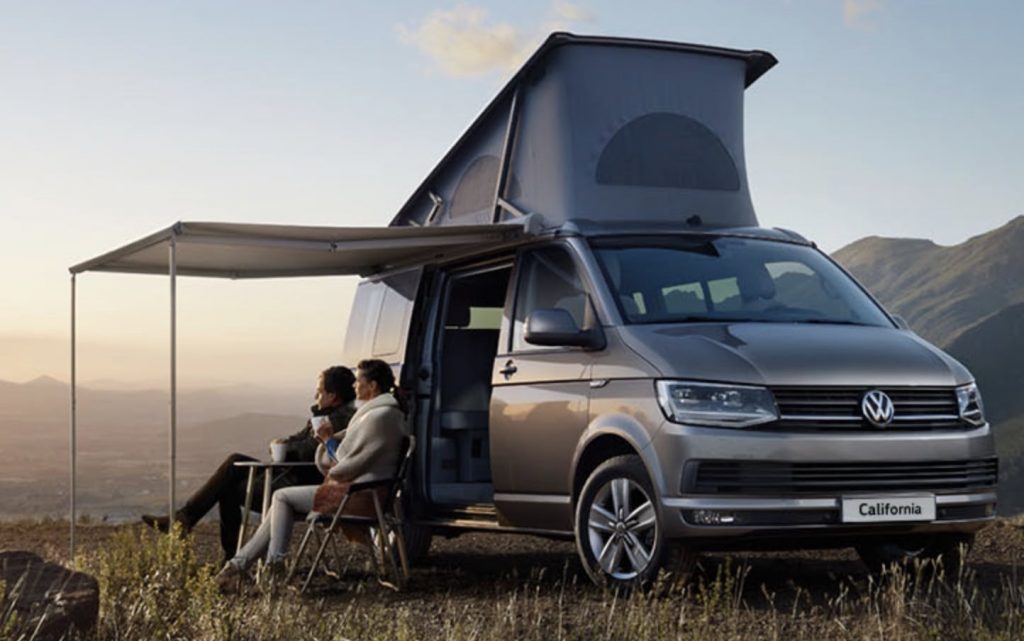 It doesn't matter whether you've packed your board for a trip to the best vanlife travel surf spots or are just heading out for a weekend in the country, the VW California Camper is probably the most reliable, functional and stylish pop top camper on the market. VW are arguably the kings of the Campervan World (although anyone who has read our list of top Mercedes Sprinter Conversions might disagree!), and they certainly know how to make a vehicle that is perfect for off grid living.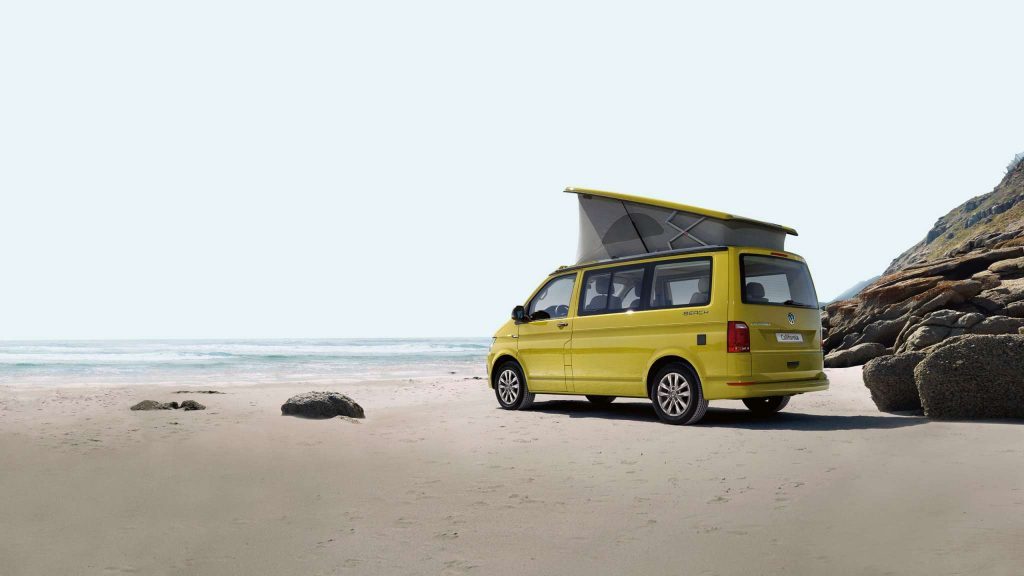 The VW California makes our list of best motorhomes for a number of reasons, the most important being that it's small enough to be still used as a regular work or day-to-day vehicle for you and the family, making it a cost-effective choice for anyone who might not have a lot of space or any top eco campers who want a camper that doesn't guzzle fuel. The iconic pop top design means even the tallest campers don't have to stoop when relaxing in the evening or whipping up a tasty meal with your top cooking accessories, and it can cope with tough terrain as well as steep slopes and windy bends. (Get yourself a TomTom Go Camper to travel down the scenic routes!)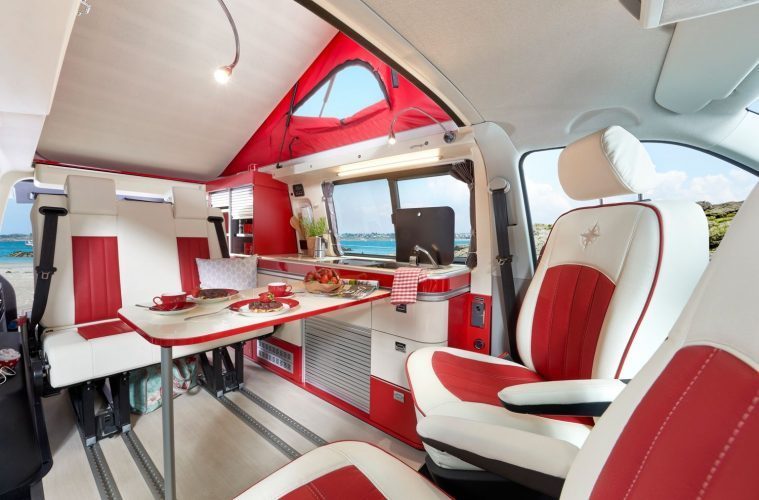 Another important reason why the VW California makes our list of the best motorhomes is because of the never-ending amount of options that are available to you when customising your interior. From vibrant, vintage leather seats that would make the Beach Boys heads turn, to a comfortable and calming interior that is easy both functional and easy to manage while on the road, there are so many different ways that you can personalise your camper. The core kitchen, dining and sleeping elements have all been tried and tested by thousands of campers the world over and have been built with you, the customer, in mind. If you're looking for a well-priced motorhome that you can use for years to come, then you can't go wrong with the VW California Camper.
Citroen Wildcamp – From £36K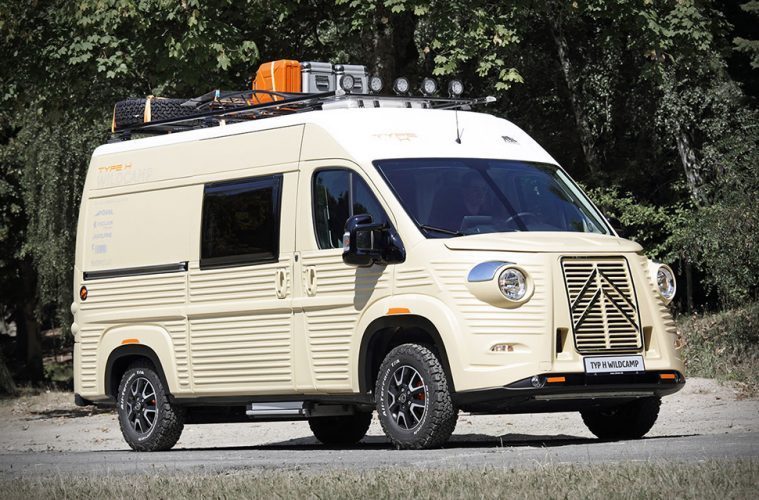 We first covered the Citroen Wildcamp back in 2018 and immediately wanted one for the Van Clan fleet. Based on the Classic Type H van that came out over 70 years ago, the Wildcamp puts a modern spin on a timeless classic, giving you everything that you could possibly need from a travelling tiny house.
So why does the Citroen Wildcamp deserve a spot on our best motorhomes list? Well, at £36'000 it's a relatively affordable camper that is spacious, has tonnes of storage, and looks pretty special both inside and out. It's the kind of vehicle that we drool over when scrolling through our favourite Van Life Instagram accounts, and is the leader of the pack when it comes to vintage style conversions like this Mercedes Bus Dream Ride.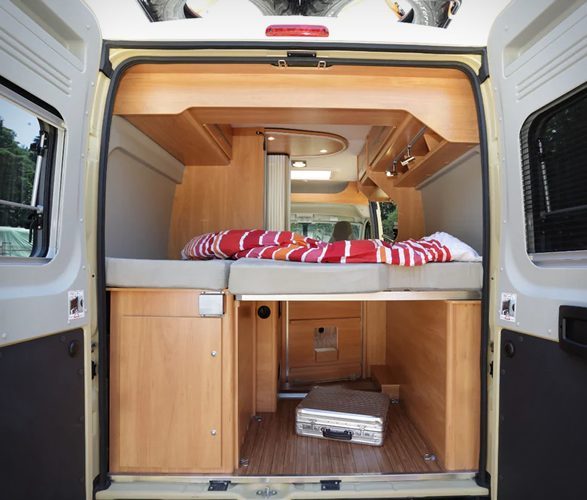 The Citroen Wildcamp might look as though it's an old timer, but it comes with more nifty gadgets and features than this BioLite CampStove on our Campervan Gifts list! ABS and brake assist come as standard with this Citroen Camper Van, as well as hill start assist for anyone who has a small panic when teetering on the top of a slope with a massive queue behind you (definitely not me…). The best motorhomes are the ones that help you to be a better driver, and the Citroen Wildcamp definitely ticks all the boxes.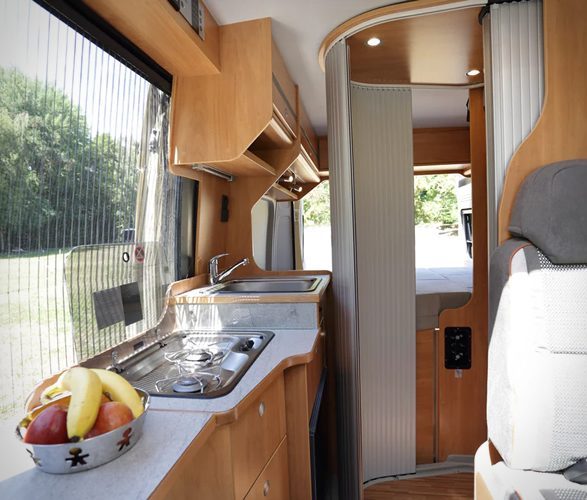 But what about the interior? The Wildcamp might be well suited to roughing it in the wilderness, but you certainly won't be short of comforts while on board. The spacious kitchen and food prep area tuck away neatly behind the pull-around shower unit, and there's enough storage space to store one of these epic Bluefin Paddleboards for when you rock up to the lake and want to get out on the water. Relax on the comfortable bed when you return or kick back in the captain's chair, all the while patting yourself on the back for spending less than £40'000 on a camper that's perfect for alternative living.
Ford Spartan GT – From £46K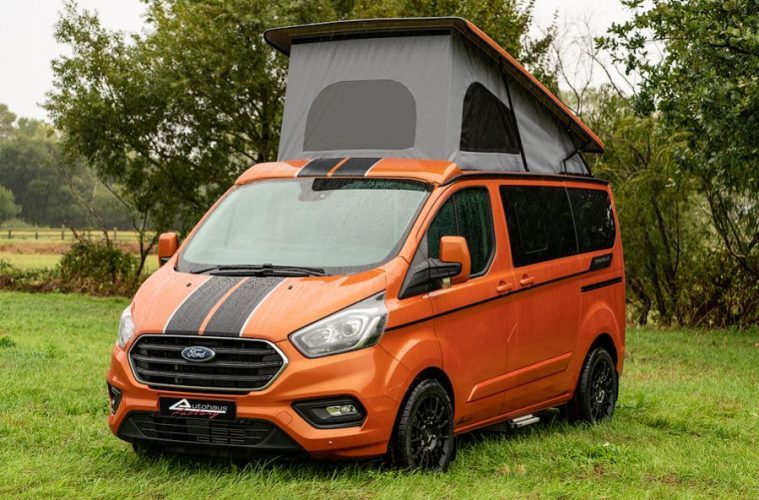 King Leonidas might have needed 300 Spartans to take with him on his journey into the wilderness, but you only need one. The Ford GT Spartan makes our list of best motorhomes because of its appeal to a wide variety of van lovers everywhere and also its ability to show younger generations of campers that life living off the grid can be as fast-paced as you want. This bright orange beast certainly makes a statement, and although conventional camper lovers might find it a little bit garish with its 'go-faster' stripes and low body trim, we think it's the perfect combination of 'Fast and Furious meets Captain Fantastic' – I bet you never expected to hear those two films in the same sentence!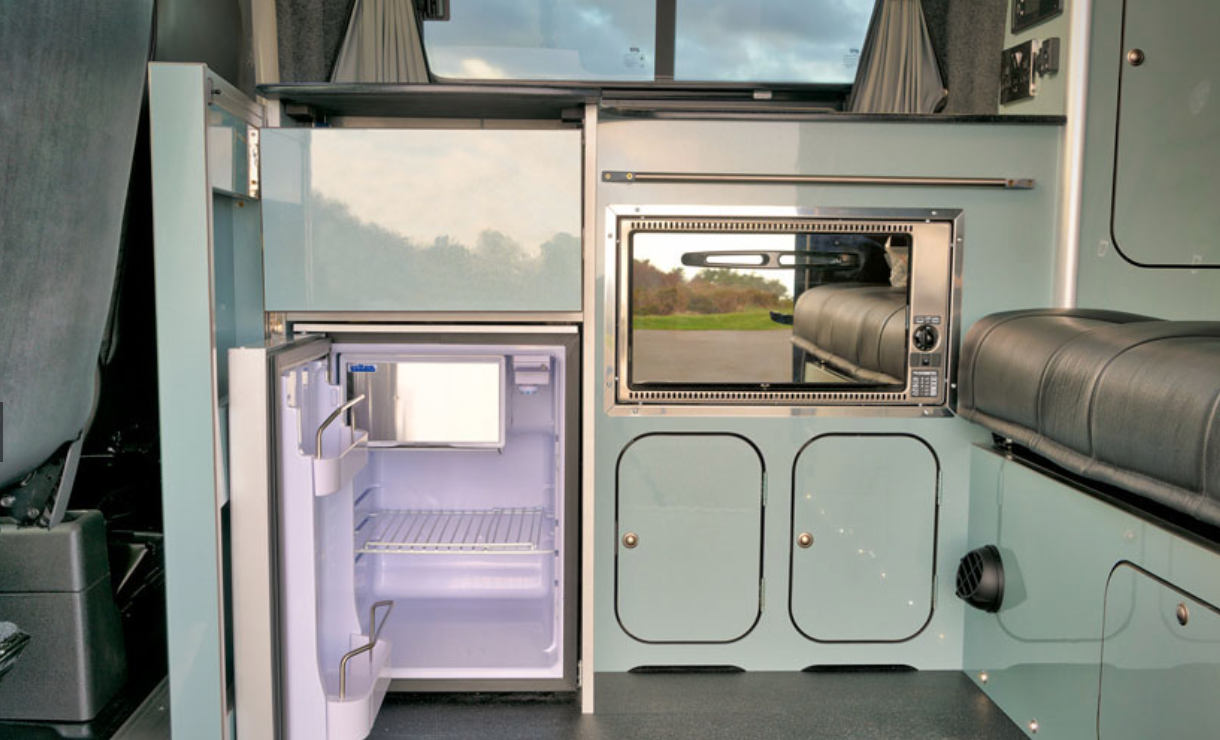 While the outside of the Ford GT Spartan makes it the perfect feature of any teenagers best motorhomes list, the inside is a different story. Fully soundproofed, insulated and thoughtfully furnished, this 'boy racer' becomes a functional camper that the entire family can enjoy. Kick back in the swivel passenger seats or the fold down seats in the living area, get toasty with the Propex heater, and make the most of the hidden twin hob and sink combo for tasty meals on the go. There's even a 50L fridge in here too!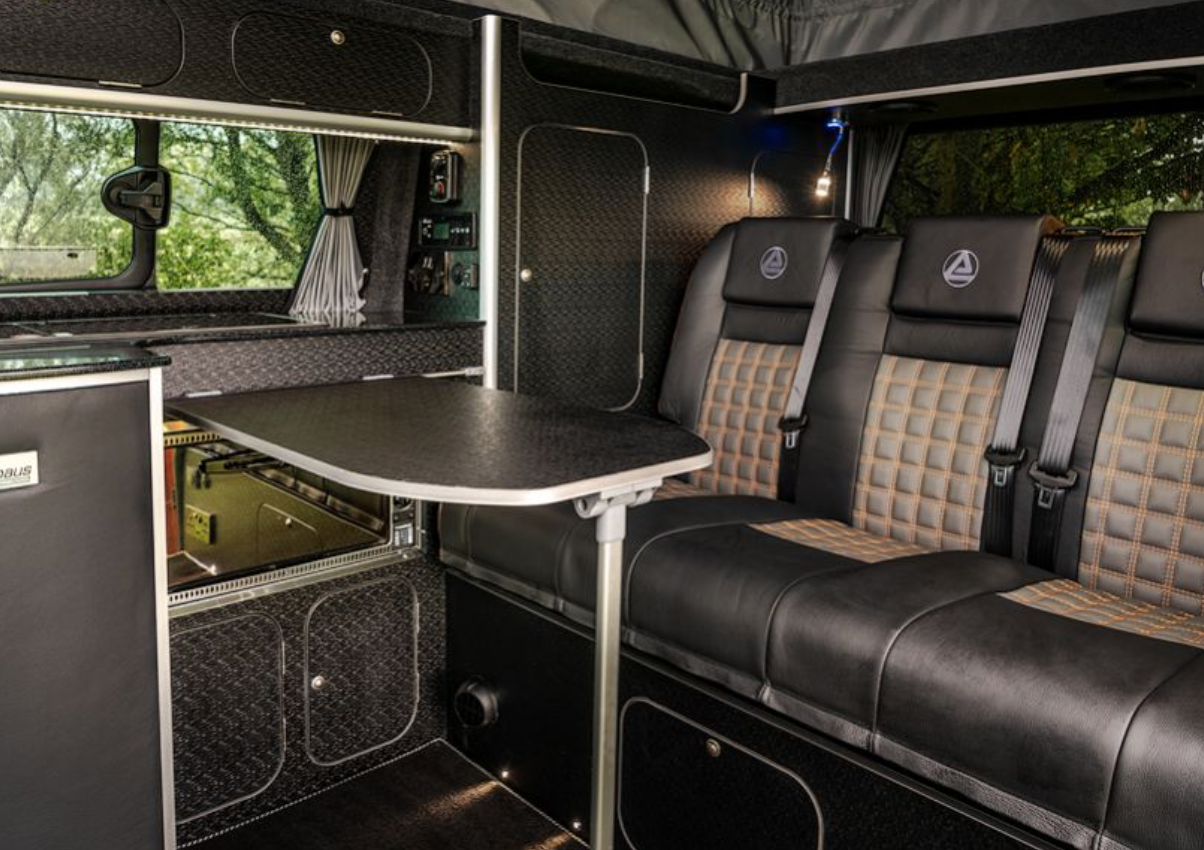 Sometimes the best motorhomes are the ones that surprise us the most, and I think you'll all agree that the Ford Spartan GT is living proof that you shouldn't judge a book by its cover. At just over £46'000 its a great value vehicle that, just like the VW California, can double up as a day vehicle for any shopping you might need to do or for ferrying the kids to school. It's perfect for the new driver who wants to give van life a try, or the parent who never wants to grow old. Learn more about this Ford Transit Campervan!
Dalbury E-Electric – From £34K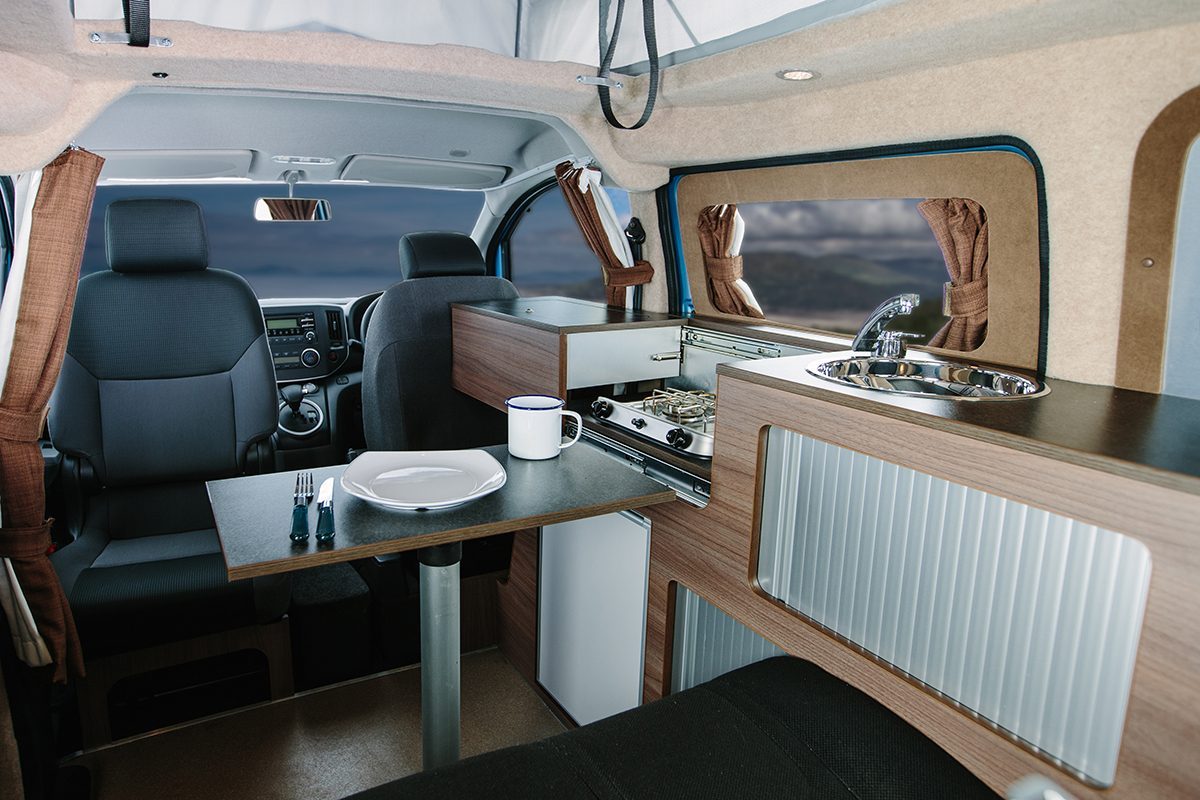 Eco Campervans are on the rise, with more and more vandwellers turning their backs on diesel motors and heading towards a greener lifestyle. We think it's a great idea, and with the hotly anticipated VW Buzz crawling ever closer to a release date, more and more companies are sure to be setting their sights on working towards creating a camper with cleaner emissions. They will always be one step behind, however, as the worlds first electric campervan, the Dalbury E-Electric, has already been turning heads for a while now, and it's safe to say that it's one mean-green machine (not like the hulk; this is way smaller!)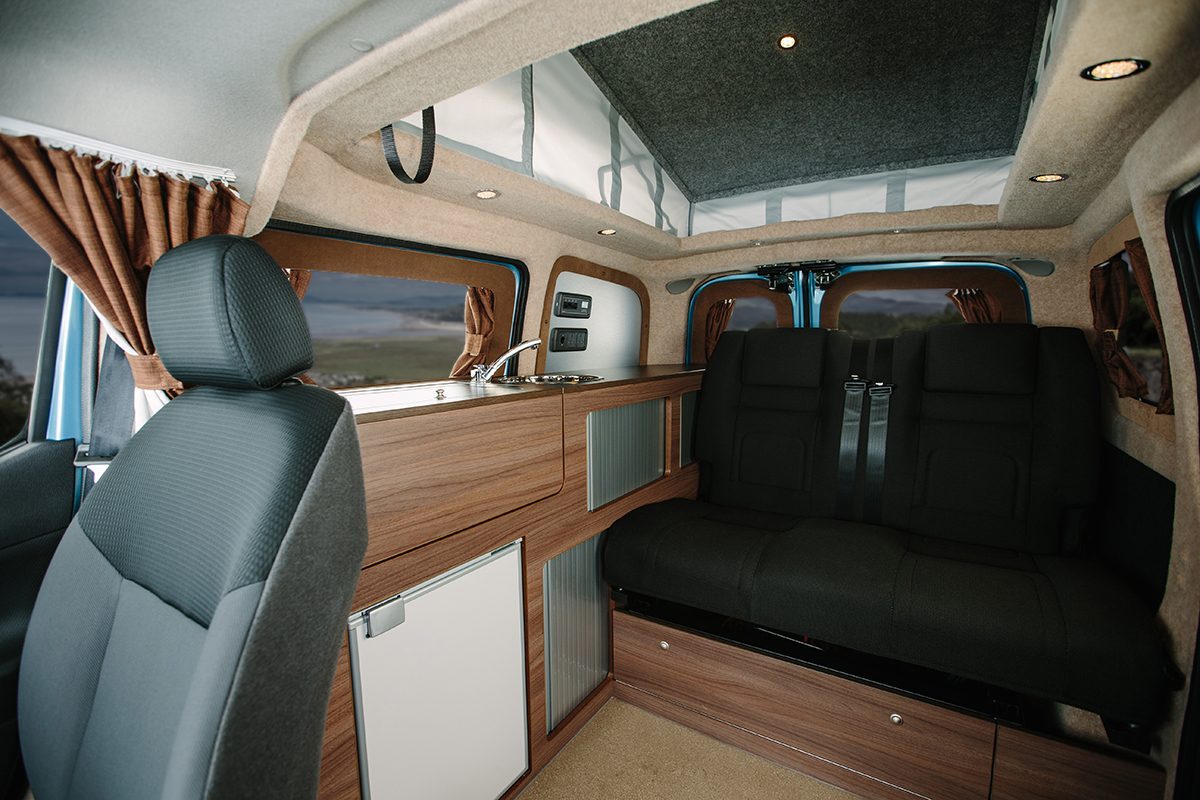 If you're a regular reader, then you'll know that we harp on about the Dalbury E-Electric all the time, and for good reason too! Prices start from £30'000, there's no road tax to pay on the camper because it's a fully electric vehicle, and the service costs are 40% cheaper than diesel campers. Not only that, but the E-Electric comes with a home charging kit that is installed by professional for free, and you can get an 80% charge in just 30 minutes. Just think; you could charge your car in the time that it takes you to make and eat a sandwich and have a cup of tea! Do we need any other reasons to put Dalbury in our list of best motorhomes?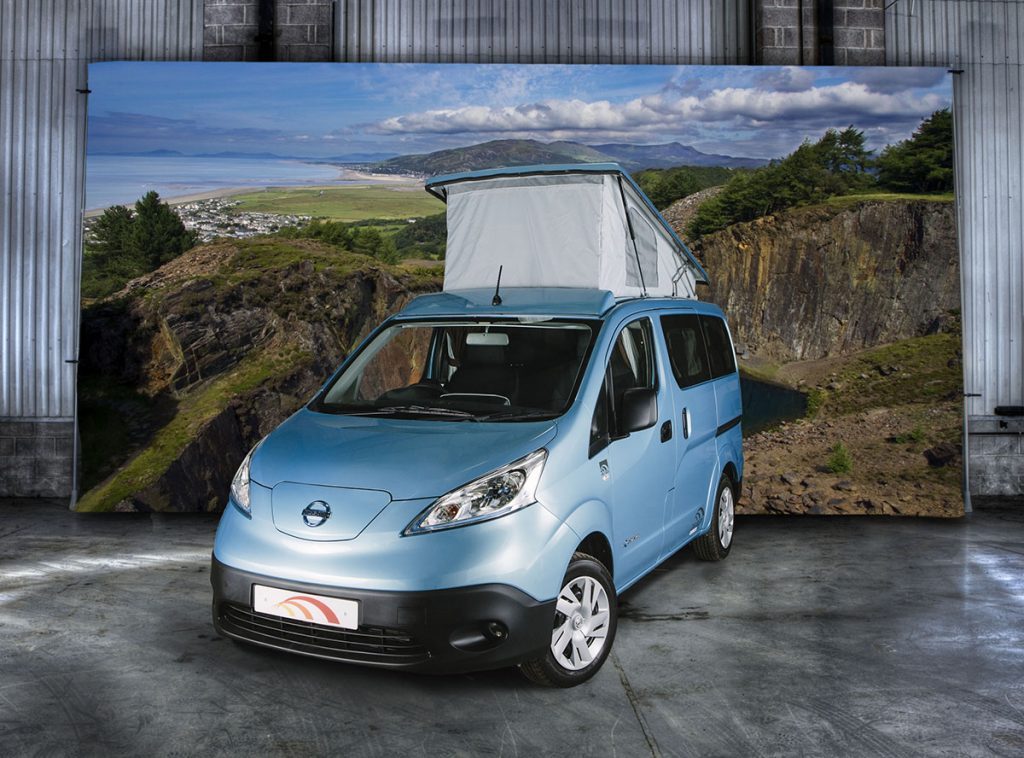 Complete with a pop top for extra height, a kitchen with all of the accessories, comfortable sleeping and eating areas and a spacious pull out dining table, the Dalbury E-Electric has everything all under one expanding roof. Not only is it the cheapest camper on our best motorhomes list, but it's also the greenest and cheapest to run too! Check out more info on the Hillside Leisure website.
Dethleffs Eurostyle – From £56K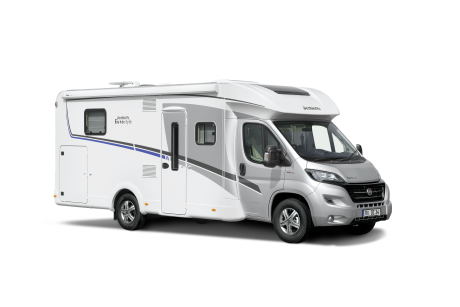 For all of our readers who are furious that there hasn't been a real 'motorhome' in our best motorhomes list, this next entry should calm you down a little. Dethleffs are a big name in the motorhome and touring caravan world, and as such know a thing or two about making comfortable travelling homes that are well equipped with for an off-grid lifestyle. Bigger and wider than a panel conversion, the Eurostyle is perfect for the older vanlifers who want a little bit of added luxury, but its also a great option for people in European countries who can't get their hands on a self-converted van or don't want to jump through the hoops to make one.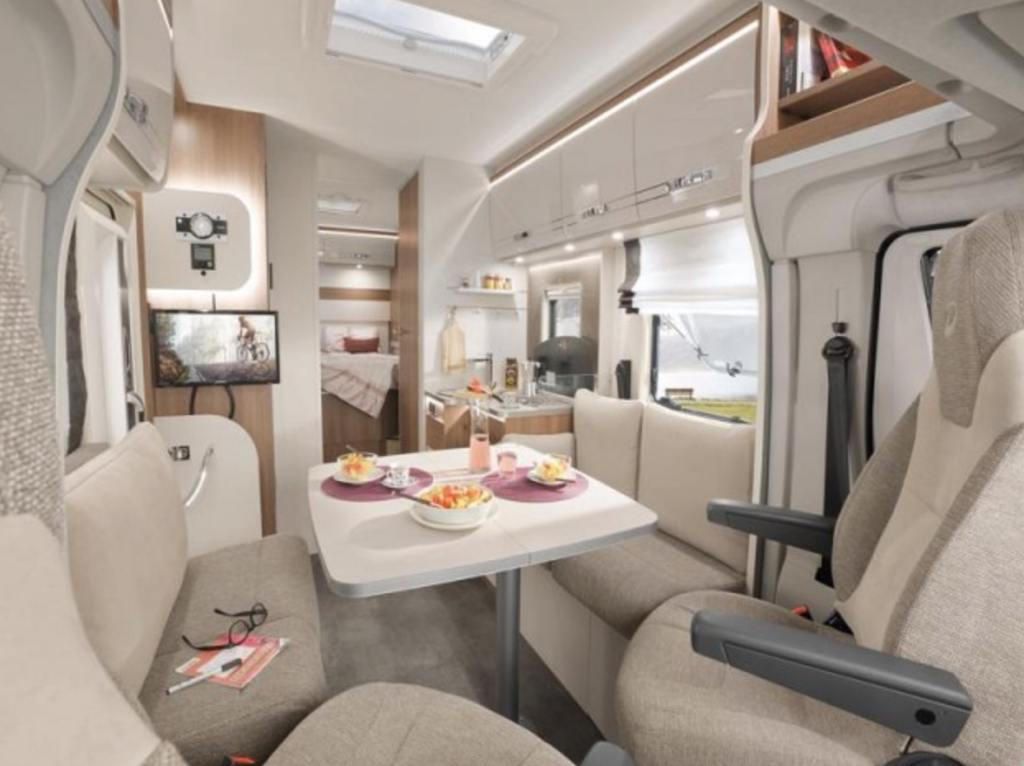 At just over £56'000, this two berth motorhome is the most expensive on our list of the best motorhomes you can buy for under £60K. But when you look into the history of Dethleffs and the services that they provide in their vehicles for their camper owners, you soon realise that you're getting a great deal. You'll find gas ovens, cab air conditioning, air heaters, swivel seats, master bedrooms and spacious kitchen and living areas in all of the Eurostyle models. Everything just fits, and while it might not suit the DIY vanlifer who doesn't mind if they don't have a hot water system installed, the Eurostyle is certainly perfect for the long term traveller who likes to know that they're well prepared for any adventure. Check out more information from Lowdhams online.
Fiat Ducato Sunlight Cliff 600 – From £41K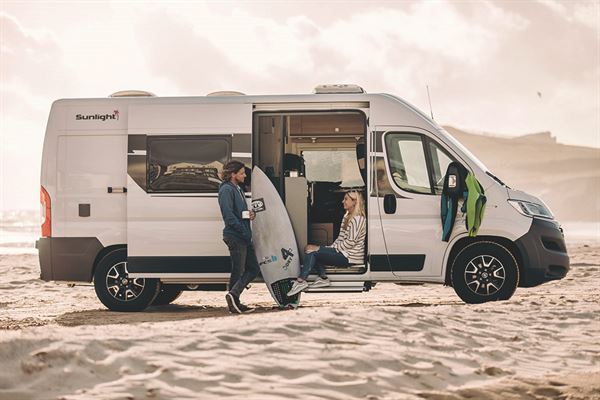 The last entry on our best motorhomes list, but by no means the least, is the Fiat Ducato Sunlight Cliff 600, a camper that's relatively new to us at Van Clan but is one that we're sure to take a closer look at soon. This Fiat Ducato might look like an ordinary panel van camper, but it has some pretty cool hidden features that make it more than worthy of our best motorhomes list. From separate head restraints in the nifty dinette area to adjustable reading lights that have their own clip-on rail and can be positioned in a variety of ways, this off grid home is as well suited to book worms as it is the outdoorsy adventure bus types!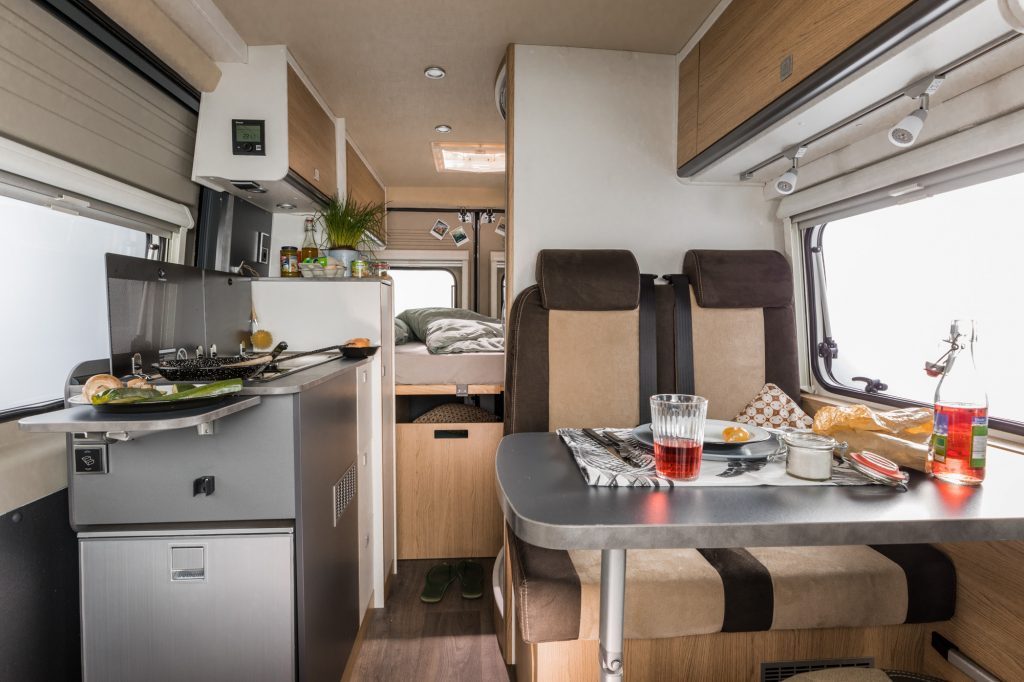 What have we got inside? Well, the Sunlight Cliff 600 comes with a 90L fridge that's mounted at chest height. (I think that Rose and I were the first people to do this and everyone else has copied us after watching our van tour!) There's also a folding bed, a bike storage section and fully kitted out washroom with swivel taps and a toilet. Storage plays a key factor too, with cleverly hidden drawers in every room to keep all of your belongings out of sight.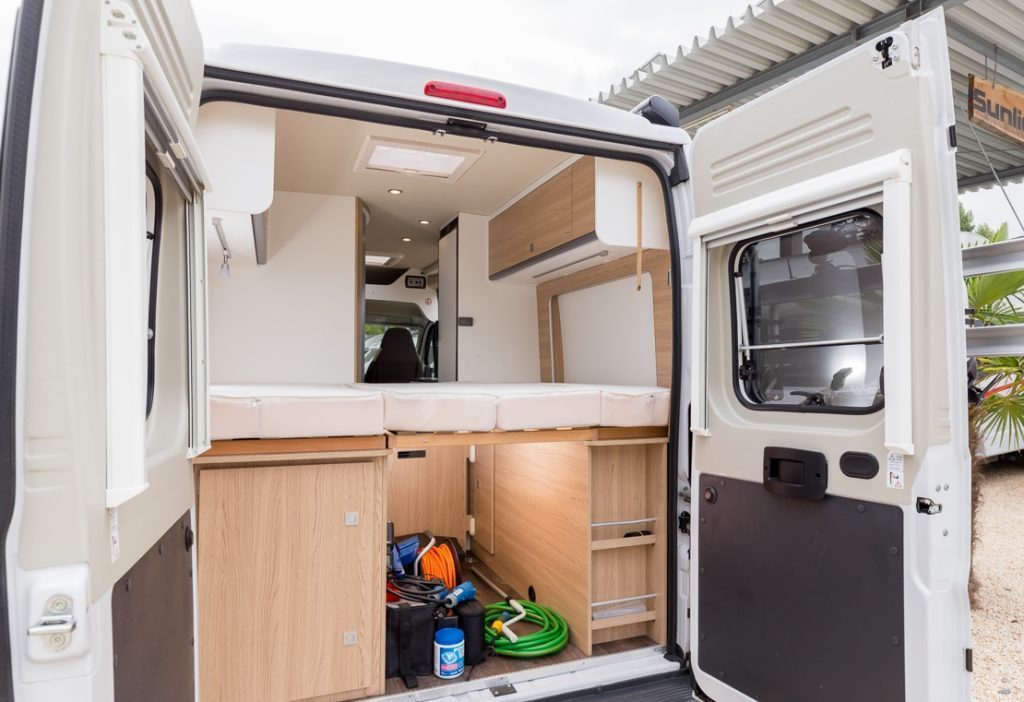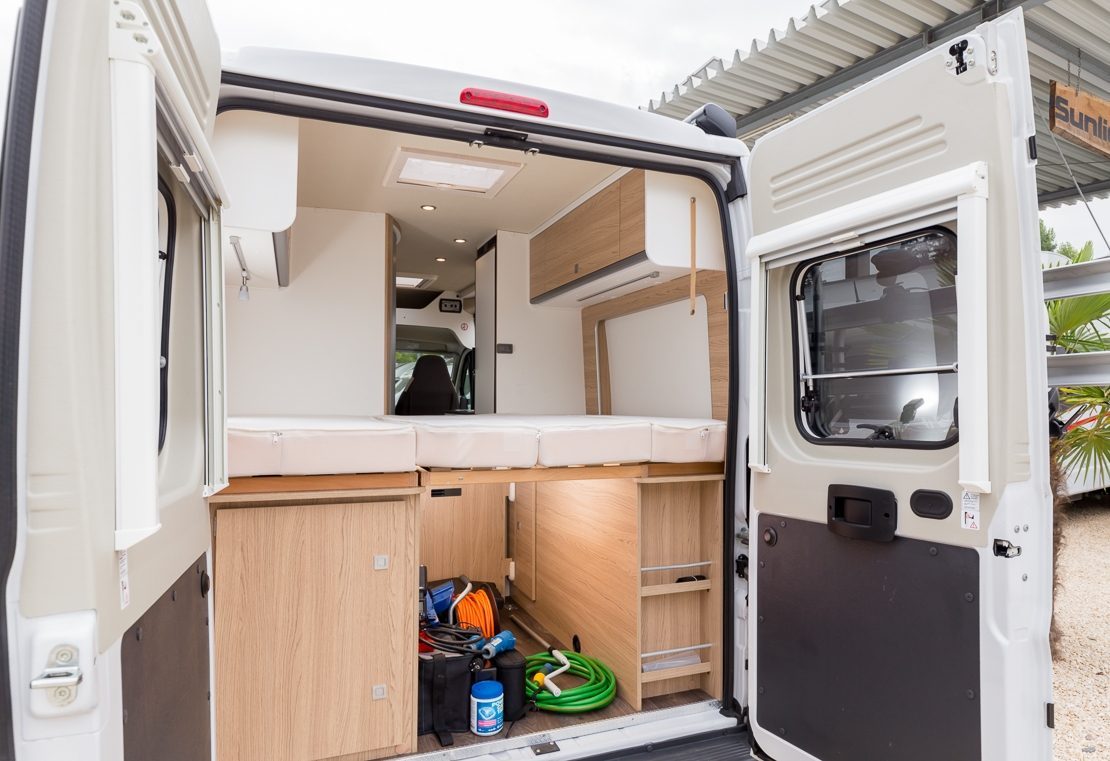 At £41'000, the Sunlight Cliff 600 is a well-priced camper that has tonnes of scope to be customised once you've got used to life on the road. It's big enough to add your own touches to make it feel homely, but still small enough to fit through that pesky height restriction bar at your local supermarket. Head over to the Sunlight website for more information!
Final Thoughts…
So; what have we learnt from our list of the best motorhomes under £60'000?. Well, for starters bigger might not always be better, but it certainly seems to be less expensive. The costs of the smaller models like the VW California and the Ford Spartan GT are far greater than the Wildcamp or the Sunlight Cliff 600. If you're looking for space over portability and storage, then one of the larger models might be your best bet. If you're looking for a stealthy, eco-friendly camper that doesn't cost the earth, then the Dalbury E-Electric is the camper for you. And if all you want is a nice, simple motorhome that does exactly what it says on the tin, then the Dethleffs Eurostyle could well be your next motorhome.
They say that the wand chooses the wizard, and perhaps that's true if you're buying a tiny Harry Potter house, but hopefully, you'll now have enough information to make a decision on what camper is best for you! Let us know which campers would be on your best motorhomes list by joining us on Facebook, Twitter and Instagram!
More Content From The Van Clan Team!