The Minivan Camper Is Becoming A Popular Choice For Vanlifers
It might be hard to believe, but the humble minivan is now one of the best ways to experience the van life. Of course, we're not talking about the workhorses trapped in the carpool line; we're talking about souped-up luxury minivan campers! If the open road has been calling to you, this is a sensible way to start living the van life without dropping a fortune.
Today, we're taking a look at the best minivan camper conversions. You'll see it's quite possible to live in comfort while chasing adventure–and you don't even need a monster camper to do it.
Top Minivan Campers – The Sensible Answer to Your Off-Grid Needs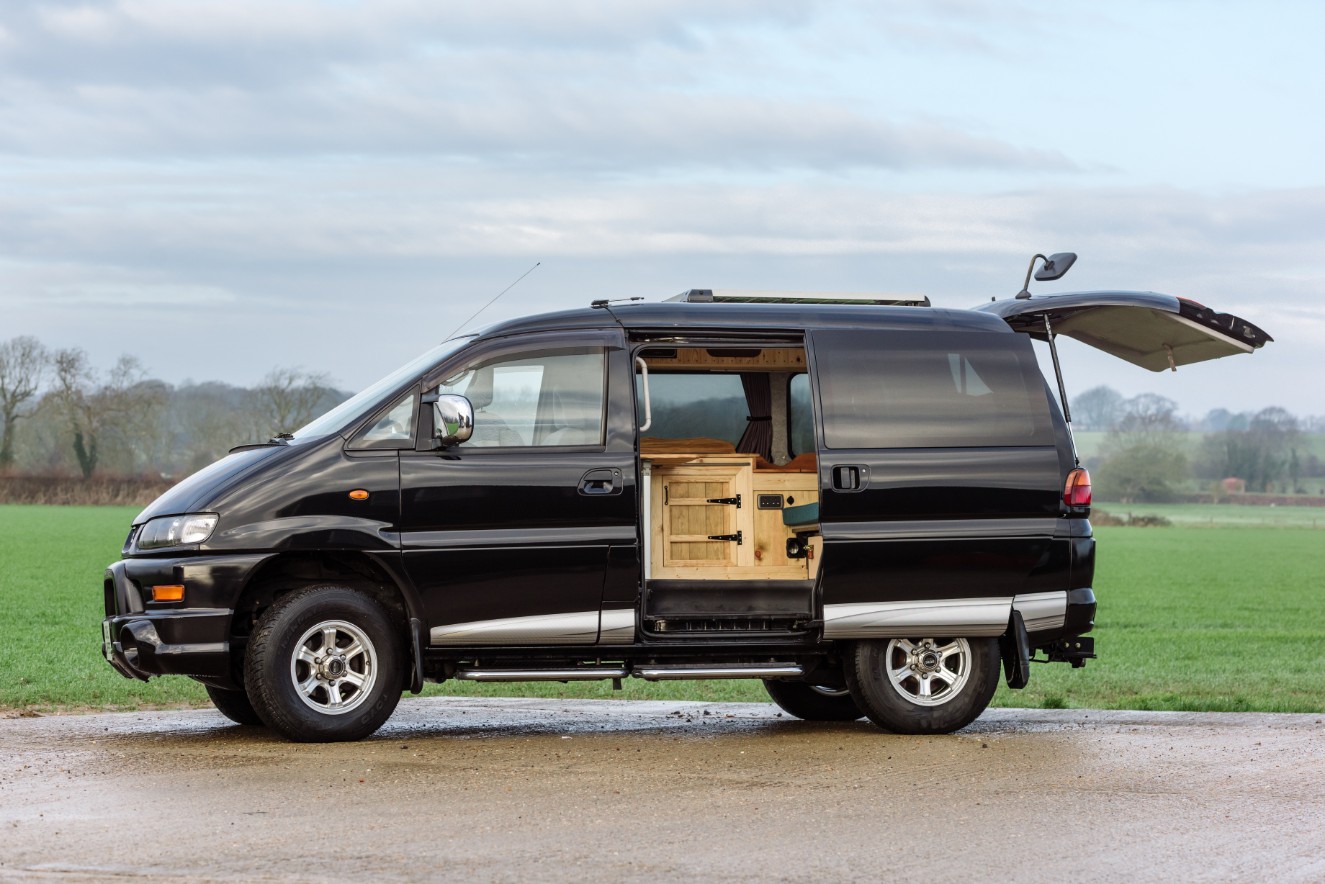 First, let's talk about what a minivan camper actually is. There's a wide range of vehicles eligible for this distinction; everything from a fully loaded Nissan NV200 down to the family sedan can be converted for off-grid adventures. You can convert basically anything into a camper, but then general consensus is larger equals more comfort.
However, smaller vehicles are increasingly appealing to full-time vanlifers looking to stake out on the down-low. (Check out our article on stealth camper vans to see how!)
Minivan campers occupy something of a sweet spot, balancing inconspicuousness with just enough room to pamper yourself on the road. There are some really smart designs out there that optimise the space for maximum utility, and they don't cost an arm and a leg.
Without further ado, let's look at four amazing ideas for minivan camper conversions!
1. The Stealth Camper
This Minivan Camper from Cascade Campers blows my mind. On the outside it looks like just another normal sedan car–the kind that you might see your boss driving to work or your mum taking the kids to school in. But once you open up the door, you're met with a full-blown camper conversion that sleeps two. It even has a sink for washing your hands/body and food prep!
Once sat down inside the camper itself, you have access to a swing-out table to eat or do work from, pull-out storage boxes, and power outlets to charge your phones and tablets while on the go. There's a leisure battery and water storage in the back too, as well as a space to put a burner for outdoor cooking.
This camper could seamlessly blend into everyday life without anyone batting an eye, which is one of the main reasons why people are quitting the 9-5 and heading out in search of a Minivan Camper. This conversion only costs $8,500 too, so it's an affordable camper for anyone who doesn't want to part with too much cash.
2. The Compact Camper
A minivan camper can fit everything inside that your Mercedes Sprinter Conversions can house, but on a smaller scale. Take a look a this Mercedes Metris conversion and also the VW Caddy below, two smaller pop-top campers that are perfect for day trips to the beach or extended weekend adventures in the forest.
This Metris Cargo Minivan Camper conversion from Peace Vans has everything that a family of four could possibly need while out in the wild. Yet, at the same time it's small enough to not feel like you're driving a mammoth.
Thanks to the pop-top tent roof, this camper can sleep four comfortably (two on the rock-and-roll bed/sofa combo, and two up in the pop-top itself). It might not look like a Tardis, but this Metris can fit a burner and sink, 20L of freshwater and batteries for charging all in this small space. There's even a 49l fridge and space for a solar panel on the roof of this compact camper van. What a beast!
The VW Caddy is a vehicle that you'll be seeing a lot more of around the Van Clan offices very soon–but we'll tell you more about that when the time is right! It's another reliable little nipper that's perfect for converting into a Minivan Camper.
For one, it's much easier to park than a massive beast like the EarthRoamer Camper. You won't have any problems tootling underneath those height restriction barriers at your local supermarket. And, parking in larger cities such as Barcelona or San Francisco won't be a problem at all (now I've said this you won't be able to find a parking spot ever again!)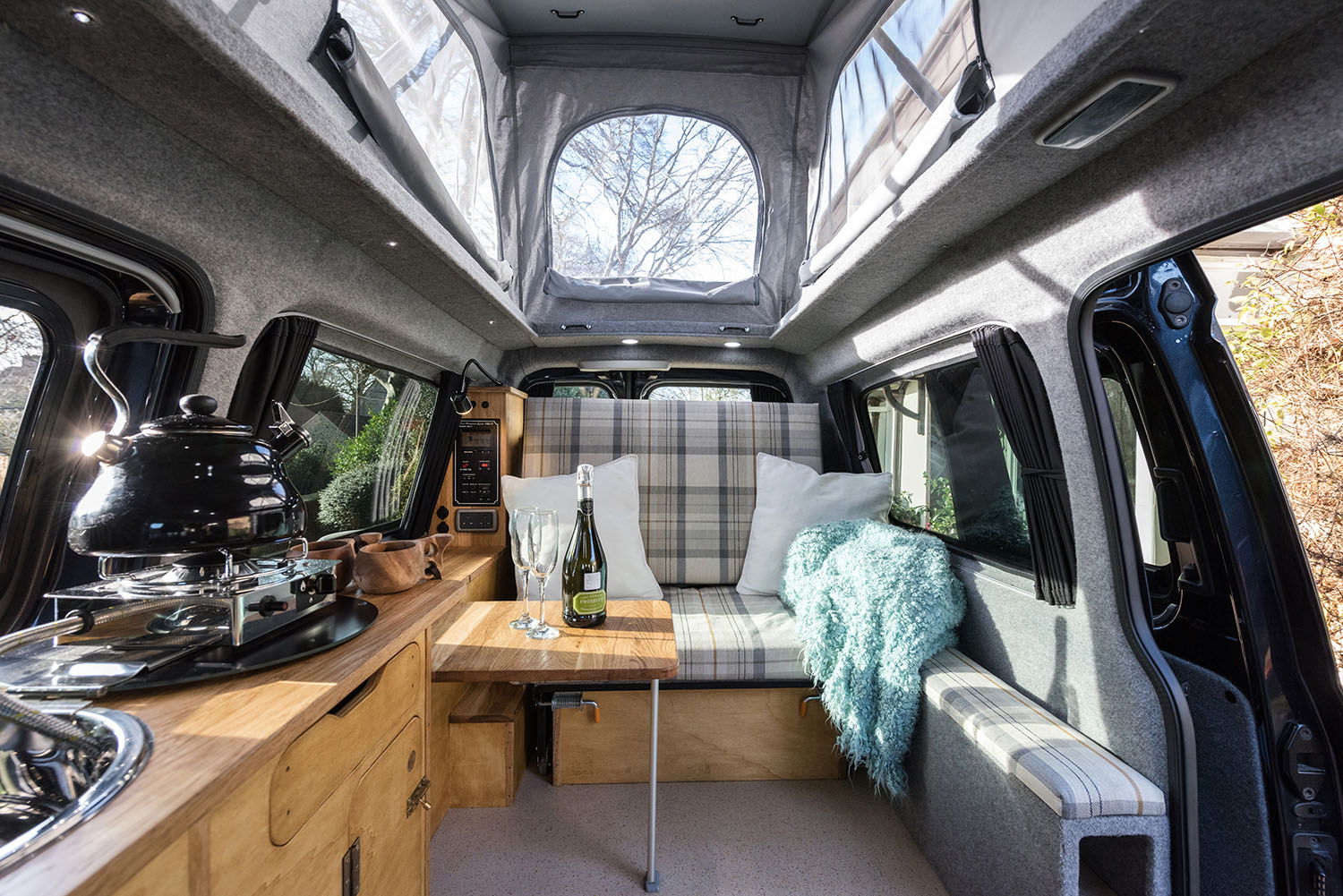 3. The Affordable Minivan Camper
Remember when I said that pretty much any vehicle could be converted into a Minivan Camper? @annablackwell is an adventurer, writer, photographer, and speaker that converted a VW Golf into a campervan that she took across Europe. That's right–a VW Golf!
Thermawrap stick-on panels provide insulation and privacy at night time, the boot has a bed frame in it, and a memory foam mattress adds the finishing touches. There's a lockbox on the roof for storing extra items in for cooking and eating, and that's about it!
Anna scavenged most of the pieces of wood from her Dad's garage, so the cost of this camper will have ended up being incredibly low. That's especially true, seeing as you can pick up second hand VW Golfs for relatively cheap these days. Nice one Anna!
4. The Electric Minivan
Ths Nissan e-NV200 is ideal for converting into a tiny eco house because it's a fully electric van. There are huge advantages from living in an electric minivan camper; the most important being that it's a lot better for our planet than the diesel guzzling giants of yesteryear.
The other bonus is that they're much cheaper to run per mile. The Dalbury E Electric is the worlds first all electric campervan with a running cost of just 2 pence per mile. That's an astounding saving on fuel, and British Gas will install a home charging system for you for free. That's a deal not to be sniffed at!
The Downsides of Owning a Minivan Camper
If we're going to look at a change in a trend or a new movement within the van life culture, then it's only fair that we look at both the Pros and the Cons. Living in a minivan camper might be cheaper and a more attainable way of life, but there are some negatives that immediately come to mind at the thought of living in such a small space.
Not for Long Term Use
I know of a lot of people that have stayed or travelled in Toyota 4Runners over in America, but it never seems to be for very long consecutive periods of time. It's hard to merit using a Minivan Camper for long stints of off grid living due to the fact that you can't cram it full of as many consumables as you can a VW California XXL or the Carado Axion.
If you're using it for a place to have a sleep in your lunch break or staying overnight at a friends house, then it's a perfect solution instead of having to pay for a costly hotel or an AirBNB. But if you were to take one of these things on the road for an extended period of time, then I think the lack of space would start to get to you after a while.
Being able to stand up in a van was one of my main criteria when we built our own off grid home, so living full time in a Minivan Camper would be off the table for me personally. If you were to take a tent with you on your travels and get to spend time away from the inside of the van then it could be do-able; sleeping under the stars is always preferable to staring at a metal roof a few inches from your face.
Getting Truly Off Grid
If you compare a VW Caddy to one of these Sportsmobile 4×4 pop-top vans, then there's no comparison as to which will do better off the grid. Getting to hard-to-reach places is what van life is all about; finding those secluded park-up spots that no one else knows about, away from all the tourists and the hustle and bustle of the city.
A VW Golf might be a little nipper when travelling down the Autobahn, but I'm not sure it could cope with rocky forest paths and sandy dunes. Of course, it all depends on your setup and what kind of terrain you'll be dealing with on your off grid adventure.
You Don't Have a Ready Made Home
No matter whether you have the best intentions to turn your Sedan or your Sangyong Turismo into a comfy camper; the reality is that it's going to take you a while to get it ready to relax in whenever you come back from a walk or pack up with gear for your next trip.
Having a van that you can stand up in, as well as a static bed means that you can always lay down when you want. You'll also prefer it if there's enough room for everything to store away neatly without spilling over onto the driver's seat.
When everything is exactly where you left it in a specific place that can be easily found, it just works better!
The Cost
The final thing I want to touch upon is cost, because I think that this is often a misleading subject. A lot of the conversions that we're seeing above cost between $7,000-30,000, which depending on your definition of cheap will either be a good deal or a crazy one.
Bear in mind that the majority of those prices don't include the base vehicle in the cost either. I bought my van for £3000 (around $37,000), and then spent another £4,000 ($4,900) doing it up. It's a Maxi Roof Panel Van, which is big enough to stand up and stretch my arms up straight, and it cost less than the conversion price of the Toyota Sienna stealth camper at the top of this article.
Buying a Minivan Camper seems a little bit on the pointless side when you can build a campervan yourself for a lot cheaper. Building a Minivan Camper would be the way to go if you specifically wanted a small vehicle, so weigh up your options carefully before you part with any cash. Check out our article on How To Build A Camper and our e-book for more details on how you can build your own home and save money at the same time.
Looking to start building a campervan? Want to give living small a go? Join the conversation over on Facebook, Twitter, and Instagram.
More Content From The Van Clan Team
Do you fancy trying your hand as a Weekend Warrior? Have you ever thought about giving Full Time Van Life a go? Head over to our Van Lifers and Weekend Warriors Facebook Group and join our ever-growing community of vandwellers all across Planet Earth! Share Vanlife Tips, recommend Campervan Gifts, and learn all about the products used by your favourite Van Life Influencers!