10 Best Affordable Campers Under $50,000
Finding the perfect campervan on a budget is tough, which is why we've made a list of the 10 Best Affordable Campers Under $50'000 for you to sift through at your leisure. People tend to assume that a lower budget means a compromise on quality, but that's certainly not the case. Just take a look at all of the DIY Sprinter Camper Van builds and self-built campervan conversions on your favourite Van Life Instagram pages; many of those will have been built for much less than $10,000!
Do you dream of living in a magical Harry Potter House? Join our new page 'Cabin Clan' for the best tiny home inspiration. Fancy trying your hand at being a van life weekend warrior instead? Head over to our Van Lifers & Weekend Warriors Facebook Page for the best vanlife tips and camper van content around!
But if you're not mechanically minded, hate the thought of using a Jig Saw, or just plain old can't be bothered, then these affordable campers will be right up your street. Take a look at the top 10 that we've come across over the past year – you won't be disappointed!
1. Dalbury E-Electric – $45,300
Some of you might have read our reviews on the worlds first fully electric campervan before, but if you're new to Van Clan, then feast your eyes on the Dalbury E-Electric. With a quick charge of 80% in just 30 minutes and a free home charging system that you can have installed after purchasing, this camper is the gift that keeps on giving. Now you can be kind to your wallet as well as the planet.
The inside of the Dalbury E Electric is pretty stylish for a smaller camper, and that all-important pop-top gives you the ability to stand up while cooking or washing up. The rear sofa folds back into a comfy bed, and the passenger seat swivels around to create a communal dining area. The vehicle itself has a running cost of 2p per mile, it's zero-emission, it's quiet, it's cheap to run, and it's free to tax. If you want a reliable vehicle that you can comfortably camp in at any time of the year, then head over to the Hillside Leisure website.
2. Earth Traveller Trailer – $10,000
The next futuristic-looking trailer on our list of affordable campers is the lightest trailer on the market. Weighing in at just under 300lb, the Earth Traveller was designed to be pulled by vehicles around the same size as a Fiat 500. This simple camping trailer with its flowing, curved design opens out completely to let natural air and light into your living space and can be twinned with mosquito nets and awnings to accommodate up to four cosy campers inside.
I love the Earth Traveller for its simplicity. The inside of this camper makes me want to crack out a sushi rolling mat and set to work making some tasty van life treats Japanese style. Sure, it might not be as fancy as some of the other affordable campers in this list, but this relaxing zen-style approach to trailer life is one that I could fully get behind. Can you see yourself sat meditating in front of those massive windows? If the answer is yes, then head over to our dedicated article on the best lightweight trailer in the world for more information.
3. Mitsubishi Delicia Islay – $12'217 (Conversion Only)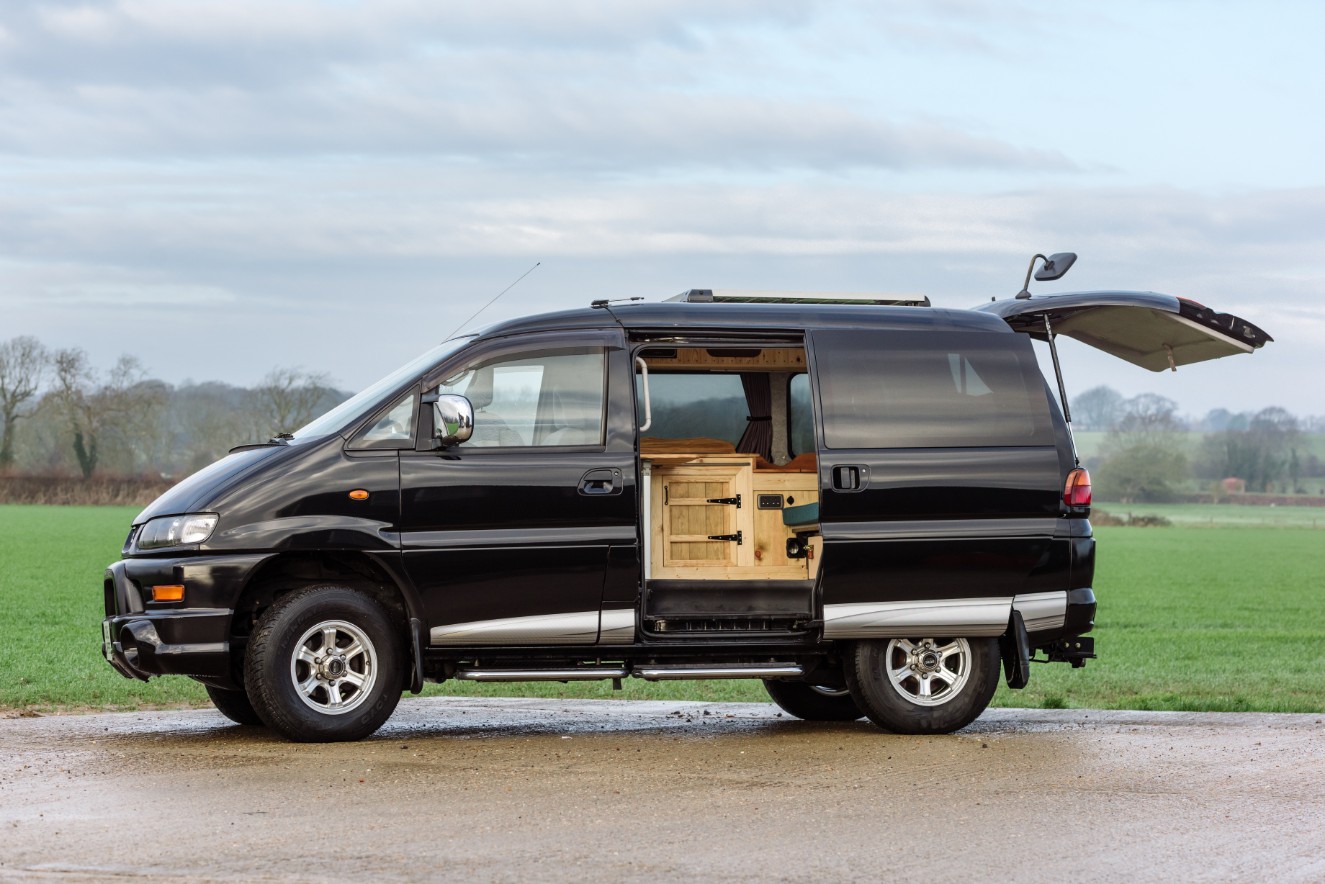 The Mitsubishi Delicia is a bit of an underrated vehicle when it comes to camper conversions, but this little nipper is the perfect stealth camper van for full time van life in both the city and while living off grid. We first came across this conversion from Love Campers in Fall 2019 and couldn't get enough of the handmade wooden interior. If you're looking for a conversion that looks like a country kitchen on wheels, then this could be the set-up for you.
The 'Islay' conversion is perfect for a solo traveller or cosy couple that enjoy their home comforts on the road. It has a 4ft wide rock-n-roll bed that turns into a sofa during the day, insulation for seasonal use, power for all of your essential digital nomad accessories, and an oak work surface to crack out your articles or edit your videos on. There's also a handy cooking area, a portable cool box that you can take out on the trail with you, water pumps for washing up, and a lot more! That's great value for money if you ask me!
4. Project M – $10,000
The next rolling home on our list of affordable campers could well win the Van Clan 'Peoples Choice' and 'Best Newcomer' awards if we had the budget to hold ceremonies or buy trophies. Americans are falling head over heels for the new Project M camper from Four Wheel Campers, and it's not hard to see why. This stripped-back camping pod slides straight into your existing truck and comes with a gas-assisted pop-top roof, a ginormous pull-out bed, and tonnes of optional extras such as battery power, solar, and more. It's designed for campers who want to get back to the old school style of van life, and it's proving to be incredibly popular.
Throw in an ice chest and some camping chairs, and you're good to go! This camping pod is big enough to store all of your bikes, boards, skis, and more inside and out; you could even drive your ATV straight up into this thing. The rugged exterior and easy-clean interior make this perfect for adventure sports lovers everywhere; all you need to do now is to decide where your first road trip in it is going to be. Check out our full article on the Project M camper for more info.
5. Colorado Summit Trailer – $21,500
We're pretty new to the Colorado Summit brand, but when we discovered that this tiny trailer had bunk beds inside it, we immediately had to find out more. If you're looking for an affordable camper that you and the whole family can camp in at the same time, then stop your search and get out your credit card because here it is. Camping as a family is one of the best bonding experiences there is, especially when you get to do it in such a stylish and funky-fresh looking camper as this!
The Colorado summit might look small, but it comes complete with a fully stocked kitchen with a fridge, sink, and a hob, all of which can be accessed from the outside of the trailer. With 18″ of wheel clearance, this gnarly teardrop trailer could give the Timberleaf Pika a run for its money, and you'll hardly notice those annoying potholes as your cruise along to your final destination. Head on over to the Colorado Teardrop Camper website to find out more.
6. Citroen Wildcamp – $47,970
The Citroen Wildcamp hits the very top range of our price bracket for our affordable campers, but this retro-inspired motor certainly gives you a lot of bang for your buck. With rooftop storage, a light bar, raised suspension, and the same classic shape and style from the Type H of 70 years ago, the Wild Camp is both a nod to camper van history and a little slice of luxury off grid living.
Powered by a 161-hp BlueHDi diesel engine with 'hill start' assist (I would love that in my van), the Wild Camp is a force to be reckoned with. The inside is just as impressive, with a full wooden interior, revolving shower area, kitchenette, and a full-sized bed that can be removed to make extra space for your travel bikes and other outdoor gear while in transport. All in all, this is one well-thought-out camper that actually drives as nicely as it looks. Head over to our dedicated article on this Citroen Camper Van for more details!
7. HC1 Camper – $24,950
Meet the king of all small travel trailers – the HC1, a trailer that definitly deserves a spot on our affordable campers list. With a classic two-tone Volkswagen Bus Camper feel on the outside, large sliding windows, and a door complete with a porthole (always a plus point in my book), the HC1 from Happier Camper is one of my favourite trailers of all time. These campers are fun and exciting both inside and out and have so much potential to add your own feel to them once you're living or travelling around in them.
Happier Camper has come up with a system called Adaptiv™, which gives you the option of changing your floor layout as and when you need. If you decide you want to move your bed to the back or that the table needs to go to one side, then you can do so quickly and easily to make way for bulky adventure gear or that large dresser that you promised you'd deliver to your Mum's house. The HC1 can sleep up to five happy campers inside, although you might need to know each other pretty well beforehand as it looks as though you'd need to get pretty cosy! Check out Happier Camper for more info on this dinky little camper!
8. Citroen Campster – $41,000
Make way for the second Citroen in our list of the top 10 affordable campers. The Campster is a little cheaper than it's high-top brother and is perfect for anyone who wants a low profile camper that can fit under height barriers at the beach and has enough room to fit the kids in for the school run. The pop-top gives extra sleeping space while allowing you to sit up on the roof of your van and gaze out at your surroundings, and the rock-n-roll bed is comfy enough for any camper to enjoy a restful nights sleep in comfort.
Even though the Citroen Campster is a small vehicle, it still has more cupboards and drawers than most studio flats! There's space for all of your van life essentials, top cooking accessories (including your Omnia Oven), shoes, vanlife socks, and more with room to spare. Keep it topped up with tinned and dry food all year round and you're good to go whenever the wanderlust bug strikes!
9. Rockwood Extreme Sports Package – $20,000
Now, this is one travel trailer that will blow your mind. Pop up campers are becoming ever-more popular, and the Rockwood Extreme Sports Package from Forest River is like a mobile travelling Narnia. Seriously, once this thing expands it looks like the swankiest conservatory on the planet. Spacious windows with curtains give you the option of looking out at nature or settling down with a cosy book on a warm winters night. And if you feel like turning up the heat with a partner, then the diesel heater should do the trick.
All Rockwood trailers come equipped with a Bluetooth digital media receiver for streaming off your devices and a WiFi booster for harnessing that all-important free internet on the go. You'll have access to multiple USB ports for charging up all of your favourite devices while out on vacation, and the LED lighting keeps you out of the dark while not appearing harsh or uncomfortable in the evenings. With up to 26 gallons of water storage and the ability to sleep up to four people, these tent trailers are perfect for adventurous friends who love to hit the road together.
10. Timberleaf Pika Trailer – $11,750
Last but not least on our list of the most affordable campers on the market is a trailer that I have spoken about many times before here at Van Clan and a firm favourite of the entire team. We were lucky enough to check this trailer out earlier on in the year at the 2019 Overland Expo and it lived up to all of our expectations. I am of course talking about the Timberleaf Pika Trailer, a towable tiny home that is just at home in narrow foothills and mountain passes as it is on the campsite.
I'll never get bored of the teardrop trailer design; there's just something about having that flowing curved line on the inside of the trailer that feels so cosy and homely, and the large star gazing window in the Pika would keep me entertained for hours. There's no shortage of natural light in this Timberleaf trailer, and the small-but-powerful reading lights will keep you going long after the sun has gone down. With a rear-accessible kitchen, a double bed, and plenty of storage, this little trailer is the stuff that overland dreams are made of. Check out our full-length article on this Timberleaf off grid trailer for more details!
More Content From The Van Clan Team!
Looking for last minute campervan gifts? Here are 31 that will rock your world!
Still not found what you're looking for? Here are 17 more van life gifts that will put a smile on someone's face.
If all else fails, buy that special someone some Van Life Insurance.