10 Best Electric RV Models For Modern Day Van Lifers
The leading names in the automotive industry have never been more focused on the notion of the electric RV, which can only be a good thing. Fossil fuels won't last forever, and with so much positive emphasis on going green to save the planet and everyone doing their bit to reduce their carbon footprint, it's time that the makers of our gas-guzzling cars and vans stepped up to the plate and provided a solution. We need the right tools if we're going to become top eco campers, and luckily, our voices and wishes are finally being heard.
Are you a fan of affordable tiny homes? Check out our sister site, Cabin Clan! Looking for information on full time van life? Join our Van Lifers & Weekend Warriors Facebook Group!
For years now, people have turned their noses up at the idea of the electric car or electric campervan. 'It can't be cool if it's electric' is the first thing that pops into peoples heads, and I seriously have no idea why. You only have to take one look at the Neuron EV Electric Truck or the VW Buzz to see how crazy that is. Electric RV models are not only better for the environment and cheaper to run (no road tax and lower fuel cost), but they come with some seriously cool digital nomad friendly tech and nifty living solutions that make off grid living easier, cleaner, and more enjoyable.
So, whether you're a weekend warrior or a full-time vanlifer who wants to go green, we've found 10 of the best vehicles that you can commandeer on your road to eco wisdom. Check them out below!
1. Tesla Cybertruck
If you haven't heard about the first Electric RV on our list, then you must have been either living your alternative living dream life somewhere up in the mountains or hiding out in Fraggle Rock (which coincidentally is my dream place for living off grid). The Tesla Truck Camper, a.k.a the 'Cybertruck' is like a Back To The Future prop gone rogue. It's real, it drives, and it's 100% electric. This six-seater truck camper can sleep two (better stock up on a tent hammock or two) and has enough room to store an ATV or your favourite travel bikes while out on the road.
The Tesla Cybertruck is set to be released in 2021 and comes with a payload of 3,500 pounds (1.58 T) and 100 cubic feet of storage inside. The camper module has a pull-out kitchen area and a sleeping platform for kicking back in your favourite sleeping bag. Sure, it's not the height of luxury, but if you're searching for gnarly off road trucks that can conquer any terrain and won't kill the planet, then the Cybertruck electric RV would be a good place to start. Prices will range from $39,000 – $69,000 depending on which drive package you choose. Head to the Tesla website for more information and to sign up for a pre-order.
2. Electro Frosch
If you squint, then it looks the same as the Tesla electric RV, right? This next range of electric pop up truck campers will only set you back $4,500 and come with the pick-up truck included. It's called the Electro Frosch, or the Electric Frog if you want the simple name, and is the perfect answer for any vandwellers that like to live life in the slow lane. This one-stop-eco-shop is just what the planet ordered, with a detachable tent, awning, top cooking accessories and storage all included. I like this so much that I wouldn't mind having one myself!
What do we know about Kermit's electro cousin? Well, this 3-wheeler electric RV only has a 37-mile range and a top speed of 25 MPH, so it's not going to be something that you take out on one of our top road trips (unless you live near the start line and only want to venture a little way in, that is). But when you're camper is this unique, it doesn't matter where you go! The truck is powered by a 72V VRLA battery with 60 aH and can be recharged in 6-8 hours. With a weight of only 240kg and the ability to hold up to 535kg, this is one sturdy electric RV that won't break the bank or the planet. Check out Electro Frosch for more information on this nifty little nipper.
3. 1975 VW Microbus
Yes, you did read the heading above correctly. This, readers, is a fully-electric 1975 Volkswagen Bus Camper, lovingly restored with an electric engine and no nasty fumes. VW purists will be happy to know that these conversions come complete with all of the original fixtures and fittings and are the perfect eco-friendly answer to owning one of camper van history's essential classics.
See; what did we tell you! Everything looks just as it should do, except under the bonnet, of course. These VW busses are perfect examples of how an electric RV doesn't have to be a vehicle covered bumper-to-towbar in solar panels; if you get a little creative, then the possibilities are endless. These T2 campers are much cheaper to run now that they've been given the electro-treatment, not to mention more reliable, and can be charged easily from home! For more information on these electric-retro powerhouses, visit VW Kampers.
Looking for something a little more 'up to date'? Check out the T20 VW Electric Campervan – a new take on an old classic!
4. E-RV Electric Caravan
Recreating recreation forever is a tough mission, but it's one that the next manufacturer in our electric RV list has taken on and conquered. E-RV know a thing or two about how to make an off grid trailer, and their fully electric campervan is the perfect towable tiny home for any eco-conscious camper enthusiast. Suitable for any off grid adventure and kitted out with more tech than a Silicon Valley staff room, these caravans bring all the comforts of domestic living to the great outdoors, and they look pretty damn good too!
The interior is stylish and bright with all of the amenities that you could ever need while out on the road. Each electric RV comes with up to 2033 watts of solar power, a 14.3KW/Hr battery (that's a beast for anyone who isn't clued up on the best camper van batteries) and a 5000-watt inverter. Basically, you can run anything from a washing machine to a convection oven in this thing, all with clean energy harnessed from the sun. Seriously, what could be cooler than free electricity! This camper has so many features that it would take days for me to list them all, so head on over to the E-RV website when you're ready to find out more.
5. Britz eVolve
With all of the comfortable features that you might find in vehicles like the Carado Axion but none of the nasty emissions, the next electric RV is a green adventure bus with plenty of tricks up its sleeve…wheel arch…you get the idea. Built on an e-LDV chassis, the Britz eVolve can comfortably reach 120km on one charge and sleeps two with ease.
The inside of this camper could have been taken straight out of a tiny homes magazine and features all of the luxury amenities that make life on the road that little bit easier. Each build comes with a shower and toilet, cooking facilities, overhead storage, a spacious dining table, and much more. Currently, these custom-built vehicles are available to rent in Australia, and you can find out more by visiting the Britz website!
Electric Vans For Self Conversions
While the campervan world has been a little bit slow on the uptake when it comes to ideas for an electric RV, there are a number of electric vehicles out there on dealer forecourts today that would be perfect for anyone planning a self build or looking into starting a business providing DIY Camper Van Conversions. We've found five vehicles of different sizes and styles from five big brands from around the world that would make a perfect tiny eco house on wheels. Take a look below!
6. IVECO Daily Electric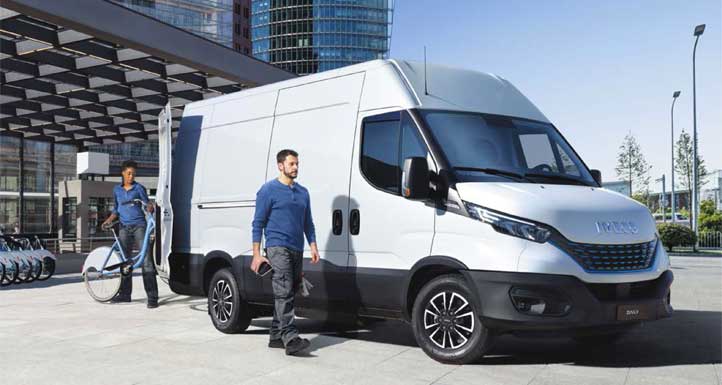 IVECO is a name that's familiar to many Europeans; these vans are both versatile and sturdy, designed with commercial delivery companies in mind and running smoothly on a 'daily' basis (see what they did there). IVECO is no stranger to the electric van world either, putting their first eco-friendly vehicle into production more than 30 years ago. The Daily Electric (which is also the name of Pikachu's favourite newspaper) is a perfect starting block for anyone looking to build their own electric RV; it's tough, it's reliable, and more importantly, it has an interior shape that lends itself to campervan conversions.
The IVECO Daily electric has an extended range of up to 200km per charge and only takes two hours to recharge once all of the precious juice has been spent. With all of the necessary monitoring features such as battery state, voltage, temperature and drive system usage built into the dashboard and the ability to charge the battery every time you brake, this van would make one heck of an electric RV. Head over to the IVECO website to find out more.
7. Peugeot Partner Electric
If you're more akin with VW Caddy Camper sized van life adventures, then the Peugeot Partner Electric might well be the electric RV project for you. This van could make the perfect stealth camper van and has all of the oomph that you need to get you out on those weekend warrior outings that make the daily 9-5 worthwhile. With a maximum range of 106 miles and a top speed of just under 70mph, you won't feel as though you're trundling along in the swish-but-slow Electro Frosch or worrying about trying to find a charging spot every 10 miles.
The battery is included when you buy the van and has an eight-year-warranty – you can't say fairer than that! You can choose from two sizes – 3.3m³ or 3.7m³, both giving you plenty of room for turning your Partner Electric into the perfect 'electric partner' (it's late, and that's the best I could come up with). Head over to the Peugeot website for more information and to start your electric RV build plans today!
8. Electric Ford Transit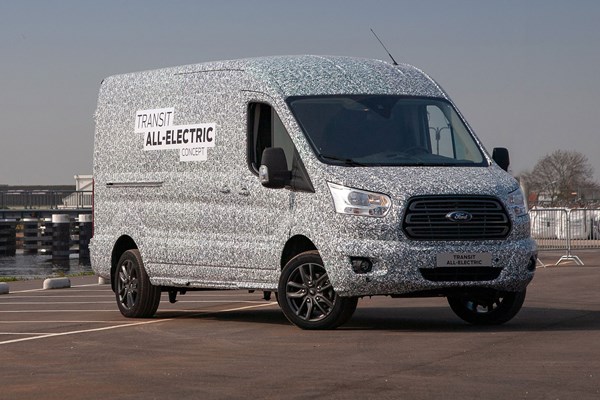 The Ford Transit Camper has been a staple of the van life world for years, and now Henry Ford's successors are bringing out a fully-electric van in 2022. So many camper conversion companies use the Ford Transit as the base of their builds; parts are easy to come by the world over, and the vehicles themselves have been tried and tested in more scenarios than a health and safety seminar at your local village hall. Production will start in the U.S, and we at Van Clan are predicting that this could be the vehicle that changes the electric RV market forever!
The all-electric Ford Transit will come in three roof heights and three body lengths, just like the normal Transit vans that we use today. You can choose from a cargo van configuration, a chassis cab, or a cutaway – in other words, this vehicle is MADE for turning into an RV. It's going to be a brilliant solution for any tech-hungry vanlifer who wants to fully absorb themselves in an eco-friendly lifestyle. And with interior units for Ford Campers cropping up all over the internet, it shouldn't be too difficult for anyone to turn one of these bad boys into a rolling home!
9. Renault Master Z.E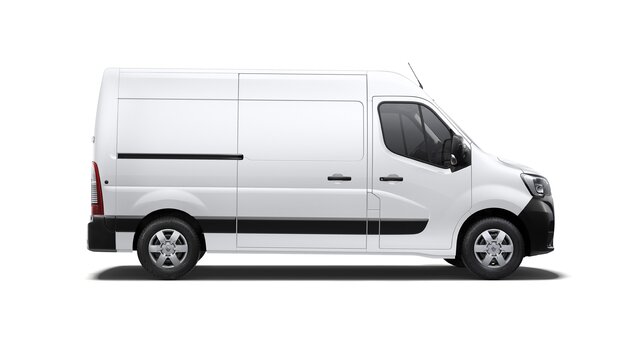 If you don't want to wait till 2022 to make the electric RV of your dreams, then you could always purchase a Renault Master Z.E tomorrow and begin your conversion straight away. Rechargeable in 6 hours and with a driving range of 75 miles per charge, this LWB van would be perfect for van life in the city or day trips to the beach. You can choose from a platform cab or a panel van configuration, each with a maximum payload of 1.128kg.
This van, like the IVECO, makes use of a function that charges the battery whenever you press the brakes. I've just spent six weeks driving around the mountains in Sardinia; if I had this technology, then I could probably have charged up everyone's batteries on the entire island, let alone my own! Like the electric Ford Transit van, this Renault Master Z.E has a shape that lends itself to a DIY conversion and can be reliably driven pretty on pretty much any type of terrain. Check out our article on How To Build A Camper, and then head on over to the Renault website and put an order in for a Z.E!
10. Citroen Berlingo Electric
If you've always been a fan of a Citroen Camper, then you might prefer the last tiny terror on our electric RV list for your conversion. In many ways, this van has a lot of the same features as the Nissan NV200 camper van that the Dalbury E Electric is built on; 80% charge in just half an hour, low running cost, small yet functional size. The best party about this Citroen Berlingo Electric, however, is that you can start with a blank slate and convert it to your own specifications. Install a pop-top, add an awning, and raise the suspension a little, and you've got yourself an off-grid monster that will cost you just £2 every 40 miles!
The thing that we like about both the Citroen Berlingo Electric and the Peugeot Partner Electric is that they can slide seamlessly into normal life without anyone even suspecting that they are campers. You could convert one of these vans into an electric RV and no one would be the wiser. 'Why is that van always parked out the back of the office?' It's because the dude three rows along from you sleeps in there and showers at work while everyone's still on the bus. What a clever guy. Head over to the Citroen website for more information.
More Content From The Van Clan Team!